Emmys Documentary Party 2018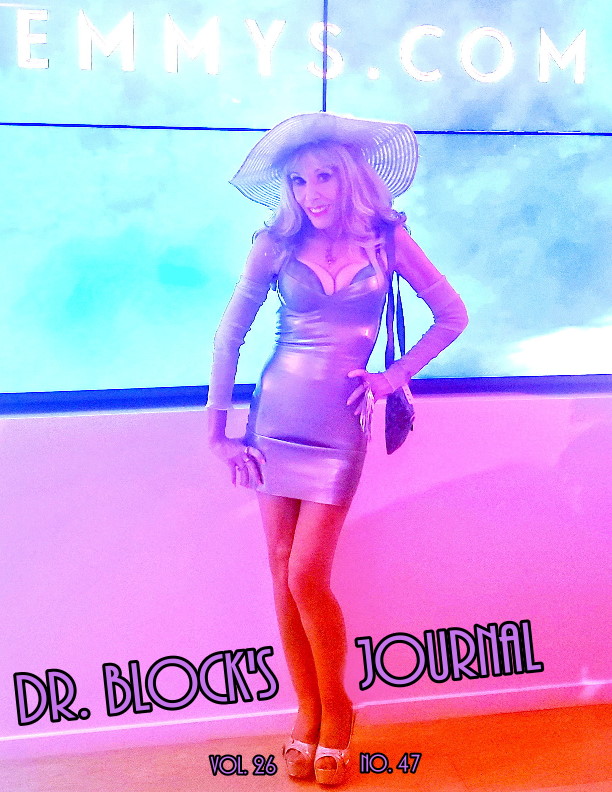 It's the 70th anniversary of the Emmy awards, recognizing "excellence in television," so I slipped into platinum heels to join the "cream of the crop" of my fellow TV makers at the Academy of Television Arts & Sciences (ATAS) Reception for Emmys nominees in the Documentary and Non-Fiction division.
It's also my own 20th anniversary as a dues-paying ATAS member, having been admitted into this illustrious TV clan by the late great Dave Bell, Emmy-award-winning producer of my HBO specials, Radio Sex TV and Radio Sex TV 2: Off the Dial, back in 1998.
Though HBO has won more Emmys than any single network, not one of my own HBO specials, Real Sex clips or any other televised versions of The Dr. Susan Block Show, has ever won or even been nominated for an Emmy, even though (or maybe because) it's "The Greatest Sexuality Show on Earth."
As my executive producer (and fellow Yalie) Sheila Nevins, who thanked me for "showing [her] that sex education can be sexy," dramatically declared, though she's proud of her multiple Emmys and Oscars for her many excellent non-sex documentaries, she's delighted by her revolutionary "pussy" films (like ours).
What The Dr. Susan Block Show doesn't have in award bling, we make up for in sustainability, having been on the air—radio, TV and/or the Internet—since 1991. That's over a quarter of a century of almost weekly live broadcasting, which is a lot longer than any of the esteemed Emmy-winning programs.
In a silver anniversary mood, I wiggled into my lubed-up silver pearl sheen Latex Store dress that I wore to my third Bonobo Way: FemDoms of the Wild talk at DomCon LA 2018. Whereas I was one of many rubber-rockers at DomCon, I was the only one wearing latex at the Emmys reception. Where's Beyoncé when we need her?
Capt'n Max and I were escorted by our world-famous Bonoboville chauffeur Luzer Twersky. When not driving, Luzer is a winner as an actor, having picked up several "Best Actor" awards for his moving portrayal of a Hasidic cuckold in "Félix & Meira." Last year, he was in Transparent and starred in "One of Us" (in which Bonoboville makes an appearance!), an acclaimed Netflix documentary about "escaping" from the extremely strict, ultra-religious Satmar Jewish community, produced by Heidi Ewing and Rachel Grady of "Jesus Camp" fame. Luzer is also winner of the SUZY Award for "Best Pick-Up Artist" (2014) and "Funniest Former Fundamentalist" (2015, 2016 and 2017), and he's working on a show with the amazing Norman Lear, sure to win an Emmy and/or Oscar someday.
The Emmys party was fun, as always, though it seems to get less Old-Hollywood glamorous every year. It was too bad our former HBO director and ATAS governor Shari Cookson wasn't there; she's retired from the TV biz and is now a full-time painter. But it was good to connect with our two favorite current ATAS governors, Mitch Waldow and Dan Birman. Turns out Mitch was working as a news supervisor at the now defunct UPN-TV Channel 13 when the station filmed The Dr. Susan Block Show during our first police raid.  What a night that turned out to be when mid-broadcast, about 20 heavily armed, horny and confused LAPD officers dramatically burst into our home at the "Villa Piacere," punching our security guard, flashing their guns and harassing our guests, then saw the UPN-TV news cameras and left without charging us with anything!
Mitch also has some publishing history in common with Max. When Max was publishing the LA Star, Mitch was writing for our old friend Art Kunkin's LA Free Press. Good times back in the day.
Those were also the days of legendary LA smog, "smoke and fog" mainly caused by car exhaust. Despite far greater numbers of cars, vans and monster trucks than ever, LA managed to kick smog's butt with state-mandated pollution controls on cars, a rare and very significant triumph of technology and democracy working together.
But LA smog is making a comeback, not just in LA but all over California, as our ride back through the smoggy San Fernando Valley seemed to prove. The California wildfires may not be front page news anymore, but they are still burning. Fine particles of almost invisible ash are in the air… everywhere.


As the old saying goes, "where there's smoke, there's fire." The abominable, pussygrabbing U.S. Presidential Dumpster Fire, Don Donaldo of the Trump Crime Family, creates a constant smokescreen masking the drastic corporate-created Climate Change that is creepily choking us all. They deny, deny, deny that the record-setting heat is anything related to Global Warming, even as it's effects blaze through American forests and drown American towns—and let's not forget other Climate-Change-rooted disasters (earthquakes, tsunamis, mudslides, etc.) all over the world.
Philosopher Glenn Albrecht created a new word for this feeling I was getting as I rode past the Getty, site of last year's Bel Air/Skirball fire, and back to our beloved Bonoboville, coughing and sneezing in the ashy air, toxic tears stinging my eyes. The word is "Solastalgia," combining the old words "solace" and "nostalgia" to describe the feeling of psychological and physical distress associated with toxic environmental change close to home. Granted, my lungs might be particularly sensitive (I had asthma as a child), but many are experiencing other debilitating effects of Global Warming.
"For many scientists, this is the year they started living climate change rather than just studying it," says Kim Cobb, a professor of earth and atmospheric science at the Georgia Institute of Technology. "What we're seeing today is making me, frankly, calibrate not only what my children will be living but what I will be living, what I am currently living."



Yes indeed, we are living and breathing the Global Warming that the fossil fuel industry, aided and abetted by the Religious Right, has given us. I'm looking at you, former Secretary of State and Exxon/Mobile CEO Rex Tillerson; you may be right about Trump being a "moron," but you and your fellow oil barons are the epitome of evil, having robbed us all of our home on Earth.
Until now, even those of us who "believe" in the scientific truth of Global Warming, assumed it would be a few decades off into the future. Well, the future is here now, and it's choking humanity, along with countless fellow animals and plants, with about 200 different species going extinct every day.
Is there still time to change course? Maybe, maybe not, but shouldn't we try? I believe the Bonobo Way of peace through pleasure, recreational sex, female empowerment, male well-being, sharing resources and ecosexuality is the way—maybe the only way—to turn this dreadful death march around. Yes, we need to impeach Trump, but we need much more. We need a dramatic decrease in use of fossil fuels, an end to Perma-War (the worst polluter on Earth), a more fair distribution of wealth; in short, a revolution of We the People against the corporate interests that are killing us.
Considering how TV now permeates our lives via the Internet, even if the "fake news" gets it wrong, it looks like this Revolution will be televised—with apologies and appreciation to Gil Scott-Heron, a true poet from the LA Star/LA Free Press era, whose anthem, resurrected by Black Panther, is now more relevant than ever.


#GoBonobos for Great TV! And L'Shana Tova to all our friends and family who celebrate Rosh Hashanah.
© Sept. 9, 2018. Susan Block, Ph.D., a.k.a. "Dr. Suzy," is a world renowned LA sex therapist, author of The Bonobo Way: The Evolution of Peace through Pleasure and horny housewife, occasionally seen on HBO and other channels. For speaking engagements, call 310-568-0066.
---
Explore DrSusanBlock.com
Need to talk? Sext? Webcam? Do it here. Have you watched the show? No? Feel the sex. Don't miss the Forbidden Photographs—Hot Stuff, look at them closely here. Join our private social media Society. Join us live in studio 😊. Go shopping. Gift shop or The Market Place. DrSusanBlock.tv, real sex TV at your toe tips. Sex Clips Anyone? FASHION, we have fashion! We also have politics. Politics? Have you Read the book? No? How about the Speakeasy Journal? Click here. Ok, how about some free sex advice?
---
---