F.D.R: The Virgin Show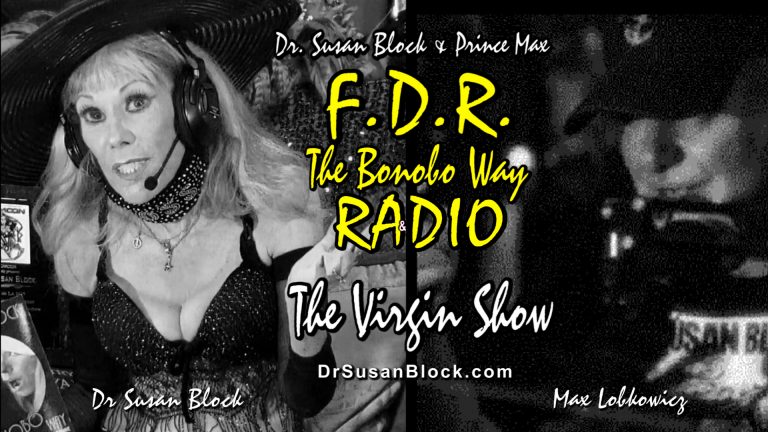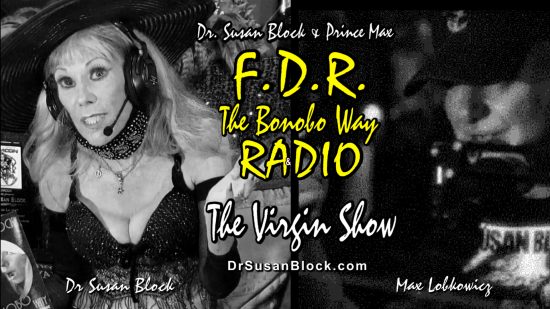 Length 1:27:44 Date: Dec. 19, 2020
by Dr. Susan Block.
This marks Prince Max's and my return to the *eargasmic* magic of radio. Both of us have long histories (since the 1970s!) broadcasting live on over 150 local, nationally syndicated and pirate radio stations around the world—from Yale University's WYBC-FM to San Felice's Radio Meridian—which we touch upon on our virgin "F.D.R." internet radio show, aka podcast. Though we've enjoyed broadcasting live TV, aka video, on HBO, public access and the internet—we've missed broadcasting in the "Theater of the Mind" as can only be done on radio, so here we are doing it again.
We call this series "F.D.R." in tribute to my mom's erotic political crush, U.S. President, Franklin Delano Roosevelt. F.D.R also stands for "F*ck Da Rich." By "rich," we mean all billionaires (except maybe MacKenzie Scott), high-digit millionaires, the Military-Industrial Complex (including the Space Farce's new Handmaid's Tale "Guardians") and other multi-billion dollar corporations and complexes. What do we mean by "F*ck"? Listen…
In this virgin broadcast, Pr. Max and I reintroduce ourselves and some of our past experiences together and apart. Among the many topics explored are virginity itself; love in the Coronapcalypse; sex in marriage; the sounds of orgasm; Trumpty Dumpty's fall; making out and heavy petting in Bala Cynwyd, Pa. and Montclaire, N.J.; turning down the D.A.R. (Daughters of the American Revolution) award in junior high; consensual "thought gangbangs" and streaking at Yale; teenage trips to Nepal, Afghanistan (where I climbed the 8200-feet high Bamiyan Buddha, later demolished by the Taliban), Pakistan (where I avoided being raped by claiming to be a Christian virgin) and Israel (regarding my love affair with a young Palestinian in the Garden of Gethsemane) financed by selling pot; Max being hit with a slipper by a horny Lithuanian dancer, our synchronous relationship to the "socialist" Commedia dell'Arte character of Arlecchino; anti-sex censorship on the internet, from Youtube to Pornhub; the close conjunction of Jupiter and Saturn during Saturnalia 2020, what it means for the revolutions of 2021 and the impending appearance of Uranus for a Happy Nude Rear; American wars and occupations; tRump's rush to execute people; and the Bonobo Way of female empowerment, male well-being, ecosexuality, sharing resources and peace through pleasure. We have so much fun, it's foreplay for some hot Solstice sex, and maybe it'll turn you on too…
Need to talk PRIVATELY about something you can't talk about with anyone else? You can talk with us… Call the Therapists Without Borders of the Dr. Susan Block Institute anytime: 213.291.9497. We're here for YOU.
December 19, 2020 Susan Block, Ph.D., a.k.a. "Dr. Suzy," is a world renowned LA sex therapist, author of The Bonobo Way: The Evolution of Peace through Pleasure and horny housewife, occasionally seen on HBO and other channels. For speaking engagements, call 213-291-9497.
---
Explore DrSusanBlock.com
Need to talk? Sext? Webcam? Do it here. Have you watched the show? No? Feel the sex. Don't miss the Forbidden Photographs—Hot Stuff, look at them closely here. Join our private social media Society. Join us live in studio 😊. Go shopping. Gift shop or The Market Place. DrSusanBlock.tv, real sex TV at your toe tips. Sex Clips Anyone? FASHION, we have fashion! We also have politics. Politics? Have you Read the book? No? How about the Speakeasy Journal? Click here. Ok, how about some free sex advice?
---
---