MJ/Prince & the Sexpot Amputee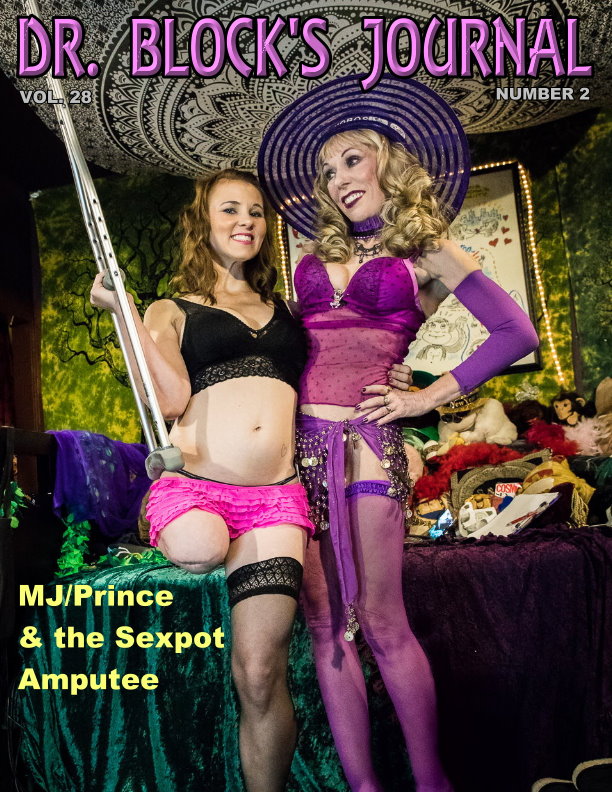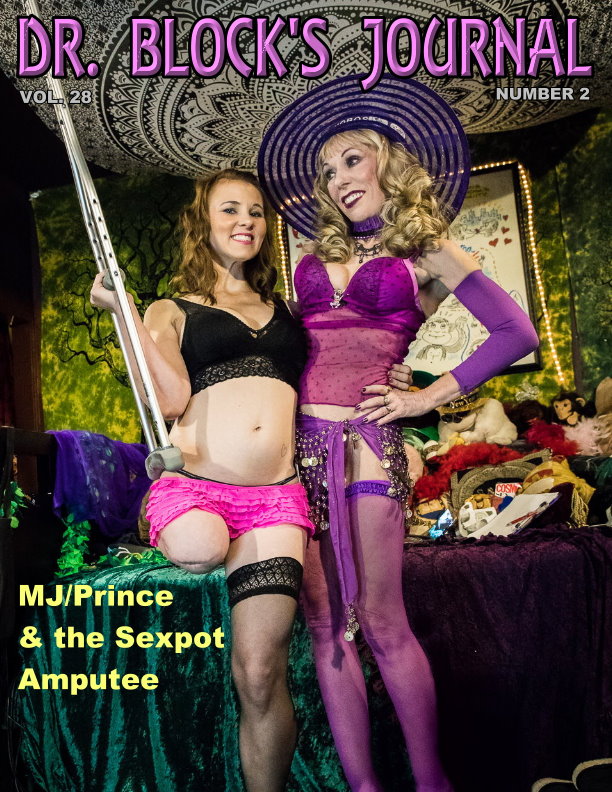 Length 01:42:03 Date: January 13, 2018
A wondrous one-legged porn star, the ghost of Michael Jackson and the spirit of Prince come together—where else, but in Bonoboville—on an amazing, comic, erotic, intimate and very illuminating episode of The Dr. Susan Block Show.
Watch and learn how a so-called "disability" can be a springboard to sexual super power.
The Show-Eating Facebook Monster
Speaking of disabilities, this is our second show in a row that Facebook disables for no apparent reason. The Facebook Live broadcasts goes smoothly, getting lots of views, "likes," "loves," "hahas" and comments, and Capt'n Max is careful not to show any of the nudity. But after we hit "post," it vanishes.
We have no idea why. They never tell you. And who are "they"? Bots? Prudes? Gestapo? Mark Zuckerberg Zuckheads?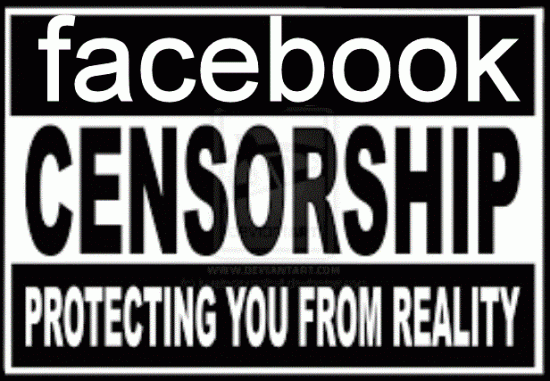 The faceless Facebook censors like to keep you guessing. This is partly to protect themselves from being sued for discrimination (in this case, against the disabled), and partly to bewilder you, so that you doubt and censor yourself.  Can I post that? Can I say this? Maybe I better not just to be safe.
Unexplained censorship is just one of many insidious, invidious aspects of the corporate social media monster that is eating humanity alive—body, brain and soul.
Facebook censors adult conversation, making its plantation "safe" for corporate advertisers while, at the same time, deeply addicting, afflicting humanity's next generation with toddler-friendly technology like "Messenger Kids." This is the monster in the machine, and it's as close as your phone.
Escape the Monster! Come join us in Bonoboville, where you can watch this intimate, fetish-friendly broadcast free and uncensored all week, or on DrSuzy.Tv where, for a miniscule donation, you can see all of our uniquely exciting, mind-expanding, libido-arousing shows live or anytime.


We are a small but sturdy 26-year-old outpost of bonoboesque erotic freedom in an increasingly imprisoned world.
Amazing Amputee Brittney
The star of this show is a one-legged porn starlet with a beautiful smile, dimples in her cheeks as well as her stump, great lactating boobs and a positively inspirational attitude. She calls herself "Amputee Brittney," and she does more with one leg than most of us do with two.
Brittney's "origin story" begins when she lost right leg to cancer at the age of eight. She  battled the illness for over a year, culminating in having to choose between losing her leg or her life. She sacrificed the cancerous limb for a life filled with love and adventure.
Of course, she's accepted her share of pain and struggles; maybe more than her share. After all, she's gone through puberty, adolescence, young adulthood and now young motherhood with just one leg. Like most of us, she's felt sorry for herself at times, and with more reason than most of us. However, as she reveals through an epiphanic story involving an encounter with a homeless person, she came to realize the essence of the Stoic philosophy: It could be worse. So she might as well make the best of the infinite goodness that life, with or without leg, has to offer.
And now here she is, Amputee Brittney the Porn Starlet! Actually, Brittney's porn career happened almost by accident when some nude photos that she took as a college undergrad surfaced a few years later, going viral and presenting this nice Catholic amputee beauty with a "calling" of sorts.
So now she does porn, fetish modeling and cam shows, in addition to being the young mom of a seven-month-old. A disabled dynamo sounds like an oxymoron; there's no doubt that Amputee Brittney defies expectations, as well as, in a way, gravity!
Of course, amputee fetishists (whom Brittney calls "devotees") really appreciate this, and according to Brittney, comprise 95% of her fan base. But even if you're not an amputee fetishist, it's erotically enthralling to watch this legless hottie  move about. Without using her crutch, Brittney hops on one dainty, high-heeled foot with more grace that most people walk, and when you see her lovely stump from certain angles, it appears as if she is floating on thin air.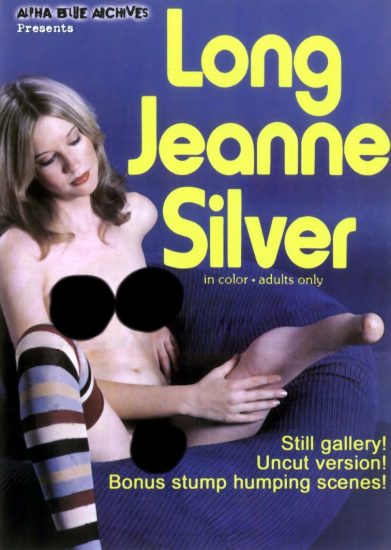 We feel a special affinity toward amputee erotica here in Bonoboville. Capt'n Max's Love Magazine published amputee Long Jeanne Silver "stump-fucking" Annie Sprinkle back in the early days of modern porn, for which (indirectly) Max spent 18 months in prison.
Jeanne's amputation was at the ankle and perfect for insertion. Brittney's is at the upper thigh and is nicer for outercourse. Caressing it is like feeling a very nice, soft, yet muscular breast without a nipple, framed by pink ruffled panties. Freaky? Maybe to some. But fabulous for me and Phoenix Dawn who also enjoys a feel.
Michael Jackson in da Womb Room
In the middle of this already surreal, touchy-feely show, in walks the King of Pop. Well, he's really Omar the "Prince of Pop" (who impersonates both Michael Jackson and Prince) in MJ mode, circa somewhere between "Thriller" and "Bad."
After we chat for a bit, he performs his routine of dancing, posing and occasionally emoting "Hoo-hoo!" to various Jackson tunes culminating with "Thriller." Rocking a gold body suit with an accentuated crotch, the better to heighten his signature crotch-grabbing move, black pants, white socks, curls in the eyes, shades and a fedora, energetic Omar breathes life into beyond-iconic MJ right here in our Womb Room. At times, it feels like a séance, bringing the King of Pop back from the dead, or like a silly but super-fun Thriller-Halloween, bonobo-style.


We love celebrity impersonators. It's one thing to watch our favorite dearly departed legends on film or video. It's quite another experience to be in the presence of a hot-blooded human reincarnating godlike legends live and in-the-flesh. From Smokey Binion, Jr. channeling Elvis to Christiana Cinn singing "Happy Birthday" to me like Marilyn, tribute artists of all kinds are a major source of nostalgic entertainment in Bonoboville.
Good nostalgia is a great aphrodisiac. It reminds you of your youth, when sex was brand new and brimming with hope and excitement. Listening, or better yet, dancing to old, familiar music is a great, drug-free, time-honored way to rejuvenate an old libido.
Of course, when Phoenix and Brittney were little girls, MJ was already a nose and a chin off the deep end, but that hardly matters. They grew up dancing to his music just like little girls of my generation.
MJ's was, is and always will be the music of innocence, the singer/songwriter having been born and bred like a champion racehorse in a familial and corporate entertainment business system that preys on human innocence like the proverbial wolf on lambs. Of that, MJ was the boy king who never grew up.
MJ/Omar shares the thrill, dancing a bit with each of us. Hoo-hoo, what a hoot! Also a bit of a high (it might help to eat or smoke something while watching this): Dancing with Michael Jackson!
It's especially amazing to watch Amputee Brittany dance with MJ. Even more so to see her dance all by her one-legged self.  I must admit that's one stereotypical prejudice I harbored about Brittany before I met her. I couldn't image that she could balance on one leg for more than a few seconds, let alone dance.
What a revelation to see her boogie, wiggle and even moonwalk with better rhythm on one leg than most people do on two. Like the mythical alchemists who turn lead into gold, Amputee Brittney is living sexy proof that pure will, good looks and erotic imagination can turn what many might consider a major disability into an erotic asset.
Yes indeed…. We Are The World!
Trump Gets Stumped
Brittney professes not to be political. I'm not sure how to interpret that in these days of 24/7 political saturation. Maybe it's got something to do with being a busy brand new mom with a porn career and a passionate, politically varied fan base.
But the show must go on, and though I acknowledge its essential powerlessness in the current tsunami of shithole-ickness, I feel a need to continue my Trumpocalypse Therapy of book-spanking our Trump effigy (a big dick pillow with a tiny micropeepee, in case you don't know) with The Bonobo Way and other implements, and so I do. Besides being therapeutic, with enough intention, you never know if or when the voodoo effects might kick in. Voodoo spanking sounds at least as plausible as voodoo economics, into which the Trump/Republic tax plan has breathed stale, toxic, new life. They're like a team of Dr. Frankensteins animating the voracious, ferocious Corporate Monster of contemporary civilization, and this Monster has a lot less of a conscience than Mary Shelley's original.
Maybe I'm just a shameless innocence-corrupting liberal, but I can't help but entice sweet Brittany into spanking our Drumpf voodoo doll.
It seems more than appropriate. After all, Hair Fuehrer infamously mocked a disabled New York Times reporter, and his evil policies decimate Medicaid for the disabled.
For this, Brittany gamely spanks our Trump doll's big pink balls and little orange peepee with The Bonobo Way. She also rather creatively spanks him with her stump, though the stump-spanking seems more like a pleasure than a punishment. That's okay, as long as we keep his tiny hands tied and his big mouth busy sucking on the penis pacifier or a wad of Trump Toilet Paper (makes a great gag in more ways than one).
During one of the Trump spankings, Chris Gagliardi, winner of two Suzy Awards ("Most Bonobo Political Speech" in 2016 and "Most Bonobo Political Activist" in 2017) calls in to throw his support behind the Dominatrixes Against Donald Trump. Then he praises the show like a preacher praising the lord, making me blush like Michael Jackson on his first date with Brooke Shields.
The day before, Chris tipped us off when Trump's Fire & Fury turned Stormy… Whee! Another Trump sex scandal!  Though this one's not much of a scandal. I haven't met Stormy Daniels, though Alana Evans, whom I interviewed at the Hollywood Show, is also involved as a "witness," for whatever that's worth. This isn't the first sex scandal involving Trump and a pornstar. Jessica Drake, who interviewed me on her show, has said since the 2016 campaign that the Pussy-Grabber-in-Chief assaulted her. The Stormy affair at least seems to have been consensual.
The Alana end of the story goes that Stormy and the Trumpster, reportedly in his tightie whities, called Alana to invite her to join them one madcap night in Vegas in 2006. Alana says she declined. Though Trump would probably say, "Alana Evans begged me to let her join us and said she would do ANYTHING, but I said no. Loser!"
But really, who cares about Trump's consensual adultery (other than it being disgusting to imagine him having sex with anyone)? Everyone can see that his marriage to Melania is loveless and, after Barron, probably sexless. She was a brand new mom at the time. Maybe she was even okay with having Stormy babysit her larger baby while she adjusted to the new little one, who knows? In any case, most of the world is okay with Stormy… at least the Twitter world. Stormy would have been a hurricane for Obama. But in the Trumpocalypse, she's just a drizzle, certainly not a golden shower. I sometimes wonder if the Republicans come out with this stuff to distract the populace from the growing thievery of our country's resources to fill the coffers of the billionaire campaign donors and corporate paymasters to overflowing, as people scrimp and starve. That's what's even more disgusting than Trump.
Something I'm happy to see in this non-scandal: The Normalization of Porn. Why shouldn't porn stars and presidents be together? Like Marilyn and JFK. Though she wasn't a porn star, and Kennedy wasn't Trump. But she did pose nude, and he was cheating on his beautiful wife.
Meanwhile, the Trump/Bannon Cuck–fight continues… And how about poor Hawaii? Hawaiians woke up to a message on their phones Saturday morning that a nuclear ballistic missile attack was headed their way! Forty intensely panicked minutes later, they found out it was a false alarm. All the while, Trump was playing golf, and didn't bother to even tweet "Hey Hawaii, it's a false alarm" He has time to tweet about the size of his button, but not this. Maybe he thinks Hawaii isn't part of the U.S. like Puerto Rico (which is in desperate need of IV bags right now, says Phoenix whose relatives are there).
Whew! With "Stable Geniuses" like Drumpf, who needs Nazi Morons? Take thwack!
Bonoboville Communion with Brittney
The evil Trumpus thus purged from my system, at least for a few minutes, we get back to erotic escape mode…. from politics to religion! Well, our kind of very kinky religion.  
Which brings me back to Brittney, whose XXX-rated abilities are restricted on this show due to the time of month, not lack of limb. Also, since she is nursing, she politely declines our offer of Bonoboville Communion with Agwa.
She does agree to serve as our Altar Girl, removing her black bra and nipple guards to reveal her exquisite natural breasts (she says she's a 36B, but seems more like a 34D). Nice.
Phoenix and I each take a taste. So sweet! Yum… big-nippled, lactating, "mommy" boobs.
Then we each get Waterboarded, Bonobo-Style, between Brittney's left leg and her right stump. It's a lovely ritual, with a slightly freaky twist. Even MJ seems to salivate as he watches.
Primates, Prime Mates & Prince
We come back from the break with the 2018 Primate Calendar, given to Bonoboville as a gift from The Bonobo Project, winner of the 2017 SUZY award for "Best Bonobo Promotion."
Ikkor the Wolf  joins the conversation, and we compare ourselves with the bonobos as well as the other apes and monkeys, noticing how "human" the primates look and how much we (and our prime mates) sometimes resemble our hairier cousins.
For instance, big brown-eyed Phoenix bears an uncanny resemblance to the Dwarf Lemur of Madagascar. Though Phoenix is much sexier than the grizzly little Lemur, both are equally adorable.
Then in slinks the primate formerly known as Prince, in a shirt the color of "Purple Rain" (reminding me of why I'm in Princely purple too), bright yellow pants, black socks and a different set of shades. He grabs a guitar, poses, then disposes himself of mere earthly instruments, pulling his purple sweater up over his chest, its hair carved in what could be a bird or a plane or Prince ascending to the divinely decadent heaven where this true genius probably now resides.
Thus, Omar the "Prince of Pop" segues from the King of Pop to the Purple One of Pure Funk, posing, preening and doing splits, as the rest of us metamorphose from MJ fans to Prince groupies.
And yes, amazing Amputee Britney is still hopping like the prettiest pogo stick on one foot.
Then, before we can sing "Hoo-hoo!" or turn totally purple, it's the end of the show and time to go.
We celebrate our second great broadcast of 2018, partying into the wee hours when we run into a stray restauranteur/actor, but that's another story and maybe another show. After almost everyone has either left or gone to bed, Capt'n Max and I go through our usual ritual of checking out the show on Facebook, only to discover that it's not there.
It's an awful, frustrating, spirit-killing thing, this world in which corporate social media entices you into its sticky web with promises of "community" and then censors and punishes you, spanking your bottom line, but not in a fun way.
However, we can't let it get in the way of our actual real-life fun, at least not if we can help it. Life is still too good—too rich with pop nostalgia, sugar nipples and floating thigh muscles—to stay upset for long over the virtual foolishness of faceless Facebook censorship in cyberspace or anywhere else. As one of my mentors, fellow Yale grad Col. Jirayr H. Zorthian, said, "The purpose of life is living." Since he died before the advent of social media, I'm pretty sure he meant living in reality.
And so we leave our devices behind to go back to living and fucking and coming again and again, my Prince and I. At least, in this way, deep inside of each other's well-worn, increasingly disabled yet sometimes miraculously able bodies, our love is uncensored and, for want of a better word, real.
Let's Go Crazy!
Thanks to Our Volunteers: Videographers-Michael Sullivan, Gideon G.; Photographers – JuxLii, Slick Rick, Alex Saglimbeni, Dabble in Focus, Portfolio Montage; On-Campus Bonobos – Abe Perez, Camille Rosebud, Mita Altair, Harry Sapien, Gideon G., MarsFX, Clemmy Cockatoo, Ana & Miguel.
© January 13 2018. Susan Block, Ph.D., a.k.a. "Dr. Suzy," is a world renowned LA sex therapist, author of The Bonobo Way: The Evolution of Peace through Pleasure and horny housewife, occasionally seen on HBO and other channels. For speaking engagements, call 310-568-0066.