"Dominatrixes Against Donald Trump" (D.A.D.) Puts Out the "Fire and Fury" with Golden Global Downpour on DrSuzy-Tv!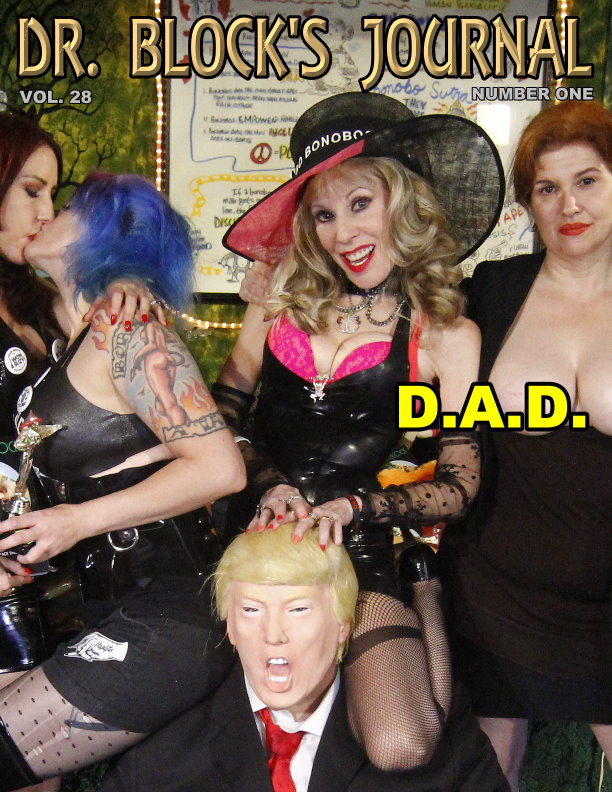 Length 01:51:50 Date: January 6, 2018
Bonoboville kicks off 2018 with a bang, a spank and a sweet, sapiosexual Communion, climaxing with Dominatrixes Against Donald Trump (D.A.D.) unleashing a glorious golden shower upon our surrogate Trumpty Dumpty, the Cuckold King,.
It's the first Dr. Susan Block Show of the new year, and after a nice chill holiday, the Fire and Fury is hotter than ever. Fire and Fury is the name of journalist Michael Wolff's new fly-on-the-White-House-wall book about life with the Prima Donald Trumpanzee, the unscrupulous Trump Crime Family and the crazed, confused and duplicitous White House staff. It's also the name of one of my articles, The Fire and Fury of the Tiki Torches, penned mid-summer when the bombastic Trumposity was threatening to unleash "Fire and Fury and, frankly, power like the world has never seen before onto his funhouse mirror image, Kim Jong-Un.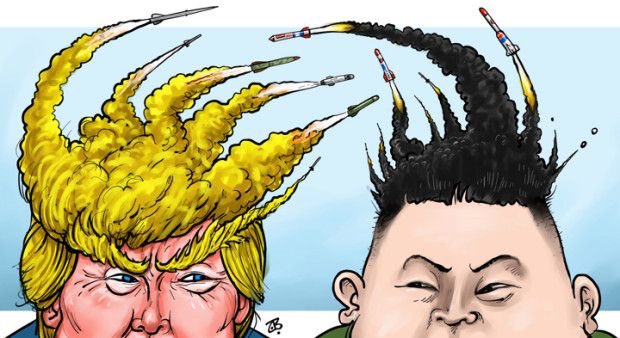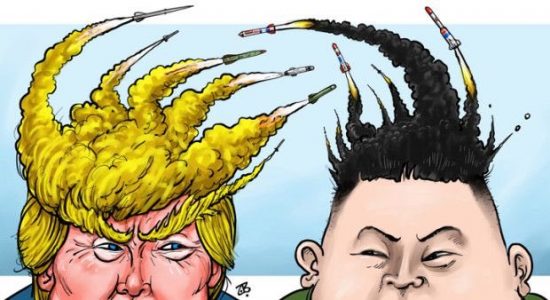 Now the two loudmouth leaders are comparing the size of their buttons. No, not belly buttons; though that would be more appropriate for these blimpy bovine man-babies. We're talking nuclear buttons, firing up the fury (from Trump Tower?) for 2018.
Where are the heroic fire fighters that can put out this Fire and Fury before it burns us all to a post-Trumpocalyptic crisp?
Where indeed? Why they're right here, in Bonoboville, where we present Dominatrixes Against Donald Trump (D.A.D.) to the rescue—FemDoms, patriots and "toxic masculinity" fire fighters—ready, able and willing to spank out that toxic fire with crops, canes, The Bonobo Way and their beautiful bare hands. Then, we hose it down with a Russian rush and a golden gush. Oh my!
It's Holy Water, Brothers and Sisters. And honestly, it feels good to just let go and… piss on Trump.
Banned on Facebook!
Seriously, this show is so hot, it's banned on Facebook. That's right, within the first 40 minutes of our PG Facebook Live broadcast, long before we even start to give Trump his golden comeuppance, the powers-that-be shut us down, and now we're in "Facebook Jail" for seven days. It's kind of surprising, since all we've done is talk with a little spanking but no nudity. As usual, the faceless Facebook censors never say specifically why they are censoring you—issuing nothing but a vague statement about "violating community standards"—as they close down your communications, with no recourse, no trial, no jury and no questions answered. So much for Freedom of Speech, even with Net Neutrality.
Thank Goddess, we are not dependent on Facebook for our communications. You can always tune into our shows, complete and uncensored, on DrSuzy.Tv or in Bonoboville. As I've said since Facebook shut down my first "page" with over 10,000 "likes" back in 2010, these are not my Facebook pages, just as your Facebook pages aren't actually yours. The comforting notion that they are "your" virtual property is one of the key illusions of corporate-controlled social media. The harsh reality is Facebook is less of a "community" than it is a plantation, and we the billions who populate it with our personal videos, photos, posts and poetry—our virtual life stories—are nothing but sharecroppers.
As such, we are virtually helpless, voiceless subjects of the sex-negative, body-phobic whims of plantation overseer Mark (Zuckerberg), his staff and his bots.
Whatever it was (the spanking? the golden showers talk? the politics?), all we know is that something in the first hour of the live broadcast pressed Facebook's "button." At least it's not the nuke button. Nevertheless, censorship like this is annoying, alarming, inconvenient and, most insidiously, it encourages over-zealous self-censorship. On the bright side, being "banned on Facebook" does add to the taboo cachet of this amazing show.
Dommes Against Drumpf
I open the evening in my over-the-knee (OTK) black boots and shiny, tight Abigail Greydanus Latex dress that I wore for my first DomCon Bonobo Way lecture, lounging in my broadcast bed, my naughty and irreverent pulpit in the Church of Bonoboville, flanked by my sexy assistant, Phoenix Dawn, and our distinguished guests from Dominatrixes Against Donald Trump (D.A.D.).
I first introduce D.A.D. founder and director Mistress Tara Indiana, whom I call the "Mom of D.A.D." Mistress Tara is one of the world's leading pro-Dommes, a 2016 U.S. Presidential candidate for the "Female Supremacy" party and the winner of the prestigious 2017 SUZY award for "Best FemDom of the Resistance."
Also joining us from D.A.D. are the luminous Goddess Soma Snakeoil, 2017 SUZY award winner for "Best FemDom Fire Play," in shiny OTK black boots, and adorable "switch" kinkster, Miss Antoinette, "Best Submissive Fire Play" winner, both honored for the radiant scene during Capt'n Max's birthday when Goddess Soma turned Miss Antoinette into a human birthday candle.
As the ladies explain, D.A.D. is "a place for Dominatrixes and their allies to exchange ideas and organize political action against Donald Trump." One of their actions involves Mistress Tara performing erotic art installations at various locations, such as the Trump Towers public space or the Trump star on Hollywood Blvd., in which she urinates on a willing Trump surrogate/submissive. Indeed, on Trump's famously small inaugural weekend, Mistress Tara and other D.A.D. members did a dry run on DrSuzy.Tv… well, actually it was a very wet run.
You can see what I mean in "Trump's Golden Shower: Therapy for the Trumpocalypse" now playing in all it's hot wet XXX-rated glory on Clip-O-Rama, or just check out the PG promo on YouTube.
Female Domination – Not Assassination
Before the night is out, we will do another wet run on the prone and helpless Trumpus. But first, we invite the Big Man-Baby into the Womb Room. Always a sucker for a hot pussy he thinks he can grab, he waddles into the Womb Room, and of course, he's tweeting.
Ms. Tara springs into action like a super-hero, grabs Adolf Twitler's phone and collars him firmly.
At this point, with no Secret Service around, she could easily off him, but that's not the Bonobo Way.

After all, D.A.D. is not about assassination. It's just female domination… at presidential levels.
Which is exactly what we females do, spanking the Moron-in-Chief with riding crops and The Bonobo Way as we make him kiss our feet and boots, berating him for his numerous crimes.
We also mock him for his tiny peepee and his current "Cuck Fight" with sicko Steve Bannon.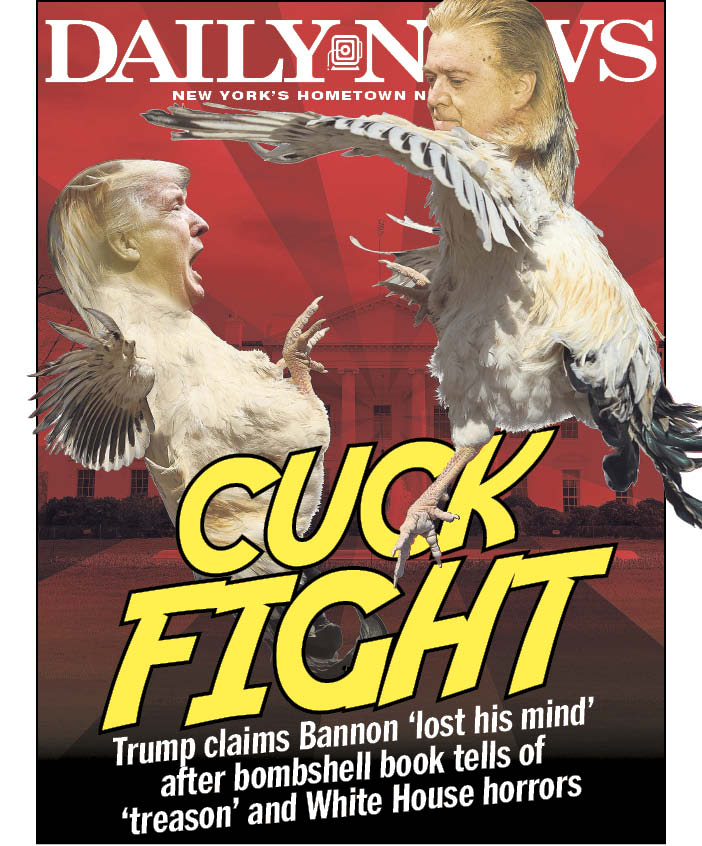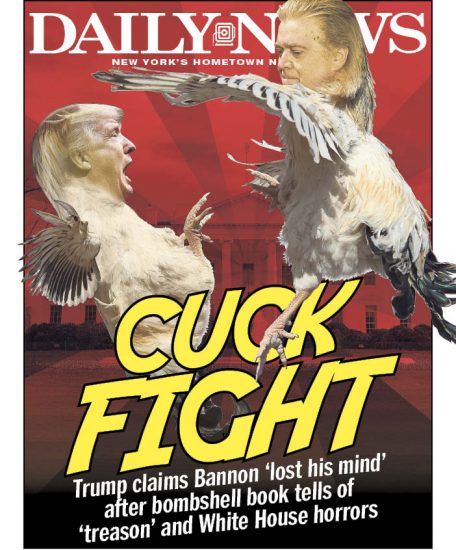 Such is the new year's state of Fire and Fury, with Bannon calling the Trump Crime Family "treasonous" and Trump tweeting that his former mentor "lost his mind."
It's enough to make us innocent Americans lose our minds, and for that, Goddess Soma suits up with her strap-on and force-feeds our Combover Cuckold her big black Bannon banana dick.
Yes, he "likes" it.  Of course, he does. And no, he doesn't deserve this kinky pleasure. But if keeping him gagged with the Goddess' dick will quench that "fire and fury," it's worth giving the big man-baby a BDSM joyride. And if it makes him resign (and take Mike Sissypants Pence with him), then we'll keep him busy with spanking, cuckolding and big black strap-on therapy day and night.
Seriously, Trump is such a big bad boss man, obviously estranged from his long-suffering wife and contemptuous of most "pussies," he probably yearns for a truly powerful woman—a  woman like D.A.D.—to take control of his sorry little baby-boy self.
And yes, it's the Bonobo Way, and one of the key answers to #MeTooWhatNext? As D.A.D. sees it, women should take control of this terribly toxic situation—one of the root causes of which is men's sexual shame—for the sake of humanity and everybody else.
First Communions & Birthday Spankings of 2018
Powerful women need pleasure too, and so we take pleasure in each other for a few lusty rounds of Bonoboville Communion followed by Waterboarding, Bonobo-Style with Agwa de Bolivia Herbal Coca Leaf Liqueur.
Mistress Tara takes the first Communion of 2018, licking it up from the delightful boobs of  the lovely Phoenix serving as Altar Girl.
PHOTOS: JUX LII
Post-Communion, our Altar Girl gets a very sexy OTK (over-the-knee) spanking from Miss Antoinette.
While Trump's spanking is for the good of the country, this one is for the pleasure of all. So is our post-spanking Happy Nude Year greeting.

Then whom do I spy in our Womb Room audience but sexy little blonde Brigitte, real-life MiLF with five kids (though you'd never know it from her tight athletic body).
Moreover, it's her birthday! Since we didn't know she was coming, we don't have a cake, but Brigitte always loves a good-spanking, and that we can provide. This being her birthday, she gets an extra special OTK spanking from Mistress Tara. Pretty soon, her buns are as pink as her panties.
Then it's the Birthday Girl's turn to take Communion, which she enjoys from the magnificent mammaries of Mistress Tara.
PHOTOS: SLICK RICK
Later, Miss Antoinette takes Communion from Mistress Tara's Altar, though she just gets waterboarded with cranberry juice.
The Mom of D.A.D. looks downright beatific as she suckles her female admirers on this show.
And then there is her male nemesis: Trumplethinskin the Lyin' King. Before the end of our evening, the heroic FemDom fire-fighters of D.A.D. hose down his fire and fury.
We pee on Trump!
Golden Globes to Golden Showers
One of D.A.D.'s goals is to "highlight the hypocrisy, injustice and double standard that's applied to sex workers and the politicians that hire them. A Dominatrix who pees on Trump can be sent to jail, while Trump can pay to be peed on and he gets to be President."
And yes indeed, we do highlight all of that in bold, wet, golden strokes across Liddle Donny Diaperpants' big almost-naked (except for his diaper/underpants) body.
Trumpty Dumpty has a great fall… at least, he does in our Commedia Erotica sexual psychodrama here, which is great, inner-bonobo-releasing, Trumpocalypse therapy for us and hopefully, fine kinky entertainment for you.
Note: Pissing on the President is not as easy as Mistress Tara makes it look, as she lets fly a veritable Niagara Falls on Trump's midsection. Phoenix also releases a lovely sparkling shower. Then Goddess Soma and Miss Antoinette take their turns at the Trump Urinal. Excitedly, Miss Antoinette reports that it's her "virgin" golden-shower-giving experience. Cheers to that. We love first-time fun on DrSuzy.Tv.

I even manage to squeeze out a few streams which I am proud to say hit their mark: the first splashing down on Trump's cheek, so it looks like tears, and the second landing right in his eye.
Mistress Tara tops off the party by stuffing Trump toilet paper into the Trump's toilet mouth.
Russian hookers of the Trump-at-the-Moscow-Ritz-Carlton "dossier," eat your hearts out!
We Are One: Ikkor the Wolf
At this point, the Dominatrixes vs Donald Trump battle is over, the Dominatrixes the clear winners.
Nevertheless, though we have won, we are one, as Ikkor  sings, and the FemDoms dance.
"We Are One."
It may be a harder truth to swallow than a big rubber dong, but the Trumpus is one of us.
In 2018, for his own good and the good of the world, we have to try to take him down. With our art and our actions, our votes and our protests… whether we succeed or fail catastrophically (always a distinct possibility), we have to try. And we should be bonobo about it. Not assassination. Just a little good old-fashioned bonoboesque female domination.
That's why I'm pleased to support the good works of Dominatrixes Against Donald Trump, and consensual sex workers everywhere.
In the spirit of oneness, I'd also like to thank Tim Sewall (winner of the 2017 SUZY award for "Best Putin Impersonator") for playing the thankless (but not spankless) role of Trump the Chump, courtesy of D.A.D. What a good sport for water sports!
#GoBonobos in 2018
The after-party continues into the art gallery and around the bar.
Then off we go, my Captain and I, through orgasmic hoops of fire and fury into a cool pool of bliss and the great unknowns of a brand new year.
Thanks to Our Volunteers: Videographers-Harry Sapien, Gideon G.; Photographers – JuxLii, Slick Rick, Kristian; On-Campus Bonobos – Abe Perez, Camille Rosebud, Mita Altair, Harry Sapien, Gideon G., MarsFX, Clemmy Cockatoo, Ana & Miguel.
© January 6, 2018. Susan Block, Ph.D., a.k.a. "Dr. Suzy," is a world renowned LA sex therapist, author of The Bonobo Way: The Evolution of Peace through Pleasure and horny housewife, occasionally seen on HBO and other channels. For speaking engagements, call 310-568-0066.