It's The SUZYs! Announcing the 6th Annual DrSusanBlock.Tv Awards for 2017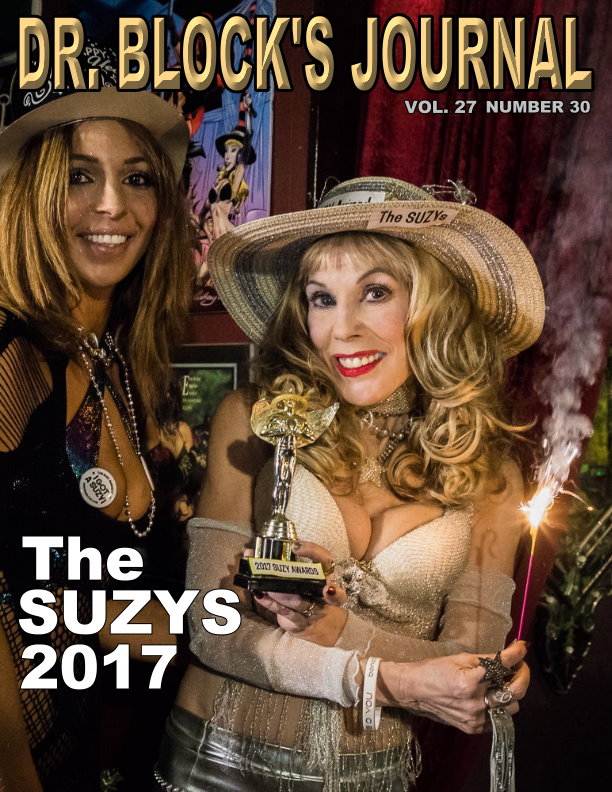 Length 01:48:58 Date: December 30, 2017
It's our last live DrSuzy.Tv broadcast of 2017, a year that was awesome and awful, terrific and terrible—or Trumpible, if you will, since much of the terror was caused by the Trumpus.

Whether you loved or hated it, this year is in the rear (for my full year-in-review and unadulterated thoughts on the unbonobo presidunce and erotic resistance, see #GoBonobos in 2018, also in Counterpunch). Thus, with a fond farewell to this year's 45 sensational shows, a Merry New Year and a very Happy Nude Rear to all, we present the 2017 SUZY awards.
Honoring excellence in broadcast artistry and exhibitionism for the sixth consecutive year, the DrSusanBlock.Tv Awards, a.k.a., "The SUZYS," recognize erotic performance, sexual intelligence and Weapons of Mass Seduction, celebrating The Bonobo Way of peace through pleasure in all kinds of weather and paying tribute, with love, humor and deep respect, to those who work and play in the fields of peace and sexuality.
Yes indeed, well before XBIZ, the AVNs, the TEAs, the Oscars, the Grammies, the Emmys and the Golden Globes trot out their awards, "The Greatest Sexuality Show on Earth" is here to acknowledge the best of 2017 with The SUZYs!


Our goal, as always (besides having a cum-ton of fun), is to advance the cause of sex education and research, inspire better pornography with a more sex-positive and sapiosexually stimulating aesthetic, save the real bonobos from extinction and support a bonoboësque ethos in the world…. 
Speaking of "ethos," our Bonoboville Ethics Committee has, since our inception, stipulated that DrSuzy.Tv staff members, no matter how deserving, are ineligible to receive SUZY awards.  However, this same Ethics Committee, after consuming large quantities of Agwa at Clemmy's birthday bake-off the night before this show, decided to give a special DrSuzy.Tv "staff award" to our beloved staff, a kind of "thank you for your service" award. Otherwise, all award winners are selected from guest appearances and products used on the 45 live broadcasts of The Dr. Susan Block Show in 2017.
And the winners are…
#GoBonobos
Porn for the People!
 Let's Talk Sex
BDSM, Fetish & Kink
Arts & Media
Music
Products
Politics
And so we honor another sparkling listicle of sexperts, sexpots, artists, exhibitionists, visionaries, revolutionaries, hot babes and bastards who have appeared, been placed or parodied on The Dr. Susan Block Show.
As is traditional for The SUZYs, we don't invite the winners, or anyone at all to the award ceremony. In fact, we discourage our members from attending this one show, though all are invited to tune in live as I announce the winners, with the enthusiastic assistant of my sexy new assistant and Dr. Susan Block Institute sex therapist, Phoenix Dawn. 


Though we don't have guests, this show features plenty of action in the form of clips we play of several of the award-winning erotic performances (all of which you can watch à la carte on Clip-O-Rama). Kudos to Mars FX and Gideon for editing the clips, and big thanks to Harry Sapien for organizing amazing images of the winners, making the SUZY Awards 2017 a real show of shows. No, we're not sponsored by the NRA (we're for cocks, not glocks), though to celebrate each award's announcement, Phoenix detonates a popper that sounds more like a gunshot than a party accessory.
In a way, the SUZYs are the pro-sex, anti-award awards. While some of our categories are serious, many are parodies, and there are the "boobie" prizes. As always, we are safety and ecology-minded, carefully placing a Glyde America Vegan Condom on the golden head of our SUZY statuette which, at optimal balance, looks like a latex halo or one of my hats, though it has a tendency to fall off with the slightest jiggle (like too-big condoms do during sex). We keep saying that it needs to be re-designed by the Bonoboville art department. Maybe in 2018.


Meanwhile, the art department, guided by the imaginative hands and demented imagination of Clemmy Cockatoo, crafted "I WON a SUZY" buttons which we will give to the winners as we see them. Yes, this is a clever way to get our favorite guests back on the show in 2018.
This could be subtitled "The Clemmy Show," as in between awards, we celebrate the big Cockatoo's birthday yet again.

We have to settle for a regular round cake since a racoon ate the banana boob cake and ravenous bonobo sapiens devoured the penis cake… after it splooged buttercream icing into the cleavage of the boob cake (sometimes even during the week, Bonoboville gets crazy).
With ceremonial sensuality, Phoenix and I perform the last boobalicious Bonoboville Communion and Waterboarding, Bonobo-Style of 2017 with evergreen Agwa de Bolivia Herbal Coca Leaf Liqueur. Bye 2017!
PHOTOS: JUX LII
A few of the winners happen to straggle into the Speakeasy bar, looking for a safe place to party through the eve of New Year's Eve (we do love our pre-eve celebrations). Ikkor the Wolf, Shelby Delanie, Jux Lii and Nori Carter accept their SUZYs in person. Also paying a holiday visit to Bonoboville is the SUZY-award-winning Janelle Hopkins Family (John Clark and Derek Wylder), without Janelle Hopkins.
The revelry continues into a Happy Nude Rear, lifting Capt'n Max and me like bubbles in a sparkling flute of champagne up-up-up to our own award-winning grand-finale climax(es) of 2017.
With the coming year uncertain as the weather, join us on the path of peace thru pleasure! Amen and Awomen. And Abonobos!
Stay tuned to DrSuzy.Tv and join Bonoboville to watch for free. Like to share your views or show off your talents? Be a guest! Join the sapiosexual conversation, the inter-arts integration, the pansensual exploration and the erotic resistance on the Greatest Sexuality Show on Earth. Maybe you'll even win an award.
See 2016's Winners.
See 2015's Winners.
See 2014's Winners.
See 2013's Winners.
See 2012's Winners.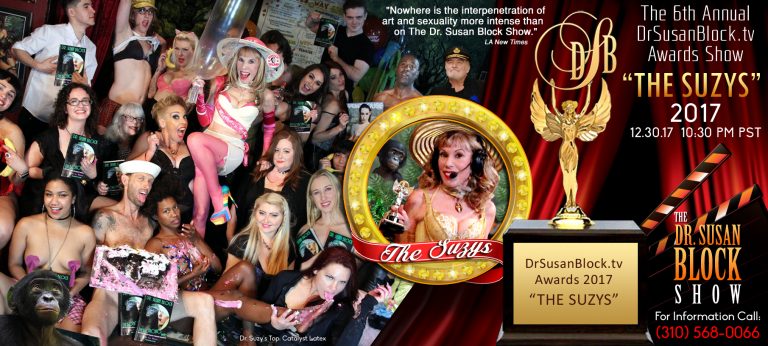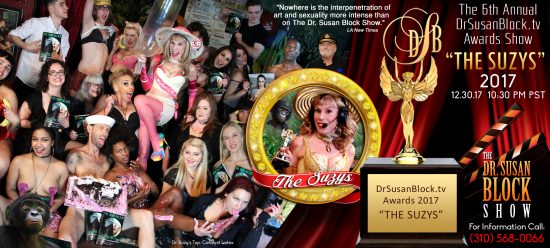 For year-end reflections and resolutions, read: #GoBonobos in 2018.  Also catch it in COUNTERPUNCH
Thanks to Our Volunteers: Videographers- Gideon , Michael Sullivan.; Photographers – JuxLii,  Slick Rick; On-Campus Bonobos – Abe Perez, Camille Rosebud, Mita Altair, Harry Sapien, Gideon G., MarsFX, Clemmy Cockatoo, Ana & Miguel.
© Dec. 30, 2017. Susan Block, Ph.D., a.k.a. "Dr. Suzy," is a world renowned LA sex therapist, author of The Bonobo Way: The Evolution of Peace through Pleasure and horny housewife, occasionally seen on HBO and other channels. For speaking engagements, call 310-568-0066.