Musical Spanking-Hot Anti-Trumpiversary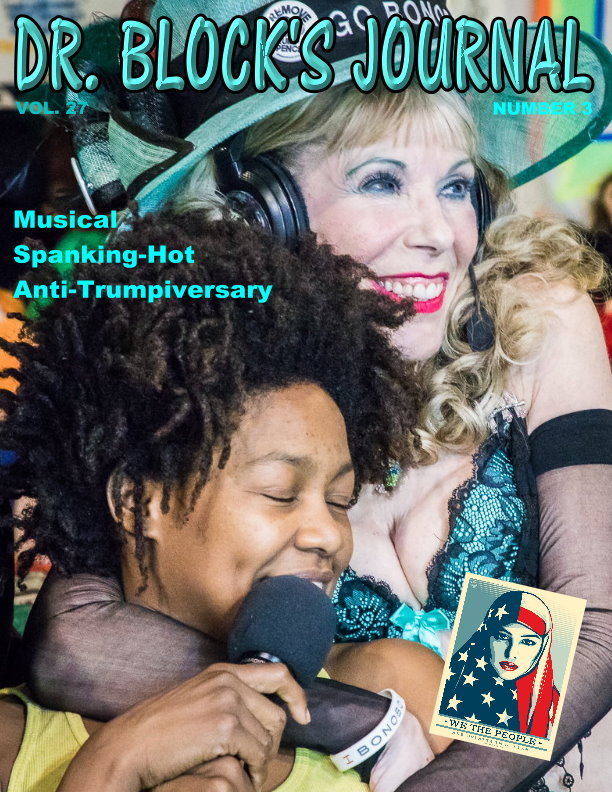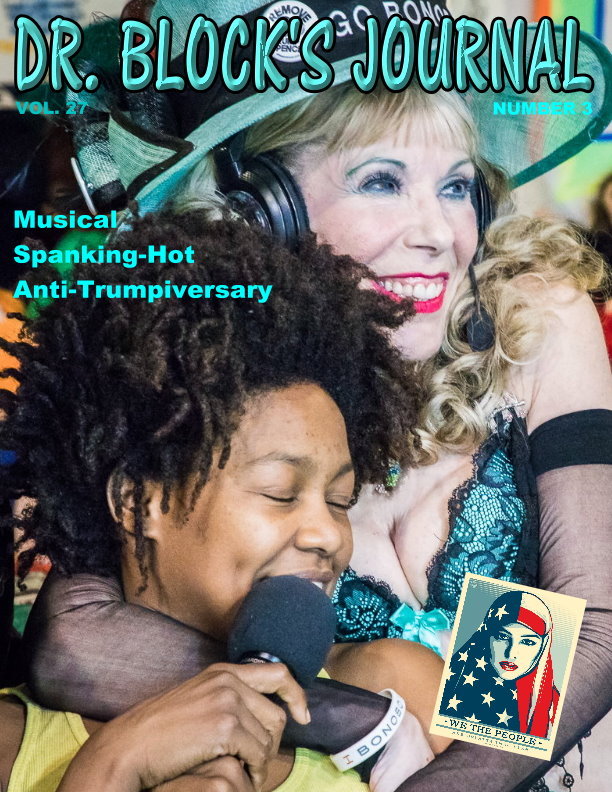 Length 01:51:50 Date: January 20, 2018
It's the one-year anniversary of tRUMP's inauguration, and the government is shut down… but the people are open. Women of America are on the march.
The Women's March 2018 gathered the most women in history ever to reject one man.
And that man is you Donny Boy. Does that excite you? All those pretty pussies defying your desire to grab them? All those "nasty women" waving homemade signs and shrieking "Impeach Trump," "Stop Cheeto Voldemort," "Does this Ass Make My Country Look Small?" "Don't Touch My Rights!" "Viva la Vulva!" "I'd Call You a 'Cunt' but You Don't Have the Warmth or the Depth" and "You're So Vain, You Probably Think This March is About You," as you sit in the White House, trash-tweeting and junk-eating, surrounded by nasty women, a prisoner of your own success.
Does that make you want to pull down your big-boy pants, bend over and get your YUUUGE pimply white ass spanked with a Forbes Magazine, its glossy 2006 cover featuring you, a beady-eyed Junior and the delectably Aryan First Daughter?
Of course, it does. And that's exactly the Trump Slump therapy we give ourselves on this show, featuring comic, erotic, spanking-hot antics and musical, sapiosexual explorations with singers and swingers, Presidents and porn stars, Buddhists and nudists and more.
Sunny War Soul
Several staff members and guests arrive in Bonoboville right after the Los Angeles Women's March 2018, flushed with the exhilaration of female fellowship, along with male support ("Men of Quality Support Equality") generated at these gatherings.
First up on my broadcast bed is Nashville-born, blues/folk/jazz/punk singer Sunny War, "discovered" by my lovely talent-scouting porn-star assistant, Phoenix Dawn while the former was strumming her guitar on Venice Beach.
Her first song is "No Home No Safety Nets."  With an exquisite, emotional, soulful voice, Sunny War sings about the "wars within," between her two souls (one reason her voice is so soulful), as well as the relationships that weave through her somewhat polyamorous life, her battles with "addiction," homelessness and other demons.
Like we're in Church, Mosque, Temple or a really cozy, old-fashioned coffeehouse, we feel blessed to be together in the Womb Room warmed up from the cold by the heart-melting sound of Sunny War.
Elena Communion
Next up on the bed is scintillating singer/kinkster Elena Rayn. Just in LA for three months, Elena has been an "exhibitionist" since she was a creative kid growing up in Pittsburgh, Pennsylvania.
PHOTOS 1 & 3: JUX LII.  PHOTO 2: SLICK RICK
Of course, Elena's not some raincoat-opening, Louis CK-style flasher. No, this exhibitionist's got talent, moxie and leaves her voyeurs wanting more.
We met Elena a couple of weeks ago at our Dominatrixes Against Donald Trump 2018 kick-off broadcast, though she stayed low-profile in the audience. On this show, she shines in her tights of many holes, red lace and luscious fake fur. She's also fresh from the Women's March where she was "inspired" by the bonoboesque solidarity and general good vibrations of the crowd.



Now she seems to be inspired by Bonoboville Communion. That is, Elena (raised Presbyterian) doffs the faux mink to reveal her real natural boobs, serving as Altar Girl for Phoenix who can't resist biting her impressively hard nipples. Oh my Elena!
Then Phoenix takes her Waterboarding with Agwa de Bolivia Herbal Coca Leaf Liqueur like a good Bonoboville P.O.W. between Elena's Hole-y Legs. Turnabout is fair play, and Phoenix returns the Communion favor providing her lovely Altar for our guest, as the Womb Room watches, transfixed by feminine beauty.  
Nikki Haley Spanks Trump with Forbes
Into our lovely little post-Women's March gathering lurches the Trumpster, not-so-fresh off the golf course in his big-man-sized polo shirt, small-man-sized undies, long red tie, orange tan and unruly hair, swinging a five-iron like a weapon, tweeting on his cell and talking trash about "fake news."
This Trump (impersonated by actor John Walker Davis) is a little ornery and attempts to use the show as a platform for his nonsense. However, upon threat of eviction from the Garden of Bonoboville, he gets down on his knees and takes a spanking with that Forbes Magazine featuring the full Trump Crime Family.
This is a "True Crime Story" style reenactment of what porn star Stormy Daniels says he requested that she do to him during their affair. She also says that he gave her the greatest compliment that the old pussy-grabber can give a woman: she reminds him of his eldest daughter.
Once, Stormy and El Cheato watched three hours of "Shark Week" before sex. Trump reportedly hates sharks, but loves to watch them as a morbid aphrodisiac.
It may not be your cup of tea, but from a sex therapist's point of view, there's nothing wrong with Drumpf ogling sharks as foreplay or channeling his incestuous desire for Ivanka into consensual (albeit extramarital) sex with Stormy. Let Presidents and porn stars frolic like bonobos, and let the rest of us also enjoy the pleasures in life. What is wrong is the Trumpanzee's nepotism, narcissism, misogyny, mendacity, plutocracy, hypocrisy, corporatocracy, ecocide, racism, sexism and nonconsensual pussygrabbing.

Then I let his rumored newer paramour, U.S. ambassador to the United Nations Nikki Haley dominate the Orange Menace. It's actually Elena, but she looks a lot like Haley from certain angles. "Nikki Haley" may sound like a porn star name but she's actually the U.S. ambassador to the United Nations.
What do Stormy and Nikki have in common? Both have expressed distaste for Trump the Man (Stormy) and the President (Haley), but both are opportunistic enough to hold their noses and have some sort of sexual encounter with sex-needy Trumpty Dumpty for a fee, not quid pro quo, but considerable material recompense nonetheless. Stormy got $130K and a splashy start to her Make America Horny Again tour. Nikki got the UN ambassadorship.
America just got screwed.


Firefly Rock Star/Stripper
Now it's Elena Rayn's turn to sing and oh my goddess, does she sing like a rock star and dance like a stripper.
Her "Firefly" is the "food of love" and quite an aphrodisiac. Plus I keep imagining her as Nikki Haley sneaking into the White House "back door" to watch "Shark Week" with the Trumpus. The whole Womb Room gets into Elena's groove, our hands dancing as she prances and romances Phoenix Dawn. Sexy mamacitas!
Also on the Womb Room stage is fledgling trans (F2M) comedian Zach Rose (*discovered* by Clemmy at Dromebox), Ikkor the Wolf and Capt'n Max plus our old friend Chef Be*Live, 2017 SUZY award winner for "Sexiest Shipwrecked Sailor" (thankfully, his hand is healing). Be*Live's wife, acclaimed actress Danièle Watts, 2017 SUZY award winner for "Hottest Confession," is currently asleep in the car. But she wakes up bright-eyed and most definitely bushy-tailed and kind of steals the second half of the show.
Big Banana, Comedy, Encores & More
We come back with a big banana, a gift from Jacob the Chimesman. This banana seems like a sex toy to me—it's great for straddling and it's even got a giant moustache for a moustache ride—but its marketed to "kids of all ages."
Then up crawls the amazing Danièle Watts, in a banana-colored tank and sweat pants that don't stay on long. We hadn't seen her or Be*Live since Adultcon. They have been living in and out of the woods and off the grid, meeting with shamans of various sorts, getting in touch with their deeper bonoboesque powers in yoga, music and nakedness. As always, they bring an incomparable warmth, pansensuality and expansive creativity into the Womb Room.
Between the time Danièle's shirt and pants come off, Zach does some stand-up while sitting down, joking "as therapy" about his "drug addict" mom as well as curious reactions to his female-to-male transition. Then, with endearing nervousness, Zach takes Communion from Danièle's gorgeous gazangas.
PHOTO 1 & 3: JUX LII.  PHOTOS 2 & 4: SLICK RICK
Then Sunny War takes us back into her world of bluesy beauty, singing a catchy tune she calls "Static," picking up the theme of "addiction," moving past it into sobriety and then into the delicate emotional balancing act of enjoying the pleasures of life in moderation.
We have just enough time for one more encore—Elena Rayn singing "Devil in the Dark."
This time she's primed for a climactic performance with her top still off and now her pants and panties pulled down, exposing her beautiful powerful vulva as she sings her ever-loving, exhibitionistic heart out.
In an Elena-intoxicated trance, we all get up and dance, undulating around her as if she is a high priestess leading a sex ritual, an anti-Trumpiversary, Post-Women's March musical orgy.
As Elena ends the song, we all shake with the climax of our ecstatic togetherness, but there's not a minute for cuddling or even promoting.
As we race against time and a finite amount of film, I summon tRUMP out of the shadows where he's been playing with his golf club, for one final Forbes-spanking.
Suddenly, a stark naked Daniele attacks the President like a shark, crying "Daddy, I love you!" It's quite a domestic drama, with political overtones.
Later, our Trump impersonator, while sipping his Diet Coke, opines that "this show is like going to the Women's March, but you can grab pussy."
Well, some pussy. We call it the Erotic Resistance, aka the Bonobo Way. And yes, we want to "Impeach Trump," especially today, on his pitiful Trumpiversary when the whole government is broken and shut. Trump is the main character in this comic-tragedy, but there's also Pence, Ryan, McConnell… the whole rotten Repugnican lot of them need to be removed and replaced. There's also us. Trump is a virus that has arisen from the greedy, cheating, willfully ignorant part of us; we the people of capitalist dreaming America.
We must resist the Trump within us, as well as the Trump in the White House.
Resistance is a challenge, but it's also a turn-on, in the sense that it's "friction," which is the essence of hot sex, according to the late great Screw Magazine publisher Al Goldstein.
After the show, we find out that we are still being prevented from broadcasting on Facebook Live. Again, we're not sure why though it almost certainly has something to do with the sex, even though we are careful not to show any on the Facebook feed. Or maybe the politics? As always, the faceless Facebook censors keep thwarting our attempts at connection without telling us anything but "try again later." It's just another insidious aspect of the corporate social media machine that is gradually exerting complete control over more and more of human life, engaging, rejecting, re-engaging and controlling you. Escape the Machine! Come to Bonoboville… Be free! At least until they take away our Net Neutrality.
Jacob comes in from the cold, saying he thought he was too tired to come join us, but when Facebook censored our live feed, he felt "lonely," so he threw something on, came over and jammed with Sunny. You could say that Facebook censorship just created a face-to-face encounter that wouldn't have happened otherwise, but that still doesn't excuse censorship.
As the after-party unfolds, Sunny War sings for peace and strums her guitar, as we carry on, cavort, dance and talk about #MeToo and the Bonobo Way, especially Daniele's erotic, empowering, though somewhat confusing experiences with Hollywood "predators," players and pussygrabbers. Then we cavort some more and philosophize about our human past and perhaps our future as bonobo sapien hunter-gatherers without murder, without war, without machines (or at least, with minimal machines). It's a kind of science fiction, but more sustainable than colonizing Mars. 
All that philosophy, sensuality, musicality and resistance makes me horny, so off I go with the Captain of My Ship to consummate this auspicious and delicious post-Women's March anti-Trumpiversary with orgasmic prime-mate love.
Thanks to Our Volunteers: Videographers- MarsFX, Gideon Grayson ; Photographers – Jux Lii, Slick Rick;  On-Campus Bonobos – Abe Perez, Camille Rosebud, Mita Altair, Harry Sapien, Gideon Grayson, MarsFX, Clemmy Cockatoo, Ana & Miguel. 


© January 20,2018. Susan Block, Ph.D., a.k.a. "Dr. Suzy," is a world renowned LA sex therapist, author of The Bonobo Way: The Evolution of Peace through Pleasure and horny housewife, occasionally seen on HBO and other channels. For speaking engagements, call 310-568-0066.
---
Explore DrSusanBlock.com
Need to talk? Sext? Webcam? Do it here. Have you watched the show? No? Feel the sex. Don't miss the Forbidden Photographs—Hot Stuff, look at them closely here. Join our private social media Society. Join us live in studio 😊. Go shopping. Gift shop or The Market Place. DrSusanBlock.tv, real sex TV at your toe tips. Sex Clips Anyone? FASHION, we have fashion! We also have politics. Politics? Have you Read the book? No? How about the Speakeasy Journal? Click here. Ok, how about some free sex advice?
---