Levitation Domination on DrSuzy-Tv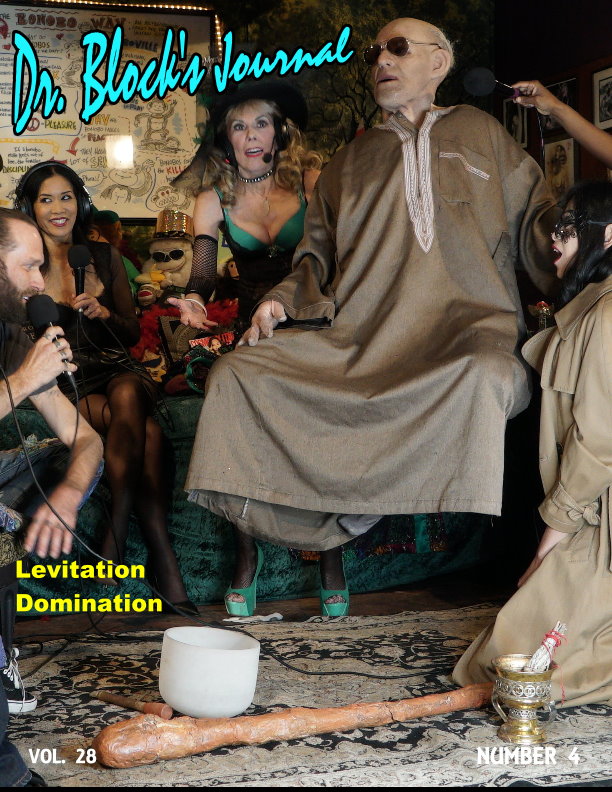 Length 01:42:21 Date: January 27, 2018
Ever wish you could fly? Just rise above the dirt and all the problems of the Earth, levitating up, up, up into the heavens above? Want to see a guy actually do that… surrounded by gorgeous kinksters and naked dancers? Then check out this show. Filled with beautiful, elegant domination, erotic flagellation and uncanny levitation; you really have to see it to believe it. Oh, what a show!
Trump's Golden Shithole
Meanwhile back on Earth… in the dirt and shitholes, tRUMP's request for an artwork just got shit on. In this week's Trumpocalypse Theater Therapy, while Trump was trying to win the cold hearts of the Davos billionaires, the Guggenheim art museum politely refused his request to borrow a Van Gogh painting for his private residence in the White house, offering him the use of an 18-karat gold toilet instead. This is not just a joke, though it certainly is a good one, but a real functioning solid gold toilet—used, even!—and a piece of art called "America" by conceptual artist Maurizio Cattelan. Whatever the White House response, the exchange is a work of art—the Art of the Art Deal—by Guggenheim curator Nancy Spector. Kudos to Ms. Spectator, giving Trump his very own golden shithole. It's the ultimate gift for the big baby King of Gaud, Fraud and Russian Golden Showers.
Too bad we can't flush all our problems down a gilded WC (a gilt latrine?). But we can escape the harrowing madness of Trumpism and other cataclysmic conundrums of modern times with our own, happier, sexier, more magical madness—at least, for around an hour and a half—and that's exactly what we do on this show.
Spankology 101 with Mistress Damiana Chi, Ph.D.
My first featured guest is chicly elegant Mistress Damiana Chi, a Ph.D. in psychology, teacher of "Domme Craft," lifestyle FemDom and pro-Domme. Born and raised in LA to Filipina and Chinese parents (she speaks fluent Cantonese), Mistress Damiana is as brainy as she is beautiful. Understated yet stunning in black leather and lace that hug her slender but strong body, she radiates a quiet, yet commanding presence, like the "chi" (Chinese for the life force) in her name.
On a leash, she brings along a gorgeous, model-slim, collared submissive who looks so much like her, they could be sisters. "Slave Roxie" is, however, decked out in bright Valentine-red lingerie trimmed with a tiny red plaid pleated skirt that barely covers her perfect bottom.
That perfect bottom is turned upside down soon enough as Mistress Damiana orders her slave girl to go across both of our laps. Then the Mistress gives her obedient slave girl a good Over-the-Knee (OTK) spanking (Roxy doesn't like much of a warm-up, explains Ms. Damiana) as this "pain slut" moans for more.
Two kink-positive Ph.D.'s, Dr. Chi and I talk about the psychology of spanking, why so many of us love this slightly kinky sex practice, and how it can be healthy and even healing for consenting adults.
Amongst my on-stage guests is our 2017 Suzy Award-winning "Most Bonobo Couple," Danièle Watts and Chef Be*Live, who share stories of their own somewhat traumatizing childhood spankings and how much they've learned from exploring consensual spankings as adults in Bonoboville. Note: Don't spank children; it lowers their IQs and teaches them that violence is the answer to problems. Do spank consenting adults for fun, erotic excitement, stress release and therapy.
Meanwhile, thanks to her Mistress' spanks and a few of mine (by hand and with The Bonobo Way), slave Roxy goes into "sub space," an altered state for submissives, as she clutches my knees and Daniele's head, writhing with pleasure and pain.
And her perfect bottom glows red as a Valentine. What a way to get our heart-on for Lupercalia!
From America's Got Talent to Bonoboville's Got Love
My next guest is magician/yogi/levitator extraordinaire Danny Wolverton, aka "Special Head." Danny is indeed, very "special," and not *just* because he can sit cross-legged, three feet off the ground.
Danny starts out on the show as an old man in a monk's robe, a tantric, slightly crabby, frowning Friar Tuck, leaning on an enormous cane that looks, when it is positioned between his legs, like a big thick dick. A dick stick.
The dick stick reminds Daniele of her Tantric tryst with Danny in New York City that the two of them reveal in bits and pieces.
Later he leans on the stick to perform his "levitation," wowing the Womb Room, much like he wowed Howard Sperm and the other "America's Got Talent" judges. 
It's like some kind of magical-satirical faith healing, with all of us in the Womb Room congregation of the Church of Bonoboville intoning "Ommmm" and then gasping with amazement as Danny rises miraculously from the floor. Maybe it's the shades, but it also reminds me of Lazareth rising from the grave.
After he performs his stick-assisted levitation, Mistress Damiana challenges him to do it without the stick. He readily accepts and suggests he levitate while leaning on her; instead, she volunteers her slave Roxy (now mysteriously attired in an oversized raincoat). He leans so hard on her—physically and energetically—she practically faints.  That's some strong Chi.
Is it real? Yes, it's absolutely real. Does it involve tricks? Of course, it does; tricks of the mind and body. Fake news that goes beyond the "facts" to inspire your imagination to fly off the ground.
"A belief in magic is the willingness to be inspired by that which your mind cannot comprehend," says Danny.
How does he do it? Watch the show, and you'll see him reveal a bit of the technology. Yet, even when we can see through his tricks (at least some of them), we are still awed by the charismatic "magic" of his performance art.
As his other "Special Head" notes, he certainly has no problem "getting it up." He's just using the air as a chair!

School for Naked Spanking
Levitation gives way to levity as Danny transforms from Frowning Friar Tuck to Naked American Lunatic, in a nude full-body suit with a silly face scrawled on a breathable mask under a star-spangled bandana.
This cues our "Most Bonobo Couple" to tear off their clothes for real. The Chef and the Magician crouch, hug, play and leap across the Womb Room like real bonobos.
Meanwhile, the Actress, Daniele, 2017 SUZY award-winner for "Hottest Confessions," pouts dramatically, confessing to having just had an emotional conversation with her mother, confessing to her deep, desperate need for attention—now.
With Mistress Damiana in the Womb Room, that calls for a spanking; so naughty, attention-demanding Daniele lays her beautiful naked body over our knees for some good sound impact-play therapy.
"How have you been naughty," I ask her, and she confesses to her Mother Confessor that she has brought a young couple, just over the age of consent, aka "barely legal," into the Womb Room for a sex education they didn't receive in school.
Well, they are legal, as well as very sweet, attentive and affectionate with each other. Daniele actually met Dollie Ann (18) in a real classroom five years ago when she was teaching her middle school drama class. Now that Dollie has passed the "18" mark of legal adulthood, Daniele is giving her former student a different kind of theater lesson by bringing her and her boyfriend Ruben Lopez (19) on the Dr. Susan Block Show .
Dollie is quite an interesting, thoughtful young lady, exploring alternative types of artistic expression, some of which I don't recommend. Nevertheless, I can't help but respect the boldness of her handiwork, carving the word "Fuck" into her left boob. Quite the artistic statement there (ouch)! Still, I caution you, my darling reader: Do NOT try this at home; it's dangerous in multiple ways. Even Ruben agrees that, art or no art, cutting is not a healthy pursuit, and he personally doesn't encourage it. Dollie says she wants to branch out into other, safer art forms. Daniele, on the other hand, enthusiastically champions her current artistic expressions. Oh, that naughty Daniele…
Since we're giving it to her for being a naughty teacher, I can't resist book-spanking Daniele's lovely luscious ass with The Bonobo Way. Read it or get red from it!
Ruben and Dollie sit onstage through the whole show, quietly, as if they're in school, "auditing" a cross between a whacky class in fetish and a circus of the surreal. They certainly make for a rapt audience as they observe Dollie's former teacher, Ms. Watts, strip down and sprawl across our knees for a spanking, even as they giggle and talk about how Dollie enjoys receiving a little spanking herself. It's another great hands-on workshop in Dr. Suzy's School for Spanking.
After the break, Mistress Damiana starts flogging the lovely, Valentine-red, heart-shaped bottoms of slave Roxy and Daniele—who mischievously sticks a bit of Trump toilet paper up her twat. With a deft swat, Dr. Chi flogs it to the floor.
Suddenly, Danny the Special Headcase comes hurtling into the Womb Room in the old man's head and the naked bodystocking, which is now stuffed like a "fat suit" that seems to turn him into roly-poly robot made of jelly.
Raising the fever pitch of excitement and confusion, he's eating fire and producing roses which also levitate.
It's total mayhem for a while. Then Daniele says Danny needs a spanking, but Mistress Damiana does not look thrilled to spank an unruly magician in a stuffed suit. Moreover, she has her own ideas of what she'd like to do, which is to get back to flogging those beautiful behinds.
Yes Ma'am!
Daniele brings her brat role in check and bends over my broadcast bed again, now asking Mistress Damiana to go harder on her, as she has worked hard at being a bad girl. Fired up, Mistress Damiana flogs both Daniele and Roxy, Florentine-style, at increasingly intense levels until Daniele seems to climax (a "hands-free orgasm"?), dropping to her knees and embracing Mistress Damiana for an intimate moment of after-care, all of us feeling blessed by the "Chi" they are releasing throughout the Womb Room.
We close the show on a high, as Danny levitates higher and higher, as the rest of us monkey around, enjoying the primal bliss of being alive on Earth… as well as a couple of feet above it.
What a great way to get high!
Then up the magical stairs of Bonoboville into the heavenly bliss of the winter night sky, the Captain and I levitate orgasmically, dreaming of beautiful, well-flogged, Valentine-shaped buns in a Neapolitan rainbow of flavors. Yum!
Thanks to Our Volunteers: Videographers- David Polcino, Gideon Grayson ; Photographers – Nicole & Izzy, Slick Rick, Carlo;  On-Campus Bonobos – Abe Perez, Camille Rosebud, Mita Altair, Harry Sapien, Gideon Grayson, MarsFX, Clemmy Cockatoo, Ana & Miguel. 
© January 27,2018. Susan Block, Ph.D., a.k.a. "Dr. Suzy," is a world renowned LA sex therapist, author of The Bonobo Way: The Evolution of Peace through Pleasure and horny housewife, occasionally seen on HBO and other channels. For speaking engagements, call 310-568-0066.