D-A-D 2: Gold & Sterling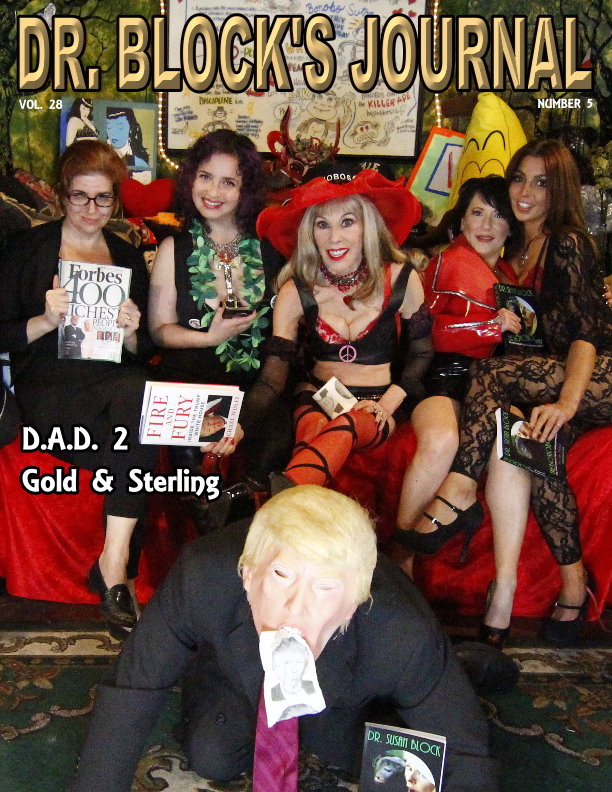 Length 01:57:07 Date: February 3, 2018
From the high risk political performance art of Dominatrixes Against Donald Trump (D.A.D.) to the very personal, healing power of the "Switzerland" of female domination, this show spanks both ways.
FemDom politics is well represented in the Womb Room by D.A.D. founder and director Mistress Tara Indiana (2017 SUZY award winner for "Best FemDom of the Resistance") and Rhiannon Aarons (2017 SUZY award winner for "Most Well-Rounded Kinkster").
D.A.D. is "a place for Dominatrixes and their allies to exchange ideas and organize political action against Donald Trump." One of these ideas involves giving Trump, or various Trump surrogates, the gilded sprinkles that rumor suggests he paid for while visiting Mother Russia in 2013.
Last year, on Trump's inaugural weekend, we did a dry run… Well, actually it was a very wet run. Watch "Trump's Golden Shower: Therapy for the Trumpocalypse" now playing uncensored on Clip-O-Rama. You can also check out a censored promo on YouTube.
From golden rain to sterling power exchange, we welcome for her first time on DrSuzy.Tv Mistress Morgan Sterling. Ms. Sterling describes herself as politically "neutral," but she isn't neutral about personal power exchange, such as the type she engages in with her slave Jay where she is very much the boss, but she tries to stay out of highly charged discussions of politics or religion.
Keeping all three of my femdom political and apolitical guests happy could be a challenge. However, they all know one another from the LA BDSM scene, expressing fond feelings and bonoboësque empathy for each other's points of view.
Whatever your politics—or objections to talking politics—the Trump era, aka "The Trumpocalypse," is a difficult time to navigate. This is particularly true for business service providers—and pro-Dommes are business service providers—who want to get along with all of their clients and/or customers, regardless of their party affiliations.
"I doubt that I'd do this kind of political work if I hadn't retired from professional domination," explains Mistress Tara. 


Well, her former clients' loss is America's gain because Dominatrixes Against Donald Trump is providing a great service in calling out and theatrically punishing our Big Baby-in-Chief. We are especially excited about D.A.D.'s most recent Hollywood adventure, featured in a short film that we premiere on this show as a surprise (though word was "leaked" to the press).
Raining on Trump's Star
The film shows several unidentified D.A.D. ladies dressing up in corsets, boots and latex hoods on the night before the Women's March, then going out on Hollywood Boulevard for a "Slut Walk of No Shame," from Bar Sinister to Donald Trump's star which sits, appropriately (and creepily) enough, just outside the young women's clothing store "Forever 21."
There, one of the Dommes slaps a D.A.D. sticker on Trump's star just above the quintessential narcissist's name while another one whips a guy in a Trump mask who is on his knees. Then one of the D.A.D. Dommes lifts her skirt and releases a torrent of golden rain all over the star.
Onlookers laugh, take photos and cheer them on. A police car whizzes by, seemingly oblivious to the subversive performance art occurring on the sidewalk. Nobody tries to stop them or defend the dignity of the President of the United States. It's as if everyone, even random foot traffic on Hollywood Boulevard, agrees that Trump deserves to be pissed on.
At the end of the performance, one of the Dommes cleans up the pee with a big mop. Cleanliness and safety first and foremost, even when pissing on the President's star!
Sterling Style
Meanwhile, back in Switzerland… gold turns to Sterling, as the Mistress puts Slave Jay through his paces… Well, just a few paces, since he sprained his ankle and, though he looks adorable in his latex bootie shorts, isn't in top form. Ever the caring mistress, she spanks him for so naughtily hurting himself without her permission, as she puts her feet up on his back, using him as a footstool and showing off her red bottom heels as she spanks his bottom by hand and with a rug beater.
Later, Slave Jay, who's into breath play, "licks" Mistress Sterling's pretty pedicured toes through his mouth-covering latex mask.
Then, neutral or not, she gamely holds our Trump Voodoo Doll's head, keeping him gagged with the penis pacifier and holding his nose (extreme breath play!), as I beat Trump's balls with her rug beater, and she beats the golden rug on his head with her elegant manicured hands. Then Ms. Tara takes a turn. Hopefully, the voodoo is working and the real Trump's balls are hurting; we can already see that his rug's taken a beating…
Bonoboville Communion Healing
When Capt'n Max asks her if she is a "healer," Ms. Sterling demurs, though she acknowledges her expertise in medical play. But Rhiannon confirms the other Mistress' healing powers by recounting an incident in which she really helped her "heal."
The two of them then share a boobalicious Bonoboville Communion with Agwa de Bolivia Herbal Coca Leaf Liqueur.


Even though she won't talk about religion, Ms. Sterling receives Communion with gusto from Rhiannon's lovely, all-natural 36 DD "Altar."
Though she's usually the one doing the waterboarding, Mistress Sterling takes her "Waterboarding, Bonobo-Style" like a good P.O.W.  Whereupon each of them "gets lei'ed."
Then Mistress Sterling doffs her top to reveal her own sumptuous Communion Altar (which she says is 34C, but seems larger to us Altar experts). Rhiannon takes her Communion with pleasure and a certain kinship that seems connected to that "healing" experience they shared. The rest of us are also healed by the vision of mammarial loveliness that their Communion offers.
Therapy at its breast!
Raining Gold on the Gold Fetishist-in-Chief
After the break, we take a moment to celebrate the birthday of our beloved Bonoboville social media manager/editor (plus a few other hats), Cami Rosebud.  No, not a cake orgy like we had Spanksgiving, but a nice heartfelt moment to celebrate a great behind-the-scenes collaborator.
We also talk about our upcoming celebration of Lupercalia (the original pagan Valentine's Day) when the Womb Room will be transformed into the womb-like Cave of the Lupercal from which the historic truths and legends of Lupercalia emerge. We're all excited that Rhiannon will reprise her starring role as the Luper, the great MILF She-Wolf who suckles the twin founders of ancient Rome, Romulus and Remus. Being sons of Mars, they fight, and one winds up accidentally-on-purpose killing the other. I'm not giving away the story to say it's Romulus who commits the somewhat unintentional fratricide; otherwise, we'd call the sprawling 3000-year-old capital of Italy, "Reme."
Speaking of the Old World, that's one of many things we punish our Trump surrogates for: embarrassing us as Americans abroad. Yes, Trump surrogates plural. As D.A.D. has grown, it has attracted more members and supporters—as well as guys willing to put on rubber Trump masks and get beaten and/or pissed on. Why not? A lot of performers like to play the bad guy. And humiliation is a tricky but popular fetish.
On this show, we have an abundance of Trump surrogates. Besides my old voodoo doll Trump, we also have Nemo Trump and Michael Q. Schmidt Trump (2017 SUZY award winner for "Best Trump Surrogate"). Let the Commedia Erotica commence!


The scene is set: the tarp is on the floor. It's military-style camouflage since tRUMP's little dick gets so hard for anything military. We also have the Trump Toilet Paper ready for wiping. We toss a couple of limited edition doggie pee pads featuring Japanese-style paintings of Trump by Jeffrey Vallance on the tarp.
The first Trump (Nemo) strolls in, wearing a suit and carrying a roll of paper towels.

Mistress Tara, who ran for President in 2016 on the Female Supremacy Party, begins by collaring, slapping and berating him as the rest of us chime in. Even Mistress Sterling can't help but giggle.
Then Mistress Tara grabs a white Jux Leather flogger and proceeds to flog the cowering bastard on all fours.
His fate is sealed. She orders him to strip to his tighty-whities and lay down, face up on the tarp and pee pad art.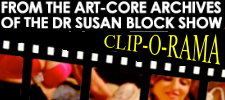 Then Mistress Tara, shoes off, squats over tRUMP and encourages all of us to join her "Russian Hooker Pee Party."
FemDom bonobos in the Ladies' Room, Ms. Tara, Rhiannon, Phoenix and yours truly all give tRUMP a trickle or a torrent of our sparkling waters of life. I'm proud to say that in the past couple of pee parties we've had, where I've given the Trumpus but a trickle, on this show, I supersoak the douche with a torrent. My secret? A combination of holding it in for an hour before showtime, then relaxing, releasing my inner bonobo and not giving a damn. Though each of us has her own path to this point, we converge in energizing erotic-comic political release. It's our own semi-private Slut Walk of No Shame. According to Slave Jay, similar raucous wild "Pee on Trump" parties have happened at the AVN awards the past two years, and they will probably continue at least as long as Sir Golden-Rug is in the Oval Office.
It's seeming more likely that there is truth to the Russian piss rumors. In 2018, a second dossier, prepared by Cody Shearer, has emerged that, though no proof in and of itself, seems to corroborate Christopher Steele's contention in the first dossier that Donald Trump was compromised during a 2013 trip to Moscow that involved "lewd acts" committed with escorts in a five-star hotel. These "lewd acts" would be those notorious golden showers in the bed the Obamas slept in—the ultimate naughty, nasty, forbidden "gold" for the germaphobe who loves gold in all its forms.
Whatever the Trumpster really did, this is the age of "fake news" and "alternative facts" and this is, in fact, what We the People of D.A.D. and Bonoboville think of him: Underneath all those crude, patronizing remarks about "shithole countries" lies a shithole president with his mouth open. Filthier than the old D.C. "swamp," he's a human toilet. Psychologically, we're all swimming in his shit, so we might as well piss on him (instead of shitting because we'd rather not deal with anymore shit than we have to ).
Hey, at least we're not as crazy as my fellow Philadelphians celebrating the Eagles' Super Bowl win by literally eating horse manure off the street. Yikes! No wonder I left Philly for Bonoboville.
Speaking of which, back in our relatively clean Womb Room, after we roll up the wet tarp, pee pads, Trump toilet paper and Trump #1, we summon Trump #2, played by Michael Q. Schmidt. Unfortunately, Michael is once again wearing his old cut off shorts and a ratty T-shirt that just doesn't look like Trump, so we order him to strip naked which he does within moments since he's a nude model, as well as a nudity fetishist.
Then we spank him a la Stormy Daniels with the Forbes Magazine featuring the Trump Crime Family—Don the Con and his spoiled brats Junior and Ivanka—on the cover. We spank him for abandoning Puerto Rico, for grabbing pussies and releasing the stupid Nunes Memo, backing out of the Paris Accords and  obliterating the EPA, screwing the Dreamers, approving the Keystone Pipeline, supporting the Nazis and the KKK, growing the military and the prisons, giving tax cuts to his billionaire friends while he pretends it benefits the rest of us, and the list goes on way past the time we have.
Neutral Mistress Sterling even lends us her rug beater to give it to tRUMP's rump. And give it to him we do, until he begs for mercy.
Then Ikkor the Wolf  takes the mic to unite our State of Disunion with "We Are One," which we are…. even though there are two tRUMPs.

All the Trumps and Dommes, black and white, male and female and everything and everyone in between, slut-walking, star-stomping, kneeling, dancing and tripping over each other. We are one.
Does it turn me on? Yes indeed, it does. A good piss-on-power clears the way to great orgasms-for-peace—at least for the Captain and me. And so goes another fun, sapiosexual, outrageous, political/apolitical comic erotic night in Bonoboville.
Thanks to Our Volunteers: Videographers- K.A, Gideon Grayson ; Photographers –  Jobe, Slick Rick;  On-Campus Bonobos – Abe Perez, Camille Rosebud, Mita Altair, Harry Sapien, Gideon Grayson, MarsFX, Clemmy Cockatoo, Ana & Miguel.
© Feb. 3, ,2018. Susan Block, Ph.D., a.k.a. "Dr. Suzy," is a world renowned LA sex therapist, author of The Bonobo Way: The Evolution of Peace through Pleasure and horny housewife, occasionally seen on HBO and other channels. For speaking engagements, call 310-568-0066.