Valentines in the #MeToo Trumpocalypse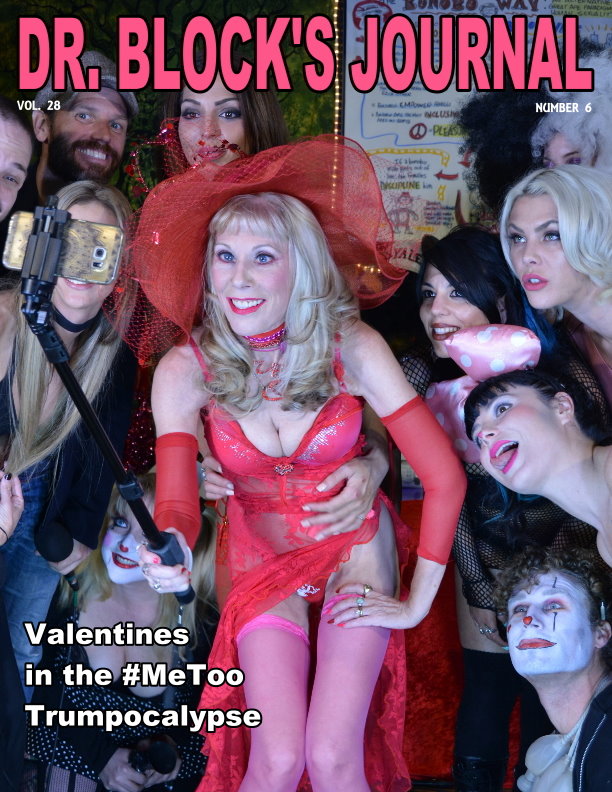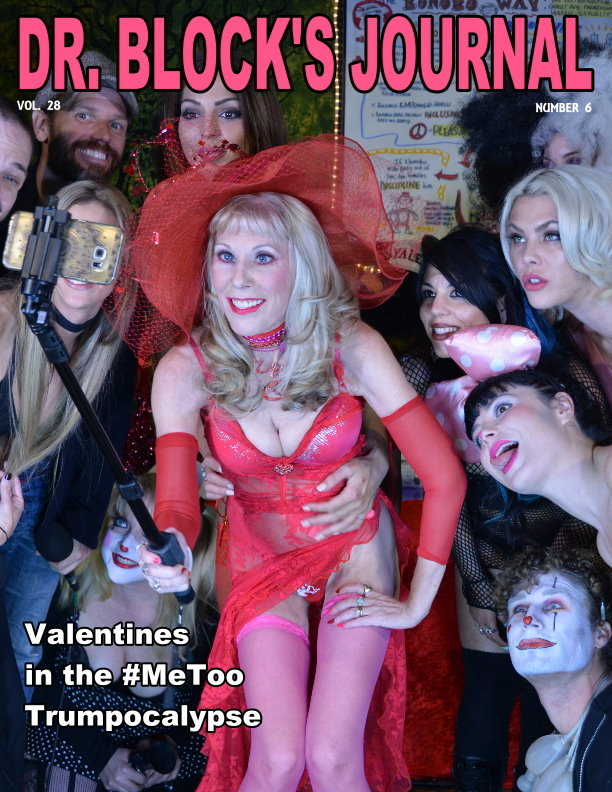 Length 01:50:46 Date: February 10, 2018
On the verge of V-Day in the #MeToo 2018 Trump era of heightened fears, embarassing exposés, difficult transitions, and rapidly accelerating alienation, I gather together in my Womb Room a sapiosexually stimulating assortment of colorful kinksters and clowns, sexperts and sexpots, fabulous FemDoms, adorable subbies, sultry switches, a sweet science administrator and a funny radio personality.
I feel like God and the Goddess have given me a shiny red and pink box of human Valentine candies. Throughout this flavorful show, I savor taking a taste of each one. Yum!
V-Day for Couples
I've said it before and I'm saying it again: Valentine's Day is fake news concocted by the early Catholic Church, enhanced by Hallmark and abetted by Amazon, effectively sanitizing and commercializing the original primal holiday of the heart. I prefer the earlier V-Day, Lupercalia, which we will celebrate with lust and floggers this coming Saturday in Bonoboville.
However, being a love junkie, I just can't ignore Valentine's Day itself. So, Capt'n Max and I are attempting to make vague plans for the Big Day which falls, rather inconveniently, on a Wednesday this year, and I'm already feeling the ridiculous-but-very-real pressure to make it unforgettably romantic without spending Bonoboville's rent money.  How do other couples, trouples, quadruples and singles handle the stress and pleasure of the High Holiday of Love?
In search of answers, stimulation and entertainment, we chat and play with this congregation of guests squeezed joyously into our little Church of Bonoboville.


To my right is a sweet couple celebrating their first Valentine's Day together. Nothing out of the ordinary here, except that Mistress Mina is a pro-Domme and her Valentine, ALT 98.7 FM talk show host/comedian Jake Dill adores her, but isn't very kinky (so he says).
Jake and Mina don't have firm plans for V-Day itself. Though without a doubt, Jake's goal is to "please" his Valentine. If he has a fetish, he says, it's pleasing the woman he loves.


"So you're a cuckold," concludes one of my other guests, which Jake strongly denies.
But then how does he feel about his Valentine dominating her mostly male clients—often in an erotic way? "That's her profession," he explains dividing work and play in a way that some of my other guests might disagree with, but on the verge of their first V-Day, whatever makes them happy together is the "right" answer.
They do a sweet Bonoboville Communion and Waterboarding, Bonobo-Style together, so their Valentines Week is off to a great, sexy start.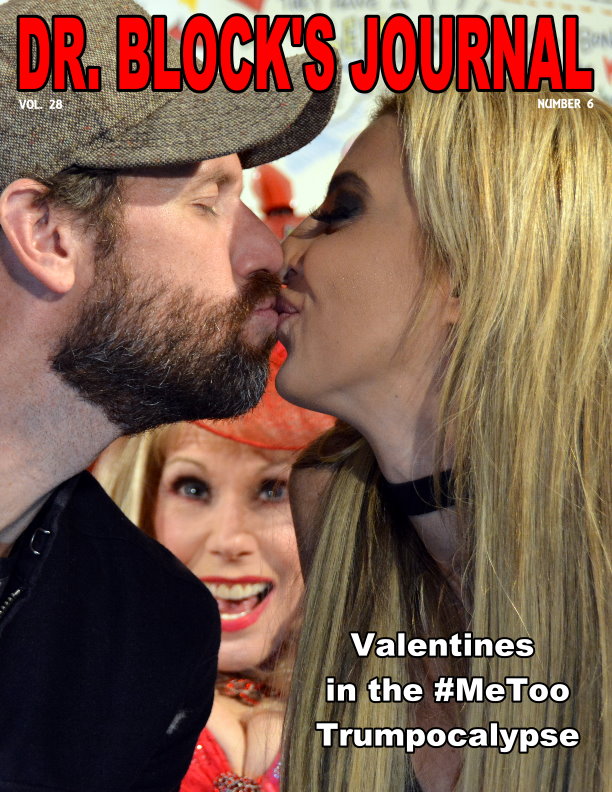 The Bella Clown Posse
To my left is the majestic Mistress Bella Bathory, slinky in pink (her signature color), and her "posse" of Valentine lovers, clowns and associates.
Ms. Bathory's namesake honors Countess Elizabeth Báthory, a sadistic Transylvanian noblewoman who is said to have bathed in the blood of young maidens she enticed into her castle. Pretty sinister for a loving feminist like Bella, but when Cami Rosebud asks about her namesake upon her arrival, Ms. Bathory teases provocatively (off-camera), "I aspire to that level of narcissism and blood-lust daily." Is she clowning or sincere? Probably a combination.


Identity being important with such a progressive group, I must say, identifying the Bella Clown Posse's romantic artistic relationships is in and of itself a sapiosexually stimulating challenge. My advance apologies, if I have to issue corrections. 
If my currently-slightly-hungover memory isn't failing me, Bella's primary Valentine (at least for this show) is the adorable and astonishingly smart actress, writer and Adult Performer Advocacy Committee (APAC) representative Siouxsie Q James, decked out in retro polka dots like a living Betty Boop for her third appearance on DrSuzy.Tv (for the others, see No Prop 60 and Max's Bday 2016).
Siouxsie's Valentine (besides Bella) is Michael Vegas, in clown-face and suspenders, who has been a guest on a number of Dr. Susan Block Shows (with various Valentines) from 2010 to 2014, this being his first appearance in over four years!
Then there's Bella's "life partner," another kind of Valentine, Queerella Fistalot.
Topless and in a tiny black g-string, big black and white hair, boots and a cut-out waist-cincher Queerella is striking eye candy.
Moving back around to my right, straddling her own Sybian through most of the show, is a clown-faced cutie whose name is actually Candy (last name: Cadaver); she's part of the Bella Posse, but her Valentine seems to be that Sybian.
Also over on the right is Free Speech Coalition science and regulatory affairs director Ian O'Brien. A quiet unassuming guy, here because Siouxsie "dragged" him along. Ian says he loves bonobos, so we love him.


My lovely assistants, Phoenix Dawn and Mia Amore, round out the group, and off we go into a rollicking pre-Valentine's Day show.   The Bella Posse's plans for V-Day include stopping at Hooters to "rip up pictures of our exes," then going on a pilgrimage to David Bowie's star on Hollywood Boulevard (that's two shows in a row with trips to Hollywood stars—last Saturday's was D.A.D. peeing on the Trumpster's star).
Siouxsie Has Two Daddies + Olympic Valentine Communion
First up for Bonoboville Communion are Bella and Michael, both of whom Siouxsie calls "Daddy."
Having been raised Catholic in Chicago (thanks to fellow Chicago kinkster, Ken Melvoin-Berg, for recommending Bella to us!), Mistress Bella agrees to be a Bonoboville Communion Altar Girl. Even though it's her First Communion, Mistress Bella directs the proceedings in her charmingly bossy way.
First Siouxsie and I (the two Susies—though neither of us spell it that way) lube up her latex. Mmm…. sensuous!

Michael leans into her thigh for a lick, then arches his head under her skirt (with a quick but exciting commando flash).

Bella requests that I pour the Agwa de Boliva Coca Leaf Liqueur down her latex dress from her boobs to Michael's mouth.
It's like a Winter Olympic event, except it wouldn't win any medals as it ends in more of a splatter than a swallow. Oh well, we just need to practice before we can go for the gold.
Speaking of the Olympics in Pyeongchang, the best Valentine love story this year is that of the two teams from North and South Korea coming together, under one flag, into the Opening Ceremonies, held less than 50 miles from the heavily armed border of the two countries. Hey, hey, it's the Bonobo Way.
Representing the USA to most decent Americans' abject embarrassment, U.S. Vice President Mike Pence refused to stand when most of the stadium rose in a standing ovation for the peace that the two teams marching in together represented. Though Pence has chimed in with tRUMP to criticize NFL players "taking a knee" against police brutality at football games, he essentially took a knee against peace at the Pyeongchang Winter Olympics. If there was ever any doubt that U.S. interests are in fomenting discord and marketing war, now it's as plain as the snowflake-white hair on Pence's head.
Pence castigated North Korea for their military parades. But he's 100% behind his boss' call for a military parade on American soil. Speaking of that ridiculous, expensive, fascistic and unseemly call for a Banana Republic-style military parade, our tRUMP doll gets spanked with a tank on this show! Actually, it's a toy military truck, but "spanked with a tank" sounds better. It's the Bonobo Way.

We also gag him with a toy machine gun. It's 2018, and the Resistance is getting worked up.
It's also 20-Gay-Teen! Three cheers and a bonobo beer to #TeamUSGay Olympians, Adam Rippon and Gus Kenworthy, the first openly gay Olympians to come out before competing, and who have refused to meet with Pence because of his anti-LGBTQ history and even posted pix of themselves with the caption "Eat your heart out, Pence."
And I have to say, watching the utterly hypnotic Adam Rippon skate (as well as Mirai Nagasu's herstory-making triple axel) is making me late with this blog today!
Speaking of hot openly gay male ice skaters, shout-out to my fabulous hairdresser Mark Brown, who beautified my hair just before this show and may not be an Adam Rippon-level Olympian, but happens to be a fine figure skater. Forget the dance floor, boys, get out on the rink and spin your stuff! Adam Rippon for President! Mirai Nagasu can be veep, or she can triple-axel her way into the top spot. Either way, they have my vote.
From Bella to Queerella
After her Slalom Communion, Bella would like to take a more "traditional" Bonoboville Communion from her "life" Valentine, the foxy Ms. Fistalot. Already topless, Queerella's pert, pierced tatas serve as the perfect Communion Altar. Brought up in a very strict Christian household, Queerella almost looks like she's going to levitate in her role as Altar Girl.
Mia Amore wants to take Communion too, and fortunately, Queerella has two boobs, so both Bella and Mia take a simultaneous Double Communion. Ooh la la!


Taking her first Waterboarding, Bonobo-Style like a good P.O.W., Mia is initiated into the great mysteries of the Church of Bonoboville.
Naturally, Bella orchestrates her own Waterboarding, requesting that Queerella be Agwa-waterboarded and then snowball the shot into Bella's mouth with a kiss.
This we manage a little more gracefully than the earlier waterslide, though I think they get more Agwa down their chins than their throats. Either way, it's super sexy, and a loving Valentine twist on Bonoboville Communion.
Later, Queerella offers up her beautiful Valentine heart-shaped ass for a Lupercalian whacking.
She even brought her special spiked spanking gloves and a leather slapper for the occasion.
"I'm a sadomasochist," she purrs seductively. "I love pain."
She proceeds to prove this by letting Mistress Mina put on those nasty spiky gloves and spank her heart-shaped ass until it bleeds the cardinal red color of Valentine's Day. Normally, we don't go for blood play on DrSuzy-Tv, but when it happens, it happens, and it's especially okay when the "victim" is smiling joyously, and is a trained phlebotomist who understands the importance of safety first.
Interestingly, Jake attests that he is not the least bit aroused watching his hot girlfriend play with another sexy lady. Hmmm.  Maybe it's too close to cuckolding. Whatever it is, the rest of us are certainly turned on. Thanks Jake, Mistress Mina and the luminous, Valentine-bottomed Ms. Fistalot.
Fisting Brianna
Mistress Bella loves to fist people. So does Mistress Mina. The word is even part of Queerella Fistalot's name. Enough talk, how about some action? Can we have a fisting demo?
Well, yes, but the fistee is a beautiful blow-up doll named Brianna. It's understandable that none of my human guests are ready to jump up and get fisted (though it's been done a few times before on DrSuzy.Tv by Cumisha Amado and Carol Queen). That tends to require a certain level of preparation in humans. Dolls are another story; one reason we love them!
The fister and instructor for this demo is Siouxsie Q. James who, with the help of a little "Bacon Lube" from Astroglide (love that bacon!), gives Brianna a good fisting. Phoenix tries to stick her hand in Brianna's twat at the same time, but apparently Brianna can't take a double fisting, even with Bacon Lube. Send her back to the lab!
#MeTooWhatNext: Decriminalize and Destigmatize Sex Work
Just before we bid adieu to our live broadcast audience, we talk about #MeToo, and its relevance in the world of porn and other forms of sex work.
We also talk about one of my pet points: the importance of decriminalizing and destigmatizing sex work in the next phases of #MeToo. If extracurricular sexual energy can't be expressed in the work place, it should be channeled into something safe, sane and consensual… like sex work.
Post-Show Fun, Valentine Orgasms and the Bonobo Way
After the show, we clown around with the clowns.
PHOTOS: ABE BONOBO
When Queerella removes her hair, she looks like a totally different person, still sexy though, especially in her adorable "FIST TRUMP" bootie shorts and her "Make America Gape Again" tee.
Michael Vegas wows the bar with a dazzling, neon-glowing Poi show that brings a little bit of Burning Man into Bonoboville.
Mia and I both try our hands at poi play which doesn't require Michael's level of skill to create cool effects.
All this Valentine eye candy is very exciting—and not bad for your health, like real candy—providing the Captain and I with just the right visual stimulates package to get our Valentine's Week off to an orgasmic start.
Go Bonobos for Valentine's Day! Celebrate World Bonobo Day with The Bonobo Project and gain Valentine inspiration to "release your inner bonobo" from the Love Apes of the rainforest, where every day is Valentine's Day. The Bonobo Way: The Evolution of Peace through Pleasure is the ultimate antidote to the fear and hatred that is driving us apart. Give it to someone you love, even if that someone is you.  A portion of all proceeds go to help save the highly endangered real bonobos in the wild. 
Next Saturday, we'll go lupey for Lupercalia with Mistress Porcelain, Mistress Jennifer, Elena Rayn, Rhiannon Aarons, Chef BeLive, Daniele Watts and more!
Thanks to Our Volunteers: Hair by- Mark Brown; Videographers- David Polcino; Photographers –  Hugo, Slick Rick, Jux Lii, Gaby Deleon Photography;  On-Campus Bonobos – Abe Perez, Camille Rosebud, Mita Altair, Harry Sapien, Gideon Grayson, MarsFX, Clemmy Cockatoo, Ana & Miguel.
© Feb. 11, ,2018. Susan Block, Ph.D., a.k.a. "Dr. Suzy," is a world renowned LA sex therapist, author of The Bonobo Way: The Evolution of Peace through Pleasure and horny housewife, occasionally seen on HBO and other channels. For speaking engagements, call 310-568-0066.