Happy Thanksgiving and Slappy SPANKSgiving from Bonoboville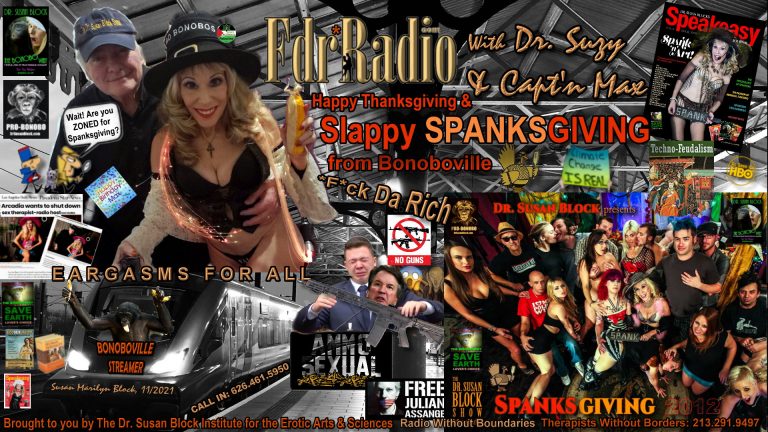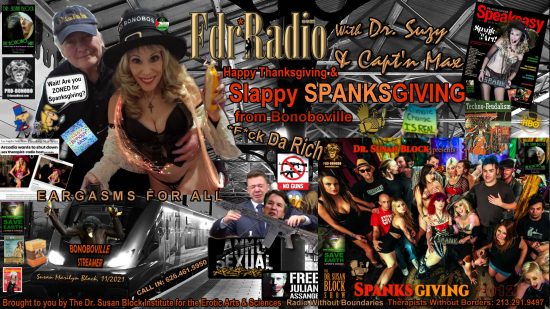 Length 01:27:05 Date: November 20, 2021, 2021
by Dr. Susan Block.
Season's Beatings, Puritans, Libertines and In-Betweens, Happy Thanksgiving, and I hope you get stuffed… from both ends!
And Slappy Spanksgiving!
On Thanksgiving, let us give thanks, and on Spanksgiving, let us give spanks. Let us spank away the hate, greed and fear that divide us. And let us practice the Bonobo Way of peace through pleasure… with a little spanking. Consenting adults only please. Don't spank kids (they can't consent). The Bible says, "Spare the rod and spoil the child." I say: Spare the child and save that rod for your (consenting adult) lover.
It's our duty to spank booty on Spanksgiving!
Come let us play… And let us sing: Amen and Awomen. Praise be to the power and glory of spanking.
Thanksgiving is Fake News
Indeed, Spanksgiving is more authentic and reality-based than Thanksgiving. It's far more likely that our Pilgrim ancestors practiced Spanksgiving than the mythical love-in with Native Americans that we call Thanksgiving. Most legitimate historians agree that the Thanksgiving Story of a feel-good Turkey-Day gathering of friendly Pilgrims and Wampanoag Native Americans is whitewashed hogwash. Sure they ate Squanto's corn when they were starving, but once those pious Pilgrims got their land legs, they slaughtered as many "savages" as they could with their matchbox muskets and "gift" blankets filled with smallpox. Thanks, but no thanks given.
Talk about a "hoax" pulled on the American people. The Thanksgiving Story is one big Fake News Hoax. Spanksgiving, on the other hand, is not Fake News. It's based on fact. Those Pilgrims (and the Puritans who came soon after them) were into punishment! They punished the Native Americans (where the punishment was often death) and each other, where creative punishments for sexual sins was their specialty. Even now, we feel their perversely pious, intensely hypocritical legacy of guilt for natural, healthy sexuality.
Of course, all of these colonial punishments were administered without consent, so we do not endorse them. Far from it. Nevertheless, they were pretty kinky! According to their own town records, the Pilgrims and Puritans administered many spankings, paddlings, canings, whippings, stocks, "tar and feathering," "public disgrace," Pilgrim-style. Also, Pilgrims appear to have had a fetish for buckles (on shoes, belts and even hats!), as do modern kinksters.
Here in Bonoboville, we enjoy roleplaying our erotic vision of such historic Puritanical punishments; the big difference being that our "sinners" are consensually spanked. For a walloping example, check out this week's dazzling bacchanalian throwback, Spanksgiving 2012, featuring a galaxy of fetish, porn and mainstream stars, including Goddess Soma Snakeoil, Fat Mike of NoFX, Ed Furlong, Danny De La Paz, Monica Keena, Teal Conrad, Natasha Star, Sinn Sage, Starry Knight, Dane Cross, Shay Golden, Brock Hard, naughty little Pippi and more.
What a sizzling rump roast of a show!
Back to Thanksgiving, which can be delicious, but also difficult to digest. For many, it is a delightful reunion with those they love the most, and for others, it's a conflicted, stressful, deeply hypocritical and downright nauseating family feast of carbs and schmaltz, where we have to repress our real feelings for fear of triggering Uncle MAGAt's Loser trauma which might trigger his finger on that AR-15 that he has a Second Amendment Right to bring to dinner. One silver lining to the black clouds of 2021 is that you can still use the Covid excuse (say you were exposed to someone who has it) to stay home and choke your chicken instead of swallowing their turkey and taking their crap. Spank the Monkey for Spanksgiving!
On the Native American side, many indigenous tribes have long incorporated ritual pain into cultural practices—maybe not spanking, but piercing and other challenging purification rites—that open the doors of perception to altered states of consciousness. You might call it "sub space"… on steroids.
Spank Away Your "Sins" on Spanksgiving
For kinky consenting adults with a conscience, Spanksgiving isn't just a slap-happy climax to Naughty November (though it certainly is that); it also provides a playful but meaningful form of "penance" for the Pilgrims' and other Europeans' original "sin" against the natives of this land, raising awareness of the genocidal, ecocidal history of the holiday. Of course, it's only a symbolic acknowledgment. We can't just spank away America's ongoing sins against indigenous tribes, the descendants of slavery among us, the people America has bombed in foreign lands, nor even our own smaller sins against each other. However, we can "spank away" some of our so-called sins, not sins against our fellow humans, but those fake "sins" enumerated by the Puritans among us, such as spanking the monkey, or loving someone of your own gender, or transitioning, or engaging in any kind of sex without procreation as the goal. We can also spank away our fears, phobias, even traumas, and certainly stress and frustration. Kink itself can be a form of therapy, and a Russian study showed that a good consenting adult spanking, flogging or other form of impact play can be great therapy. On a purely physical level, it can *alchemically* transmute leaden pain into golden endorphins. Psychologically, it can also offer healing. Given with love, trust and care, pain really leads to gain, conquest of our paranoid fears, giving us confidence and courage we didn't know we had.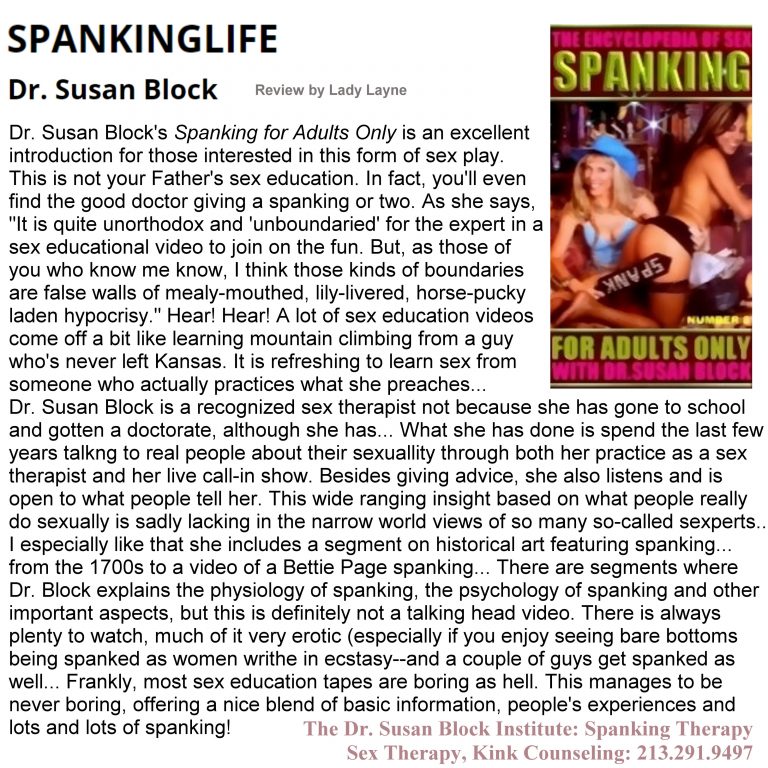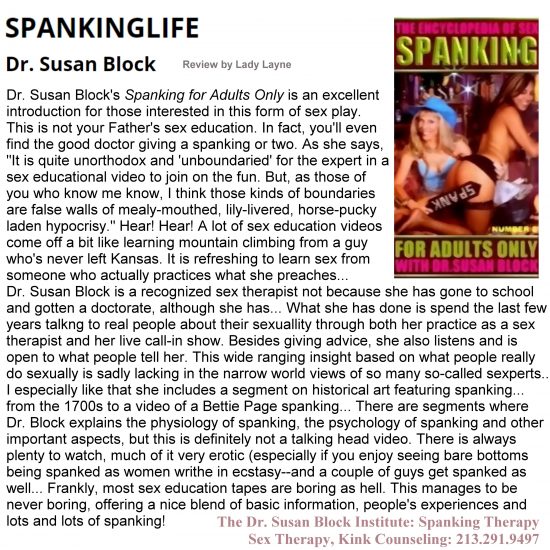 So, see why I give spanks… as well as thanks? Spanksgiving puts Thanksgiving into perspective. Bottoms up! Turn the whole plutocratic, ecocidal oligarchy upside down and spank its naughty ass. Fuck Da Rich. And dat's the name of dis train, the Peace Train. Fuck Da Rich. We mean it in a good way… and a bad way. In a Bonobo Way.
In the spirit of Spanksgiving, we explore the evolution (or devolution) of Pilgrim muskets into much deadlier semi-automatic weapons, now being toted like shoulderbags around towns, churches and grocery stores by more and more unhinged Americans. Capt'n Max recites a sobering litany of American gun murder statistics which only seem to go up and up.
What to do about it? I look at all the literature about violence, war and peace, and I haven't seen any solutions to this travesty than The Bonobo Way of peace through pleasure. One aspect of liberating your inner bonobo is channeling violent impulses into relatively harmless yet satisfying, consensual activities like Spanksgiving.
Unfortunately, the NRA doesn't profit from sales of spanking paddles. They want YOU to buy more and more and more guns.
Crying Kyle Goes Free
This brings us to Kyle Rittenhouse, the new Trumpublican fascist poster boy for ammosexual "premeditated self-defense" (with a hat tip to Jux Lii), whose histrionic blubbering in the Brett Kavanaugh tradition of lying, crying, white male self-pity under oath (along with the grossly avuncular patronage of white supremacist "OK"-signal-flashing Kenosha County Circuit Judge Bruce Schroeder) got him acquitted of all charges. No punishment whatsoever. Not even a spanking.
If that's not bad enough, now wild-eyed, nakedly opportunistic, Trumpublican Congressmen are arm-wrestling over who will get Kyle as an intern.
Having watched "Impeachment," we all know what interns do.


One of my Twitter followers got so excited at the idea of the Trigger-Finger Teen Killer walking free, I had to tweet back, "Oooh Marc, there's a wet spot on the crotch of your pants where you came from thinking about giving it to the "liberal media" while Kyle Rittenhouse gives it to you with his big sloppy gun."
When cornered, these ammosexual, faux "manly" men turn into big bawling babies. That's what gets them off—in both senses of the term.
I should try the Rittenhouse/Kavanaugh blubbering technique next time I'm on a witness stand. Then again, I doubt it would work for me. Kyle and Brett's melodramatic bawling only works for white dudes. So, I suggest that Max, a (more or less) white dude, try it with the Arcadia Politburo. Speaking of which, they canceled our long-awaited meeting with the Arcadia City Council at the last minute. I doubt they were tipped off about our new Crying Game Plan. Maybe they just got nervous. Hopefully, they've just realized their zoning inspectors are suffering from a bad case of Mattress Madness, causing them to compulsively harass us… though I'm not holding my breath on that. Though I hope for the best, I fully expect another Kangeroo Court.
Spanks for the Mammaries
Mid-ride, we take a call from our old friend Sherrie, aka British porn star Kiss, featured guest on many DrSuzy.Tv shows back in the 1990s, broadcast live from the Villa Piacere in the Hollywood Hills. Unfortunately, there's a bad connection, but we do hear her proclaim exuberantly that she "learned a lot" from those beautiful, exciting years with us. If you'd like to talk with her, you can, as she is now a sex therapist with the Institute.
Another old friend, Ray Cirino, one of the original Burning Man artists and creator of the extraordinary "Dildo Cam" used in "Inner Space: A Sex Odyssey," chimes in to remind us of Kiss' cinematic-dildonic inner voyage via his creation. Yet another old friend, Corpsy Rhine, exclaims, "Spanks for the Mammaries," which reminds Max of Elvis singing "Memories" confirmed by another caller, Elvis tribute artist Smokey Binion, Jr. Maybe it's my dirty mind, but it reminds me of Rhiannon Aarons' beautiful big natural mammaries engaged in a boisterous bout of "Boob-Spanking" on Spanksgiving 2017, and now featured in a spanktastic new Clip-o-Rama clip, Christine Dupree's Spanksgiving Adventure.
More long-lost bonobos pop up on our various feeds. Maybe it's because of the Holy Daze, but it's Old Friend Night on F.D.R. I guess that's why some people are calling it "Friendsgiving," and we certainly believe in Survival of the Friendliest.
Techno-Feudalist Future



It's a super fun ride through the Tunnel of Love, but we wind up on a foreboding note, the specter of Techno-Feudalism. Yes, capitalism is in free fall, but it seems to be getting overtaken not by sweet socialism, but by this super creepy new technological form of feudalism with the tech billionaires as the lords of their private fiefdoms, and guess who are the serfs?

What if our future is feudal, making it futile to even try to speak out?

Unfair censorship is one weapon they already wield over us. Of course, the worst form of censorship—which Capt'n Max has also endured—is prosecution, persecution and incarceration. And then there's execution, which our murderous CIA was actually contemplating. While Killer Kyle Rittenhouse walks free, Julian Assange, who exposed killers, remains in prison. FREE ASSANGE!
Besides censorship, monopolistic Big Tech companies, like Facebook, Amazon and Google, wield other weapons of disinformation, surveillance, financial control, police/military alliances, and there are many more you and I can't even imagine.
It's a bit scary. What if our future is feudal, making it futile to even try to speak out?


© November 20, 2021 Susan Block, Ph.D., a.k.a. "Dr. Suzy," is a world renowned LA sex therapist, author of The Bonobo Way: The Evolution of Peace through Pleasure and horny housewife, occasionally seen on HBO and other channels. For speaking engagements, call 213-291-9497.