A Very Juicy Squirting SPANKSGIVING 2018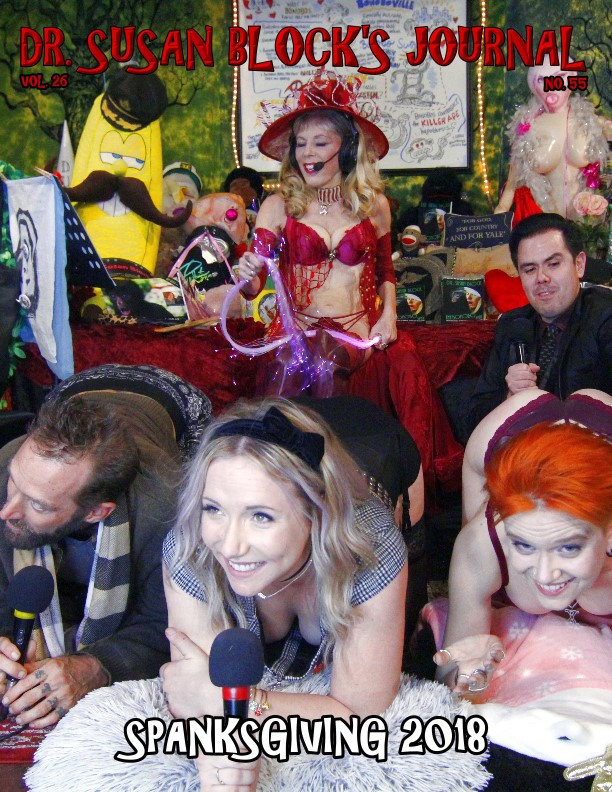 Length 01:52:05 Date: Nov. 24th, 2018
It's a very juicy Spanksgiving, filled with group spankings, paddling, flogging, spanking in bondage, Commedia Erotica, true spanking confessions and climaxing with a very Juici Jenni squirting all over my hand as I spank her bare bottom, like popping champagne, a spanking hot, wet and very merry start to the 2018 holidaze.
Slappy Spanksgiving, Brothers and Sisters, Lovers and Sinners, Pilgrims and Turkeys, Native Americans and Immigrants. Unless we are Native American, we are all immigrants in America.
On Thanksgiving, we give thanks, and on Spanksgiving, we give spanks. According to Twitter, people all over the world celebrate the holiday in different ways (spank the monkey?), but BTE (Before Twitter Existed), ever since we figured out that spanks rhymes with thanks, we've spanked off the season with an evening of thankful and spankful impact play every Saturday after Thanksgiving.


Actually, I'm pretty thankful just to be here, having awakened Spanksgiving morning with that awful choking feeling I've been getting since the California wildfires poisoned the air with every toxic legal and illegal material involved in building all those thousands upon thousands of incinerated edifices, including radioactive waste from the Santa Susana nuclear research lab (where the Woolsey Fire started!) that experienced a barely publicized meltdown back in 1959 that was covered up for years by the Atomic Energy Commission and which it never quite cleaned up.
This is what I contemplate as I suck the healing vapors of my Nebulizer, trying to imagine it's a nice hard cock instead of a plastic medical gizmo, and very soon after I inhale every vaporous drop like a good Nebulizer-sucker, it's showtime!
It's a Spanksgiving like many others we've had in Bonoboville filled with love, lust and oh so many kinds of spankings, but in terms of firsts, it's our very first Squirting Spanksgiving! First Batman Spanksgiving too.


Spanksgiving Sermon
Opening my Spanksgiving "Sermon on the Bed," I'm surrounded by extended "family," in that none of them are DrSuzy.Tv virgins. Everyone is returning, some for a second time, some for the 222nd time (more or less), though for some, it's their first Spanksgiving.
To my left are our favorite kinky cosplayers, but they're not in their Batman and Harley Quinn costumes of Kink Month Cosplay. Dorian Black is all in black, like Bruce Wayne as an undertaker. 
Peggy Reynolds' gift wraps her pretty curves into a burgundy bra and panty combo (that just happens to match my outfit!) with an adorable reindeer hoody robe that makes her look like she's ready to give Santa a ride.
Curled up around Peggy's legs on the floor is my bubbly assistant Blossom Green who could be my daughter, though it's a good thing she's not, because I would never spank my own daughter, but I do enjoy spanking Blossom's perky bottom.
Making it even more of a family-style gathering, to my right are psychedelic Father and Son duo, Chef Belive and Zivu A'balam Lucas, who look exactly alike, though Zivu's got more hair, and tonight it's orange, red and a shocking pink layered above blonde above dark brown. What a creature; I have expect it to jump off his head and dance.
As I deliver my fabulous Five Reasons to Spank on Spanksgiving—now enshrined in Counterpunch— Dorian delivers the first spankings of the season to the beautiful spankable buns of Peggy and Blossom, formerly the Harley Quinn Twins, now the Naughty November Sisters, on their hands and knees.
Dorian's a hard spanker (it's that superhero Bat strength), and Blossom has a tender bottom, so I only allow him one spank per reason (see my reasons).
PHOTOS: JUX LII
I also get a few playful, butt-bongo-style spanks in myself.
Dorian is not here to "play." Even within my one spank per "reason" limitation, and without triggering Blossom to stand up clutching her cheeks, he manages to get well-defined rosy handprints on both Peg's and Blossom's pale bottoms.
Father/Son Spanksgiving Dynamics
It feels kind of gender-unbalanced in 2018 to have two ladies on their hands and knees with me and three guys sitting around them, so I call Chef BeLive down onto the floor.
Then I remember his son is in the Womb Room. Too late! Dad was spanked as a kid and wants to get down on his knees with the ladies.
Much to Zivu's feigned, ironic and/or genuine chagrin (he did say something about watching BeLive get spanked naked at Burning Man, so I don't feel this is traumatic), I proceed to spank Big Daddy, first by hand.
Then I flog him with Goddess Phoenix's fairy-tale sparkly fiber-optic flogger… which only stings a little.
Still, it feels kind of kinky and very bonobo to spank a father, along with a couple ladies, in front of his son. Of course, if we were all real  bonobos, the fathers wouldn't know which boys were their sons. Knowing is what makes it taboo, though still legal, since everyone's a consenting adult.
At least, I don't make BeLive pull his pants down—our nod to paternal propriety.  We'd done this bare-bottom two Spanksgivings ago, with BeLive's lovely and talented wife Daniele Watts' part of the bare bottoms-up line-up, but no Zivu in attendance.
It's hard to know where to draw the line, especially for vegan nudist pansensual bohemians who hail from two different families of strict Seventh Day Adventists, and who push the edge of the envelope with love (they even love Trump… but only because they "love everybody").
Juici Spanksgiving
Into this Spanksgiving feast of upturned buns and complex feelings, gallops a rather late Juici Jenni sporting a swingy frock of horror film art.
As she hugs and kisses first Blossom, then BeLive, I whip out the holiday mistletoe and hold it over their heads.
Since Jenni is always the center of attention, it's just as well that she's a little late. Nevertheless, she must be punished for her tardiness with an old-fashioned over-the-knee (OTK) Spanksgiving spanking.
Jenni's from Montreal and doesn't even celebrate Thanksgiving (at least not on the same day), let alone Spanksgiving, but she takes to it with preternatural ease and dives right over my knee, but oops—she's not wearing panties (naughty girl)!
All the more reason to spank that beautiful bottom.
Then she gets up off my knee and we kiss under the mistletoe somewhat ceremoniously, somewhat romantically.
Besides being juicy, Jenni is very romantic.
Thus stimulated, she gets over my knee again the other way, and spreads her cheeks wider for me to spank her clitoris, labia and anus as she talks about her anus being rather prominent—an "outie" like an outie bellybutton, and very sensitive, like an anal clitoris.
What a juicy Spanksgiving rump roast!


Already, I'm crowning Juici Jenni the Queen of Spanksgiving, but then she outdoes herself, becoming her very own Niagra Falls, squirting clear radiant fragrant female ejaculate as I spank Her Royal Juiciness.

"It's Holy Water!" I shout, as she squirts the sacred fluid that the Tantrics call "amrita" through my fingers, with only a little bit of irony because female ejaculation is sort of a miraculous god- or goddess-given thing.
As Jenni squirts from being spanked on Spanksgiving, like liquid fireworks on the 4th of July, a hush of erotic "Shock & Awe" (with no casualties) ripples through the Womb Room congregation.

SEE the FORBIDDEN SQUIRTING PHOTOGRAPHS from THIS SHOW
Clear amrita (no, it's not pee, though it contains traces of urine since both emerge through the urethra) trickles down her leg, as I continue to spank her lightly.

Then I offer my soaking wet hand to front row members of the congregation to smell, and we all can agree it doesn't smell like pee (not that there's anything wrong with enjoying a golden shower, but it does have a distinct odor).


After emitting orgasmically, Jenni emits emotionally. Like she's in therapy or church, she makes her Spanking Confession to me, her Mother Confessor, telling a riveting tale of being abused as a young girl growing up, spanked by her father.
"It wasn't sexual," she explains. "But it was." We all understand the erotic truth of this mind-fucking, body-twisting contradiction.
It's the dark side of spanking.
When you spank children, you almost always traumatize them. But bonoboesque holidays like Spanksgiving help to turn bad, helpless feelings into good, empowered feelings.  
Next, Jenni wants to ride the big banana, donated to Bonoboville by master chimes maker and patron of the arts Jacob Sokoloff, and whatever Jenni wants, naughty sexpot that she is, Jenni gets.
In keeping with the holiday, I spank her as she doffs her top and straddles the "saddle" (a towel), rocking Mr. Big Banana back and forth with Buck Angel's glass sword dildo inside her.
As we transition from OTK spanking to banana-riding, Zivu and Dorion start talking about "dragons fucking cars" or some cartoon millennial thing or other, which is either fascinating or distracting, depending on your level of interest in Jenni's orgasmic evolution.
Spanksgiving Bonoboville Communion
After the break, it's time for Spanksgiving Bonoboville Communion.
I call upon sultry Sister Peggy to assume the honored position of Bonoboville Communion Altar Girl, straddling Mr. Banana bareback (she's wearing panties, so does not require a towel) and doffing her top to reveal her magnificent Bonoboville Communion altar.
Ooh la la!
Sir Dorian the Black, a former Catholic altar boy himself, ruefully steps forward, then passionately licks his paramour's altar, whereupon I sprinkle on the sacred salt.
He licks that too.
Then I hold the mistletoe over their heads, and they kiss.


Aw… Talk about romantic!
Next part of the ritual: Waterboarding, Bonobo-Style with Agwa de Bolivia Herbal Coca Leaf Liqueur.  
For this, we transform Mr. Big Banana from a horse to pillow as Peggy leans against his big yellow curve and spreads her legs.
Dorian assumes the position, as prisoner of love and bare legs, and receives the first Waterboarding of the holiday season.
 With erotic therapeutic theatrics, Peggy makes a Spanksgiving Confession and reveals the taunting message tattooed on her back, a quote from Victor Hugo's Les Miserables, inspired by a man from her past (not Dorion!) who didn't understand her.
Are they fools, these geese of men, to think that they can make a girl afraid?
Then, gallant Master Dorian gives her a special Spanksgiving spanking for all to ogle as I play with her ginger hair.  
She Bad!
The Womb Room heats up as Jenni jumps back into center stage to show off her hot bod, quick wit, wildcat energy and spankable bottom.
Whack! I give her a few light swats with the long paddle inscribed with "ATTITUDE ADJUSTMENT" that Madam De Sade, aka Mina Nietsche, wielded on Sex Not Guns: Happy Year of the Dog.
Craving even more craven submission, Jenni shouts out for bondage. "Tie up my wrists!"
Freedom might be the greatest aphrodisiac, but restraint is a close second.


With stealth and drama, like his Canis Lupus namesake, Ikkor the Wolf steps into the Womb Room and takes both of Jenni's wrists in one big hand, the other hand holding his mic.
Then everybody grabs Jenni's wrists!
Ikkor proceeds to sing "She Bad" as Blossom steps in with some handcuffs, and I tease her boobs and whack her behind with the Attitude Adjustment stick around.
Jenni writhes to the music and calls for me to spank her harder.
Then suddenly, glory be, like Moses calling forth water from the stone, I call forth Holy Water, amrita, the juice of Juici Jenni.
And the congregation moans: Hallelujah! Praise be to the power and glory of spanking.
Meanwhile, the Trumpus is forced to sit through the whole thing, gagged with an Xmas ball.
We have such disdain for his trumposity (giving thanks to himself, the narcissistic ninny), we don't even spank his pathetic ass.



And no, a slappy squirting Spanksgiving is not for everyone, maybe even not for most people.
But in this topsy-turvy Trumpocalypse, when Thanksgiving can be especially difficult to digest, Spanksgiving can at least help put it all into perspective: Bottoms up! Turn the whole plutocratic, ecocidal oligarchy upside down and spank its ass.


I've said it before, but I'll say it again, those Dems better step up to the plate. I just want Mama Maxine Waters to SPANK them all with subpoenas.
Season's Beatings!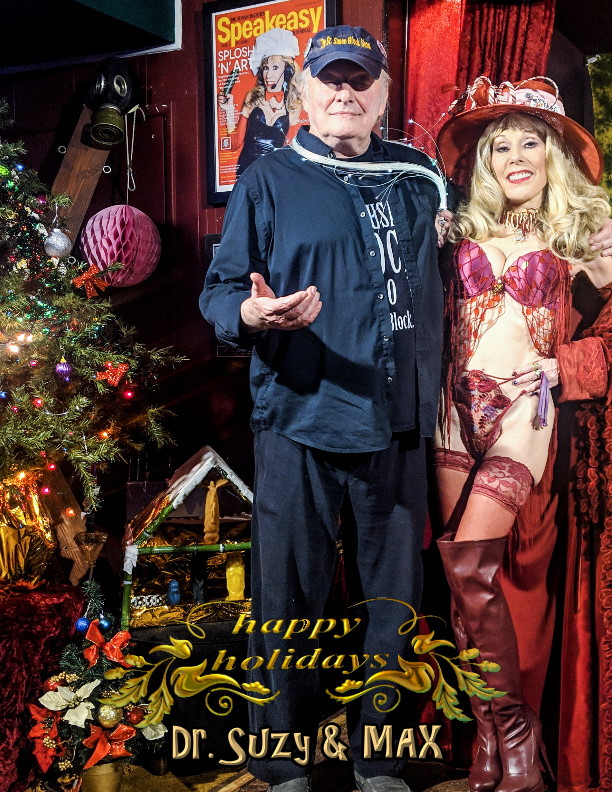 In other news, I'm in some "outside" media this week.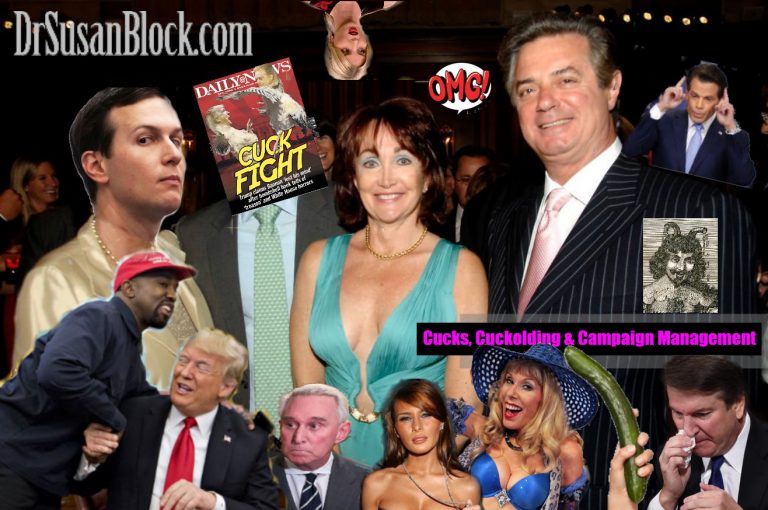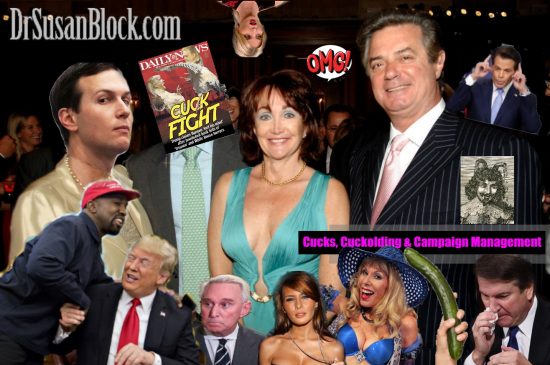 I give thanks for Counterpunch, which almost always posts my weird essays, and just posted TWO: "Cucks, Cuckolding & Campaign Management" (and now Cuckold Paul Manafort is in the news again for lying to Robert Mueller) AND "Slappy Spanksgiving"


And on the other side of the pundit spectrum, I give thanks to Cosmo for giving me the chance to advise millions of young readers at the beginning of their sexual journeys.

Pick up a copy of the December Cosmo on stands now with Hailee Steinfeld on cover, where I give quick tips on P-spot fingering (might be done after spanking), penis-pump use (might be done during spanking) and the STI convo (which no one likes to have, but really ought to be done before sexual intercourse, with or without spanking).
Speaking of magazines, our new Speakeasy Journal magazine, SPLOSH 'n' ART edition, makes a great holiday gift, especially for your lovers and friends who love food… and sex.


Next edition, SPANK 'N' ART, is almost hot off the presses!
And before we can say "Hold my antlers and smack my tail," the show's over.
A few more kisses under the Mistletoe, and the after-party whips on by.
Then it's time for the captain, My Captain, my prime mate, to give spanks to me, his spanking hot wife, then I give a few spanks to him, and we kiss under the mistletoe (actually, we crushed the mistletoe) before he stuffs me like a turkey and we drift off into the Bonoboville of dreams.
Slappy Spanksgiving 2018!

© Nov. 27th, 2018. Susan Block, Ph.D., a.k.a. "Dr. Suzy," is a world renowned LA sex therapist, author of The Bonobo Way: The Evolution of Peace through Pleasure and horny housewife, occasionally seen on HBO and other channels. For speaking engagements, call 310-568-0066.