Scorpio Passions: Happy Bday Capt'n Max, Blossom & the Bonobo Way!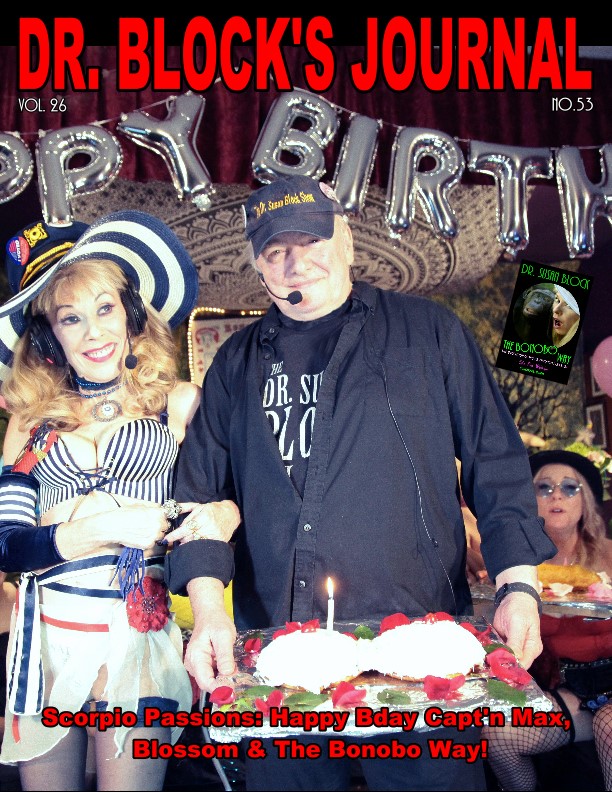 Length 01:56:24 Date: Nov. 10th, 2018
What an intense Scorpio birthday weekend, packed with passion, beauty, horror, outrage and ecstasy.
Intensity and passion are marks of the sign of Scorpio, symbolized by the scorpion who stings as well as the dove who makes peace.  
It's a Bonoboville special celebration of Scorpio LIFE… with death always somewhere around the corner, just a madman's gunshot, a fiery gust of climate-changed wind or a heart attack away.
Whatever your sign, it's a crazy world and getting crazier.
Here in California among the wild fires, we don't just see it in our news feed, we're inhaling it in our ashen air.
But there's also a LOT to celebrate, and celebrate we do!
Happy Birthday Capt'n Max
The festivities begin two days before the show on Capt'n Max's actual birthday. A direct descendant of Gaetano Filangieri—the great Enlightenment philosopher and a friend of American Founding Fathers Thomas Jefferson and Ben Franklin, who greatly influenced them and our concepts of "life, liberty and the pursuit of happiness"—little Prince Maximillian Rudolph Leblovic di Lobkowicz di Filangieri was born in the Vatican Hospital in Vatican City, Rome, at 2am November 8th, 1943.
At that very moment in 2018, a spontaneous celebration occurs, the villagers of Bonoboville emerged from their quarters with gifts and good cheer, gathering in the Commissary to pay homage to the Prince, champagne corks popping, candles flickering and people singing, and the Prince who is the Captain of our Ship of Fools for Love telling tales of his amazing international life.
At the age of seven, little Max (called Massimo), his princely parents, along with other deposed and fleeing Royal Families of Europe traveled on a big ship to the Great Promised Land of Montclaire New Jersey. Yes, Max was a refugee in a floating caravan from a war-torn land.
We are all refugees, many of us from war-torn lands, seeking a better life in America.  Notice the Trumpus hasn't brought up the Caravan since he lost the midterms… What a douche!
Happy Birthday to The Bonobo Way
It's also the birthday—actually the 4th anniversary—of The Bonobo Way: The Evolution of Peace through Pleasure, my birthday present to Max four years ago. In many ways, it seems like we lived in another world back on November 8th, 2014, two years before the worst November 8th of this country's young life, a day that shall live in infamy—Nov. 8th 2016—when a major case of Electoral Dysfunction sucker-punched America. Next thing we know we're all body-slammed by the Trumposity, and we still haven't been able to get out from under his big, stinking rotten hulk.
So, we have a lovely little private spontaneous communal Bonoboville celebration of Capt'n Max's life, topped off with big birthday orgasms (they keep you young), falling into the deep sleep that connects us with our ancestors and with all of life on Earth, as well as the peaceful dead.


We awaken to the horrors of a brand new November 8th that may not "live in infamy," but even as Scorpios go, it was a killer. Apparently, while we were celebrating Life with a capital L, Death with a capital D was spraying bullets through Ventura, as a sex-challenged, PTSD-plagued ex-Marine marched into the Borderline bar and mass-murdered 12 human beings. Then, just as sun rose on the mourning of poor suffering Thousand Oaks, the fires came. Like the Bible story of Sodom and Gomorrah, flames flared over an old contaminated nuclear site, the Rocketdyne Santa Susana Field Laboratory in the Simi Hills on their way through Ventura, to Malibu, chased by a howling wind. Meanwhile up north, almost every house in a town named "Paradise" burned to the ground. From mass shootings to mass burnings, welcome to the Hotel California. Paradise is burning.
These being the worst fires in the history of this state (the second worst were last year's), you'd think we'd get a little help, or at least sympathy, from the President of the United States. But no, the toxic Dumpster Fire & Fury in the White House tweets that these real (and also toxic) fires are somehow all California's fault with self-serving lies, bullying accusations and vile threats to withhold Federal aid.



Yes, I've known that Trump is appalling for a very long time (since he was a lying, self-adoring, racist, sexist real estate scion in the 1980s), so I shouldn't be appalled any longer. Still the heartlessness, narcissism and downright wrongness, especially while so many in my adopted state of California are suffering through no fault of their own, continues to appall me.
I need Trumpocalypse therapy!
And I get it on this show, now more formally celebrating the birthday of Capt'n Max, who is, among many other things, the most creative person I know, Max has created an amazing life for himself, for me and for so many others.
He has done so many important revolutionary things in his life that many people don't know about. He was the pioneering publisher of the first "reader-written" media such as the LA Star, Love, Hate, Finger, The Brentwood Bla Bla and Beverly Hills, the Magazine & is now publisher of Dr. Susan Block's SPEAKEASY Journal, exec producer of The Dr. Susan Block Show and co-founder of Bonoboville, both a new social-media and a real "socialist/capitalist," pro-sex community in LA. He's my partner, he's my prime mate, he's my husband, he's my hero. Happy Birthday Max!
Usually hidden in his perch by the bar, Capt'n Max comes out to enjoy his birthday surrounded by beautiful ladies (what straight guy wouldn't?) eating bananas (for the Bonobo Way), and regales us with more captivating stories from his uniquely revolutionary life.
Maybe I'm biased, but I think everyone in the Womb Room could have just sat there forever listening to Max tell stories. I know I could… and I have!
Happy Birthday Blossoming Blossom
But there's so much to do and so little time.
And it's also Blossom's birthday!
Yes, on this special celebration of Scorpio Passions, we honor the day another passionate Scorpio, my adorable on-camera show assistant; the beautiful, bright, delightfully bubbly and very bonobo Blossom Green, emerged into the world.
Having been with us here in Bonoboville for just about three months, studying the Bonobo Way and spreading the word of peace through pleasure with infectious enthusiasm, our sweet Blossom is blossoming every day.


Now, she's another year older and wiser, but still in her twenties, looking adorable in a red corset, fishnets, blue shades and a bowler hat.

Blossom is the future!
Hotties in the Womb Room & the Dems Take the House!
As the show begins, sexy old friends and titillating newbies gather together in the Womb Room sanctuary of the little Love Church of the Bonobo Way.
FemCom (female comic) and stripper Sunshine McWane returns with some jokes!
Mother Tink is back with her adorable, soundlessly yapping Fizzgig the Pomeranian Party Pup.
On the other side of the Womb is sultry pornstar Sizi Sev whose twitter account, sporting the catchy name "ILikeMyClitSucked," features Sizi engaged in all kinds of pornographic activity on DVDs like "Pussy Crazy," though on this show, she's stays a bit demure.
Bonoboville can be a bit of a mental-physical sensory overload to Dr. Susan Block Show virgins.
Next to Sizi is voluptuous Millennial femdom, humiliatrix and financial sadist She God Claire, wearing a blossoming wreathe around her head in honor of Blossom's birthday. Though this is her first time in Bonoboville, She God used to work with the old Broken Door (remember Master D?), and she's been a fan of DrSuzy.Tv for over a decade.
Now married to a passionate trans man studying law in Riverside, She God brings home the bacon from guys who crave her style of direct, no-nonsense, verbal and physical humiliation.
I jump at the chance to have our Drumpf doll humiliated by yet another professional humiliatrix, especially for that horrible tweet.
It being The Bonobo Way's fourth anniversary, I have She God book-spank the Bozo's big balls.


Birthday Girl Blossom and Mother Tink join in the Trump-beating merriment.
One piece of good news this week is the Trumpus getting exposed by the Wall St. Journal, which usually sucks his sorry Toadstool. I'm still rooting for Mueller Time, but Stormy Daniels may yet bring him down!
I'm also rooting for Maxine Waters to subpoena his tax returns, and for the new Blue House of Representatives to impeach NOW. #GoBonobos for Blossom's home territory in the OC where they just called the election for Democrat Harley Rouda who upset 15-term Reagan and Trump Repugnican Dana Rohrbacher!
Did I mention that besides celebrating Capt'n Max's, Blossom's and The Bonobo Way birthdays, this show also celebrates the 2018 Midterm Election Blue Wave that swept the Democrats back into control of the U.S. House of Representatives? That's one reason I'm wearing all that blue—besides being Capt'n Max's First Mate (and Admiral), for which I am wearing two hats at once (don't ask)!
At this point. there's no excuse not to impeach Trump. Not only did the Dems take the House, but an unprecedented number of women, people of color, gay and trans people have been elected as our representatives. Finally, a House that's beginning to look like us. Something to celebrate!
But We the People mustn't stop the pressure. We must remember: power corrupts. Our shiny new Democratic reps will start to get used to their personal state of privilege, worry about staying in office, compromise with the Republicans and suck up to the 1%.  If and when that happens, we must protest and remind them of why they're there: for US, not the 1%.
Big Birthday Bonoboville Communion
With only a few minutes to go before the break…
Which is just enough time to hold one big Birthday Girl Blossom Green Agwa Bonoboville Communion.
That means everyone besides Blossom gets to be an Altar Girl.
PHOTOS: JUX LII
As the boobs pop out—all of them all-natural in a myriad of shapes, sizes and shades—so do the eyes of everybody in the Womb Room.
Breast Therapy! Nipplegasm Gangbang!
Running around like a bunny or a very excited kittycat, Blossom licks all the boobs and Himalayan Pink Salted nipples and cleavages.
Then I give Ms. Green a very green Waterboarding, Bonobo-Style with sweet green Agwa de Bolivia Herbal Coca Leaf Liqueur.
Since we're all giving her this auspicious Birthday Waterboarding, we spread our legs open, decadently intertwining them as Blossom lays back in the center, a pretty kitty leaning against Mama's pussy, as I pour the magic emerald elixir down her throat.
Happy Birthday Blossom!
Rhiannon's Lap Dance
When we come back from the break I'm riding a big banana (wishing it had a vibrator inside), celebrating the Make Love Not War bonobo apes, the namesake of Bonoboville and the inspiration for The Bonobo Way.
Considering all the horrors of the Trumpocalypse, the climate change-driven fires and floods, the racism, misogyny, male impotency, suicides, mass murders and massively messed up relationships, the Bonobo Way's message of great consensual sex, female empowerment, male well-being, sharing resources, ecosexual sustainability and peace through pleasure is more important than ever.  And did you know that a portion of all proceeds from The Bonobo Way goes to help save the real bonobos in the rainforest who are highly endangered?
As I drive my big banana into the second half of the show, I'm joined by another FemDom friend Rhiannon Aarons. Decked out in a clingy, cut-out-at-the-shoulders, little black dress for an AFI opening, she lived up to her tweet from earlier that day:
When you have to plan an outfit that can go from AFI VIP party to the @drsuzy show…
But she doesn't keep it on very long, doing a lascivious birthday lapdance for a blushing Blossom to the tune of Carmina Formosa's "The Kinkster."
In my head, I'm also hearing Stevie Nicks sing "Rhiannon," one of the oldies-but-greaties we listened to on Max's real birthday.
Rhiannon titty-fucks The Bonobo Way and a banana which sort of explodes all over her chest, so even before the cake comes out the splosh begins.
Birthday Cake Boobies, Dickie & Sploshgasms
This being a special Scorpio Birthday, Ana bakes two different lascivious cakes.
Onxy DeVall, still in Marilyn mode, delivers the Boobie Cake and Ana comes in with Mr. Dickie.
Sorry if it sounds too heteronormative, but we give the boobies to Capt'n Max and the dickie to Blossom.
Everybody sings Happy Birthday and they blow out their candles… twice.
At this point, my fantasy is that I take a fingerful of icing, wiggle it teasingly at Max's mouth, whereupon he looks at me lovingly, opens his mouth, embraces my wiggling finger in his soft hungry lips, swirling his tongue around it and sucking off every drop of sweet creamy icing.
At our 26th Wedding Anniversary, when I tried to make this simple romantic, barely even kinky maneuver happen, it didn't work at all. Max refused to lick my proffered finger, looking down at it, grimacing and backing away like it was Trump's mushroom, whereupon I went into a tizzy of disappointment that lasted all of about 30 seconds, because "on with the show," but still.
This time, I resolve to have a plan. It's true that the best-laid plans may not get you laid the way you planned, but this plan works like a charm.
 I give him first dibs, of course, it being his birthday, but when he (predictably) turns me down, I just turn around and give my sticky finger to Rhiannon to suck.

Then I rub the creamy icing off on her nipples and lick it off.

Sploshgasm.
Around the corner, Blossom and Sunshine are doing something similar with the creamy icing oozing out of Blossom's penis cake.
Ooooh baby.
Birthday Cake Splosh is becoming a semi-regular Bonoboville ritual.
To wash it all down, Sunshine gives the Birthday Girl a bottle of Menage a Trois red wine—ooh la la!



Like splosh? You'll love our current issue of the Speakeasy Journal: SPLOSH 'n' ART featuring Daniele Watts and Chef BeLive.
Next issue: SPANK 'n' ART.
Blossom's Birthday Spanking Gangbang
What's a birthday without spankings?
I give the Captain a few good swats in private (and vice versa), but he tends to duck out on the public displays.  


So it's all on Blossom's bottom for this birthday evening of Scorpio passions.
We surround her like a girl gang, with me playing Mother Hen in a bonobo sorority, all of us hazing the new recruit.
It's a little bit kinky, like a good spanking gangbang should be.
Just as this birthday girl receives the sweet ecstasy of Bonoboville Communion from all of our boobs, so now she receives the spicy agony of birthday spankings from all of our hands.
And since we're all ladies (plus one very fluffy male Pomeranian) at this point in the show, it's a kind of human hoka-hoka, girl-girl-girl erotic activity that engenders female solidarity and, potentially, political power.
Since Blossom's such a good birthday girl, I give her a choice of how she'd like to be birthday-spanked, and she chooses a variety of whips, floggers, Jux Leather riding crops and paddles and we all give her three whacks each, though Sunshine gets an extra whack "because she brought wine."
Considering how delicate I know Blossom's bottom really is, she displays great courage and stamina, handling her (I assume) first Birthday Spanking Gangbang like Super Kitty.
Then all the bonobo ladies of the Womb Room, all at once, give one final good smack to Blossom's bottom with all of our implements (before giving her a bag of gifts), spanking her off into the exciting unknown of the future.

Hiphop & Comedy
Into this Womb Room of women (plus one very fluffy male dog) leaps a Wolf.
Ikkor the Wolf starts out in a suit(!) having just come from a screening (we are so Hollywood on this show) of a movie he is in called "Mama's Song."
PHOTOS: HEF
He takes off his suit quickly—he says it was raining ash from the fires on Melrose Avenue—flexes those impressive muscles and sings "She Bad."
Though we don't really have any super twerkers in this group, everybody shakes their booty.
And the Birthday Girl comes out to do a little Birthday Shake, as Fizzgig the Party Pup dances along with Mother Tink, and Sizi falls in love with Rhiannon's magnificent melons.

We Bad!
Before we go, we have time for Sunshine to do a little "stand-up," though she's sitting down.
It's "actually" very funny. I mean, it's not that I don't expect a stripper to be funny, but Sunshine will make you laugh, so check her out toward the end of this show on the audio above, or for video, free on DrSuzy.Tv.
Just to tease you, here are a few rays of Sunshine:
Everybody believes all strippers are like bi or lesbian.
So this stereotype I'm actually ok with cause it's gotten me laid a few times …by women, you know?
So like I mean, I think I'm just into boobs like more than the average guy — like big boobs, little boobs …even fake boobs!   Disneyland's fake — it's still fun isn't it?
I don't understand the fascination with butts though…nothing good ever comes out of them.
Later, fascinated by her butt, I pull down her pants and spank Miss Sunshine where the sun don't shine…

I give her an "A" for her stand-up but also teach her a lesson in bare-bottom birthday flogging, even though it isn't her birthday, at the Speakeasy bar, some of it while sitting in my Birthday Boy's lap.
The couple that spanks together stays together… sometimes. It works for us.
Then we wind up the show and off we go.
Filled with Scorpio passions, Bonobo Way spirit and birthday cheer, we try not to breathe in the toxic November air.
At least the Dems won the House! Birthday orgasms all around. Hey, it may not be Blue Tsunami, but it's a nice little Wave, and sometimes, that's just what you need.
© Nov. 12th, 2018. Susan Block, Ph.D., a.k.a. "Dr. Suzy," is a world renowned LA sex therapist, author of The Bonobo Way: The Evolution of Peace through Pleasure and horny housewife, occasionally seen on HBO and other channels. For speaking engagements, call 310-568-0066.