Fireworks of Sex Not Guns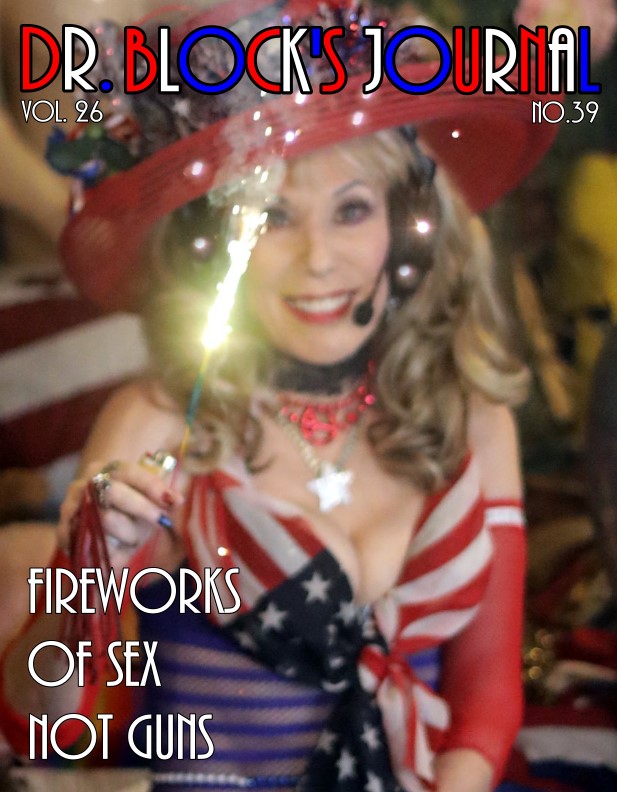 Length 01:40:34 Date: June 30, 2018
It's 4th of July season in Bonoboville, and Phoenix and I are so decked out in Old Glory; we could be MAGA-crazed Trump rally cheerleaders with a side business selling star-spangled ladies' panties to staunch Republican alpha male operatives with secret cuckold fantasies.
But all it takes to leak the real (not fake) news about us is for my fabulous ass. producer to turn around and show us her fabulous ass, where "Fuck Trump" is emblazoned in big navy comic-font letters just begging to be spanked… and they are.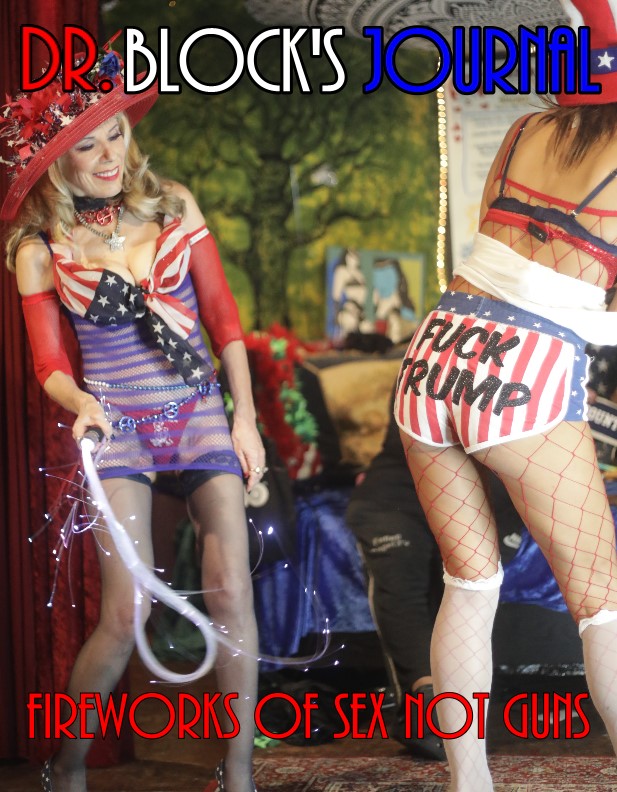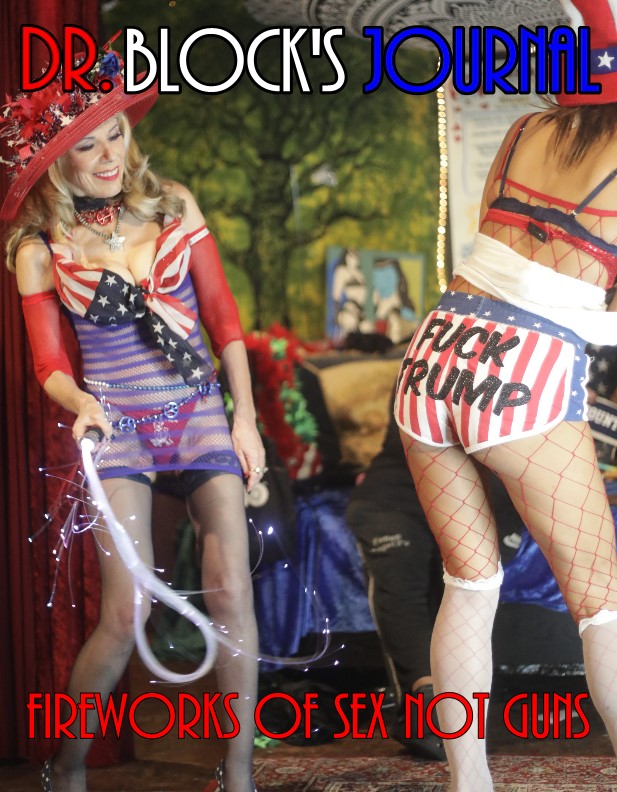 Trumpocalypse therapy for troubled times on America's 242nd birthday.
Patriots Not Hatriots
Yes indeed, Brothers and Sisters, Lovers and Sinners, Citizens and Immigrants, we're Patriots, not the Hatriots who wave hate like a flag of bigotry with a sickening, virulent pride.
Rather, we shake and spank our star-spangled "Fuck Trump" asses in solidarity with the brave American patriots out on the streets protesting our Southern border's evil ICE-y detention camps. No Hate! No Fear! Immigrants are welcome here! Our voices are loud and clear.


Will our leaders listen? Or will they tune out the sound of America's multitudes, as they did when Bush the Younger (and Stupider) invaded Iraq despite the largest anti-war protests of all time? If anything, they seem even more deaf to the people's cries, or maybe they are sadistically thrilled by them, like Bush's P.O.W torturer/pornographers. Mostly, they are just tuned into the demands of their rightwing corporate paymasters, and their multi-billion dollar goon squad, the American Military Industrial Complex, as well as the Prison Industrial Complex and the .001% that is getting smaller, richer, more toxic to our environment and more aggressive every day.
The America we thought we knew has been hijacked by a scary clown car of viciously venal plutocrats "driven to distraction" by a profoundly narcissistic game show host who just got punked by Stuttering John and who relishes separating children from their parents at our border (not to mention from life itself in Yemen, Gaza, Syria, Iraq and Afghanistan), basking in the racist pleasure these horrid act instill in his base, who fuel the clown car careening down the highway of America, "from the Redwood Forest to the New York Island."
Meanwhile, well-armed white male lunatics are rising up like jihadists to gun down their fellow Americans in hails of "fire and fury" tantrums over their depressing (though relatively unharrowing) lives that seem to echo the overprivileged complaints of our flaming orange Tantrum-Thrower-in-Chief.
The latest mass-murder, as of this show, hits rather close to home. Five journalists were mass-murdered and several other injured at the offices of the  Capital Gazette, one of America's oldest newspapers, in Annapolis, Maryland. Tellingly, it happened a day after rightwing gadfly Milo Yiannopolis encouraged "vigilante squads to start gunning journalists down on sight," along with Trump calling the media "the enemy of the people" again and again. If you're unhappy, alienated and buy into that vile rhetoric, why shouldn't a good vigilante soldier of the aggrieved Caucasian masculinist persuasion pick up his trusty AR-15 to let 'er rip through the lives of the "enemy"?
Many call the shooter "crazy" and certainly, his social media posts are incoherent. But he is also *just* another angry white male, probably an Incel, flirting with the Alt Right, and harboring a longtime personal vendetta against the Gazette due to the reporting of his social media harassment of a woman from his high school.


Recently, we're discovering that almost all these mass murderers have grave difficulties with the women in their lives, or the lack thereof.
Some say the problem is male sexuality, but I believe it is misogyny. There's nothing wrong with male sexuality any more than there is with female or androgynous sexuality. Bonobos show us that when female-empowered peace-through-pleasure rules, males are happy, live longer and male sexuality flourishes. Common chimps show us that when male brutality and misogyny rule the community, females are raped and males are killed, even alpha males. It's that simple. Though it can get complicated, especially among human apes…
But even in the midst of bloody mass murders, ICE-y family separations, unconstitutional freedom-squelching laws like SESTA/FOSTA, even with over 43 million Americans living in poverty, we can still celebrate America's birthday… can't we? Yes, we can (as that long-ago pre-Trumpocalyptic President might say)! ¡Si, se puede! Though it's not easy.
Happy Birthday to the Wolf of Bonoboville

Well, we can also celebrate Ikkor's birthday (or as he calls it, his "Life Day")!
I must confess I'm more inclined to go bonobos for multiple SUZY award-winning rapmaster of Bonoboville, Ikkor the Wolf, than I am for our "Land of the Free" that appears to be getting less and less free for more and more of us.
So we gather together with friends, lovers, artists, exhibitionists, music-makers and fellow kinksters in the Womb Room chapel of the little Church of Bonoboville to explore freedom and restraint, dust and sparkle, the darkness and fireworks of joy.
Reverend Jordan, Felicity Feline
Speaking of kinky Churches, my first guest is the "Reverend" and "Voice of DomCon," Jordan The Comic, self-defined as a "switch" in BDSM, meaning he can play dominant or submissive. When I invite him to "preach" on any topic to the Bonoboville congregation, he tells us a story (a parable, perhaps?) involving a sweaty body, a locked door, a very long shower and, well… you'll have to watch the show for more.
We go bonobos for DomCon which is where we met Jordan and invited him on DrSuzy.Tv.
In yet another example of "kinksters being normal," Jordan just got engaged to his sweetheart of several years. If he wasn't the groom, he could officiate at his nuptials, since he's a Universal Life Church minister—like me!
Next to Jordan (though she moves around throughout the show, apparently attempting to find her prime spot), her thighs spread wide like she's straddling a Harley hog, is pornstar, fitness buff, hiker, biker and Garbeast drummer, a "sludge metal" band, is Felicity Feline.
Felicity's a little skittish on her first visit to Bonoboville, though this LA gal from the Bronx does avow that she enjoys having sex to her own music and doffs her top in the free-the-nipple grand finale.
Moving to the other side of the Womb Room, we have Professor Oni, in his cool "TERMINATE HATE" tank top, who graces us with his swooning saxophone music before, after and a little bit during the show.
Unfortunately, Oni will soon be leaving sunny Southern California for sunnier southern Florida where he'll be teaching audiology at Nova SE University.  
The Golden State's loss is the Sunshine State's gain; we love the Professor and not just because he purchased two copies of our new Speakeasy Journal at our launch party.


He also donated four framed pieces of his photographic art, showing various models, mostly in aerial and kinbaku bondage, to the Speakeasy Gallery of Erotic Art here in Bonoboville.
Professor Oni's kinkbaku kinkster erotica is the bomb (the good kind of bomb).
Can I get an Amen? Can I get an AWOMEN?

Domina Rose & Pretty Boy
Rounding out the circle is the black-corseted, pencil-skirted and proper Domina Trinity Rose, trained in kink by the legendary Cleo Dubois, among others.  The accent in "Domina" is uncharacteristically on the "i," and this stern but merry Mistress would be only too happy to discipline you if you get it wrong.
Domina Rose doesn't want to say what kind of holy or unholy threesome "Trinity" stands for, but she will divulge that she hails from Salt Lake City. And yes, she is a lapsed Mormon. I suppose she couldn't possibly be a dominatrix if she were a practicing Mormon, at least not publicly. But we find that within our ever-widening kinkster circle of friends and lovers, lapsed Mormons are quite well-represented, though not as well as lapsed Catholics and lapsed Protestants of different denominations. The ex-Mormon kinksters have the edge in numbers though over runaway Orthodox Jews (speaking of which, Luzer's back, but that's another story).


Domina Rose's lifestyle live-in submissive, Pretty Boy, a "half-Jewish and half-Catholic" New Yorker, transplanted to Salt Lake, sits at his Mistress' feet most of the time in a vest and white shirt, looking like a castigated butler. Upon my request, she disciplines him briefly with one of Professor Oni's leather whips.
It's not that Pretty Boy is naughty or particularly deserving of the whipping; it's more of a "Maintenance Discipline," as is often administered in BDSM, to keep slaves on their kinky toes.
He takes it stoically, without complaint. Later he talks about how "vanilla" their relationship is, like when they're grocery shopping or he's working  ; other times (like now), they're Domina and slaveboy.
Freedom might be the greatest aphrodisiac, but restraint is a close second.
Which brings me to the current (July 2018) issue of Cosmo where I'm quoted in a Q&A about "Domination" as well as one about "Car Sex" (or, as Ron Jeremy calls it, "auto erotica").
Cosmo Spanking & Bday Cake Sploshing
Not only is it great basic sex education, the print edition makes a great spanking paddle.  First, I swat Phoenix's "Fuck Trump" ass with it.
Then Domina Rose takes a turn, rolling up the glossy magazine for more impact.
Back to Pretty Boy; the perfect butler for his Lady and her friends, he is particularly adept at holding Ikkor's birthday cake while various activities ensue around him.
Speaking of Ikkor's birthday cake, Phoenix brings it in with not just candles, but shooting sparklers.
After all, for better and for worse, it's America's birthday too, when we extol "rockets red glare," or at least their non-lethal facsimile, fireworks.
It's funny how "fireworks" can symbolize sexual orgasm (eros), on the one hand,  thanatos, aka "bombs bursting in air," on the other.
Eros and Thanatos, of course.
Here in Bonoboville, we ignite and promote the fireworks of sex, not guns, love not war.
Finally, the sparklers burn out (you can't blow them out), and the cake eating begins.
It's a mellow group, not too interested in cake-eating, let alone sploshing.
But Ikkor sucks some sweet cream from my finger, and Professor Oni sucks some from Phoenix.
When Phoenix drops some cake and I ask her to clean it up before someone steps in it, Domina Rose insists that she eats it up right off the filthy rug.. with no hands! Submissive as she is, my ass. producer knows that she doesn't have to do anything anyone tells her, if she doesn't want to do it. For this slightly repulsive task, she hesitates a moment, then seems to screw up her courage and gobbles it up into her pretty pink mouth.

Wow. Domeeeeeena is pleased.


Then I splosh Phoenix's left boob with a big glob of icing.

Yum! Delectable. 
I lustily lick-eat-suck it (almost) all off as the congregation looks on hungrily.
Hungriest of all, for cake, cream, boobs or whatever body part a woman will let him munch on, suck or swallow whole, is my dear old friend Ron Jeremy. Ron's had some #MeToo issues which we've covered fairly in past blogs, so though he's banned in some places (and we don't take issue with that) he's welcome in Bonoboville, where he's still the "Mayor" and major tourist attraction.
Ron Jeremy Jams
Ron shows once again that his oral skills are not limited to eating cake and pussy by playing "Happy Birthday" on the harmonica, as Professor Oni harmonizes on sax.
Later they play "The Saints" and "O Susannah" in the after-party as I "maintenance discipline" Phoenix's FUCK TRUMP rump with my Glamazon Goddess Phoenix neon whip gift.
Ron "gets lucky" in the after-party when our intern Violet's mom and sister converge on him with hugs and kisses, they're so delighted to meet the Hedgehog himself, live and in person.
I'm always glad to see my guests—usually porn fans of all ages, but often (like Violet's mom) not what you might expect—enjoy meeting, greeting and groping my iconic old friend… and letting him grope them.

It's such a happy, silly, sex-positive love-connection in these somewhat sex-negative, reckoning and often rather confusing times.
Ron goes even farther with Domina Rose who flutters like a schoolgirl in the presence of the "Hardest (Working) Man in Showbiz."
They make out in the Speakeasy Bar, to the amusement of all the voyeurs and the apparent cuckoldish consternation of Pretty Boy.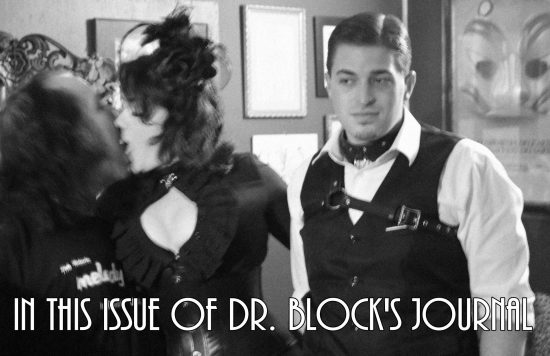 Then all three go off somewhere to do only the Hedgehog knows what.
"We Are One"… Aren't We?
The mood's not exactly ebullient, our guests aren't interested in twerking and our Divided States of America cries out for a song of unity, so Ikkor closes the show with "We Are One" as Phoenix and I wriggle to the rhythm and everybody else sits and listens, occasionally "throwing up them one's," as per Ikkor's exhortation.
I note that there is some cause for hope: A new lawsuit challenging FOSTA as unconstitutional regarding Freedom of Speech is being brought by our friends at the Woodhull Freedom Foundation. They've got an excellent case, and in a fair world, it would be a slam-dunk win. But it's an unfair, unjust, Trumpocalyptic world with a craven, co-opted Congress. Even worse for the Woodhull lawsuit's chances of getting a fair hearing, with Justice Kennedy's suspicious and fortuitous (for Trump) retirement, the Supreme Court has now been Trumped.
Liberals and progressives are justifiably panicked, though a Blue Wave might be on the horizon in November, if we can make it around all the Republican-favored gerrymandering that this SCOTUS just allowed to wreak havoc with our voting rights.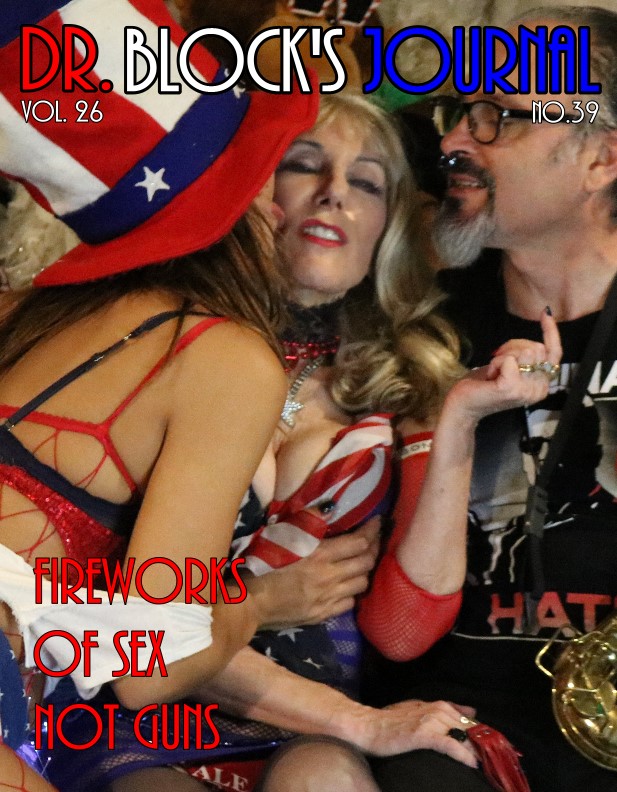 Freedom or no freedom or just a lot less freedom, we still have the freedom to enjoy another night of fun and frolic in the Speakeasy, and for that we are glad and grateful.


Happy Birthday Hugo!
It's also Hugo Flores' birthday, one of our favorite photographers.
So we continue to go bonobos for our freedom to share time with one another, singing, dancing, playing our horns, whipping up a storm and making love into the wee hours, and as the summer sun rises, Capt'n Max and I retire to ignite some private fireworks of sex, not guns, and so much love.
It's the Bonobo Way.
If you'd like to light some fireworks in your sex life throughout the summer holidays or anytime, call our Therapists Without Borders at 310-568-0066. Whatever your politics, we're here for you.
Thanks to Our Volunteers: Videographers-Violet, Gideon G.; Photographers – Hugo Flores, Axel Cardigan,Henry Krass, Slick Rick,  Jux Lii; On-Campus Bonobos – Phoenix Dawn, Abe Perez, Camille Rosebud, Mita Altair, Harry Sapien, Gideon G., MarsFX, Clemmy Cockatoo, Ana & Miguel.
© July 1,  2018. Susan Block, Ph.D., a.k.a. "Dr. Suzy," is a world renowned LA sex therapist, author of The Bonobo Way: The Evolution of Peace through Pleasure and horny housewife, occasionally seen on HBO and other channels. For speaking engagements, call 310-568-0066.