Sex Not Guns: Happy Year of the Dog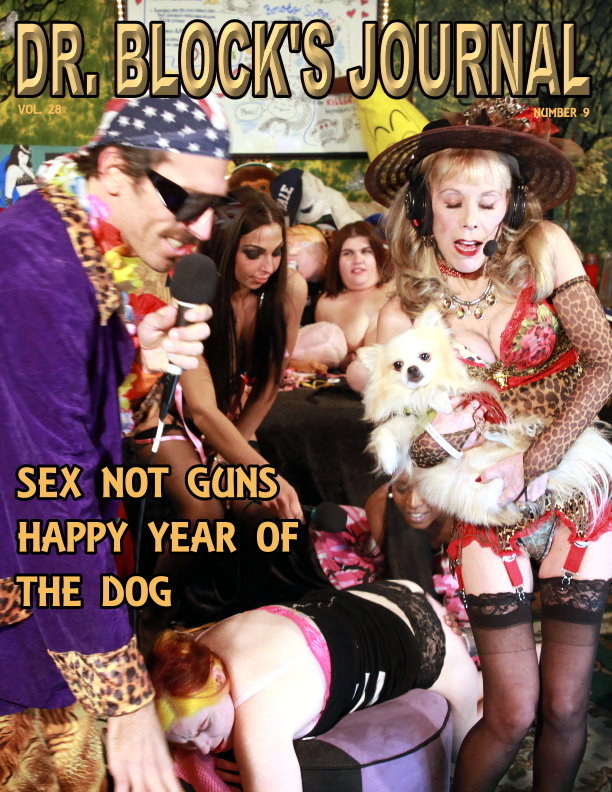 Length 01:49:29 Date: February 24, 2018
This show is a bouillabaisse of passion, politics, pleasure and pain, mixed emotions and saucy fashions, a naked masturbating BBW and hilarious hiphop that makes you laugh as you dance (and spank) .
There's also a wild fire that almost burns out of control and a fluffy Pomeranian to start the Chinese Year of the Dog out right. Arf!
America's Gun Fetish & the Parkland Students
As always, expect the unexpected in Bonoboville. It's the last Saturday of February, and we're still "in recovery" from our Februa Season's Beatings during Lupercalia, as well as VDay. My personal VDay with Capt'n Max wasn't too eventful, but our society saw a St. Valentine's Day Massacre at the Marjorie Stoneman Douglas High School in Parkland, Florida that we may never recover from. And we should never recover, never go back to business as usual, though if the past is prologue, chances are we will.
Nevertheless, #NeverAgain is the ardent, angry and engaging hashtag of the student survivors of the VDay mass-murder. It's been a long time since I've felt so inspired by American revolutionaries as I am by these brilliant, innocent, courageous students who cry "bullshit" at the multiple lies and evasions of the adults who control their lives.
The Goliath to their David is the Gun Industry, the Murder Industry, and its face is the biggest terrorist organization in the world, the National Rifle Association. That's why the kids asked Florida Senator Marco Rubio if he would stop taking donations from the NRA. He didn't answer. He didn't say no because Rubio, like most of us, was probably genuinely horrified when he heard about the Parkland shooting. But he didn't say yes, because horrified or whore-ified, the NRA is his Pimp, probably his biggest political donor, and those gun fetishists own his Senatorial ass and the suit it's walking around in.
America has a gun fetish, and it is killing us. As the person who wrote the definition of "fetish" for the Wiley Blackwell Encyclopedia, let me tell you that the NRA is highly adept at channeling many people's sexual passions into buying, handling and enjoying the lethal thrill of shooting deadly weapons in a sexually fetishistic manner that is borderline compulsive.


We just saw big mass murders during a Vegas concert and in Texas at a church, but even when sticking strictly to school shootings, almost 400 people have been shot in over 200 mass shootings since 2012 (Sandy Hook) in the U.S. To get a sense of how high that body count is, consider that from 1764 to Columbine in 1999, there were a total of just 12 multiple death school shootings in the U.S.  In one, the Kent State shootings in 1970, the shooters were the Ohio National Guard. We've gone from 12 mass school shootings in 200 years to 200 mass shootings in five years.
Apparently, we, the adults of America, have not been able to solve our shooting problem; in fact, we have made it a lot worse over the past couple of decades. All this time, I've been trying to spread the word about the Bonobo Way of peace through pleasure and turning our guns into dildos, cocks not glocks, etc. Whether or not they like sex toys, the majority of Americans want stricter gun control, but when you see random gun massacres like this every few months, it's obvious that as a society, we so-called adults of America have massively failed in this arena.  So now the teenagers are leading the way, protesting and debating to try to make this country change now, to make us stand with them against the unbonobo culture of AR-15 military guns in our homes and schools. They are already succeeding, as many companies are dropping their contracts with the NRA. So, though odds are against them, there is cause for rejoicing and hope for the future.
I personally believe there also needs to be a discussion about sex and fetishes in relation to these atrocities. We need to better understand why disturbed young men in Orlando or Santa Barbara and disturbed old men in Vegas, not to mention middle-aged men in Texas, are now seeking and sometimes finding murderous sexual release, revenge and notoriety in mass murder. We need to know how, hopefully, we can help our boys and men go another way, the Bonobo Way. It may be radical, but it may be necessary, and when America is ready to have that conversation, I'm here.
Meanwhile, I stand with the Parkland students, survivors of the Valentines Day Student Massacre. It's  #NeverAgain against the NRA, and I'm looking forward to the March for Our Lives on March 24th. These teenagers could be the vanguard of a more peaceful, honest and bonoboesque future. It's a longshot, but it's possible. After all, if Big Tobacco could be brought to its knees, so can the Gun Lobby and then maybe even the biggest baddest behemoth of all, the War Lobby.
Trump's Cheat Sheet: "I Hear You"
Sick comic relief from this horrific atrocity lies in our Clown Presidunce, especially his "Listening Session" with high school students, parents and teachers discussing how they have been affected by school shootings. Sitting in the middle of the group, screwing his puffy orange face into a thoughtful expression, he clutches what looks like a rather big piece of paper. It's actually a very small piece of paper, but it looms bigly in Trump's tiny hands…
Upon closer inspection, it turns out it's a cheat sheet with notes for the session. This wouldn't be alarming if it contained statistics on gun shootings or the names of the people in the room. But no, these notes say, "What would you like me to most know about your experience?", "What can we do to help you feel safe?" and (the real kicker): "I hear you."
It's alarming but not at all surprising that the Narcissist-in-Chief needs a cheat sheet to sound like he cares about anyone but himself. One of the many ironies inherent in the situation is that the Parkland students have been accused of being "crisis actors" by alt right loonies who claim the same loony thing about Sandy Hook. Though some of the students are in the high school drama class, none of them are paid performers. They are speaking from their trauma, their hearts and their good upper middle class education. As it turns out, Trump is the one who is "acting," and he doesn't even have the discipline or decency to learn his lines.
Well, we solve that problem (on a fantasy level) in Bonoboville by stuffing our Trump doll's big rubber mouth with his idiotic notes (written on Trump toilet paper, of course), gagging him so he won't continue to promote the NRA gun fetishists' wet dream of making teachers carry guns, essentially turning schools into armed prisons. Not here on the Dr. Susan Block Show!
Who will win over America's hearts and minds? The Presidunce or the Parkland student movement? Will those of us who believe in stricter gun control regulations finally take down the NRA or will American schools become the scene of shoot-outs between students and teachers, "bullets flying" in all directions? I'm not placing bets, but I'm putting my hopes into the students' bonoboesque goals.
FemDom Fatales
Meanwhile we continue to preach and practice the Bonobo Way of peace through pleasure, female empowerment and male well-being.
Packed tightly into my Womb Room is an eclectic group of artists, singers, swingers, camgirls, FemDoms, fashionistas and revolutionaries.
#GoBonobos for diversity!
First up on my bed is 2017 SUZY award winner for "Best Subbie," Mpenzie Barbie, aka Goddess Mpenzi, now a "switch" (she plays both the dominant and submissive roles, depending on the scene and partner), as well as a fashion designer. She and my lovely assistant, Phoenix Dawn—looking particularly gorgeous this show (call her at 213-291-9497 for webcam or phone sex therapy)—show off some of Mpenzi's pretty-in-pink bondage-inspired accessories.
Later in the show, Mpenzie shows off her Lupercalian ability to spank and get spanked, as well as her divine model-slim body, including pert chocolate nips and a sweet shaved vulva.
She brings along with her a couple of FemDom girlfriends. It's great how so many FemDoms, like bonobo females, travel in packs. Female solidarity and strength lie in numbers.
Next on my bed is Mother Tink, a ginger switch, though she dominates her precious little pooch Fizzgig who appears to go everywhere with her, including on my bed. He's perfect as a Year of the Dog model, since he looks like one of those imperial Chinese lions. I'd met both Mother and son—I mean, dog, of course—at DomCon 2017.
But this time, we get to spend more quality time together, including a moment in the show when Tink hands me Fizzgig to babysit, so she can bend over and get walloped. Fizzgig only has three legs, so she's the first canine amputee we've had on the show. We've had several human amputees, of course, including most recently Amputee Brittney.
Mpenzi's third gal pal is Madame DeSade Fatale, aka Mina Nietzsche, an impressive, statuesque and voluptuous "Jewish Black Domme" mentored by Mistress Cyan and, according to "Time Out," one of the top pro-Dommes in LA. Madame DeSade begins by ordering Mpenzi to get down on the ground to lick her shiny black boots.
PHOTOS: JUX LII
Radiant in a gold latex jumpsuit that would make the gold-loving Trump drool, Madame DeSade is an elegant and gracious lady… with a strong sadistic streak (they don't call her deSade for nothing) that'll turn your behind red as a Valentine.  This she does later in the show to several upturned bottoms with her trusty long paddle inscribed with her motto: Attitude Adjustment.

I'm hoping Madame DeSade returns for one of our erotic Jewish holiday shows like Hot Wax Hanukkah, Porny Purim or Kinky Passover.
BBW Naked Jill-Off
Also appearing on DrSuzy.Tv for the first time is BBW Camgirl Danni Dawson. A wine specialist by day and a self-proclaimed #pornprincess by night, Danni loves to play with herself and others. She starts out in a silver lame bikini that doesn't do much to hide her ample flesh. Pretty soon she takes that off too, first removing her top to accept Mpenzi's spanking
.Little Mpenzi whacks big Danni so hard, she needs ice on her ass!
Later in the show, Danni takes it all off and masturbates to several orgasms with Phoenix's Hitachi-like MFC vibrator.  Once Danni gets going, the girl doesn't stop, not even when it looks like we might all go up in flames. Now that's a dedicated camgirl.
Fire & Fury?

Our fire player on this show is sweet Feli Fury, a good friend of my other assistant, Mia Amore (also available for webcam and phone sex therapy). Feli may be sweet, but she has a split tongue and more tattoos than a Hell's Angel, some of which she explains, removing her shirt to reveal pierced nipples.
Then she moons us to show off the doughnut tattooed around her anus.  Wow. When the hole in the donut is an asshole… Dunkin Donuts will never be the same.
With her shaved head and sincere features, Feli reminds me of Emma Gonzales, one of the Parkland students who delivered a fiery speech that went viral a couple days after the St. Valentine's Day massacre.
In the second part of the show, Feli performs temporary needle piercings on Mia's bare back. It's a very meditative scene, Feli's soft voice instructing Mia to breathe, relax and receive the healing benefits of this almost medical procedure.
Then suddenly, Feli pulls out an electric saw and turns it on, sending sparks across Mia's back. It's very beautiful—until we realize that Mia's hair has caught fire!
We're all stunned for a moment, not sure if this is part of the "act" (of course not!) or if we should get a fire extinguisher (bad idea). Fortunately, right after Feli herself, Madame DeSade is the "first responder," patting the fire out with her perfectly manicured hand. The rest of us join in (though Danni keeps masturbating!) and, fortunately, unlike poor Michael Jackson, Mia is fine. She does need some recovery time away from the lights, however, but she and Feli come back during the after-party, confirming, to our relief, that she is okay.
Some of the kinky acts that are performed on this show are dangerous. That's why I always err on the side of caution and say don't try "this" (fire play, choking, needle play, etc) at home, unless you take a class in how to do it safely from a trained professional. Even the trained professionals have accidents, but at least they know how to minimize the damage. In this case, it would have been better if Mia hadn't been wearing a feather in her hair. But the quick reaction of Feli and Madame DeSade put the fire out before it could burn anything but a little of Mia's hair.
Go with the Guadalajara Joe Flow
Amidst all these hot daredevil women is one lucky guy, and he knows it: singer songwriter Guadalajara Joe is from Hayward (not Guadalajara), though he's part Puerto Rican, so he and Phoenix bond. I delivered two Bonobo Way lectures at University of Puerto Rico, Mayaguez and for AASECT in San Juan, and I'll never forget the beauty of the island and the friendliness of the people. Trump should be particularly ashamed of the way he treated and continues to treat Puerto Rico in its post-hurricane catastrophic state, but back to Guadalajara Joe.
Joe's songs are all pretty hilarious, and the tunes are super catchy. They make you laugh while you dance (and spank).  He's the sexy Al Yankovic.
His first number, "On Shrooms at Ikea" ("That's the Idea)" has everyone laughing at the notion (or memory) of hallucinogenic furniture shopping. Simultaneously, Mpenzi administers an equally quirky spanking to Danni in time to the funky beat.Then Madame DeSade spanks Danni. It's quite a scene.
Joe tells us before the show that he "has to" go to another gig and can only stay for the first hour.
I roll my eyes and then laugh when it turns out that Joe's having too much fun in Bonoboville, so he cancels the other gig and stays past the end of the show.
In the second half, Joe sings "Armando Telemundo" ("Go With the Flow") while our own Ikkor the Wolf chimes in with a little beat boxing.
Meanwhile, Mpenzi gives Mother Tink a spanking in rhythm to Joe's beat, and I'm left holding the dog. With only three legs, she's easy to hold, and with that beautiful mane and those soulful eyes, she's very easy to love.
For a grand finale, Joe croons the ribald "Rump Quake," very apropos since the action is now focused on Madame DeSade paddling her subbies, Tink and a bare-bottomed Mpenzie, with her "Attitude Adjustment" stick… as Danni keeps on jilling off.   Don't miss Joe's act when he's in your neighborhood. If you like Al Yankovich, you'll love Guadalajara Joe.
And with that, the show's over, and up my Captain and I go to our private quarters to make our own rumps quake.
Whether it's through consensual partner sex or masturbation, shoot the gun between your legs! Make like bonobos, not Trumpanzees. Make love not war. I love you. Even you gun nuts (I know you just need therapy)!
PHOTOS 1, 3, 4: SELFIES.  PHOTO 2: JUX LII
Thanks to Our Volunteers: Videographers- David Polcino, TS Bozeman; Photographers – Paul Batmanis,  Juneau Digital, Jux Lii;  On-Campus Bonobos – Phoenix Dawn, Miss Mia Amore, Abe Perez, Camille Rosebud, Mita Altair, Harry Sapien, Gideon Grayson, MarsFX, Clemmy Cockatoo, Ana & Miguel.
© Feb. 24, ,2018. Susan Block, Ph.D., a.k.a. "Dr. Suzy," is a world renowned LA sex therapist, author of The Bonobo Way: The Evolution of Peace through Pleasure and horny housewife, occasionally seen on HBO and other channels. For speaking engagements, call 310-568-0066.