Porny Purim with D.A.D.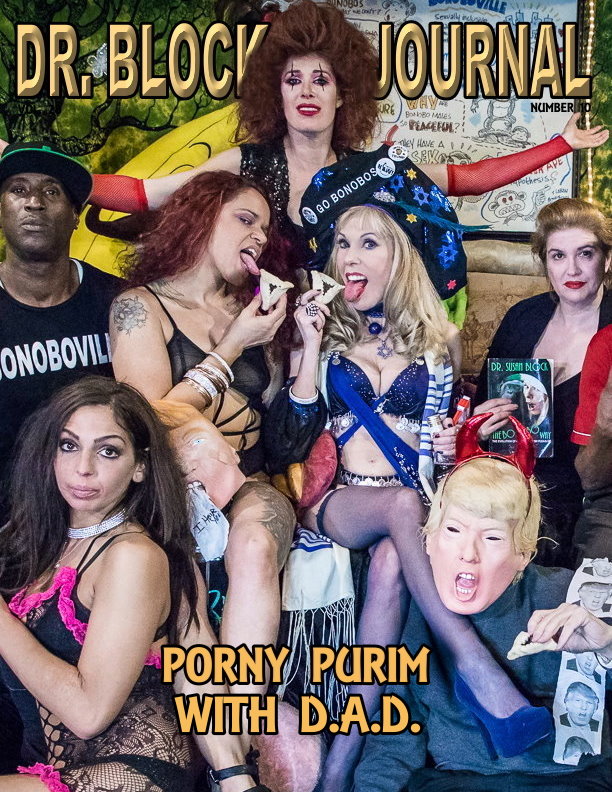 Length 01:43:56 Date: March 3, 2018
This scintillating show, featuring FemDoms, porn stars, a clown, a comic and the "golden rule," kicks off Women's History Month, falls on Sex Workers Rights Day and celebrates Purim, the Jewish Feast of Queen Esther. 
These rather different holidays actually have a lot in common. Though men make up more than you might think of the sex worker population, the majority of sex workers are women. As for the Jewish Mardi Gras festival of Purim, it honors Queen Esther, who is both a woman—the only central female character in a Jewish holiday story—and a sex worker.
Esther Shtups for Peace
Warning: This is not your Bubbe's Purim. In my midrash (interpretation), Queen Esther is the ancient Biblical heroine who stops a genocide with nothing but her Weapons of Mass Seduction. As described in the Bible, Esther is brought before the Persian King Ahasuerus (probably based on the historic King Xerxes) by her "Pimpin' Cousin Mordecai" (my name for him), a "righteous man," as the Bible says, who virtually pimps out his beautiful and charming young cousin to a lecherous, alcoholic and volatile King—though "payment" isn't made until the end of the story.
As the tall tale unfolds, through alternately teasing and pleasing the king, Esther (whose character may be based on a real historic Persian-Jewish Queen) wins his fickle favor and gets her reward when her potentate grants her bold, uncompromising request to spare the Jewish people from annihilation.  In a time when power was almost always gained through brute force and cold gold–a time much like our own–this was, and still is, a human miracle.
Yes, you could say: Esther Shtups for peace. This is, of course, very bonoboesque. Essentially, Esther makes peace through pleasure in the form of elaborate, high-risk sex work, the "pleasure" being the erotic entertainment this young woman provides the king, and "peace" being the salvation of her people that she cleverly ensures from her royal "john."
It feels just right to honor Esther as we begin International Women's History Month, and observe International Sex Workers Rights Day—the latter having emerged in 2001 from a festival of sex workers in India. It supports the right of sex workers to ply their trade in safety, free from stigma and shame, as well as the right for sex workers to know and do what is best for sex workers, and for the rest of us to shut the hell up about it.


Can I get an Amen? Can I get an AWOMEN?
Pussy Cookies
On Purim, we eat hamantaschen, triangular pastries that I learned in Sunday school were shaped like the villain (the king's advisor who draws up the Jewish genocide plan) Haman's hat. Even though I'm a hat fetishist, I always thought that was a rather pat and silly explanation. A few years ago, I realized that hamantaschen are really shaped like an open vulva, complete with a jelly-filled vagina hole in the middle. So, since hardly anybody besides traditional Jews and Germans can pronounce "hamantaschen," I started calling them "pussy cookies."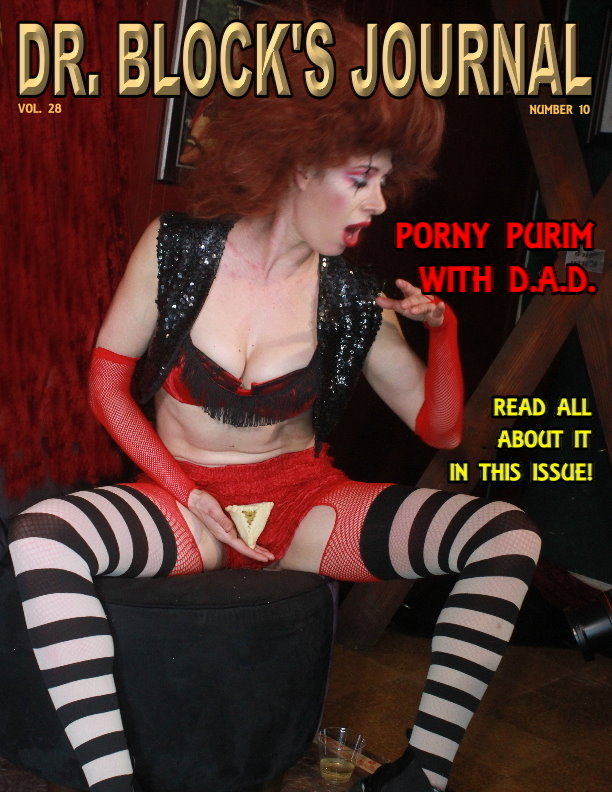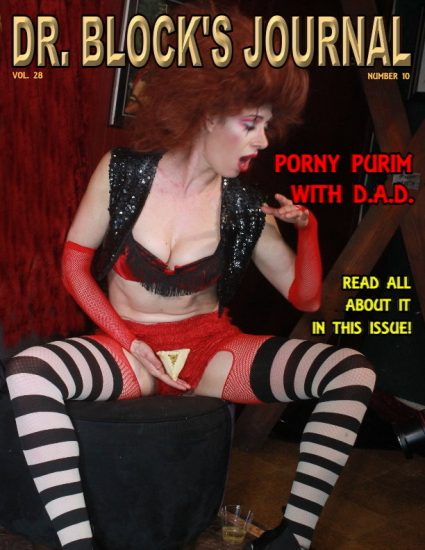 I believe that these iconic Purim pastries honor "the power of the pussy," celebrating the triumph of Queen Esther. In a violent patriarchal world that more often exhibits contempt for that which is feminine and "soft," they symbolize love and respect for strong female power.
The "pussy cookie" message of peace through pleasure is more important than ever in these crazy times marked by mass murder and perma-war. It's astonishing to see fellow humans—my fellow Pennsylvanians even!—participate in a formal wedding-like gathering at the Sanctuary Church, each carrying an AR-15 (zip-locked for safety), the same weapon used to take the lives of 17 people in the Valentines Day massacre at Douglas high school in Parkland, Florida. This blessing ceremony honors the "rods of iron" mentioned in the Book of Revelations, or as Pastor Hyung Jin Moon (son of the late Reverend Sun Myung Moon, king of the loony "Moonies") interprets them: guns. Well, I guess if I can call hamantaschen "pussy cookies," Pastor Moon can call AR-15s sacred "rods of iron." But sheesh, what a message of violence and terror you sending with your iron rods of death. Many of the congregants wore wedding white gowns while others sported crowns of bullets. I guess you could say Sanctuary Church is the polar opposite of the little peace-through-pleasure-loving Church of Bonoboville.
Though some of them are technically too young to watch my show, I support the Parkland students, survivors of the St. Valentines Day Massacre who are, somewhat miraculously, seducing much of the electorate into standing up to the murderous NRA. Can they succeed where so many have failed? Stay tuned for the March for Our Lives.
Of course (as seen on Twitter), as a bisexual woman, I can relate to NRA members because I also use inanimate objects to make up for my lack of a dick.
D.A.D. is Back
How fitting that my featured guests on a show honoring female power are the fabulous Dominatrixes Against Donald Trump (D.A.D.), led by founder and director Mistress Tara Indiana, 2017 SUZY award winner for "Best FemDom of the Resistance."
On their last DrSuzy.Tv episode, D.A.D. had just engaged in a deliciously subversive "Golden Intervention" on Trump's star on Hollywood Boulevard, essentially pissing all over it, as passersby cheered them on.
For more pissing on Trump, catch "Trump's Golden Shower: Therapy for the Trumpocalypse" now playing uncensored on Clip-O-Rama. A censored promo is on YouTube.
This time, Ms. Tara appears to have shrunk Trump down to a more manageable size. Played valiantly by a congenial submissive named Jeeves who is delighted to receive the Presidunce's punishment, this Trump is so tiny his hands look proportionate.          
Before the climactic Russian pissing scene, Ms. Tara gives tRUMP's rump an OTK (over-the-knee) spanking as she berates him for some of his shortcomings. Then the rest of us spank him with The Bonobo Way, Fire and Fury, a Jux Leather riding crop and our bare hands. We all marvel at how many reasons there are to spank this little narcissistic, racist, sexist, anti-intellectual twerp, but maybe worst of all is the way he has dealt with the dire human emergency of climate change, virtually selling off the fate of the human race itself for pennies on the dollar in tax breaks to the Koch Brothers and other corporate billionaire villains.
This leads me to declare that the villain of the Purim story, Haman, is equivalent, in our times, to Trump as well as all the Republican leadership that would, for their own immediate aggrandizement, commit ecocide upon the earth. Thus, as traditional Purim revelers crank their graggers (noisemakers) whenever they hear the word "Haman," we do it when we hear "Trump."
As for the drunk and hedonistic King Ahasuerus, I believe, in this construct, he represents the American People. We the People just want to have a good time. We the People possess the ultimate power in our numbers, but we're lazy, confused, broke, exhausted or we'd rather watch TV (even if it's now on the Internet, it's still TV) than think for ourselves. We've essentially given our power away to the Hamans—the villains, the 1%, the Trump Crime Family and our oligarchic overlords—whose reign is so destructive, they might as well wear bullet crowns.
Healing High Heels
Perhaps Queen Esther could teach us bonoboesque resisters a trick or two about how to seduce the "king," the American People, into doing the right thing; that is, stripping the Hamans of our world, the NRA, the Military-Industrial System, the Prison-Industrial System, Trump, the Koch Brothers, the polluters and the plutocrats of their unholy, unequable power, and perhaps saving humanity itself from imminent extinction. In these threatening times of Weapons of Mass Destruction, we're unleashing a very different kind of armament: Weapons of Mass Seduction.  Fireworks Not Firearms! Cocks Not Glocks! Rubbing buns, not waving guns (bonobos love to rub butts against each other). Sharing the wealth of our nation and our planet, not stealing it for yourself and your royal family and friends.
Joining us for her first appearance on the show is brand new D.A.D. member, the lovely and lithe Mistress Katarina, whom I had the pleasure of meeting at DomCon.
Garbed in black tights and over-the-knee boots, Ms. Katarina has a way of digging and twisting her stiletto boot heels into Trump's nipples and tiny dicklet that really makes him squirm. It's the Healing Power of High Heels.
Vesper Va Va Voom
Also in the Womb Room is one of our favorite guests whom I haven't seen since June, 2013, when she was a porn star named Odile.
Now she's more of a comic-erotic performer, going by the name of Vesper Synd.

Her new name is a tribute to Vesper Lynd, portrayed in Ian Fleming's first spy thriller, Casino Royale, the only "Bond Girl" with whom James Bond falls in love.
Dressed as a clown, Vesper kicks off the action in this show with my sexy assistant, Phoenix Dawn, the two of them taking off each other's bras to the catchy tune of The Kinkster by Mark Will of [ai] aka Carmina Formosa, inspired by Bonobo Way.
Vesper and Phoenix engage in a very titillating Bonoboville Communion and Waterboarding, Bonobo-Style, with the traditional sweet, high alcohol-content Manischewitz.
That really warms up everyone watching in the Womb Room studio on this cold late-winter's night, as well as, I'm sure, the folks at home.
Ooh la la Vesper!
Dazzling Diamond
Also brand new to DrSuzy.Tv is LA/NY porn star and striptease artist Diamond, poised to make a comeback in erotic entertainment.
She lends her bi-coastal point of view to our discussions of Trump, Esther and sex work, but Diamond really sparkles when she performs a striptease as Ikkor the Wolf, 2017 SUZY award winner for "Best Hiphop Artist," sings "She Bad."
PHOTOS 1 & 2: HEATED RUSH.  PHOTOS 3-5: JUX LII
Since she doesn't have much on to begin with, Diamond soon strips down to her birthday suit, and spends the rest of the song moving her muscular but womanly, all-natural physique to Ikkor's beat, dancing, shaking, twerking and doing splits to the hoots and hollers of the Womb Room crowd, peppered with horny, happy couples who get even hornier and happier watching Diamond dance.
Later, Diamond, a good Catholic, plays Altar Girl to Ms. Katarina, brought up without the constraints of organized religion. Ms. K laps up her Communion with relish and receives her Manischewitz waterboarding, as I rabbinically recite the Hebrew prayer over the wine.
Baruch atah Adonai, elohenu melach haolam, boray peri hagofen.
Blessed art Thou, King of the universe, who brings forth fruit from the vine.
Blessed are we in Bonoboville to be able to gather together as we do every Saturday, to celebrate life with friends and lovers and plenty of strong, cheap vino.
PHOTO 1: JUX LII.  PHOTOS 2-3: HEATED RUSH
And welcome back to LA, dazzling Diamond!
Laconic Comic Lamar
The sole male (besides Trump, who really doesn't "count" in Bonoboville) swimming in this sea of females (also including Mia Amore) is stand-up comic Lamar D. Sol who's very cool if only because he hails from my hometown of Philly. Lamar doesn't often crack a smile, but he does crack some funny jokes.

"You girls better be glad I'm past my white-girl phase," he quips.
I suggest he might be entering another one of those phases—until I spot his pretty girlfriend Tonia leaving the bar to go back and sit in the studio front and center.
Lamar is also concerned that Trump might "like" his spankings "too much." 
No doubt he does (or would) like them, on a certain level. Our bonoboesque philosophy is: As long as Agent Orange is removed or removes himself from office (and takes Pence, Ryan, McConnel and most of Congress along with him), we're willing to hold our noses and serve our country by keeping the big adult baby restrained and preoccupied, with Bonobo Way book–spankings, gagging, boot-torture, golden showers and love.
"But if you're spanking someone and doing all these things to them, doesn't it mean you like them?" inquires Lamar.

To which Ms. Tara replies, "You know what's interesting about that is, I only pee on people I actually like. If I met the real Donald Trump, I wouldn't cross the street to piss on him if he were dead, but if I were doing it to help my country, maybe I would."


"Yes, we don't want to really hurt anyone who doesn't want to be hurt, not even Trump. We just figure if he's busy being our toilet, he won't have time to make a mess of the country," I chime in. "No assassination, just urination."
Golden Thundershower
Which brings me to the glittering gilded climax of this program.
After Diamond and Ikkor's amazing performance, tiny trembling tRUMP trudges onto the tarp. That's a lot of T's, but soon there's a lot of pee pouring all over our mini Trump's stark naked, pale and quivering body.
First, Diamond lets loose a golden waterfall—which she'd been holding in through the entire show—all over Trump's shriveled manhood. Phoenix follows with a sparkling sprinkle. Then Tara unleashes her FemDom waters into his gaping mouth. Even I squeeze out a squirt of golden nectar onto little Donnie's baby peepee.
By the end of our "Russian Pee Party," the Presidunce is soaked and we are spent. What a mess! What we do for our country, as Ms. Tara might put it.
After Effects
The Speakeasy is abuzz with laughter and champagne as we wind up another great show in our humble but amazing little village of Bonoboville.
Then I fly up to my King's harem where he eats my hamantasch, shakes my graggers (though trust me I was NOT calling Trump's name) and takes me to bonobo heaven.
PHOTO 1: JUX LII. PHOTO 2: HEATED RUSH. PHOTOS 3-4: SELFIES
Check out The Bonobo Way of Inclusivity at AASECT now online for your viewing pleasure and bonobo sex-education.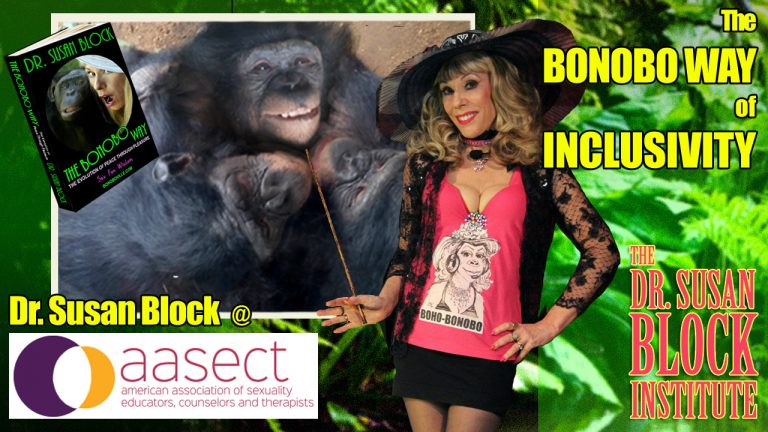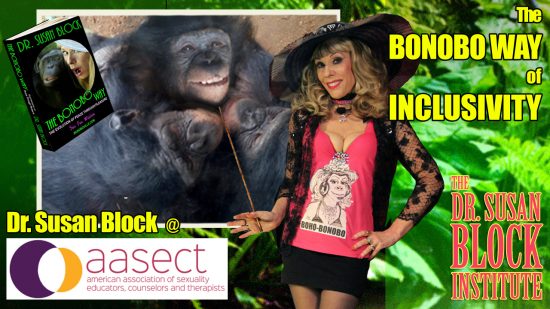 Thanks to Our Volunteers: Videographers- Kris A, TS Bozeman; Photographers – Slick Rick,  Heated Rush Photography, Jux Lii;  On-Campus Bonobos – Phoenix Dawn, Miss Mia Amore, Abe Perez, Camille Rosebud, Mita Altair, Harry Sapien, Gideon Grayson, MarsFX, Clemmy Cockatoo, Ana & Miguel.
© March 3, ,2018. Susan Block, Ph.D., a.k.a. "Dr. Suzy," is a world renowned LA sex therapist, author of The Bonobo Way: The Evolution of Peace through Pleasure and horny housewife, occasionally seen on HBO and other channels. For speaking engagements, call 310-568-0066.
---
Explore DrSusanBlock.com
Need to talk? Sext? Webcam? Do it here. Have you watched the show? No? Feel the sex. Don't miss the Forbidden Photographs—Hot Stuff, look at them closely here. Join our private social media Society. Join us live in studio 😊. Go shopping. Gift shop or The Market Place. DrSusanBlock.tv, real sex TV at your toe tips. Sex Clips Anyone? FASHION, we have fashion! We also have politics. Politics? Have you Read the book? No? How about the Speakeasy Journal? Click here. Ok, how about some free sex advice?
---
---