Self-Love September Climax 2018: Bosom Ballet, Incel Orgasm & Lying Crying Kavanaugh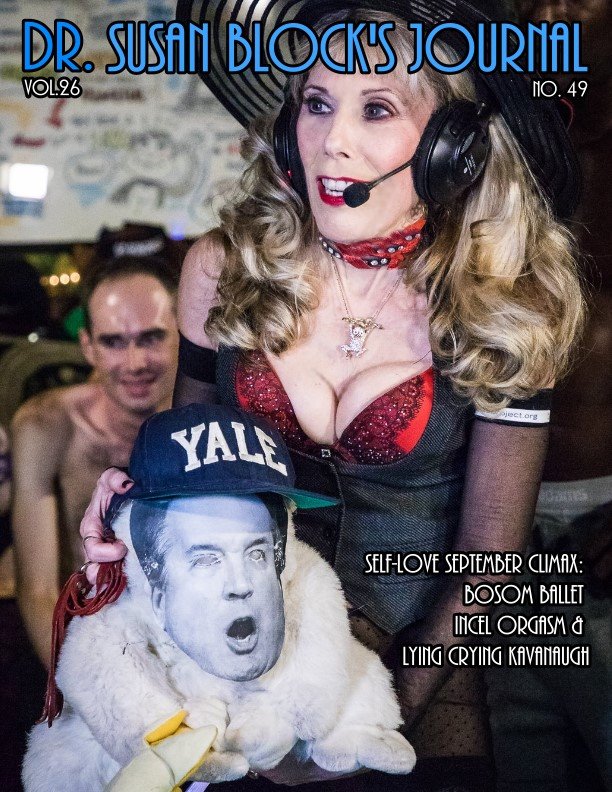 Length 01:51:58 Date: Sept. 29th, 2018
Live from the Womb Room Sanctuary of the little Love Church of Bonoboville, Self-Love September climaxes with sexy FemDoms and funny FemComs coming together to give Lying Crying Kavanaugh the spanking he so richly deserves, expose Trump's Mario Kart Yeti-pubed toadstool peepee, engage in beautiful boobalicious Bonoboville Communion and give a lucky caller a big bonoboesque incel orgasm.
Sapiosexual Commedia Erotica and intensive Erotic Theater Therapy for the Trumpocalypse at its finest!
"Stark Truth" Incel Interview
My Saturday night starts with the "Stark Truth."
In these times of Kellyann Con-Job's "alternative facts," that might sound like a rare and precious commodity, but it's also the name of a podcast hosted by Robert Stark, along with Cornell grad Matt Pegan of Santa Barbara.
For about an hour before the show, the two seekers of truth interview me about my sex-therapeutic approach, erotic philosophy and political position on what they call the "incel problem" (incel being short for "involuntary celibate") as discussed in two of my articles on the subject, Hunger Games, Killing Fields and Incel Therapy, Bonobo-Style, and from time to time, on the show.
Though they don't consider themselves to be "incels" (not many guys embrace this label; at least not in public with ladies present), they acknowledge being into the "men's rights" movement and harboring a journalistic fascination for the incel edge of the "manosphere."



I'm happy to explain some of the philosophy and science behind our sex therapy practice here at the Institute where we help many "incel" clients deal with their demons as well as find their angels.
I'm not trying to boast (well, maybe a little) when I say our unique approach to incel sex therapy has prevented a few mass murders, as well as many sexual assaults and suicides.
The only problem is that private sex therapy—like any kind of private "sex work"—is expensive. We talk to people for free on the show, but most guys don't want to go public with their incel issues. This is one reason why I firmly believe that sex work needs to be decriminalized, destigmatized and subsidized by our governments.
What's that, you say, we don't have the funding? I said it before and I'll say it again:

If we have funding to increase the military budget every year until it blows us to kingdom come, we have funding for a few blow-jobs to let our people cum.


We also touch upon cuckolding, capitalism, status, socialism, sperm wars, sexual fetishes, pro-sex vs. anti-sex feminism, BDSM, male sexual frustration, the Sexual Revolution, mass murder, Sex Week at Yale, sex work, bisexuality, safe sex, consent, cunnilingus and something Robert calls "Cunnilingquality" which, in a nutshell, involves incels going down on FemDoms in an epic face-sitting party.
Of course, throughout the interview, we talk about bonobos and how The Bonobo Way can guide and inspire us to handle our burgeoning "incel problem" with love.
Matt shoots the interview, while Abe and Mar shoot him shooting, and we broadcast the whole thing, breaks and all, on Facebook Live.


It's great sapiosexual "foreplay" for the show which, before we know it, must go on!
Self-Love September Climax
From my book-lined office to my sex-toy-and-stuffed-animal-strewn bed, our Saturday night evolves from the cerebral to the sensational.
Though it's not quite Robert's fantasy cunninlinquality party, parts of it come kind of close.
Congregation and crew assemble around my special guests: FemDom Switch Mother Tink brings her precious Pomeranian Fizzgig.
Stripper-cum-comedian Sunshine McWane, sultry camgal Honey Dior and my perky, flaxen-haired show assistant Blossom Green round out the Womb Room opening line-up
Robert and Matt sit in the audience for the first part of the show, and join us onstage for the second, along with Ikkor the Wolf and Capt'n Max.
It's the last Saturday night of Self-Love September which is (according to the Internet) more about lofty ideals of self-improvement than the earthy reality of self-pleasure. This may be because the monthly designation has only been around for a few years (in contrast, May as Masturbation Month goes back to 1994), or it may be because promoting the benefits of solo sex is still very taboo.


I understand that "self-love" means a range of different things, but in my not-so-humble opinion, if quality masturbation time (which could include mutual masturbation, if you have a lover) isn't part of self-love, you're not fully loving yourself.
Aside from grasping tree branches and smartphones, the human fingers appear to be made for self-love.
As the late great George Carlin said, "If God had intended us not to masturbate, he would have made our arms shorter."
Calling in a self-loving mood is "Brad" (not his real name, though it rhymes with the incel archetypal nemesis "Chad") who used to call the Institute as a client over a decade ago, but willingly gave up his anonymity a few years back when he started calling the show.
From what I know of Brad's love life (or lack thereof), he himself is a bit of an incel, though he too rejects the label. He has what I call a "celebrity fetish." He loves to imagine sex with soap opera stars, newscasters, Laker Girls, weather gals and other women he sees on Tv, including some of the female guests on The Dr. Susan Block Show. While he can't call—let alone masturbate for—most of the objects of his desire, he can call us, and though his constant craving for carnal self-pleasure and nothing more can get tiresome, it fits right into our climax to Self-Love September.
On this show, Brad's passionate love interest is none other than our beautiful blushing Blossom
We can't blame him for that!
She's looking extra adorable in her turquoise "pussy" panties and matching heart shades.
Being "quick on the trigger" is not usually a good thing, but in this case, with time running short, Brad's almost instant explosion is perfect timing.


Everyone claps and cheers. Where else can a guy get a round of applause for his aural orgasm?
Lying Crying Kavanaugh
From spanking the monkey to spanking the Presidunce for his lying crying Supreme Court Justice pick, my girl-power team dishes out the punishments on this show.
We'll give these crybabies something to cry about!
There's a crazy crying white guy epidemic permeating the Trumpocalypse, from the Crying Nazi to the Crying Judge. I'm all for men crying, getting in touch with their emotions and being sensitive. I was moved when Bill Clinton cried while hearing the story of a woman who died because she lacked health care benefits, when Obama got weepy when talking about children dying in the Sandy Hook elementary school shooting and when "Crying Chuck Schumer" (Trump's oh-so-clever name for the New York senator) teared up over Trump's cruel immigration ban. But these men were all weeping out of empathy with others. They did not cry in anger like Crying Kavanaugh. They did not cry because their personal feelings were hurt or because they weren't getting their way. They did not cry because their past "Beach Weeks" had caught up with them like the Judge who would be Justice but likes beer but doesn't like to be questioned about it, retorting, "Senator, what do you like to drink?" tears staining his reddening cheeks.
In The Art of Being the Donald, Trump says, "When I see a man cry I view it as a weakness. I don't like seeing men cry." But does he call Big Baby Brett "Crybaby Kavanaugh"? Not at all (or at least not so far). Because Crybaby Kavanaugh is his man, a man who supports assaulting foreign countries for non-defensive "reasons," torture, domestic mass spying and police brutality, a man who won't allow women to get abortions, a right-wing political operative is deep in the pocket of the corporate ecocidal American Oligarchy and is happy to give the President limitless power.
No wonder the Republicans adore him…. so far. As I write this, the tides may be turning into a tsunami of FBI investigatory evidence too incriminating to ignore. I'm not one who "believes all women" no matter what, but Dr. Christine Blasey-Ford's tale of a beer-swilling young Brett holding her down and placing his hand over her mouth as he tried to take off her bathing suit is extremely credible. Regardless, anyone with common sense can see from that hearing that Trump's man is just too mean and "sloppy" a drunk for even the mostly corrupt Supreme Court to accommodate. Maybe even the ridiculously pro-Kavanaugh Republicans and Trump himself will throw Trump's man overboard. Then again, probably they won't. As I write this, the enervating Senate Judiciary soap opera continues as the Earth burns and floods while giant wasp-sized mosquitos that bite through clothing buzz around us like a Biblical plague.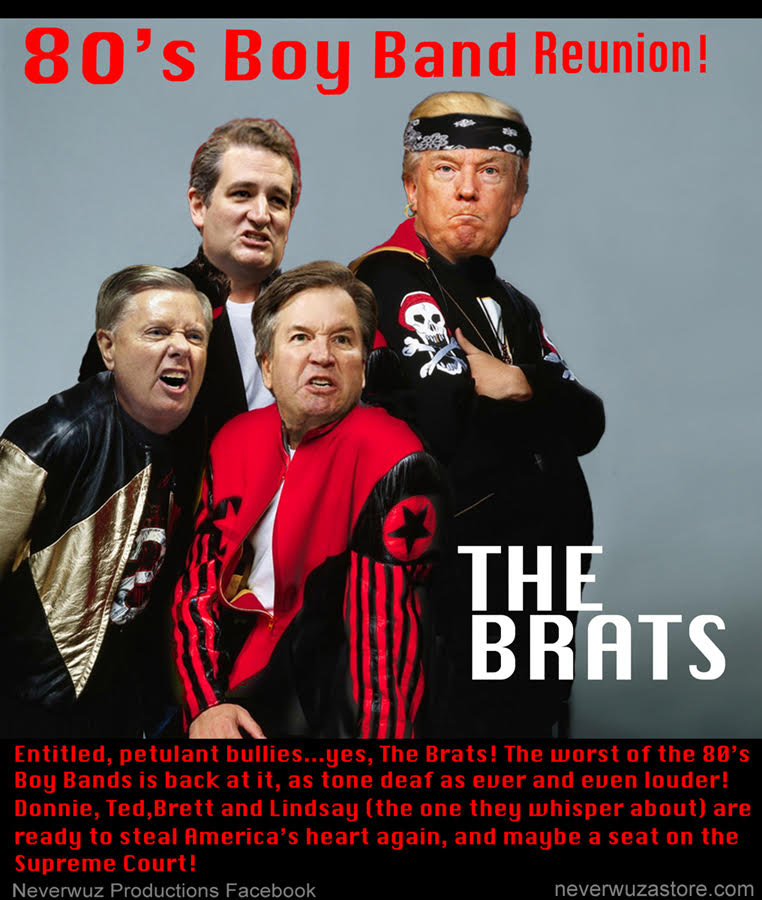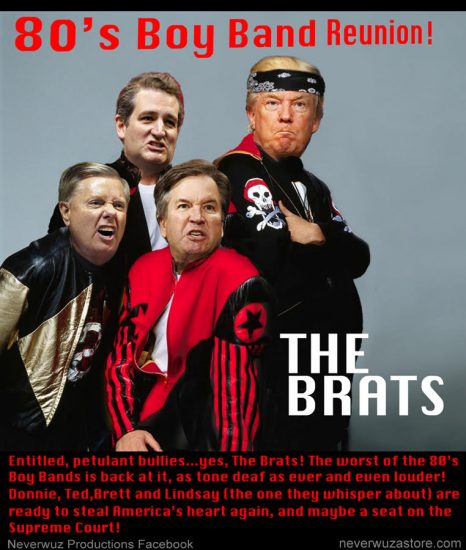 So we spank the climate-change denying Trumpus extra hard for nominating such an odious Federalist Society creep in the first place.

Kavanaugh's lies have been revealed and dissected in numerous places, two of which are of particular interest to me as a sexologist.
Just in case you have a tendency to believe Supreme Court Justice nominees, let me tell you that "Devil's Triangle" is not a "Beer Game" similar to "Quarters," as Kavanaugh maintained under oath. It is two guys having sex with one woman. Sounds like what Dr. Ford was saying young Brett and his falling-down drunk buddy Mark Judge were trying to force her into.

Oh, and "boof" doesn't mean "flatulence," as Choir Boy Kavanaugh maintained with a straight face, again under oath. It means anal sex, or inserting drugs or alcohol into one's rectum. Now there's a drinking game!
Also, sexually speaking, Kavanaugh says he was a "virgin" in high school and many years thereafter. Let's assume that's not a lie (though his Yale roommate says otherwise), that he was a technical virgin, meaning he didn't have PIV (penis-in-vagina) sexual intercourse. This is popular among Catholic school boys and girls and other religious teens who are threatened with eternal damnation and expulsion from school (not necessarily in that order) if they have intercourse, so they focus on oral, dry humping and anal sex.
Bottom line: Being a "virgin" is not at all incompatible with the assaults he's accused of. After all, being celibate didn't stop thousands of Catholic priests from assaulting altar boys, did it? But it might explain some of Kavanaugh's crybaby issues and why he thinks of himself as such a good Catholic boy, as well as deprived and unfairly accused.


True to their creed of crybaby misogyny, most incels adore Kavanaugh. After he declared his youthful virginity, Kavanaugh's popularity with the incel community skyrocketed. Kavanaugh doesn't fit neatly into the incel definition. On one hand, he's a prototypical "Chad," an athletic frat boy within a powerful social order at Yale. Brett's Yale roommate is even named Chad (Luddington)!
Of course, this Chad recently attested to Brett's "frequent," "heavy" and "staggering" drunkenness, further endearing the incels to Kavanaugh as a virgin attacked by a "Chad."
The fact that Judge Kavanaugh's public rulings and private life are so devoutly misogynistic and pro-Trump fascism is icing on the incel cake.
It's enough to make you barf your boofed beer. Since that's way too disgusting, we channel our frustrations with the American justice "system" by beating our Trump surrogate's toadstool peepee, butt and shoulders with The Bonobo Way, Goddess Phoenix fiber-optic flogger, the Forbes that Stormy spanked him with and our bare hands as he clutches our little Brett Baby.
We also give several spankings and neon floggings to our guests who have much nicer bottoms than Trump or Brett.
Coming soon: the new Spanking for Adults Only edition of the Speakeasy Journal!


The range of panty choices is also impressive, as the array of spankings reveal.
Sunshine sports the beige, "good girl," full-coverage panty that says, "I had no idea I was going to take off my black stretch pants tonight, but aren't you glad I did?"
Honey's got the stripper "look" down.
Seductively, she removes her black bra to show off her gorgeous breasts and plays with her double-strap, turquoise and black thong n rhythm to Carmina Formosa's Bonobo Way-inspired The Kinkster.
Blossom gets so excited watching Honey strip, she jumps in to hug her, showing off her pussy panty boy shorts.
Meow!
Mother Tink strips off her full bat-decorated black bikini panties to reveal a skimpy black g-string.
As for me, in honor of my Yale colleagues (shout-out to Jane Mayer for her article with Ronan Farrow in the New Yorker) who are doing what they can to derail this train wreck of a Supreme Court Justice nominee, I'm wearing my red Yale University thong.
Boola-Boola. Don't hold Brett's beer.


Seriously, how can we take this sputtering, self-defensive, mendacious narcissist seriously enough to put him on the Supreme Court? Oh wait, two years ago, we made another sputtering, self-defensive, mendacious narcissist (who lost the popular vote) President.
If there ever was an America that upheld justice, truth and community, it's now one of many endangered species. The only peaceful possible solution for the more and more disenfranchised 99.99 %: Go Bonobos and Vote Blue (yes, the lesser of two evils)… before it's too late!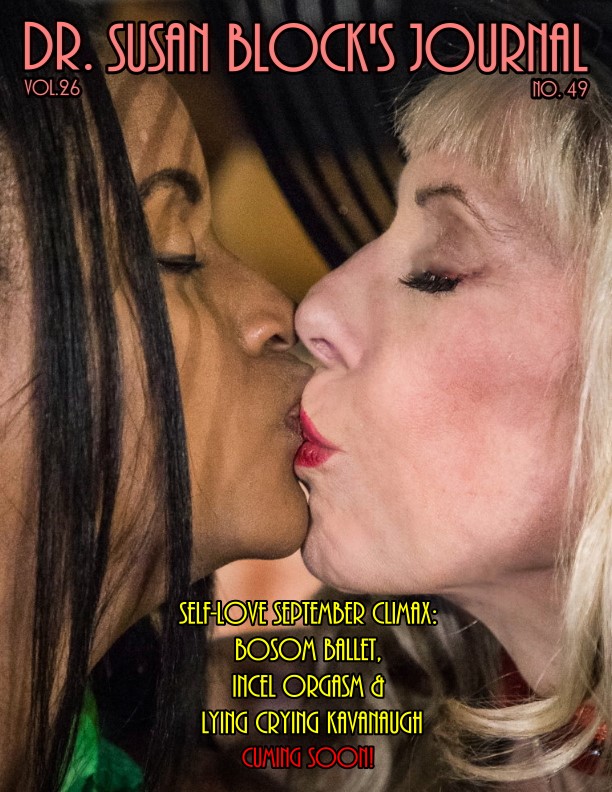 Meaningful & Booby-Full Bonoboville Communions
Kavanaugh may be full of "boof" when he says the Devil's Triangle is a drinking game, but we have our own genuine drinking game on DrSuzy.Tv, and we call it Bonoboville Communion.
Like the Catholic and other religious Communions, it unites an earthly ritual with a heavenly feeling.
There seems to be a great need for Communion (not the kind practiced by Brett's Church either) on this show.
Honey, Sunshine and Mother Tink all give and take Communion.
What a divine assortment of lovely, all-natural altars.
As High Priestess of Communion, I assume the delightful job of sprinkling the sacred Himalayan pink salt on the attentive nipples for the Faithful to lick up in rapture.
The "drinking" part of Bonoboville Communion is Waterboarding, Bonobo-Style with Agwa de Bolivia Herbal Coca Leaf Liqueur.
Don't get me wrong; I'm no Gina Haspel, but I make sure everybody takes their Waterboarding like good P.O.W.'s.
Even Robert Stark gets in on the act (as Matt films him), taking off his two shirts to reveal his furry altar as Sunshine takes her licks.
In her comedy routine, Sunshine says when guys ask her "sign," she replies "dollar sign," but on our show, she's in a giving mood, or maybe she just likes Robert.
Then Mr. Stark "gets lei'ed."
When he adds one of my yachting caps and red heart sunglasses to the ensemble, he looks like he's celebrating Beach Week (without the assaults, of course).
We Bad, We Good, We Hula, We Climax!
Then Sunshine puts her shirt back on to share some stripper jokes from her stand-up routine.
As usual, we wind up the show with a rousing rendition of Ikkor the Wolf rapping "She Bad."
And the Bad Gals twerk, boogie and beat Trump.
So do some bad boys: Robert joins in for Trump Spanking Therapy, while Matt films him.
Wonder what the incels in his audience will think of the Stark Truth going native to Beat Trump in Bonoboville?
After the show, I sign a few books and take a few more questions from the Stark Truthers (no relation to those other Truthers).
Blossom, Honey and I go bonobos hula-hooping it up in the semi-trashed Womb Room.
Meanwhile, Mother Tink takes a vibrator and a Bad Dragon dildo (a bday gift from Lola Bastinado) into a private room and comes back with that post-Self-Love-September-Climax glow.
Then the Captain and I celebrate the climax of Self-Love September with a little climactic "self-love" (the mutual kind) of our own. Wheeeeee! Happy Self-Love September 2018!
Even though September's over, there's no reason you can't go bonobos for self-love all year around!
© Sept. 30, 2018. Susan Block, Ph.D., a.k.a. "Dr. Suzy," is a world renowned LA sex therapist, author of The Bonobo Way: The Evolution of Peace through Pleasure and horny housewife, occasionally seen on HBO and other channels. For speaking engagements, call 310-568-0066.