Squirting Kink Month Kickoff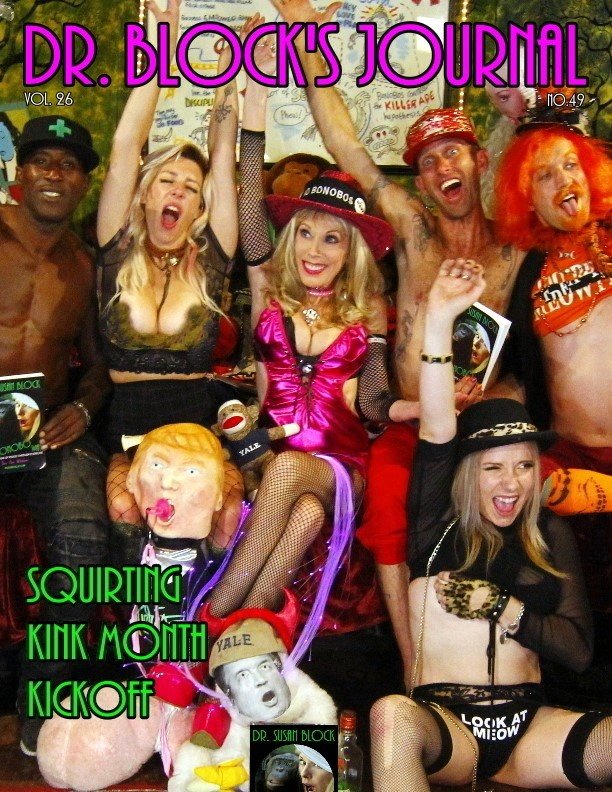 Length 01:50:03 Date: Oct. 6th, 2018
Female ejaculation baptizes my Womb Room in a gushing Kink Month Kick-Off with Holy Water so hot, it washes away the sickening sight of lying, crying Kavanaugh's confirmation to the Supreme FFFFing Court.
Kavanaugh Gives Us Cavities
Ouch! Whether or not he's a full-on rapist, in those hot and heavy Senate hearings, Brett "the Blubbering Brat" Kavanaugh proved to be utterly unfit to clean the toilets of the Supreme Court ladies' room (where he might push his flaccid virginal white-privileged frat-boy drunk dick in someone's face), let alone one of its lifetime justices. This is why he is the first Associate Justice to be overwhelmingly rejected as "unfit"  by the American Bar Association, Yale Law School (his alma mater), Jesuit Magazine and his Yale roommate Chad.
I spent four years at Yale, trying to avoid the beer breath and predatory paws of big drooling frat boys like Blubbering Brett, some of whom cried in my lap before vomiting and then calling their parents to wire money. Though I don't "believe all women," I do believe Dr. Christine Blasey Ford, as well as Deborah Ramirez and the other women who have come forward, partly because their stories are credible, but mainly because Kavanaugh's denials have been filled with the lies, recriminations (showing he will be anything but an unbiased judge) and tears of a spoiled little boy who got caught with his grubby little hand in the cookie jar.
Though I'm ashamed that Bellicose Brett and I went to the same school, I take pride in how many of our fellow Yalies have come forward to expose his loutish past and protest his gilded future which is intrinsically tied to him ruining the futures of most Americans in favor of corporate interests, Perma-War, Big Oil, Big Pharma, the Religious Right, the prison system and America's insatiably greedy oligarchical .0001%. From my classmate Jane Mayer who broke Ramirez's story, to the students, professors and alumni who emerged from their Ivory Towers to protest in the streets, his fellow Elis have tried to remind Condescending Kavanaugh that our school motto, Lux et Veritas, means Light and Truth, not Obfuscation and Perjury.
And yet, the times are such that Obfuscation and Perjury have won the day, and the Alt-Right is holding kegger parties. What to do now that all our protests have fallen on the willfully deaf ears of these solemnly slimy Senators? Vote them out! It's the Bonobo Way, and at this point, it's the only way to fend off the smiley-faced American brand of corporate ecocidal fascism that is devouring our country and will, if unchecked, soon gerrymander our votes into total meaninglessness.  


Just to get some statistical perspective on our already undemocratic electoral process: Crying Kavanaugh was nominated by a President who lost the popular election by three million votes. The 48 Senators who voted "no" to Kavanaugh represent 181.8 million Americans, and the 51 Senators who voted "yes" represent only 143.2 million.
This is why too many of us feel that our votes are already worthless, and mere daily survival too demanding of our limited time, so we don't bother to haul our asses into voting booths on Election Days. Since the Religious Right votes religiously, our ambivalence about voting has become a recipe for the all-American fascism that has now got a death-grip on our three supposedly separate branches of government.
No doubt voting is a time-consuming, chancy proposition, but it's our only chance. So, for electoral motivation, we start this show with the screams of protestors being forced from the gallery while the Senate votes in Justice Blubbering Cavity, our smarmy creep of a Veep Mike Pence gaveling "order," as the Cassandra cries of "Shame! Shame! Shame!" grow louder and more anguished, echoing down the halls of history.
This is the sound of America losing our humanity.
This is the sound of millions whose mouths are being covered as they struggle, whose very breath is being smothered under the sweaty hand of power and money. This is the sound of women's rights, workers' rights, voting rights, immigrants' rights, LGBT rights, the rights of people of color, the rights of people to clean air and water and so much more that is being ripped from us, like the sound of migrant babies being ripped from their parents' arms at the border, like the sound of a young girl forced to bear the child of her rapist, like the sound of the people being screwed—and not in a good way—by the rapacious greed of the way-too-rich.  


Of course, it's already happening.  While we've been transfixed by the Kavanaugh Soap Opera, the American Oligarchy just really fucked us with another tax cut for the wealthy, as well as a massive increase in military spending. That and we also found out Trump's Daddy gave him over 400 times more money than he said he gave him, and most of it was done illegally, but who cares? The veneer of respect for the law and compassion for the poor was always cracked but now it's completely ripped away, and Melania's jacket (and her snappy Great White Hunter safari outfit in Africa) sends us the real message of truth: They really don't care… about anyone or anything but their own snappy outfits, their own bulging bank accounts and their own silver-spoon-fed progeny whose obscene wealth pollutes the very air we breathe like pigs farting in our faces.


This is NOT a case of "the boys against the girls," as Trumpenstein likes to frame it to keep the duped "bros" (and the gals who try to impress the bros) cheering him on. It's the .0001% against the rest of us.
To counteract the toxic smell and the awful sounds of those Senatorial pigs oinking their votes for their fellow frat boy pig (with apologies to real pigs who are kind of cute and pretty smart), we play another clip. Instead of screaming, we hear people cheering for Texas' remarkable Democratic Senatorial candidate, Beto O'Rourke, whose message of inclusivity is the most bonoboesque I've heard in American politics since Martin Luther King declared, "I Have a Dream."  I've never wished I lived in Texas until now, just so I could vote for Beto to BEATo that noxious weasel Ted Cruz. Beto is a mix of Obama with Robert Kennedy, oozing telegenic progressive charisma and maybe, just maybe, he has the kind of integrity that won't be bought and sold, the kind America desperately needs right now.

Happy Kink Month!
On that positive note, but with a deep need for a strong dose of Trumpocalypse therapy, I welcome the congregation to our celebration of Kink Month. Yes indeed, October is Kink Month, as declared by our kinky friends at The Stockroom, for the sake of sales, sex education and good vibes.
It makes seasonal sense. As the autumnal spirit of darkness descends, whirling like a devilish dervish around Halloween revelry, stirring up adventures, fear as an aphrodisiac, costumes, pranks, spankings, roleplay and just plain playing (consensually, of course), kink is in the air.  
But what is "kink"? Kink is any kind of sex that Ted Cruz would legislate against but would "like" on Twitter….


Actually, the term derives from the idea of a "bend," aka a "kink", in one's sexual behavior, as opposed to "straight" or "vanilla" sexual activity. Kink can be a little—or a lot—taboo. Most fetishes could be considered kinky. You could say that kink is 50 shades of sexy… but that gives too much credit to a bad film and an even worse book. Kink is "unconventional" sex, but if you're already kinky, the conventional can be unconventional, and therefore kinky. Marriage could be kinky. Missionary can be kinky if you always do it doggy….
And no, Virginia, celebrating Kink Month doesn't mean you can only get your kink on in October. You can be kinky as you wanna be any month, anytime. But just as May is Masturbation Month (thanks to the good folks at Good Vibrations and my dear friend Dr. Betty Dodson), September is "Self-Love September," February is Black History Month, March is Women's History (Herstory) Month and June is LGBTQ Pride Month, so as to spotlight the subjects and stimulate discussion, October is the month to open up your erotic closet and let your kink flag fly. This is a key aspect of releasing your inner bonobo.
Father & Son Kinksters Be*Live & Zivu
For our Kink Month Kick-Off, a small and very sexy group of guests gather around my broadcast bed, starting with pansensual vegan culinary master, multiple SUZY-award-winner and one of the stars of our first Speakeasy Journal (Splosh 'n' Art edition), Chef Be*Live.
Chef B has been on the show countless times, but this is the first time without his wife, dazzling actress and performance artist Daniele Watts.  
These two are so unconventional that getting married (both for the first time) was and still is incredibly kinky.
In the second half of the show, Be*Live is joined by his son, Zivu A'balam, who always looks like his twin.
This time, Zivu looks like he caught the orange flu from the Mango Mussolini, although Zivu has an orange beard, orange eyebrows, orange shirt, orange socks and an orange maribou boa while the Trumpus just has that orange fake-tan skin.
Blazingly orange as a five-alarm fire Halloween Jack O'Lantern, Zivu is the Spirit of Kink Month incarnate!
Juici Jenni, Squirting Queen
The new gal in town is Juici Jenni, and wow oh wow, does she live up to her name and steal the show with a breathtaking demonstration of female ejaculation.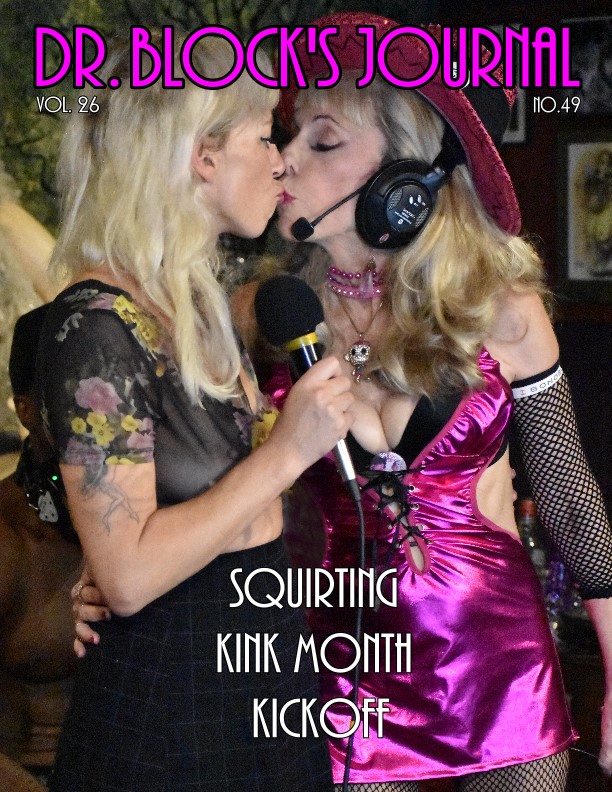 It all starts innocently enough when I ask, "What's your favorite kink?" and she replies that she enjoys masturbating… in public.
Say no more! This is—hands up, down or in your pants—our favorite kind of guest here on DrSuzy.Tv.
Everybody's ready to watch Jenni get juicy, but I tease the crowd by asking her a few more questions. Turns out, Jenni grew up in Montreal in a strict Christian Science family, and she didn't even take an aspirin until she was 22. She's also a real-life MILF and she acts in horror films, though she prefers to "be herself" and make erotic clips for her fans.
Like most thinking, feeling humans, she also despises the Pussygrabber-in-Chief and shows her anti-Trump spirit by whacking our Trump doll's big balls and tiny little Mario Kart mushroom peepee with The Bonobo Way.
Then she strips off her skirt, pulls down her top, writhes and rubbing herself with the MFC vibrator in rhythm to Carmina Formosa's "The Kinkster" (inspired by The Bonobo Way).
She makes herself comfortable on my bed and squirts right through her fishnet tights.
Yes, indeed, Brothers and Sisters, Lovers and Sinners, I don't know what the Christian Scientists call it, but I call Holy Water. I don't know if it can heal your sickness, but I know it can take your mind off your pain—even your aching Kavanaugh Cavity—and that's a healing thing, or at least, a natural pain killer.



Smell it, and you'll know it's not urine which smells like, well, urine. Nothing wrong with a little kinky consensual pee play, but female ejaculation is substantially different.

Check out my article, Squirting World, and my Squirt Salons for more about how to squirt and help your partner to squirt, as well as lots of juicy info on the History of Squirting, which of course, goes back to pre-history, though Aristotle was the first to write about clear, odorless, female emissions wetting the toga.
Or just watch the lovely and very juicy Jenni squirt up a tropical storm free on DrSuzy.Tv and check out this show's wet and wild Forbidden Photographs.

Bonoboville Communion (Not Boofing)
After the break, our sexy, slightly lapsed Christian Scientist becomes our Bonoboville Communion Altar Girl.
Now that a confirmed lush and angry drunk ascended to our highest Courts by making a public spectacle of himself, our little drinking game seems kind of tame.
PHOTOS: ADAM LAU
I mean, we're not "boofing" beer here, like Boofing Brett Kavanaugh liked to do during Beach Week—to "boof" being to anally ingest alcohol or other substances, not "flatulence," another blatant Boofing Brett lie under oath.
Our simple boob salt licking is nothing compared to our new Asshole Justice of the Supreme Court.


From an unjust Justice to Juicy Jenni, it's a wild world.
My assistant Blossom Green, looking exceptionally adorable in a bowler hat and kinky collar, chain leash and kitty panties, is the lucky recipient of Communion and Waterboarding, Bonobo-Style from the boobs and lap of our lovely special guest.


Turn-about is fair play, even double turn-about, so Jenni takes Communion from both Blossom and me.
Then Blossom and I interlace our fishnet legs and give Jenni a Waterboarding of bonobo love and Agwa.
Motorbunny Squirt-a-Thon
I'm not sure if it's on Christian Science's official list of no-no's, but Jenni's never ridden a Motorbunny or a Sybian in her life. So when we offer her a Motorbunny ride, she's eager to accept.
Be*Live, his broken hand almost totally healed, wraps up the Motorbunny in Saran wrap. We always practice safer sex here on DrSuzy.Tv!
Then Jenni, topless and panty-less mounts the machine.
With her skirt and fishnets still on, she's quite a provocative spectacle. Perfect for an exhibitionist, and we are nothing if not voyeur-connoisseurs.


Once I get the motor going, it's not long before Jenni's squirting all over the Motorbunny.
The Tantric yogis call it "amrita."
We call it a tsunami of fun.
Ikkor: We are One
As usual, we close the show with Ikkor the Wolf.
This time, in harmony with Beato's message of inclusion, Ikkor sings "We Are One."
The binary is just a construct.
Black and white, male and female, Democrat and Republican, liberal and conservative, we are all human beings.
We Are One.
Throw those ones up and VOTE.
Kinky Wind Down
Blossom's so good throughout this show that I have no reason to spank her.
So I simply spank her for no reason.
Traditionalists call this a "maintenance spanking." 


I call it having fun trying to hit the pussycat target on Blossom's butt with glamazon Goddess Phoenix's fiber optic whip.
Later I continue playing spank Blossom's pussy-butt as she clutches Handsome Hollywood Jake's big bear in the Garden of Bonoboville.
Then it's Hollywood Jake's friend Drake's turn to take a Kink Month spanking in the bar.
Happy Kink Month!
Before we can say "Vote the Bastards Out," it's time for Capt'n Max and me to kick off Kink Month privately, still drunk on Holy Waters of different varieties, still sharing deep intimacies and squirting orgasms, still fighting the good fight, the Bonobo Way, against the Trumpuses and Lying Crying Kavanaughs of the world, still in love after 26 years of kinky bonobo marriage.


© Oct. 6,  2018. Susan Block, Ph.D., a.k.a. "Dr. Suzy," is a world renowned LA sex therapist, author of The Bonobo Way: The Evolution of Peace through Pleasure and horny housewife, occasionally seen on HBO and other channels. For speaking engagements, call 310-568-0066.
---
Explore DrSusanBlock.com
Need to talk? Sext? Webcam? Do it here. Have you watched the show? No? Feel the sex. Don't miss the Forbidden Photographs—Hot Stuff, look at them closely here. Join our private social media Society. Join us live in studio 😊. Go shopping. Gift shop or The Market Place. DrSusanBlock.tv, real sex TV at your toe tips. Sex Clips Anyone? FASHION, we have fashion! We also have politics. Politics? Have you Read the book? No? How about the Speakeasy Journal? Click here. Ok, how about some free sex advice?
---
---