Orgasmic Poetic FemDom Commedia Kink Month 2 on DrSuzy.Tv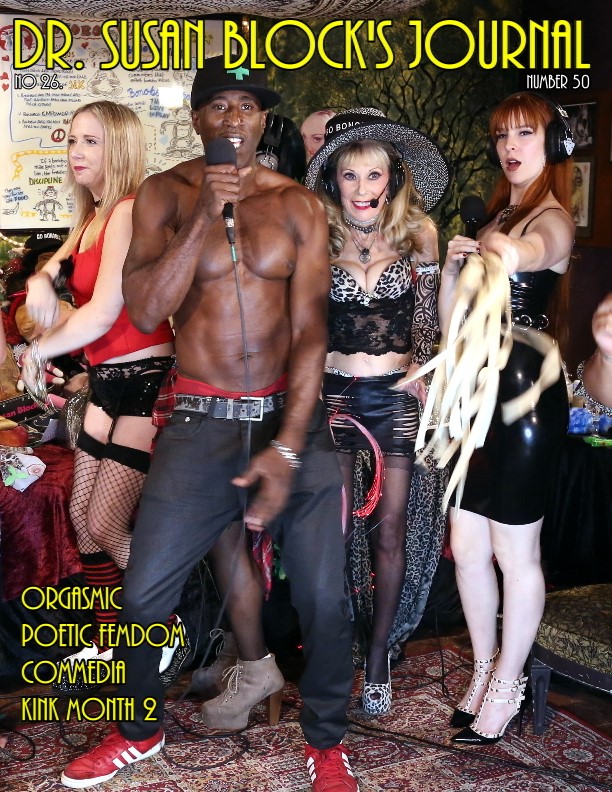 Length 01:47:44 Date: Oct. 13th, 2018
If the ongoing Trumpocalyptic Kavanaughmageddon has you reeling, this show will get you feeling really good.
From Blue Wave motivation to Commedia Erotica delight, quadruple-boobalicious Bonoboville Communion to kinky FemDom flogging and sassy striptease to sapiosexual spoken word poetry delivered in tandem with an operatic, naked Motorbunny orgasm, we put the Super-Kink in Kink Month. 
Welcome All Humans!
Though we encourage you to vote Blue to mitigate the mounting fascistic tendencies of all three branches of America's government, the Big Tent of Bonoboville (BOOnoBOOville during Kink Month) welcomes all comers (in every sense of the word).
To borrow a theme from brilliant former punk rock singer, Beto O'Rourke, who is now running for Texas Senator against the odious Ted Cruz: If you're a Republican, you're in the right place. If you're a Democrat, you're in the right place. If you're an Independent, you're in the right place. If you're a human being, you're in the right place.
This "place," my Womb Room, opens wide for all human beings, "bonobo sapiens" (humans who like bonobos) as well as the bonobos themselves (save the bonobos!), and the rest of our fellow animals who walk, fly, slither and swim through our beautiful blue-green planet, our collective Mother Earth. To paraphrase Beto, we're for human beings in general as opposed to corporations (which have been given human rights to the detriment of most regular humans) in particular, Super PACs (much more hazardous to human health than Super Kinks), and the special interests of the ultra-greedy billionaire class whose dark money has put a reactionary, fascistic, gas-guzzling, ecocidal, sex-negative stranglehold on all three branches of American national governance. 


I call my philosophy The Bonobo Way, using our closest genetic cousins, the bonobo chimpanzees, as an inspirational great ape paradigm for great sex, female empowerment, male well-being and peace through pleasure.
Millennial Blues: Ride the Wave
Though BOOnoBOOville is open to all—red, blue, green, purple or rainbow—there's no doubt that my own view is pretty Blue.
One reason why so many people support the MAGA myth (though they're still a small minority of Americans) is that the Presidunce is entertaining. You love him or you hate him, and even if you hate him, even if you're not a "hater," you can't believe what he's saying, so you can't look away. The real Kanye West visit to the Oval Office (with Jim Brown, whom I interviewed when I was on KFOX radio!) is more absurd than the Saturday Night Live version. They're both cartoon characters in "Kardashian's Apprentice: A Superman Daddy Fantasy." Very entertaining… except all of our lives are at stake.
The hollow chuckles continue as I write this, with the Trumpus' big-baby-bully taunt to 60 Minutes' Leslie Stahl, "I'm the president and you're not" right after insisting, "I'm not a baby." This is why we Witches of BOOnoBOOville keep our Big Baby Trump doll under gag order with a penis pacifier.
This is also why I commence this sex-sational second DrSuzy.Tv show of Kink Month, 2018 with a plea to my fellow Blues to get off their beautiful, spankable asses and vote.


On this show, I direct a plea primarily to Millennials, most of whom (so I've heard) are anti-Trump and anti-Trumpism: Vote! I know it's less fun for you than burying your head in your Iphone, but our country needs your help right now. Like the meme says, "You can't fix stupid but you can vote it out." Don't depend on my embarrassingly stupid generation, the Baby Boomers, that once was relatively smart and sincerely fighting for equality and ecology, taking our bonoboesque "Make Love Not War" stance to the streets to protest American aggression in Vietnam. We ended that stupid war and got that stupid President Tricky Dick Nixon (though compared to the current Presidunce, he was pretty smart) to resign. We were revolutionaries in those times, but now too many of us have turned into rabid reactionaries. Stupid reactionaries that could destroy the future of human and other animal life on Earth, which will afflict you Millennials far more than us older folks who will be long gone by the time Nashville becomes a coastal city.

Like many liberals (a much maligned, misused term, but it's original definition of "open" really fits), I am hoping that the Dems can at least take back Congress in November, but I admit I'm scared that the same mainstream media that predicted a massive Trump loss in 2016 might not be on track with its predictions for a massive Blue Wave in 2018.
PHOTOS: JUX LII
A little bit of fear is exciting, like spice in your salami, but too much fear (panic) spoils the meat.
Kavanaugh Hexes & Anti-Sex Worker Laws
My sex-therapeutic prescription for myself and fellow panicky liberals for surviving and even thriving through these trying Trumpocalyptic times is a mixture of the Two E's: Engagement and Escape.
This show features some of both, starting with my exhortation for engagement, delivering a taste of my traditional Halloween Ode to the Scary Season, performed in my silver witch's hat while riding one of my Magic Dildonic Vibrating Brooms.
I zoom around the room, feeling the good vibrations, goosing the guests, in solidarity with the kinky witches of Catland Books who plan to "hex" the hastily sworn-in abominable Justice Kavanaugh in a public event, part of the proceeds going to Planned Parenthood and LGBTQ homeless.
Their timing is right with Crybaby Kavanaugh now out of the fake news and on the Supreme Court, laying bare the odious arrogance of our Dark Money-corrupted Senate lining up to kiss the orange ass of our sociopathic pussygrabbing narcissistic Presidunce. It's the same kind of arrogance, whether we're talking about sexual assault, sucking up to billionaires and corporations while stepping on the backs of the people, beefing up the Perma-War while cutting life-saving programs, or denying Climate Change while the east coast is flooded and the west is on fire. Trump, Mitch McConnell, Lindsay Graham and Susan Collins used that arrogance, literally fueled by Dark Money, to forcibly push an utterly unqualified liar whom Ralph Nader called a "corporation masquerading as a human being" into the SCOTUS.

It's the Rape of the Marble Palace, and you know I don't use that word "rape" lightly…
PHOTO 1: 2G. PHOTO 2: ABE BONOBO. PHOTO 3: JUX LII
This is why we keep our Kavanaughty doll under gag order with a wad of Trumpus Toilet Paper.
As for the hex itself, it couldn't be any more ineffective than the Senate Democrats' continually thwarted attempts to keep #KavaNo off the Court (though the Dems are by far the lesser of the two political evils and our endangered, gerrymandered democracy needs every Blue vote it can get this election). Here on DrSuzy.Tv, we've been trying Voodoo on our Trump and Kavanaugh dolls—which did make Trump's hair fall off when he boarded that plane.
Also we're pretty sure it's what made Kavanaugh cry which in and of itself would have disqualified him for a lifetime position on America's highest court if there were a preponderance of "adults in the room." However (sigh), the room of the Judiciary Committee is filled with big baby boys, and the Trumpus is still our Climate-Change denying Presidunce while Beery Brett has been elevated to the Supremes. And where is Dr. Christine Blassey Ford? Probably in hiding from death threats and Trump's own pointed insults. "It helped us win," is his demonic excuse to 60 Minutes.

Meanwhile, as we were transfixed by the Supreme soap opera, Congress passed another big tax cut for billionaires, and the House passed Bill HR 6729 that makes SESTA/FOSTA even worse, enabling banks to spy on and report the financial information of sex workers, as well as websites and publications that support them. Sadly, this bill has some Democratic support, but is overwhelmingly approved by Republican congressmen. Yes, even those with mistresses. It's the age of audacity for the white male sexist bigot, with poster boys Trumpty Dumpty and Kavanaughty.
Also, over the weekend, emboldened by Trumpism and Beery Brett's "win," the far-right ultra-nationalist "Western Chauvinist" violent thug movement headed up by Gavin McInnes (co-founder of Vice Media) that calls themselves "Proud Boys" were channeling their fascistic, misogynistic, homoerotic desires into brawling and beating up anti-fascist protestors while yelling "faggot" on both coasts. Yeah, it's pretty ugly out there.
So, go on and cast your spells, hexes, voodoo, do your Trump surrogate spankings and erotic theater therapy—whatever floats your banana boat, but still, ya gotta VOTE.
That being said, it's time to party! Yes indeed, all engagement (work) and no escape (play) makes us dull, depressed and panicked(!), which is no way to resist anything. As Emma Goldman said, "I don't want a revolution I can't dance to."  So dance we do! And a whole lot more.
On With the Show
My guests are a marvelous mix of kink, comedy and raw orgasmic sex in eye-popping outfits.
Starting to my left is FemDom Mistress Lila Sage, a strikingly attractive redhead decked out in black latex by The Stockroom, the originators of the Kink Month concept for the furtherment of sex accessory sales, sex education and good vibrations.
It's the lovely Ms. Lila's virgin Dr. Susan Block Show, though I'm pretty sure I spotted this beauty at DomCon 2018. She'll be joining us for DomCon 2019, so make your reservations now!
PHOTOS 1&2: JUX LII.  PHOTOS 3&4: SLICK RICK
Moving around my Womb Room, we have curvaceous musician/camgal/makeup artist Krystal Mac in fishnet body suit and booty shorts with an incongruously sexy flannel shirt wrapped around her wiggly hips.
I can't help thinking of Crystal Meth when I say her name, but she assures us she's into "Macs" (the Big Ones), not Meth.
Next to Krystal is my show assistant, awesome Blossom Green wearing red and black fishnets of the exact same size as Ms. Mac. Moreover, both sport matching kittycat (pussy!) ears.  
Blossom helps me negotiate quite a cast of horny and garrulous guests, some of whom we expected and others we didn't, but that's why they call The Dr. Susan Block Show the "greatest sexuality show on Earth"… Because the best laid plans may not get you laid the way you planned.
This being no time to spank Blossom's black sequin bottom on this show, we make up for that in the post-show at the bar when I thrash it good with Glamazon Goddess Phoenix's fabulous fiber optic flogger.


To my right is jovial comedian Anthony Davis, back for a second spin in the Womb Room, having survived our Masturbation Month Climax with his North Carolina-bred Baptist faith a bit shaken, but his marriage still intact.
PHOTOS: JUX LII
If Anthony was a female, I might call him "curvaceous." Being a guy, and a straight married guy at that, I'll say "husky," you know, the Teddy Bear type. He's a little nervous, but more relaxed and ready to participate in the evening's festivities than last time, though he's woefully dressed for Kink Month in an asexual dark green shirt and khaki pants.
PHOTOS: 2G
So we dress him up a bit. First I get him "lei'ed" with Agwa leaves, then Blossom puts her kitty ears on his happy head, and he's such a "good" sport about all of it that he gets quite a few erotic goodies, which we hope his wife appreciates, even if it means holding it over his head to get something she wants in their marriage.


Like my sign says, "Only the good boys get the gifts that the bad girls bestow."
Anthony's primary gift is being seated next to the amazing Cecily Simcoxxx. Yes, she loves cocks, but less obviously, she's a former longshoreman (longshorewoman?) and real-life MILF mother of three, who loves to show off her banging body and bald head.
PHOTOS: SLICK RICK
In fact, Cecily pretty much steals this show.

Her slinky black dress is way too warm for the Womb Room, and Cecily's so hot already, she strips it off, revealing a lacy pink-for-Kink-Month teddy that doesn't cover much, to our Kink Month theme song Carmina Formosa's "The Kinkster," inspired by The Bonobo Way.
PHOTOS: JUX LII
Vavavoom Ms. Simcoxxx!
I just have to spank that ass (after soto voce asking permission, of course).
Then she gives Anthony a lapdance he'll never forget.
PHOTOS: SLICK RICK
His wife probably won't ever let him forget either.

Exciting news: Cecily Simcoxxx has become a webcam and phone sex therapist with the Dr. Susan Block Institute.
PHOTOS: SLICK RICK
We're delighted to work with Cecily in helping men, women, couples and groups handle their sexual problems and pleasures with insight, compassion, experience and eroticism. Call 310-568-0066 anytime to speak with her or one of our other Therapists Without Borders.

From Christian Saltines to Sexy Bonoboville Communion & Spanking
Since Cecily is already halfway there, I invite her to be an Altar Girl for our first Bonoboville Communion with Agwa de Bolivia Herbal Coca Leaf Liqueur.
In the Christian Church of Cecily's childhood, Communion was performed with Christ's "body" represented by "saltines," she tells us, making a "yucky" face before admitting she's also something of a witchy Wiccan.
She's excited to improve on that childhood religious trauma with Bonoboville Communion, and in a burst of heterosexual enthusiasm, chooses lucky Anthony to be her first recipient.
When Anthony avows that he's never sipped a drop of alcohol in his entire life, I offer to give him Communion with water or orange juice.
But no, after he takes his licks, he's ready to join Beery Brett in trending alcoholic endeavors, and takes his Waterboarding Bonobo-Style like a good P.O.W., albeit with a quivering upper lip and a typical alcohol virgin's reaction to their first sip.
Then I ask Mistress Lila if she'd like to demonstrate her FemDom skills for Kink Month, and she orchestrates a complex flogging.
The bottom for this scene is—you guessed it—Lucky Anthony.
Since Mistress Lila is obviously the Top, wielding the whip and all, I guess that makes Cecily, Crystal, Blossom and I the "middle," since big bear Anthony lays over all of our laps for his flogging.



I dig up a copy of Speakeasy Journal (Splosh 'n' Art edition) to spank his khaki ass, since the next edition will feature Spanking.
Happy Bday Millennial Onyx
When we come back from the break, Blossom brings in the cake for our own Onyx DeValle's birthday.
Sporting pigtails and cut-off jeans for the occasion, Onyx looks about 12, but she's really 27 placing her solidly among the Millennials. And yes, she will vote!
When I call for a "speech," she declares, "I love women." Even though the day before this show was "Coming Out Day," this is news to nobody who knows Onyx. Then again, this is the first time our viewers are seeing Onyx since she is usually greeting guests, doing social media or taking photos, and this is her virgin appearance on the show.
She gives Blossom a sisterly hug and takes her first lick of creamy icing off my finger.
Unfortunately, she slurps it up so quick, no cameras catch it, though they do catch me slowly sploshing and licking up Onyx's icing from Cecily's nips as the show ends. Splosh!
I give Onyx a pair of kitty panties, not remembering I'd already given her one (proving, I suppose, that I truly do belong in my "stupid" Baby Boomer generation, albeit in more benign ways than supporting Trumpism), though Onyx graciously replies that she can always use another pair of kitty panties. Who couldn't?
Krystal Communion

At this point, Krystal's the only one who hasn't yet been in the spotlight, so I invite her to participate in Communion.
First she chooses to be the Communion recipient.
Fortunately, Cecily doesn't mind playing Altar Girl again.
Then I suggest they switch roles, but at first, Krystal demurs.
Usually, when anyone rejects one of my suggestions, I simply move on. Consent is king and queen on DrSuzy.Tv. Bbut something tells me to ask Krystal if she really doesn't want to be an Altar Girl or if she just has difficulty taking her top off. When she replies the latter, I waste no time enlisting Blossom to help Ms. Mac get those big jiggly 38DDs out of that tangle of fishnet and bra.
Success!
What a beauteous quadruple-boobie Bonoboville Communion and Waterboarding!
Spoken Word & Orgasm
Returning to the Womb Room for the first time since our 25th Wedding Anniversary is actress/director/poet Tuesday Conner.
PHOTOS: JUX LII
She's ready to recite a poem from her erotic trilogy "Ménage à Trois," but Cecily is also ready to take her first Motorbunny ride, and time is running out.
Decisions, decisions. Always so difficult for liberals like me. The poet Robert Frost said something to the effect of, "Liberals are so reasonable, we can't even take our own side in an argument."
My bonoboesque solution is to do both at once.


Tuesday delivers her poem, quite dramatically and erotically, as Cecily strips off her skimpy top and panties, and mounts the Motorbunny stark naked… and did I mention that we wrapped it in fresh Saran before letting her sit on it? Safety first in the Womb Room.
Mistress Lila has an itchy power finger and an seductive smile, so I let her operate the Motorbunny controls.
Holding Cecily's mic as Lila turns up the power, Tuesday delivers her spoken word erotic truth and Cecily lets the vibrations take her higher, her finely manicured right hand fingering her clitoral pleasure center, I can feel that the Congregation of the Little Love Church of Bonoboville is truly spellbound, as am I, caught up in the erotic artistic wonder of the human body and the sapiosexual brain.
Poetry in motion, indeed.
Motion shifts into climax, as Tuesday drops her driving delivery to allow Cecily's exquisite moans and shrieks of orgasm fill the Womb Room, cracking the glass chandeliers, if we had glass chandeliers.


Houston, we have orgasm! America, we have poetry.
Bonoboville, we have it all.  Praise be to the power and glory of poetic crescendo with simultaneous orgasm. Amen and AWOMEN.
Up Off the Floor with Ikkor
After all that woman energy, we need a man in the center of the Womb Room, and Ikkor the Wolf  is up to the task.
PHOTOS: JUX LII
As I take off his #Bonoboville Tee to reveal his stunning torso, Anthony quips that that's what he looks like under his shirt, but passively declines our invite to prove it.
There are so many fabulous bad gals on this Kink Month night, and Ikkor sings "She Bad" for all of us.
Cecily continues to steal the show, twerking and taking some nice flicks on the ass with Goddess Phoenix's neon whip.
Then it's time to close it down with one more say for the Bonobo Way. #GoBonobos today!
And go bonobos we do as more birthday cake sploshing ensues.
Then I take flight on my Magic Dildonic Vibrating Broom.
You know you want one too.
Pretty soon, I find myself goosing Krystal's booty with the dildonic front and spanking Cecily's fine ass with the broom end.
PHOTO 1: 2G. PHOTOS 2&3: JUX LII
The ultimate Kink Month Halloween Multi-Tasker!
And then there's fiber-optic whipping in the Speakeasy Bar.
After a pretty effervescent after-party and after-after-party, it's time to share kinky orgasms with my prime mate, Capt'n Max .
Yes, they're private, but utterly inspired by our evening's extraordinary erotic festivities.
And yes, the element of fear is an aphrodisiac. Maybe the sheer terror that the predicted Blue Wave will turn out to be more of a Red Tide will make you tense to the point you must release, aka  maybe it will make you horny.
Actually, most anything can make you horny, if you have the space, the freedom, the will and the way.


Horny or not, get off your fuckable ass and vote Blue as if your (sex) life depended on it, because it does.
© Oct. 13, 2018. Susan Block, Ph.D., a.k.a. "Dr. Suzy," is a world renowned LA sex therapist, author of The Bonobo Way: The Evolution of Peace through Pleasure and horny housewife, occasionally seen on HBO and other channels. For speaking engagements, call 310-568-0066.