M Month Climax, Memorial Day Requiem, Bonobo Gay Pride & Stormy Daniels Day!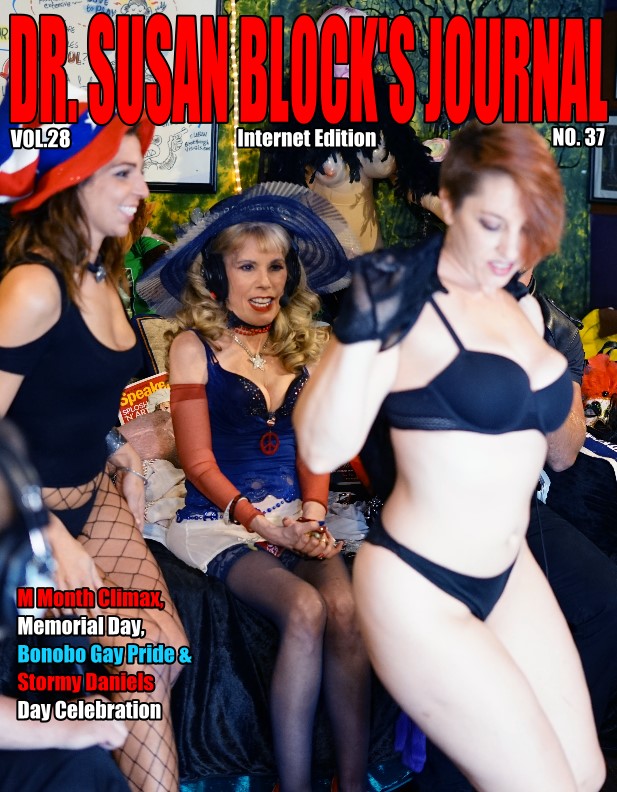 Length 01:45:30 Date: May 19, 2018
Teetering on the edge of the Trumpocalypse, we gather together in the Womb Room of the little Church of Bonoboville—singers and swingers, porn stars and comics, resistance fighters and even tRUMP supporters (well, one )—to commune, converse, confess, striptease, spank, lick-lick-lick and celebrate Bonobo Gay Pride, the climax of Masturbation Month, Memorial Day Weekend in all its barbequed glory and "Stormy Daniels Day."
Yes indeed, the beautiful City of West Hollywood just gave tRUMP's one-time Mistress the keys to the city on a day (May 23rd) now and forever attached to her name. Having declared Stormy Daniels a great American hero of our times several months ago, I'm in full agreement with my old stomping grounds of the aptly abbreviated "WeHo." May a porn star lead us, as we resist the madness, greed, violence and venality overwhelming our nation.
The Real Traffickers: ICE
While we're honoring sex workers, good people of WeHo… how about a #NoSESTA/#NoFOSTA Day?

As you know if you watch my show, the titles of the Senate's SESTA (Stop Enabling Sex Traffickers Act) and the House's FOSTA (Fight Online Sex Trafficking Act), may sound very worthy (who doesn't want to stop unsavory pimps from forcing underage girls and boys into prostitution or any kind of work?), but the very harsh reality is that SESTA/FOSTA doesn't do a damn thing to stop sex trafficking and does do a whole lot to endanger the lives of adult sex workers—consensual and trafficked—plus their clients, as well as drastically curtail the Freedom of Speech of all Internet users. Even before we lose Net Neutrality, the passing of SESTA/FOSTA is forcing many sex-work-friendly sites to shut down. Twitter is turning into Facebook, and Facebook itself (as well as it's adopted child, Instagram), is censoring so much material, they might as well be burning books like in HBO's Fahrenheit 451 remake, or like they really did in Weimar Berlin.
Ironically and tragically, what is contributing to child trafficking in America is ICE (U.S. Immigration and Customs Enforcement) and Trump's Border Patrol which have been implementing a Gestapo-ish policy separating children from their parents at the border, throwing the parents (who are made to wear yellow bracelets reminiscent of the yellow Stars of David armbands that Jews were forced to wear in Nazi Germany) into detention centers and the children into "sponsor" homes. Just ripping apart families like that is bad enough, but recently, The Department of Health and Human Services admitted that they literally lost almost 1500 children in the process of separating them from their parents. Where are these kids? Nobody knows, but there's a good chance that many wound up in the hands of traffickers who buzz around the border like flies on fresh meat.
If website owners are liable for their users' content, as SESTA/FOSTA insists, should ICE and Trump be responsible for these lost kids, many of whom are now being trafficked into who-knows-what sorts of sordid arrangements.


So yes, let a porn star lead the way out of this toxic tragic mess we've gotten ourselves into. It's not just that Stormy has a right to "speak truth to power," though she certainly does; in these times of lost children, fake news and political lies, I feel that porn stars and sex workers are some of the most honest folks around. They bare their bodies, and sometimes their souls, as they touch our most intimate desires.
Pansexual Girls N Guys
As usual, we are blessed with a few porn stars among our show guests, including my fabulous Ass. Producer Phoenix Dawn.whose naughty ass gets spanked over my knee when she talks off-mic.

Talking off-mic on the show is a no-no (since we can't hear you unless you're on mic), punishable by five swift OTK swats.

We're also celebrating LGBTQ Pride Season, and we have a couple of adorable guys from from Girls N Guys Studios, Jesse Prather and Tyler Daniels. Jesse, a hot young stud with a tight, hard body, went from corn to porn when he moved from his famously uptight native state of Kansas to the Promised Land of Freaks like him (and me) here in Southern California.
Several times during the show, Jesse leaps to his feet to confess his story (he started camming to support himself, his girlfriend and her child; then even after she dumped him, he kept camming because he enjoyed the work… and play) or declare his dedication to the kinky life he has embraced and which he finds reflected in Bonoboville.
His pansexual cohort is Tyler Daniels, a philosopher from San Diego with a stuttering lisp that, at first, makes him sound like he's speaking a foreign language, but if you give him a chance, he's got some interesting stuff to say and a great attitude. After the show, he tells me, "I should have been a hippie." I tell him that now that he's member of the Bonoboville extended community, he is one.
On the left side of my bed at the start of the show is Ann Hunter, a charming blonde MILF who is featured on our Spanking for Adults Only video and whose first appearance on The Dr. Susan Block Show was back in the 20th century. Ann is also a talented singer/songwriter, a phone sex therapist with the Dr. Susan Block Institute and, separate from her work with the Institute, she engages in something she calls "body worship," especially focused on body parts that "worshipees" feel particularly insecure about.


To my right is a very witty comedian named Anthony Davis who dead-pan asks Ann if she would worship his Buddha belly, to which she brightly responds in the affirmative. Not sure what his wife might think of that. Stay tuned…
Anthony grew up strict Baptist in North Carolina. So being in LA—let alone on DrSuzy.Tv—is a bit of a culture shock. When other guests start stripping, his eyes nearly pop out of his head from here to Charlottesville, as he confesses that he's never seen a girl—or a guy—perform a striptease in real life before.
Mistress Kara's Striptease
The first striptease is the best of the night, and maybe of the year (so far), even though the stripper claims she's never stripped before.
Mistress Kara arrives a half hour late to the show, so I impulsively announce that she must be punished.

When this powerful beautiful Mistress cordially agrees to my whim, I request a "striptease please," and, cheering, the Womb Room agrees.
And what a sexy strip she does (though she insists she's an amateur).
PHOTOS: JUX LII
Flexing her muscles as she reveals her gorgeous natural rack, she points her toes like a ballerina, then struts like a cowgirl to the tune of Carmina Formosa's "The Kinkster," inspired by The Bonobo Way.
Speaking of going bonobos, Mistress Kara and her gorgeous and sweet partner of 14 years, Jack Friday, just recently assisted me in my presentation of The Bonobo Way: FemDoms of the Wild at DomCon 2018, acting out many ideas from the talk—video coming soon! Stay tuned…
Masturbation Month & Memorial Day
Since it's Memorial Day Weekend (Yep, another great American War Holiday, though this one isn't quite as blatantly militaristic as last Saturday's "Armed Forces Day."), Jack tells us a little about his past military service; ironically, he signed up the day before 9/11, thinking that being in the army during peace time would be a breeze. The best laid plans….
It's also funny how the final Saturday of Masturbation Month always falls in the middle of Memorial Day Weekend. It happens every year and every year, I feel challenged to conjoin such odd bedfellows. Manhandle those hot dogs, boys!  Mash those potatoes, ladies!  Memorial Day signals the start of summer, heating up with sexy fun and the sizzling smell of fresh barbeque (except it's still a bit chilly in LA, and half of us are vegan). Of course, Memorial Day is also a requiem for the dead—the people who have been barbequed in America's Perma-Wars.  The American dead, that is.  The other dead can get their own holiday, right?  Memorial Day is for America's dead soldiers.  We are the Masturbation Nation serving the Multi-National Corporations.
And so, on this solemn sunny but cloudy and windy weekend, I salute the troops who have given the ultimate gift—their precious lives—for this community we call our nation.  I appreciate your service and the risk you take in the military jobs lottery (join up and spin the roulette wheel to see if you wind up with a subsidized education or your head blown off).  But I do not salute or support the Perma-Wars that you fight against other nations, whose citizens also happen to masturbate, even if they have never heard of Masturbation Month.
These other nations may have very different concepts of God, morality, honor, love and death. But we all enjoy manhandling our horny hot dogs and/or mashing our pretty potatoes from time to time. That's part of what it means to be human, and to accept it in ourselves and others is part of what it means to be humane.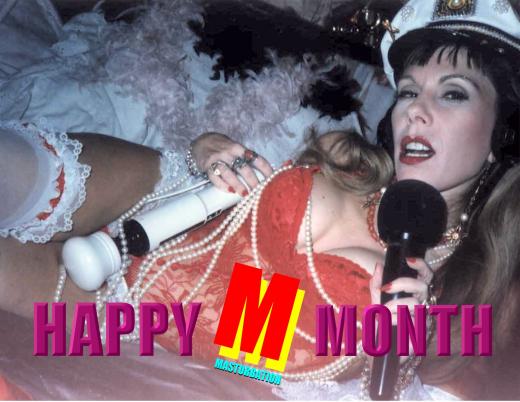 Yes indeed, Brothers and Sisters, Lovers and Sinners of all Masturbation Nations around the world: whether your particular nation condemns masturbation as the most evil sin you can commit or just considers anyone who jacks or jills off to be a pathetic "sex addict," we all do it, at least sometimes (or even several times a day!).  We are one world in wanking. 
But back to Memorial Day and all those barbequed troops and civilians on both sides of the grill. What a ghastly legacy of war. Every American president prefers some type of military violence over others. Nixon napalmed Vietnam. Carter armed the Taliban. Reagan increased the military "budget" by hundreds of billions. George the First went after America's protégé Saddam. Billdo "wagged the dog" on Serbia. Dubya loved his "preemptive strikes" that turned into Perma-War.  Barry had a drone fetish and assassinated Ghaddaffi.  Trump has a missile fetish and just pulled out of two peace agreements with Iran and North Korea. He really should pull out of occupations (and Stormy), not peace agreements.

Why don't these bomb-happy Presidunces just launch the missiles between their legs?
Of course, it's not that simple—suffice it to say that there's a lot of cold hard cash involved, and I don't just mean money shots—but the concept brings us back to Masturbation Month in our Masturbation Nation. 
Denigrated though it is, more Americans masturbate than BBQ, play baseball, watch TV, pay taxes, shoot guns or drop bombs. Not everybody does any of those things, but everyone who can move masturbates.  Rarely do we admit to it.  But this is the month to celebrate it, and we certainly have—all month long and every day.
Masturbation Not Occupation!
Communion with Kara
After her sensational striptease, Mistress Kara gets her choice of Bonoboville Communion Altar Girls or Boys.
Lucky me, I am chosen.

Kara licks up the sacred salt from my hard nipple with a tongue-tastic flourish.
Then she takes her Waterboarding, Bonobo-Style with Agwa de Bolivia Herbal Coca Leaf Liqueur like the champ that she is.
She even sprays a little on the other guests with a bonoboesque femdom flourish.


It's not quite female ejaculation, but it's sexier than a sneeze. Sort of an alcoholic splosh.
Speaking of sploshing, our new SPEAKEASY JOURNAL is now available (signed) or on Amazon!
Communion with Jesse & Tyler
After the break, it's time for a little Bonobo Gay Pride Communion.
Or Pansexual Pride. Whatever you label it, it's fun, especially for our resident comic who keeps marveling at the "first times" he is experiencing during one whacky night in Bonoboville.
First Jesse and Tyler dance and strip to "The Kinkster."
This is arousing, hilarious, heartwarming or all three, depending on your preferences.
For all you Rat Pack nostalgia fans: Jesse and Tyler are the Dean Martin and Jerry Lewis of Camboy Porn.
PHOTOS: JUX LII
Then it's Bonoboville Communion time. Jesse is the designated Altar Boy, so he drops his boxers (again). Actually, he throws them right through the "O" ring like the Lebron James of Cam Boys.
Tyler dutifully gets down on his knees to give Jesse a suck. Not for long though, as he prefers talking to sucking. But he does take another quick dick lick after I sprinkle the sacred salt.
He did grow up Catholic,and has taken the wine and wafer Communion. But he announces as if he's Columbus "discovering" America, that Bonoboville Communion is different than Catholic Communion.
Our wafer, Christ's body, is the salty dick, pussy, nipple, cleavage, butt, foot, wrist or neck, and our wine, Christ's blood, is sweet green Agwa, administered via Waterboarding Bonobo-Style.
Of course, we don't seriously "believe" in Bonoboville Communion as a religious practice (or do we?); but making the connections is fun and meaningful, especially for those of us who may have broken with the anti-sex beliefs of the religions of our childhood but feel nostalgic about the rituals.


Try it as an ice breaker at your next orgy and/or spiritual revival!
"We Are One" with the Wolf
Then Bonoboville's star hip-hop artist and SUZY award winner, Ikkor the Wolf, takes center stage, as Tammie Parrot, SUZY award winner for "Sexiest Trump Voter," pops up for the occasion and doffs her top, revealing just one (or actually two) of the many reasons we love and accept her in our Bonoboville "family" or community, even though that naughty girl voted for Tyrannosaurus Trumpus.

Ikkor pulls off his shirt and hands it to Anne for "worship."
Then he takes the mic and reminds us that "We Are One."
PHOTOS: JUX LII
From resisters to Trump voters, when you take "the red pill," or just have a really good orgasm or maybe a near-death experience, you can see that We Are One.
So "throw those ones up, ya'll."
This Memorial Day, let's try to see past the stars and stripes to the heart of the matter.
All these wars that we fight against so-called "enemies" are Big Lies that deny our common humanity.
Better Late Than…
Suddenly, as Ikkor ends his rap and with just five minutes left to the show, one of our scheduled guests, "mind, body, and soul healer" Shana Lay saunters in.  
She changes from pants to a dress right on stage. This gets our attention, even though it's time to close the show.
Then she starts to apologize and explain why she's late, but there's no time.
So, blatant lecher that I am, I ask her to "free the nipple," which she does quite cordially.
She'll just have to come back again, because before I can say "I love you," the show is over.
PHOTOS: SELFIES
But the after-party lingers on in the Garden of Bonoboville.
Then the Capt'n and I memorialize our love in a little mutual masturbation of the hearts and body parts. We are one.
We love you.
Thanks to Our Volunteers: Videographers/Interns— Violet, Matthew P; Photographers –  Patrick Photography, Slick Rick, Jux Lii; On-Campus Bonobos – Phoenix Dawn, Abe Perez, Camille Rosebud, Mita Altair, Harry Sapien, Gideon Grayson, MarsFX, Clemmy Cockatoo, Ana & Miguel


© May 28,  2018. Susan Block, Ph.D., a.k.a. "Dr. Suzy," is a world renowned LA sex therapist, author of The Bonobo Way: The Evolution of Peace through Pleasure and horny housewife, occasionally seen on HBO and other channels. For speaking engagements, call 310-568-0066.