Spanksgiving 2017 on DrSuzy.tv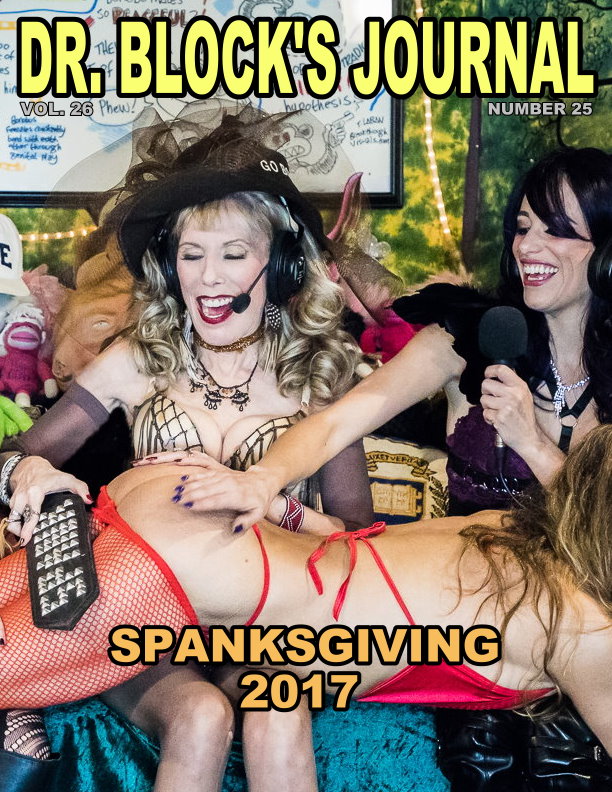 Length 01:43:30 Date: November 25, 2017
It's our duty to spank booty on Spanksgiving!
Brothers and Sisters, Lovers and Sinners, on Thanksgiving, let us give thanks. And on Spanksgiving, let us give spanks. Let us practice the Bonobo Way amongst each other, and let us spank away the hate and fear that divides us, and let us find the path of peace through pleasure… with a little spanking.  And let us spank our hands together across a nice willing warm ass, and sing Amen and Awomen.
Seasons Beatings! Assume the position. On your knees, back arched, panties down, buns bared and ready.
Now join Bonoboville or DrSuzy.Tv, and watch this spanking hot Spanksgiving show featuring DomCon mistress of ceremonies, spanking femdom and beautiful birthday gal Madame Raven Rae; voluptuous kinkster, sapiosexual artist and recent MFA grad Rhiannon Aarons; photographer, author, erotic wrestler and former Penthouse Pet Christine Dupree; Bonoboville rap master Ikkor the Wolf; a big fat naked Trump Turkey (Michael Q. Schmidt) getting spanked hard for his numerous sins, as well as stuffed by Putin (Tim Sewell) and—though he certainly doesn't deserve it—two incredibly hot topless femdoms wearing strap-ons.
What a fine, Slappy Spanksgiving in Bonoboville. True confessions, striptease, cake splosh, pegging, paddling, politics and spanking. Lots of spanking.
Why do we spank on Spanksgiving? O, let me count the reasons… Actually, there are too many to count, but here are eight really good ones:
It rhymes with Thanksgiving. Whoever came up with it may have had a little too much Wild Turkey with their pumpkin pie and slurred the "Th" into an "Sp," and it stuck. Check it out online and you'll see people loving #Spanksgiving without any reference to spanking—not even spanking the monkey. They just like the sound of it. So do I. And there's nothing that embodies that delightfully percussive music quite like the telltale smacks of cupped-palm-on-booty.


Spanking is fun! It feels good. Even when it feels bad, it feels good, at least for some pain sluts. And usually it doesn't feel so bad—at least not compared to getting smacked on other body parts—what with all that nice butt flesh cushioning the blow. Light or hard, OTK (over the knee) or tied to a cross, by hand or with a flogger, belt, book, crop, cane or paddle, spanking is a great form of "outercourse" with something fun for (almost) everyone. That includes the spanker, the consensually spanked adult spankee and the voyeur who just likes to watch.

Spanking is relatively safe. Nobody gets spanked to death. Also, most spanking does not involve an exchange of body fluids, so it doesn't spread STDs.
Spanking can be a surprisingly effective form of therapy. Russian studies verify this, along with our own anecdotal research conducted here at the Block Institute. Spanking therapy helps with both physical and emotional pain management. Each smack of the bottom releases pain-killing, mood-uplifting endorphins. Prudes might call it "pervy," but it's cheaper and healthier than Prozac or Oxycontin, and more fun than a trip to the spa.
Spanking is festive. At least, it is the way we do it on The Dr. Susan Block Show, especially on certain holidays like Lupercalia, Krampus, Full Moons, birthdays and all through Kink Month. But spanking on Spanksgiving has its own special, sublime, domestic, personal and sometimes political meaning, which brings us to…

Spanking can be meaningful. This reason is so multifaceted that it has two parts:

 

A)  Spanking can be personally meaningful. It may bring up memories of past childhood spankings in the spanker or spankee. This doesn't mean that you should spank your children. You should not. Although spanking the cushiony buttocks is generally better than striking any other part of the body, it is still a form of child abuse. Moreover, studies show that regular spankings and other types of corporal punishment will lower kids' IQs. On top of that, as adults they are likely to develop an erotic taste for spanking. Not that a fetish for spanking is necessarily a problem, and many adults who were not spanked as children also enjoy spanking and other forms of impact play. In any case, spanking children is never consensual and is a cruel form of discipline that teaches a child that violence is the answer to problems. Of course, it's not your fault if you were spanked as a child. Moreover, as an adult, you can turn spanking from a bad thing that made you feel helpless to a good thing that you choose to experience of your own free will—something that turns you on and/or helps you release guilt and shame, freeing your inner bonobo.


B)  Spanking can be politically meaningful, as it is on Spanksgiving. This is partly because for many of us, Thanksgiving, while delicious, is a deeply hypocritical American holiday wherein most of us have to repress our real feelings for fear of triggering some obnoxious relative, like Uncle Bob in his MAGA hat cussing out football players who #TakeAKnee.

Even more hypocritical, Thanksgiving is based on an almost entirely fictional, whitewashed story about Pilgrims and Native Americans holding a bonoboësque feast of togetherness, when actually those pious Pilgrims slaughtered as many "savages" as they could with their matchbox muskets, cannons and smallpox; very unbonoboësque, to say the least. Though Native arrows killed a few Pilgrims too, the end result was a Native American genocide of horrifically unappetizing proportions. That is why some conscientious folks call the fourth Thursday of November a Day of Atonement. They actually fast on Thanksgiving.

Don't worry, I don't do that. I love getting stuffed from both ends (which I did on both Thanksgiving and Spanksgiving, thanks (and spanks) to the prodigious stuffing prowess of Capt'n Max). But this is why our Spanksgiving spankings are playful but meaningful "penance" for our ancestors' original "sin" against the natives of this land we call America. Does Spanksgiving actually do any good to the Native Americans? Not really, though some might appreciate the acknowledgment and the comic-erotic twist on the old corn cob. And it does raise spankophiliac awareness of the true genocidal, ecocidal history of this unseemly "feasting day."

Spank away your fears on Spanksgiving. After all, we can't spank away "America's" ongoing sins against the indigenous tribes of this land, the latest being the Dakota Access Pipeline leak of 210,000 gallons of oil, the worst in its history. Too much lube! Seriously, European invaders and immigrants have done great harm to the Natives and natural resources of this land that some call "Turtle Island," and we can't just spank that harm away. Nor can we spank away our sins against the people America has bombed, nor the foreign lands America has invaded, nor our own citizens killed unjustly under color of law, nor even our own small sins against each other. But I do believe we can spank away our fears. These include phobias based on childhood traumas (which may have included spanking), as well as our basic fear of being hurt. A good adult spanking *alchemically* transmutes leaden pain into golden endorphins. When administered with love, care and consent, pain really does lead to gain. In a way, our Spanksgiving spankings whack us into gear to conquer our fears, resist oppression and fight for what's right. Spanking can make you wake up and smell the plutocratic Trump-faced tyranny!
8. Spanksgiving actually has more of a historic precedent than Thanksgiving. That harmonious Thanksgiving feast of Pilgrims and Wampanoag probably never happened. But those pious Pilgrims and Puritans really did administer many spankings as real punishments, for criminal offences and sexual "sins," often putting the very nonconsensual spankee's head and hands into stocks during the spankings, so passersby could throw rotten fruit at their heads. This was "public disgrace," Pilgrim-style. Nowadays we just troll people on Twitter; public humiliation by hashtag. Either way: Ouch!
On the other side of Spanksgiving, many Native American tribes did and still do incorporate ritual pain into their cultural practices—maybe not so much through spanking, but different methods of piercing that open the doors of perception to altered states of consciousness.  Modern BDSM kinksters might call it "sub space" on steroids, a hidden chamber of "the zone."
Spanking Confessions
We certainly enter "the zone" this Spanksgiving. It's almost a religious experience… with loads of kinky twists and turns and lots of laughing fun.
After delivering my Spanksgiving "sermon" from the Womb Room Cathedral in the Church of Bonoboville, I play Mother Confessor to my featured guests' childhood spanking confessions. Their memories, stories and reflections are fascinating, disturbing, taboo and strike a chord for spanking being a significant aspect of so many of our lives.
The daughter of a Christian preacher, Madam Raven Rae was spanked often and hard, sometimes with a paddle and once with a fly swatter when she was a naughty, "mouthy" little girl. Like many, she feels that her childhood spankings are a key to her life's work as a FemDom where she is much more likely to deliver the spankings (with expert knowledge and experience) than receive them. Growing up in Ohio, Christine confesses that her strict Lutheran father also spanked her hard and often, which, in her case, may be at the heart of her man-pleasing Penthouse Pet/lady wrestler career and why she has a personal penchant for being spanked (check out when I spanked her for the first time at 11:11 on 11/11).
Rhiannon claims she was "too good" to get spanked as a child; then again, maybe her parents were too enlightened to spank their daughter, providing more carrots than sticks, gently guiding her toward being "good," and eventually getting her MFA, among other good things (though apparently, their spank-free child-rearing didn't last as they did spank Rhiannon's siblings). Now Rhiannon is a switch, enjoying both dominant and submissive roles in spanking and fetish play.
Ah, the complex, stinging webs spanking weaves through the generations.
Slave Winnie Gets Walloped
Birthday Gal Madam Raven Rae does the honors of delivering the first spanking of Spanksgiving 2017 to her regular slave Winnie. Decked out in black boots (that slave Winnie loves to lick), purple-noir hair with matching feathers to honor the Natives and giant violet lashes, the Madam commands her quivering slave to bend over my broadcast bed.
There she pulls up his Roman gladiator "skirt" and pulls down his "submissive" panties to mercilessly paddle his bare bottom. With each smack, he replies "Thank you, Mistress. May I have another?"
An avid hockey player, this Madam spanks hard. But slave Winnie's bottom is insatiable.
Rhiannon picks up the slack with a few wicked whacks, leaving Winnie still whining for more.
Spanking Christine Dupree
We certainly don't want to spend all of Spanksgiving looking at slave Winnie's strawberries-and-cream mottled ass. We're ready for a sweeter, tastier Spanksgiving dish. And we get one in Christine.
First, Ms. Dupree takes off her skirt and top, unwrapping herself like a birthday gift, revealing her toned physique and gy-normous boobs, her right nipple pierced with a large silver ring. Then she prances and lapdances from lap to lap to the tune of Carmina Formosa's "The Kinkster" (inspired by The Bonobo Way), wiggling her red-fishnet buns for a spanking.
We take naughty Christine over all three of our laps, pull down her fishnets and spank her wiggling, well-toned bottom with our eager hands, The Bonobo Way and various other implements.
At times like this, "our duty to spank booty on Spanksgiving" is a pleasure to fulfill.
Boob-Spankings
Ogling Rhiannon's bountiful natural boobs dangling over Christine's pristine buttocks, I suggest that Rhiannon spank Christine with her pendulous knockers. This she does with great aplomb, exulting in being "the first time I've ever spanked anyone with my boobs!"
Like a puppy learning a new trick, Christine bounces up out of our laps and proceeds to boob-spank each of us as we turn our butts to the Womb Room ceiling.
It's the Bonoboville Boob-Spanking Butt Bongo Conga Line!
Of course, these boob-spankings don't hurt a bit. Even Madam Raven Rae happily receives a boob spanking.
Happy Birthday Madam Raven Rae
And it's Madam Raven Rae's birthday! So we bring on the cake(s) and sing to this beautiful goddess who has graced us with her sexy presence for so many joyous shows and occasions (including a starring role in 3 Ways to Live Like a Bonobo).
She reminds us that she will be at Mistress Cyan's annual Holiday Slave Auction on December 8th at Sanctuary, possibly auctioning off Slave Winnie.
We give Madam Raven Rae a gift bag of birthday goodies, including a copy of The Bonobo Way, an Agwa shirt and a Cal Exotics strap-on dildo.
Trump Turkey Gets Stuffed by Putin, the Raven & Rhiannon
We are pleased as pleasantly spiked punch to see the lovely Madam Raven Rae take off her skirt and put on the red and black strap-on which fits her slim form perfectly.
Rhiannon happens to be wearing a strap-on dildo too.  My, my, what a pair these two hot real-life MILFS with dicks make!
Now in comes the Trump Turkey, being led by Putin wearing his "Trump Is My Bitch" shirt. We put the raggediest old towel we could find over a stool and make the Trump Turkey bend over it, twisting his arm like a turkey wing. Then Putin forcefully pulls down his gross old underpants, revealing the naked Trump Turkey to be the sorriest looking slab of white meat ever to sit in the White House.  
We the Women of Spanksgiving 2017 spank that Trump Turkey (bravely played by Michael Q. Schmidt) with a passion that's been boiling for over a year since the electoral dysfunction that brought this misogynistic, narcissistic, Nazi-loving, nuke-threatening, orange-feathered barnyard-mannered fowl to the highest office in the land.
After he's been thoroughly spanked, Madam Raven Rae and Rhiannon take turns stuffing the Trump Turkey with their strap-ons. Of course, this white turkey meat is very dry. We don't have gravy, but we do have Bacon Lube, which feels right, because while a Trump Turkey is more holiday-appropriate, the guy really is a pig.
"Now there's a hog," chuckles Capt'n Max as the unsightly tRUMP-masked meat-suit surrogate takes the punishment earned by the real commander-in-queef.
And no, he doesn't deserve such a nice stuffing from such gorgeous MWDs (MILFs with Dicks), but Madam Raven Rae and Rhiannon are enjoying their strap-ons so much they just have to use them (sheathed with Glyde American Vegan Condoms, of course) for what the great Sex Toy God intended.
So yeah, the Trump Turkey gets double-stuffed, spanked and stuffed again in style on DrSuzy.Tv.
Birthday Cake Splosh
The cake is delicious, especially when licked off lovely nipples in a Birthday Cake Bonoboville Communion, aka splosh.
Madam Raven Rae takes the first licks of her cake off of Rhiannon's big right nipple, then goes for Christine, as I dine on Rhiannon's left teat.
Suddenly, like a devout parishioner possessed by the Spirit of Spanksgiving, she declares: "I have a food fetish! I've always wanted to have people eating food off me."
"Like a Sushi Girl?" I ask, and Madam nods like an excited youngster, as Christine and Rhiannon help her off with her feathers and lace, and the Birthday Gal gets down to her almost-Birthday Suit, wearing nothing but the skimpiest black g-string.
"We don't have sushi tonight, so you can be Cake Girl." Dollops of cake icing smear her pink nipples, and we devour those cream-covered titties like hungry pussycats.
Yum!
She Bad! We Stuffed!

Naturally, one of the great Songs of Spanksgiving is "She Bad," rapped by none other than Bonoboville's Rapper-in-Chief, Ikkor the Wolf.
No doubt, the many Puritans of different religions who have invaded this wild land and, often in the name of "God," have raped and pillaged it beyond repair, would call the Women of Bonoboville—whether spanked or not spanked as kids, whether MFAs, Ph.D.'s, FemDoms or Pets—"bad."  But their attempts to insult fail in Bonoboville, where we wear the label "bad" with the pleasure of knowing we're pretty damn "good."  As one of my heroines, Mae West, said, "When I'm good, I'm very good, but when I'm bad, I'm better."
This is especially true when Ikkor the Wolf howls about it, getting all the well-spanked bad girls to dance and twerk around him, the four Naughty November Angels and the HipHop Prince of Spanksgiving.
The Spankings continue into the after-party when I spank Brigitte with a copy of The Bonobo Way that I then sign and give to her.
Give the Bonobo Way for the holidays! Give the gift of "peace through pleasure," a humanity-saving message in this turbulent weather. Plus a portion of all proceeds goes to help save the real, highly endangered bonobos from imminent extinction.
After the spankings die down, the stuffings begin again, though this late round of stuffings goes on in the private areas both on and off-campus.
Capt'n Max and I certainly don't shirk our sacred matrimonial "bootie duty"; spanking and stuffing throughout the holiday weekend, staying in the pink to chase away the holiday blues of genocide, ecocide, consumerism-gone-mad and Trump.
Seasons Beatings and to all a good spank!
Thanks to Our Volunteers: Videographers: Michael Sullivan; Khristian Abasolo; Photographers – Jux Lii; Alex Willy, Slick Rick,  On-Campus Bonobos – Abe Perez, Camille Rosebud, Mita Altair, Harry Sapien, Jay Red, MarsFX, Clemmy Cockatoo, Ana & Miguel. 
© Nov 25, 2017. Susan Block, Ph.D., a.k.a. "Dr. Suzy," is a world renowned LA sex therapist, author of The Bonobo Way: The Evolution of Peace through Pleasure and horny housewife, occasionally seen on HBO and other channels. For speaking engagements, call 310-568-0066.