Naughty November 2021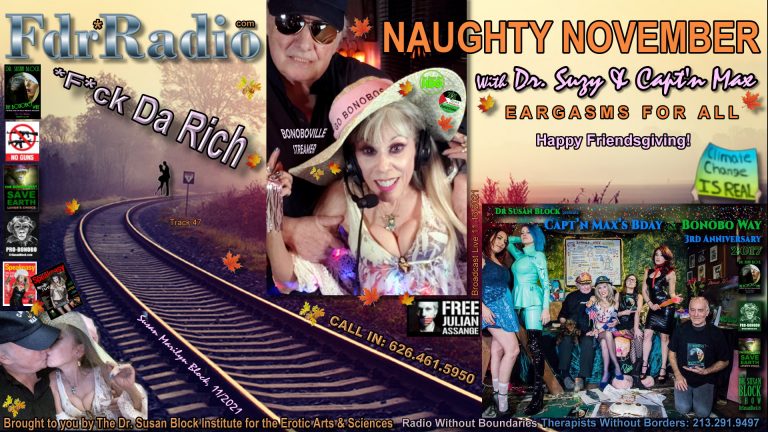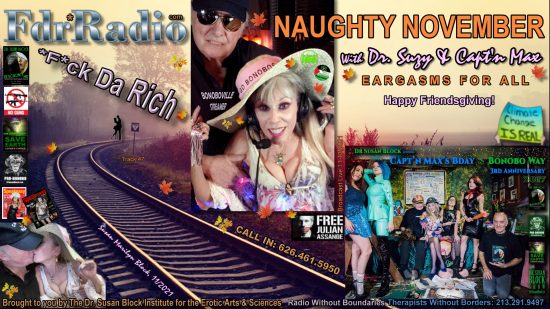 Length 01:25:52 Date: November 13, 2021, 2021
by Dr. Susan Block.
All aboard the Scorpio Love Train moving through the bright, falling leaves of Naughty November! Navigating the nice, the nasty and the naughty in sex, politics and bonobos, we roll merrily down the tracks, around the bend, through the Tunnel of Love and into the Great and Quivering Unknown…
High (and low) points include:
Capt'n Max maintains his crown as Birthday Boy all through Naughty November. Nevertheless, as we're scrambling to mount the show, we descend into one of our notorious work-related lovers' quarrels, so Max, in true Scorpio scorpion-style, lurks under a rock for the first part of the show, leaving me in an empty Sleeper Car, as he metamorphoses into a growling tiger. Soon enough, we manage to "make like bonobos, not baboons," and out of the tiger's snarling mouth steps my handsome husband, collaborator, publisher and prime mate, brimming with wit, wisdom and stories galore
Missouri Senator Josh Hawley (tRump Insurrection Fist-Pump Dude) is now pumping his fist at feminism(!) for driving good, ammosexual, "manly" men to find comfort and solace in porn and video games; so we attack him back, which is easy, because he's such a posturing, simpering sissy (with apologies to sissies). Unfortunately, this dweeb's fascistic political power is not funny at all, reminding me of that quotable Margaret Atwood quote, "Men are afraid that women will laugh at them. Women are afraid men will kill them." We also recall that though video games are relatively recent, many other types of games and, of course, pornography, have long preceded modern feminism. Max remembers poring though Nudist Magazines in the 1950s, and I maintain that the 30,000 year-old Venus of Willendorf, considered the oldest piece of human-made sculpture, is more than art, it's erotica. Faceless, with big hair, enormous breasts, a pregnant belly and an exposed clitoris emerging from a well-defined vulva, it's definitely a piece of prehistoric pornography. Josh is a dangerous dweeb, but as always with malarkey, there's a kernel of truth, and that truth is that the #MeToo movement needs to take a page from The Bonobo Way of Female Empowerment, and take care of male (sexual) well-being, along with taking no shit from anyone.

We all know which "one religion" Flynn means: the so-called Christian one where the cross is a sword, and Jesus open-carries an AR-15.

Joining the anti-porn brigade from the opposing flank, Gwyneth Paltrow and Jada Pinkett-Smith gathered around Jada's little Red Table to announce, in their sultriest voices, that "porn is harmful to women." What anti-porn horse manure, and what hypocrisy, especially coming from born-into-Hollywood-privilege Princess Paltrow, who sells her pussy perfume and has made movies where women are viciously raped and murdered. As for Pinkett-Smith, her self-exploiting tales of her colorful sex life are pure click-bait reality-show pornography. Get a life, ladies, or at least enjoy the royal ones you with which you've been blessed, and stop hurting sex workers and other humans.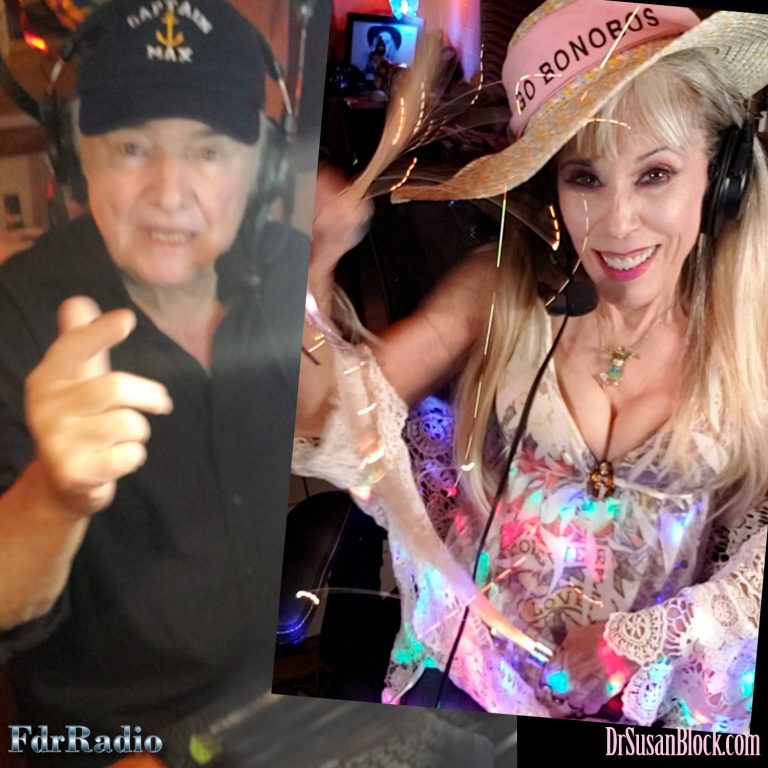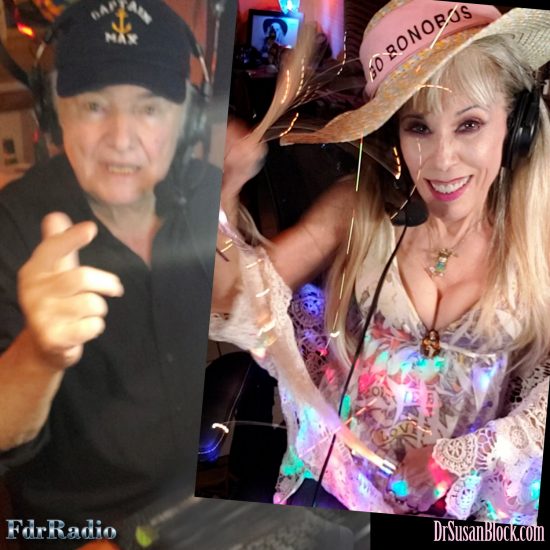 Christo-fascist, QAnonsense-spewing tRump goon, General Michael Flynn, proclaimed—to great applause—that "one nation under God" really means "one religion under God." And we all know which "one religion" Flynn means: the so-called Christian one where the cross is a sword, and Jesus open-carries an AR-15. Me, I'm an equal opportunity blasphemer; Christians (of course), Jews—especially my colonizing lonsmen in Israel creating a horrible NWO (New World Odor), murdering Palestinians in a ghastly variety of ways every day—Moslems (of course, again), Hindus (on this show, I tease a commenter named Ganesh about violent Hindu nationalism), and even Buddhists, Wiccans and religiously non-believing atheists are all fair game for fun. For me, freedom of religion includes freedom from religion. Religions are fairy tales, and everyone knows that. Most people in this benighted society only seriously worship celebrities and Mammon the Money God.

Travis Scott's Astroworld was not Satanic. If anything, it was Kardashianic. Or Kylie-Jenneric.

Comrades! Please stop calling Houston's Astroworld debacle "Satanic." It was a horrifying tragedy leaving a least ten dead and hundreds sickened—and many people, starting with Travis Scott—share some blame. However, Travis Scott's Astroworld was not Satanic. If anything, it was Kardashianic. Or Kylie-Jenneric. Don't drag Satan—the early Church's *evil* depiction of the great horny, horned, Greco-Roman goat god Pan, Lord of the Wild (bring back the wild!) and patron saint of bonobos (pan paniscus)—into that horrible human-error-riddled mess. The Kardashian-Jenners may not directly preach violence, but they do represent the family-above-community (high above) ethos, as well as capitalism at its greediest, most pretentious, artificial, sappy, objectifying and dehumanizing. No one is surprised that Stormi's Daddy, who "cares deeply about his fans," went on with the show he was being paid millions to do while hundreds below him screamed "People are dying!" Just leave my friend Satan out of it.
Dave M., who praised the Therapists Without Borders of the Dr, Susan Block Institute for "saving [his] life" last Saturday, calls in obediently (like I told him to) to talk about what some of his previous therapists have erroneously labeled his "hypersexuality," which is really just another term for "sex addiction," but equally discredited as a psychological diagnosis. Some of Dave's favorite fantasies resemble the old Superman comics "Bizarro World," and in his fervent imagination, Max and I come from a kind of Bizarro World where we are waging guerrilla war without weapons against the evils of anti-sex capitalism. He says that Max and are I saying "important dangerous things," but that we are somehow "unassailable, unattackable," which is the most Bizarro part of his fantasy, since, unfortunately, we are constantly being attacked and assailed.
"Sock Job" Gabriel has given up on pretending to have a girlfriend who gives him loving sock jobs, and now just wants a few tips on how to enjoy solo sock jobs even more than he already obviously does, and Capt'n Max and I try to oblige. See how "important" our work is? From sock jobs to stocking feet… shoe, nylon and foot fetishists flock to this show like it's a Loubotin and Savage X Fenti sale, and I try to trample them (virtually)… with love and a little glitter.
This happens to be a very international show. We hear from GoldenHeart in Nigeria on Clubhouse, Ganesh in India on Facebook, and someone from Iraq—speaking Arabic. We cant understand him, but we apologize for the horrific American invasion; even though we protested it vigorously in the biggest peace protest in human history, we feel responsible as Americans. We also give props to Biden for leaving Afghanistan, and let's hope against hope, nothing somehow triggers war with China—or anyone else. But especially not China!
I'm sporting shady shades this show, from pineapple (eat it for better-tasting semen!) sunglasses to Mammon Dollar Eyes. Under capitalism, there is one religion under God and that religion is the mostly nonconsensual worship of Mammon, aka money. I love sexy, silly, fun fashions, but Kylie-Jenneric I am not. Bargain-Basement Bonobo is more like it.
Britney is FREE—yay! Finally, she can get married and do, within the law, whatever the f*ck she wants. But the unconscionable U.S. prosecution, persecution and incarceration of Julian Assange continues. FREE ASSANGE! At least Belmarsh prison gave him permission to marry his partner Stella Moris, the mother of his two sons, at the prison. How romantic! We may be a bit Bizarro, but we love marriage (for those who want to get married).
Kyle Rittenhouse's blubbering performance in the Brett Kavanaugh tradition of pasty-faced male ammosexual self-pity, coupled with the judge's blatant white supremacist affections and rulings, might just get that little crying killer off the hook for the crimes he committed that we all have witnessed. Yikes!
The new Dune remake is a beautiful bore (I wanted more worms!), but it's nice to know that we are all welcome to have public sex in the gorgeous Spanish Canary Island dunes. Just please don't leave your used condoms in the sand. Masturbation isn't self-pollution, but leaving rubbers, wipes, butts and toilet paper in the dunes is real pollution. Don't do it!
Speaking of sand, we are sinking into Capitalogenic quicksand, going down deeper and faster every day, mentally (everybody's going nuts), physically (the nuts are killing the rest of us) and in terms of climate change. The sands of time are pouring in on us, but we're too busy worshipping celebrities like Kylie to hear truthtellers like Greta Thunberg.
We don't have time to talk about this week's throwback, Capt'n Max's Bday & Bonobo Way 3rd Anniversary 2017, but it's another awesome orgiastic Max Bday show in which Onyx Muse spanks Chimesmaker Jacob, and the amazing Goddess Soma turns Miss Antoinette into a human birthday candle. #GoBonobos for Hot Wax.
Some commenters express support for our struggle with the City of Arcadia inspector and disdain for their continuing harassment of Bonoboville. What a travesty of zoning justice! What Mattress Madness! More developments developing soon…
BREAKING NEWS: The Arcadia City Council has postponed our hearing. Apparently, they read our letter, and they are duly impressed and don't want to do anything rash, which is a small victory of sorts. Though I was a little pissed I didn't get to wear my navy and white animal print and stripes.
Happy Friendsgiving! I've never been a fan of Thanksgiving—too many carbs, boring and/or obnoxious relatives, and a fake origin story that literally whitewashes genocide—which is one reason I love Spanksgiving. But I'm open to Friendsgiving, which I just heard about and sounds a little corny, but not too uncool, and at least, it doesn't celebrate genocide and specifically chooses "friends" over our religiously forced-upon-us relatives. So yeah, I'm celebrating Friendsgiving. In fact, I celebrate it everyday with my Best Friend for Life: Happy Birthday Again and Again, Capt'n Max. To learn just how important friendship is, check out Survival of the Friendliest.
Meanwhile, have a nice (and not too nasty… unless it's deliciously nasty) Naughty November. Put your guns away, get some lube, socks, a juicy pineapple or a sexy best friend from your Bizarro World, and get naughty!
© November13, 2021 Susan Block, Ph.D., a.k.a. "Dr. Suzy," is a world renowned LA sex therapist, author of The Bonobo Way: The Evolution of Peace through Pleasure and horny housewife, occasionally seen on HBO and other channels. For speaking engagements, call 213-291-9497.
NAUGHTY NOVEMBER PHOTO ALBUM
---
Explore DrSusanBlock.com
Need to talk? Sext? Webcam? Do it here. Have you watched the show? No? Feel the sex. Don't miss the Forbidden Photographs—Hot Stuff, look at them closely here. Join our private social media Society. Join us live in studio 😊. Go shopping. Gift shop or The Market Place. DrSusanBlock.tv, real sex TV at your toe tips. Sex Clips Anyone? FASHION, we have fashion! We also have politics. Politics? Have you Read the book? No? How about the Speakeasy Journal? Click here. Ok, how about some free sex advice?
---
---