F.D.R. (F*ck Da Rich):

Texas Taliban, Biblical Climate Change, RIP Ed Asner & Happy Labia Day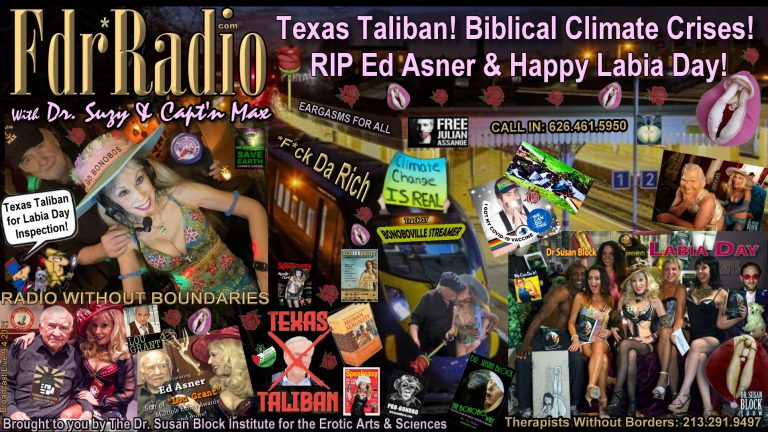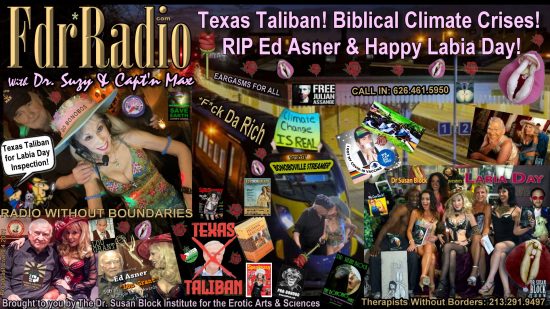 Length 01:28:26 Date: September 04, 2021
by Dr. Susan Block.
The Texas Taliban are cracking down on female sexuality as floods, fires and plagues rage—almost Biblically—beyond anyone's control. Meanwhile, heavily armed and largely confused ammosexual incels roam the land, some in uniform, others not—shooting it up and beating the drums for war in the streets and overseas—as the 20th anniversary of America's greatest partially unsolved mystery, 9/11, looms ahead. And we say good-bye to the late great Ed Asner.
All sad and/or disturbing topics for this ride on the Love Train.
But it's also Labia Day 2021!
Like a vibrant Georgia O'Keeffe pussy flower blooming in a toxic junkyard, at least we have something beautiful and sexy to celebrate—as well as the great labia-loving, senior sex we had that morning—as we assess all the misery, insanity and sex-negativity that has flooded, burned up, droned and oppressed the world this week.
Listen above or below to the show, or read on for more…
Texas Taliban
No, Texas Republicans aren't forcing women into burqas; they prefer cowgirl hats and cut-offs. But the Lone Star State's Holy Rolling MAGATs hold pretty much all key political offices now, and some comparisons to the Afghan Taliban are chillingly apt, and not just because they all like to tote big guns around, just in case they're feeling triggered.
There are other odious similarities.

If these Bible thumpers actually read the Bible instead of just thumping it, they'll see that it says life begins at breath, not conception.

The other day, Texas banned almost all abortions—even those involving rape and/or incest—after six weeks into pregnancy. Most women don't even know they're pregnant within six weeks of conception, regardless of it they're trying to conceive or not. So, this essentially makes abortion illegal in Texas, and our tRumped up Supreme Court has let this draconian Sharia-like law stand. See why we told you back in 2016 to hold your nose and vote for Hillary?
Actually, Sharia law is more liberal than Texas on this matter. The Afghan Taliban allow abortion up to 12 weeks after conception, while Texas Taliban outlaws it at six.
To execute their so-called "Heartbeat Bill" fit for a Handmaid's Tale, the Texas Taliban has put into place an outrageous vigilante system, turning citizens into bounty hunters, by snitching on women having abortions, as well as their supportive friends or even the person who drives them to their doctor.
Texas Republicans think masks and vaccines violate their right to control their bodies, but allowing anyone to sue an Uber driver for taking a woman seven-weeks pregnant after being raped by her uncle, to get an abortion, that's now perfectly legal.
Of course, this "system" is just begging to be fucked with, and Pro-Choice activists are already flooding it with lots of false tips to pursue "offenders," such as accusing Covid-careless Governor Greg Abbot of arranging an abortion for Megachurch conman Joel Osteen.
Let's make one thing clear: these folks are NOT "pro-life." At most, they are pro-unborn. But really, they are anti-abortion… and anti-woman. Most of all, they are anti-sex–except for reproduction of the grandchildren (da Rich) and the worker bees (da rest of us).
As the late great George Carlin said, "these conservatives will do anything for the unborn, but once you're born, you're on your own."
Indeed, once you're out of the womb, well, they figure you kids can fend for yourselves, starve, go without a roof, get Covid, whatever. Essentially, they don't give a damn about you until you're about military age, at which point "Uncle Sam wants you."
"Conservatives want live babies so they can raise them to be dead soldiers," observed Carlin. "They're not pro-life, they're anti-woman… they believe a woman's primary role is to function as a brood mare for the state."
Will Texas brood mares stampede the law?
The anti-abortion set says the Bible is their guide. But if these Bible thumpers actually read the Bible instead of just thumping it, they'd see that it says life begins at breath, not conception, not a heartbeat. B'reishit, "in the beginning," God breathed life into the world. God is said to have formed Adam, the first human, from the dust of the earth, but Adam was like a clay sculpture, not yet alive. Then God blew into Adam's nostrils the breath of life, and at that point, Adam became a living being.
An unborn fetus is not considered a person, according to the Bible, until it has been born. The fetus is regarded as a part of the mother's body until it separates from her during childbirth. Exodus 21:22-23 concerns a case in which two men are fighting and one injures a pregnant woman causing her to miscarry. The culprit must pay for her miscarriage like property damage, but it is not a murder where he must pay with his life. In Numbers 5:12-31, the Bible recommends that if a husband suspects his wife is cheating on him, he take her to the priest who makes her drink bitter water that causes her to miscarry. Sounds like a Biblical abortion to me.
Not that religion should be dictating our civil laws. Religion was given to the poor, so they wouldn't murder the rich.
Many Evangelicals and Southern Baptists erroneously think that their churches have been against abortion since Martin Luther. Actually, in 1970, 70% of Southern Baptist pastors supported abortion! They believed abortion was right when needed to protect the physical and mental health of the mother. In those days, abortion was a "Catholic issue." Then it became a Republican issue, and now it's a Texas Taliban issue.
It's also a power issue. Just like Gilead in the Handmaid's Tale, the Old Guard of Texas wants to control the fertile females.
Supporting a woman (or any human being who can get pregnant) and her (or his or their) right to choose whether or not to carry the fetus inside their body to term doesn't mean you support abortion or even believe it's okay. It just means you support, respect and, essentially, like women.


So, if you like women, it's time to step up and be a Pro-Choice activist in the street and/or on the web! It's also past time to codify Roe vs. Wade with the "Women's Health Protection Act" or something like it.
R.I.P. Ed Asner: Man of Spunk & Socialism
I always think of him as Lou Grant. I didn't even realize his name was Ed Asner until I already knew him well as that rare but iconic, bad-tempered boss who talks like he doesn't give a damn about you or any of the workers on his team, but deep down, he really does.
Of course, most bosses are just the opposite; they take sensitivity seminars to learn how to talk as if they are very concerned for your welfare, but really, they couldn't care less. In fact, they think welfare is for bums.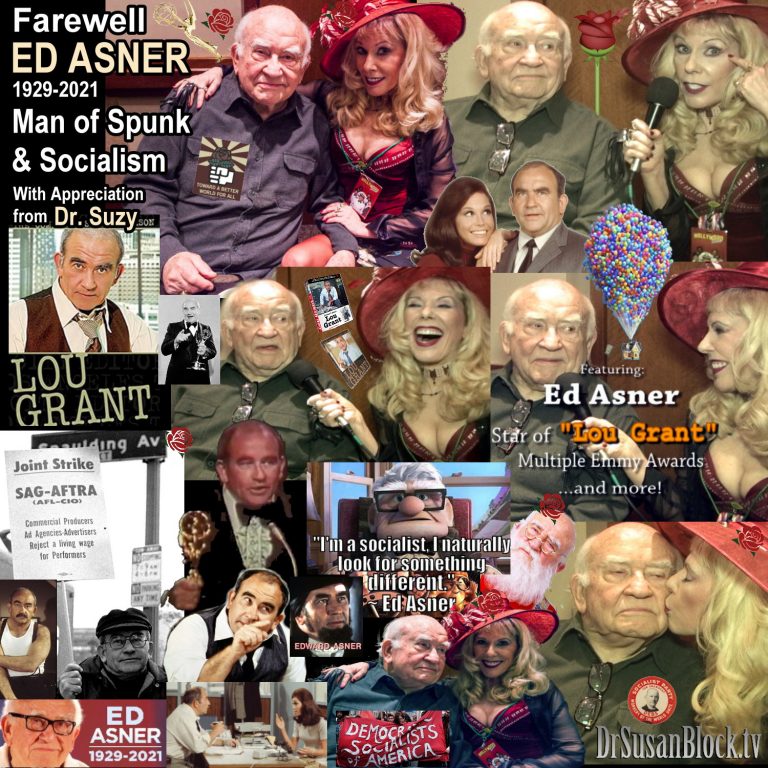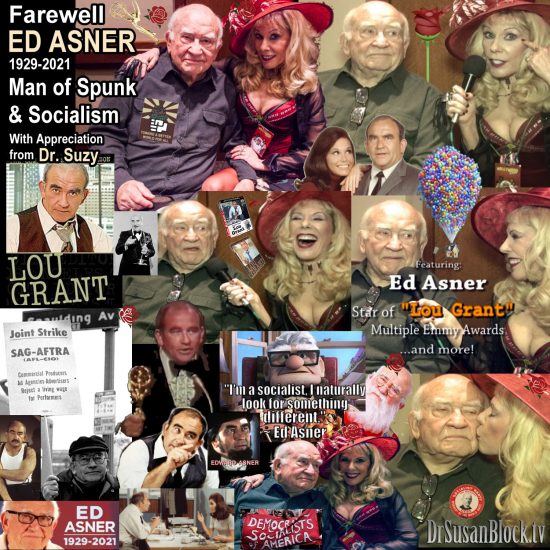 Lou Grant was a different kind of boss, the crusty curmudgeon with the heart of gold, perhaps a dying breed, and Ed Asner was a very special kind of actor. Sadly, he just passed away at the age of 91. I imagine him grabbing a bunch of balloons like old Carl the grumpy but romantic balloonist he voiced in "Up," soaring up-up-and-away into the clouds to meet Karl Marx, F.D.R.and Mary Tyler Moore.
One of America's greatest television actors—winning seven Emmys, five for playing his signature character Lou on two different shows, one comedy and the other drama, as well as the conflicted Captain in Roots—Ed Asner was also one of America's most prominent leftist activists. As proud of his Eugene V. Debs Award as he was of his Emmys, Asner was a dynamic labor organizer, a "union boss" and President of the Screen Actors Guild, sparring frequently with a past SAG president, his nemesis Ronald Reagan.



Ed Asner was a bonoboësque Democratic Socialist… in the "Greed is Good" era of Reaganomics.

Always out there, putting his burly body on the front lines of protests to improve wages and working conditions for his fellow SAG members and in solidarity with other workers, he was active in the famed air-traffic controllers strike of 1981, among countless others. A fan of America's 32nd President Franklin Delano Roosevelt (F.D.R.) and "Scandinavian" socialism, Ed Asner was a bonoboësque Democratic Socialist before Bernie Sanders, in the "Greed is Good" era of Reaganomics.
He also fought for animal rights and passionately against the U.S. military intervention in El Salvador and Nicaragua, and against capital punishment in the U.S. In between protests, he kept acting, winning the hearts and opening the minds of new generations, playing Santa in Elf, the avuncular narrator in Tax the Rich and many other character roles.
But he was always Lou Grant to me. One of his signature lines was in his first Mary Tyler Moore (MTM) episode. In it, gruff old Lou Grant tells eager television news job seeker Mary Richards, "You've got spunk," then pauses to savor her starry-eyed hopefulness before pouring cold coffee on those hopes, "I hate spunk."
It was 1970, just before "All in the Family" would change the politics of television, when that kind of blunt talk on TV sitcoms was rare, and the audience ate it up. Those spunky, hyper-peppy TV personalities could be so irritating (still can!). Lou Grant's frankly articulated annoyance spoke for many of us.
At the same time, we knew Lou Grant was all about spunk (the good kind), fire, courage, muckraking journalism and driving erotic energy, and so was Ed Asner. Yes, Ed was full of spunk, in all senses of the word.
I got a good whiff of that spunk, so to speak, when I had the honor of conversing with Ed Asner on a sleepy Sunday afternoon in January 2014 at the Hollywood Show. I'd been interviewing various Hollywood old-timers (like the also recently departed Gavin MacLeod of "The Love Boat," Dan Haggerty, aka Grizzly Adams and Danny Glover), as well as adult film veterans (like Ginger Lynn, Seka and Kay Parker) from the "Other" Hollywood's Golden Age.
I then spotted Lou Grant—I mean Ed Asner—and I was so starstruck, I was a little tongue-tied, but there was the great man himself all alone at his little booth wearing the weary but patient smirk of the veteran he was. "I wish they hadn't dropped a bomb," he grumped, gesturing to the almost-empty cavernous hall.
But enough about him. "How are you, Baby?" he probed conspiratorially as if he really wanted to know. Good actor, that Ed.
I gushed that I'd been his fan since MTM, to which he parried teasingly, "Well that establishes that you're of a certain age."
When I asked him what he thought about the porn stars down the hall, he replied philosophically, "I have yet to make my first buck at porn, maybe it's not too late to start… Are you busy?"
All in good flirty fun, of course, though he assured me, "I would not have you do anything that you didn't want to do gladly."
Even when teasing a goofball fan and even before #MeToo, the always gallant Lou Grant/Ed Asner was respectful.
Then he got serious, giving adult cinema's Golden Age the dignity of response and historical perspective that we both knew his fellow actors deserved, even if their "acting" happened to be while naked. "They pre-date Hollywood," he pointed out. "I can remember the stag films I've seen. I think most of them were silent when I first started seeing stag films. The art work was great though. Great artists."
Turning to political matters, he drawled, "I be a liberal" with a fake country accent, and we both knew he didn't mean anywhere on the evil neoliberal spectrum, but in the old fashioned sense of being an "old-time lefty."
And still spunky!
When I asked his thoughts on the political climate at the time, he paused before replying, "I think it sucks." Then he explained, "I'm waiting to come out of the tunnel we're in, and I hope we do." Did he feel Obama could lead us out of the tunnel? He shook his head, looking as gloomy as Lou Grant when the liquor bottle was empty, and the coffee machine was broken. "I wish he'd be more effective than he's been."
Of course, he loathed the Tea Partiers, and worried how they might metastasize within the already cancerous American body politic. "They're chameleons," he warned me. "They'll change their color and drift into another growth like warts or moles." He may not have known those warts and moles would turn into the Trumpus' wild-eyed, ammosexual MAGAts infected with a terminal case of QAnonsense, but he knew they were malignant.


"Relax… We are so driven by our erections. We're afraid it's going to melt. When we should just enjoy the strokes." ~ Ed Asner

Back in January 2014, America's deep and numerous problems seemed, at least, treatable… but how? "Overthrow the existing jackasses who keep confounding, misinterpreting and debasing the name America and Americans," was Dr. Asner's prescription.
That prescription was resoundingly "socialist." Asner firmly believed that socialism "will curb the excesses of capitalism: the increasing wealth of the rich and decreasing wealth of the poor… I'd like to see a national guarantee of health, a national guarantee of education (through college), fair housing, and sufficient food… When we can discuss socialism rationally, it will be as if a heavy curtain has been lifted from man's eyes."
Yes indeed, it will be. In the meantime, Ed Asner fought hard for the little guys, practiced his trade and appeared to very much enjoy his life, including his sex life. "How has that sex life changed?" I wondered.
"All I do is think about it now," he confessed, which sounded like a set-up for a Lou Grantish complaint about how old age sucks. Spunky no more.
Instead, it turned out to be the springboard to a beautiful bonoboësque revelation. "Just thinking about it gives me great pleasure."
Always a man of the theater, Ed Asner understood the power of the Erotic Theater of the Mind. He'd already lived it up on and off camera a lot more than most of us, and now he was enjoying the mind movies of his choice in the multiplex of his memories.
"So, what's your philosophy of sex?" I had to ask.
"Relax," he intoned hypnotically, but with that brusque, no-nonsense compassion. "We are so driven by our erections. We're afraid it's going to melt. When we should just enjoy the strokes."
Wise words from a spunky old socialist with talent to spare and the heart to share.

Chris Survives Ida
When I posted a link to my Ed Asner tribute on Facebook, "Most Bonobo Activist" five-time SUZY award winner Chris Gagliardi commented: "Ed Asner also had children who were autistic, he founded a group for children with autism. So I feel a sense of loss as well."
Thank you, Chris, for reminding me of Ed's autistic son and grandchildren, leading him into autism awareness activism. Democratic Socialism is about compassion.
Chris also called into the show to talk about surviving the terrible, death-dealing and immensely destructive wrath of Hurricane Ida in Englewood, New Jersey that has taken the lives of at least 23 people in the Garden State alone. Listen above or below to his harrowing tale of being trapped in the storm, first in his college meteorology class (of all places), then in an Uber, then at home with his mom. There they hunkered down for the worst evening of their lives, water filling up the first-floor apartments all around them, as they wondered if that terrifying night would be their last. Fortunately, they're on the second floor, but the water started rushing in anyway. Chris staved it off, fortifying their leaking closet, rather ingeniously, with bags of kitty litter which they'd stockpiled for their new cat.
Once again, a pussy saves the day!
Seriously, we are grateful that Ida didn't obliterate Chris and his mom, but this killer storm took the lives of many others and did tremendous damage. Chris asks that people donate to the Community Chest Fund to help people in his neighborhood recover from the flood and handle the Coronapocalypse, and we encourage you to do so! Lend a helping hand to those in need. You never know when you will be next.
Climate Catastrophes—Biblical floods, Hellish fire tornados and more—are happening faster than most of us thought they would. No one but the craziest can deny that Climate Change is real. Nevertheless, we keep pumping that oil and dumping that plastic.
Stoned Idea: Let's frame Climate Change as the Wrath of God against humanity for polluting His Sacred Planet with Plastic and stealing His Holy Oil from the Earth—at least, in Texas—and maybe then they'd take it seriously.
9/11 & Impeachment Follies
It's coming up on the 20th Anniversary of 9/11, truly the wildest, most sensational mass-murder I've ever seen live on TV. Though investigated and re-investigated, it's still shrouded in mystery, almost like it's a myth, and after all, it looked like a movie scene, so who's to say how real it was in these days of mass psychotic fantasies?
So, two decades later, it's good to remember that 9/11 was real—that almost 3000 people were really murdered when real passenger planes, mostly piloted by real Saudi Arabian nationals, right into America's two tallest, most phallic buildings—Dick 1 and Dick 2 —essentially castrating the American empire. As for the complicity of the American government at the time, the George W. Bush Administration, under the reckless and ammosexual supervision of Dick Cheney and Donald Rumsfeld, we'll probably never know the full truth. At the very least, the great crime of 9/11 was laced with Bush administration incompetence and lying to cover up that incompetence. At worst, it was a deliberate attempt to draw America into Perma-War in the Middle East and beef up contracts for Halliburton, Bechtel, Boeing and Dick and Rummy's other pals in the Military Industrial Complex.
9/11 gave ammosexual Americans a "reason" to invade countries that had nothing to do with 9/11. At least, we've pulled out Afghanistan now, or have we? And where are we going? Hopefully, not to China!
Let's Defund the Military Industrial Complex and take care of ourselves at home.
Meanwhile, "Impeachment" is coming soon to a TV near you! No, it's not the impeachments that should have been brought against Dubya and Dick, nor is it about the Trumpus' two well-deserved impeachments. It's about that Impeachment that arose like a cynical Angel of Sanctimony from the Bill Clinton/Monica Lewinsky affair, the impeachment over sex. I hope this American Crime Story edition (based on a book by Zoom-Dick Dude, Jeffrey Toobin, of all people!) is not some sort of anti-sex, #MeToo-powered, soap opera that treats Bill as predator and Monica (series co-producer) as victim, but it looks like that's what it is.
I believe the whole Clinton impeachment project was, as Hillary put it, a "Vast Right-Wing Conspiracy" that has now grown into ammosexual MAGAts spouting QAnonsense.
Happy Labia Day!
One of the more fun tales from the Clinton "Coup de Twat" was the one about Bill smoking a cigar he'd just stuck into Monica's pussy (or something like that) at a meeting with Yassar Arafat. At least, I thought it was a fun tale. Many were outraged at the time, and even more have been mortified since then by this silly but smoking-hot maneuver.
We reenacted the cigar scene, more or less, on our very first Labia Day in Bonoboville, which happens to be our throwback show this week.
Back in 2015 fed up with the old unsatisfying Labor Day matrix (though Ed Asner was a great Labor leader), I decided to read between the lines—and lips—to find a similar, onomatopoetic, but far more suitable and bonoboësque name for this early September day off from the daily grind. It's a celebration of female sexuality, but since labia can be transformed into testicles in trans men, it could be Testicle Day too.
That takes me onto a tangent about testicles and testament having the same root that I'm sure all the testifying-on-their -testament, anti-abortion Bible thumpers appreciate.
"Dubai Guy" on Reddit doesn't sound Christian, but who knows, and he wishes us a "Happy Testicles Day." This is just one of dozens of great comments and questions that come in from our Reddit audience. Listen above or below for the best ones, as well as our brilliant, sapiosexual responses.
Capt'n Max and I started our Labia Day festivities early with big orgasms, lots of testicle touch and labia love.
Happy Labia Day!
"Texas Taliban, Biblical Climate Crisis, RIP Ed Asner & Happy Labia Day" PHOTO GALLERY
© September 5, 2021 Susan Block, Ph.D., a.k.a. "Dr. Suzy," is a world renowned LA sex therapist, author of The Bonobo Way: The Evolution of Peace through Pleasure and horny housewife, occasionally seen on HBO and other channels. For speaking engagements, call 213-291-9497.