F.D.R. (F*ck Da Rich): PULLING OUT in Love & War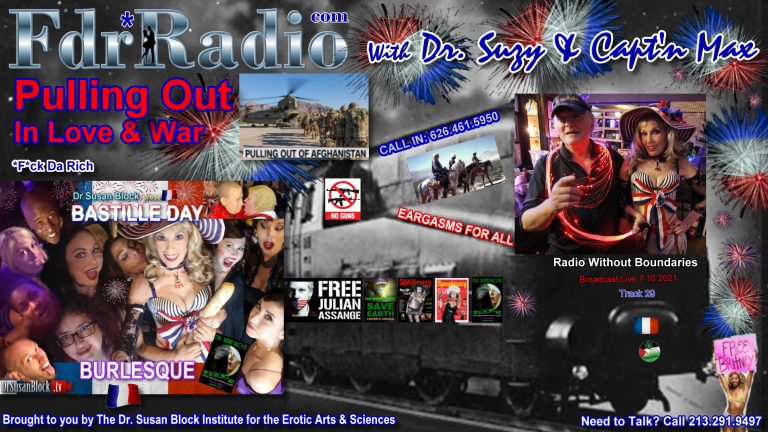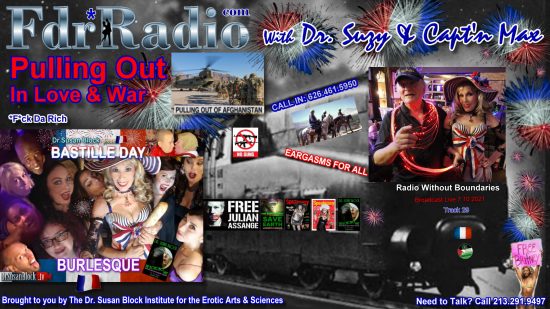 Length 01:21:32 Date: July 10, 2021
by Dr. Susan Block.
Traveling through the 130 degree Death Valley heat, fires blazing through the Northwest, condos collapsing in Miami, flooded New York subways, and hundreds of the unvaxxed succumbing to the *new* post-Coronapocalyptic "Delta Variant," I'm late to Bonoboville station for the new F.D.R.
Yes indeed, Brothers and Sisters, Lovers and Sinners… Climate Change is flooding, heating, burning up and infecting our lives, as our ailing planet's wealthiest humans launch themselves—literally and figuratively—into outer space.
I make it to the Love Train just as it's pulling out of the station. It just so happens that "pulling out"—in love and war—is our theme for this wild ride.
When it comes to lovemaking, "pulling out" is an unreliable method of birth control, but if the condom breaks or one of you suddenly remembers you forgot to put in the diaphragm(!), it can be just what you need. Also, pulling out is the preferred method for the male climax in porn. After all, that's how the viewers at home get to see the "money shot."
As for relationships, we all make mistakes and lots of people who fall in lust later discover they're really not compatible, so sometimes, for the good of all, it's best to pull out.
Pulling Out of Afghanistan
When it comes to war—specifically the nearly endless "perma-war" the U.S. has been waging in Afghanistan for two bloody decades—"pulling out" is just what we need. Moreover, ultimately, it's what Afghanistan needs, and it's their country, isn't it?
So, we are celebrating America finally pulling our troops out of Afghanistan. The train is leaving the station! Woohoo!
Good on Biden for doing something that Bush, Obama and tRump failed to do. I like a man who knows how to pull out when that's what's called for.
In sex, if you don't want to make a baby, you pull out. As for war, well, we've made a demonic baby in Afghanistan, and we should have pulled out a long time ago, but better late than never.

Pulling out of Afghanistan might be rather like pulling out of Vietnam [very messy], but we needed to pull out there, and we need to pull out here.

Not that pulling out is a panacea. In fact, it will create new problems in that beautiful, suffering, war-torn country, as it is already doing.
It's not easy to pull out. It takes discipline and determination. Even then, it's messy… with all that human DNA.
A nice sloppy cum shot may look lovely (at least to horny cum fetishists), but the mess we leave as we pull out from this awful perma-war is teeming with human tragedy. But does that mean the American occupation should continue? No. After all, it's been messy for the 20 years we've been there. And it's gotten messier.
Of course, America should never should have invaded in the first place. At least, once we'd bombed Tora Bora to smithereens and still couldn't find Osama, we should have left. But no, we had to stay, even as we were invading another country (Iraq)!
In my new article in Counterpunch, Good Riddance to Bad Rummy (it's kind of funny that Rummy pulled out of life just before America pulls out of Afghanistan; what synchonicity!) and my old My Terror Journals, I try to make sense of this military insanity, and find a path to peace through pleasure, aka the Bonobo Way. Unfortunately, there is no "sense" to be made for America's recent military adventures, except that they enlarge the America Military-Industrial Complex (MIC) and line the pockets of the rich.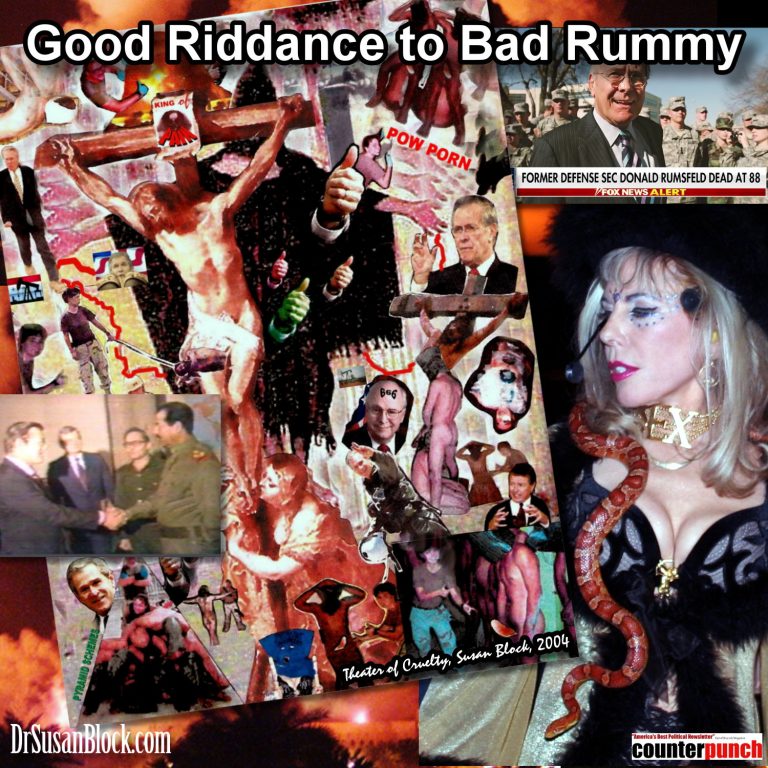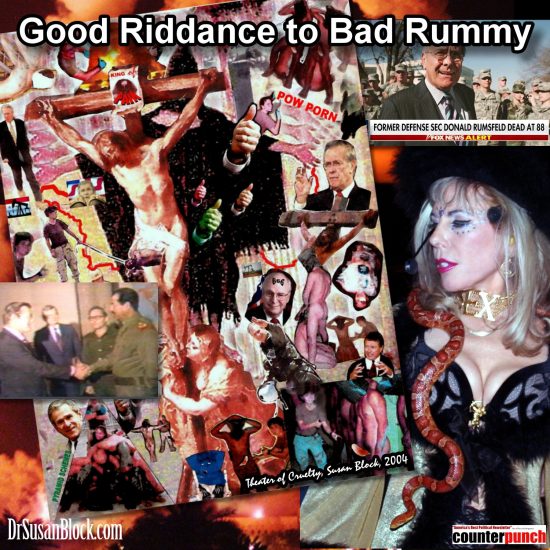 Many say there will be problems when we pull out, and they are not wrong, but there are problems regardless. Pulling out of Afghanistan might be rather like pulling out of Vietnam, but we needed to pull out there, and we need to pull out here.
And just like Vietnam, we are leaving a mess. Civil war is already breaking out. The Taliban are stronger than ever. Biden said we met our goals there, defining one key goal as killing Osama, but Obama said the goal was stabilizing Afghanistan, which hasn't been done, but really, you can't achieve true stabilization through occupation. The Taliban are awful, but endless American occupation is worse. Religious extremists of Afghanistan's dominant Pashtun tribe created the Taliban as a response to the Soviet invasion; then they evolved into a response to the U.S. invasion.
Maybe if nobody invades their country for a while, the people of Afghanistan will return to peace… eventually.
Nevertheless, right now Afghanistan's a powder keg, so it's absolutely vital for the U.S. to provide a way for our allies within Afghanistan, such as our translators, drivers and guides (especially the women) to leave too, if they want to, and find asylum immediately in American territories like Guam or Miami or West Virginia—wherever we can relocate them. It is our moral imperative to help our Afghan allies escape the almost inevitable civil war and/or wrath of the Taliban.


Of course, the American MIC, despite our shiny image of ourselves as great heroes in any conflict, follows the money more than any *moral imperative,* and we are known for betraying our allies. Just ask the Kurds, the Chinese and Russians (our WWII allies), Saddam Hussein, and the list goes on.
Storming the Bastille with Love
The only American allies we've managed to stand by are the French—except in the War of 1812, and then there was that little matter in 2002, when France wisely refused to support our Iraq invasion, and we retaliated by renaming "French fries." But nobody wanted to eat "Freedom Fries," and those greasy little boiled-in-oil potato strips originated in Belgium anyway, so you could say the French won that war. They certainly didn't lose like we did in Iraq and Afghanistan.
Capt'n Max and I love France and reminisce about our unforgettable art opening, "ART BOMBS: American Libertines for Peace," at El Teatro restaurant in Cannes.
Speaking of which… Happy Bastille Day!
Liberté, Égalité, Fraternité…Sexe! Joyeux Quatorze Juillet!
Don't miss our amazing bacchanalian, baguette-spanking-hot, after-show throwback celebrating the Storming of the Bastille and the French Republic's birthday with a touch of ooh-la-la, Bastille Day Burlesque!
But back to America's allies and helpers in Afghanistan whom we ought to respect at least as much as our allies in France. We the American people should pressure our leaders to help any Afghans seeking asylum, even as we pull out. It's the least we can do for having wreaked so much death and destruction on their land, and for what? A few dollars in the pockets of war criminals, that's what.
I confess I feel a personal connection to Afghanistan, in part because I spent about a month there just before the Afghan-Soviet war. While other Yalies were taking summers abroad in Paris and Rome, I explored Kabul, Kandahar, Mazar-I-Shariff, Balkh, Bamian, Band-I-Amir and the Khyber Pass. It was beautiful, rugged, challenging and very peaceful… with the world's best hashish. I didn't try the heroin.
In the Bamian Valley, I climbed to the top of the 1500 year old Buddha carved into the mountainside, standing 170 feet high before the Taliban destroyed it (along with the other Bamian Buddha) back in pre-9/11 2001.
I also attended a Buszkazi match (later outlawed by the Taliban), which is sort of like playing polo, but with a dead goat instead of a ball. On one of my favorite afternoons in Afghanistan, I rode a horse around the crystal-clear Band-I-Amir lake.
The word Afghan is said to be from Aśvakan which literally means "horsemen."
Sex on Horseback



Speaking of horses, that reminds me of a tweet on which I was recently tagged by BloomingGirl about my story of making love on a horse.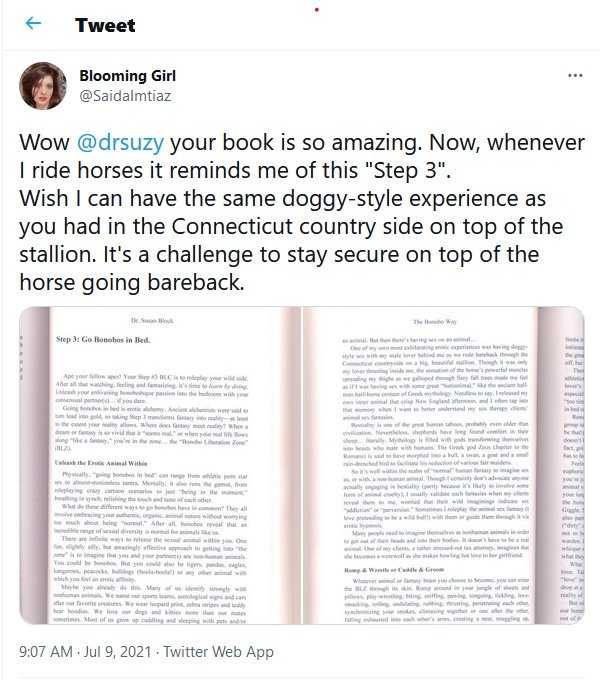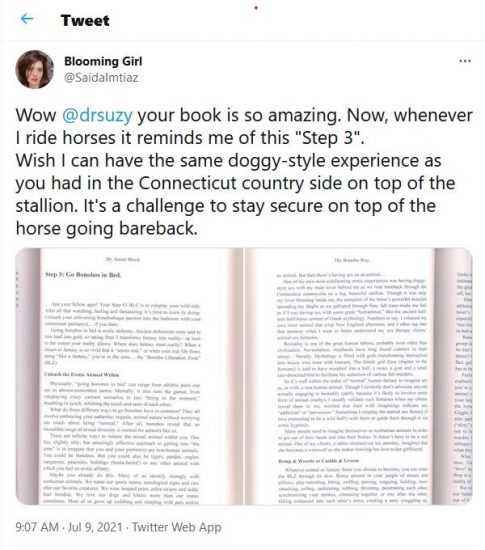 No, not with the horse! I was riding bareback in front of my (human) lover as he entered me from behind and we trotted through the Connecticut countryside. A longer version of the story, "Women Who Love Men Who Love Horses," is in Pleasures: Women Write Erotica. BloomingGirl read the abbreviated version in the "Go Bonobos in Bed" chapter of The Bonobo Way. An equestrian herself living in Pakistan (where we have several friends, one of whom raises Arabian horses), she wonders how I could manage that feat. I must admit it was only because my lover was a championship rider. I didn't do anything but surrender to his expertise and hang on tight.
Giddyap!
Capt'n Max was also a winning horseback rider, but he did most of his riding before he was 14, so he never experienced sex on horseback.
We did "#GoBonobos in Bed" the morning of this show though!
It was just a quickie, which was just what we needed. I gave Max a 20-second blowjob, and then he made me come quicker than Sha'Carri Richardson breaking the 100 meter record after hitting a bong.
Quickie or a whole honeymoon in bed, I believe we humans ought to embrace the simple pleasures of consensual sexuality instead of the evil passions of violence abroad or at home. Make love not war!
These simple sexual pleasures are usually pretty organic, but sometimes a little mechanical device can help a lot—while not damaging the environment too much. These days, sex toys are being promoted by big celebrities like Cardi B (Bellisa sex toys), Dakota Johnson (Maude and Lori DiCarlo) and Gwyneth Paltrow (Goop). Lots of cool and hot stuff, but no Hitachi Magic Wands. I wonder if that's because they haven't changed the design in 30 years, or because Hitachi doesn't take celebrity endorsements for a massager they don't promote as a sex toy. But it's still the best vibe out there!
Also, these celebs probably don't test drive their sex toys on camera (well, maybe they do on their OnlyFans) like we used to do to great fanfare on DrSuzy.Tv.
Branding Issues
Lots of comments come in via all of our platforms regarding pulling out in both love and war, and we attempt to respond to the best ones. Either F.D.R.'s numbers are growing, or people are really excited about pulling out of Afghanistan… or leaving their spent sperm wariors on the football field of somebody's tummy.
And then there's torture. Now that we're pulling out of Afghanistan, we can close Gitmo too, can't we? At one point, there were almost a thousand prisoners in Guantánamo Bay, and now there are less than 50, many of whom have not even been charged with crimes. Shut this hellish temple of anal food rape and other evil nonconsensual obscenities down!
When Max asks me what I make of NXIVM's notorious branding rituals, I confess I can't figure out if these were consensual kinky activities of infatuated, naïve, now-regretful women or horrible forms of sexual abuse with blackmail. Certainly, the court—of both public opinion and the actual court—has rendered their verdict: Guilty. I respect that, though Keith Rainiere seems like such a nebbish, I still don't quite get why these billionaires and celebrities were so easily taken in. Lack of sex education?
As far as branding goes, I'm even more repulsed by collegiate branding activities of one George Dubya Bush, who got us into these two Perma-Wars, along with the World Wide Web of Torture surrounding them. Before he was coronated President of the U.S.A., he was President of the Delta Kappa Epsilon fraternity at Yale where he presided over hazing new pledges with red-hot coat hanger brandings. Yes, brandings that probably weren't all that consensual, as the pledges were blindfolded.


I'm not saying Rainiere shouldn't be punished for what he did, but then Rumsfeld shouldn't have died a free man, and Dick and Dubya should be tried for war crimes and illegal torture. Maybe they didn't do brandings, but oh how they relished the sadistic (and largely ineffective) torture techniques employed by the American Psychological Association (APA), including waterboarding and the notorious POW Porn.
Unscene Abe—who was just a kid when the Dark Lord Cheney ruled through Dum-Dum Dubya—picked up some history from the movie Vice, which I should watch one of these days. Meantime I have my memories—more like nightmares. And, at least, we're pulling out of Afghanistan.
Unfortunately, the U.S. is not pulling out of torturing Julian Assange, even though its case has completely fallen apart. But then, it had no case to begin with, except to muzzle this journalist, and now they have the nerve to appeal Judge Vanessa Baraitser's decision not to extradite him. How can we criticize other nations for human rights violations when we won't free Assange?
Free Britney too. F*ck those pimps taking her hard-earned money.
Celebrate Surrender
In capitalism, surrender means defeat. In love and ecology, surrender can be sweet. It's the Bonobo Way.


Orgasm itself is an act of surrender. You can't *win* when it comes to coming; you either surrender to pleasure or you just can't come.
Even in war, when the gig is up, it often behooves a soundly defeated nation to surrender. Though punished, Japan and Germany have also benefited from surrendering to the Allies after WWII, quickly becoming a couple of the most prosperous nations on Earth.
America is not surrendering to the Taliban; at least, I hope not, even though the Pashtun religious extremists are taking over again, at least for a while. We are surrendering to the fact that Afghanistan is not our land.
Of course, neither is America, unless we're Native Americans—and fortunately, they're not big on private property ownership, one of the roots of all evil… but that's another train ride.
Meanwhile, as I write this, Richard Branson, Jeff Bezos and Elon Musk are pulling out of Earth, in a Billionaire Dick-Measuring Contest masquerading as a race to commercialize space. With all those billions, they could resettle all our Afghan allies, as well as most of the other refugees of the world, displaced by imperialism, capitalism and climate change.
But no, they'd all rather pull out of Earth with all its problems. And honestly, this kind of pulling out is pretty obscene.
Fuck Da Rich!
© July 10, 2021 Susan Block, Ph.D., a.k.a. "Dr. Suzy," is a world renowned LA sex therapist, author of The Bonobo Way: The Evolution of Peace through Pleasure and horny housewife, occasionally seen on HBO and other channels. For speaking engagements, call 213-291-9497.