Bastille Day Burlesque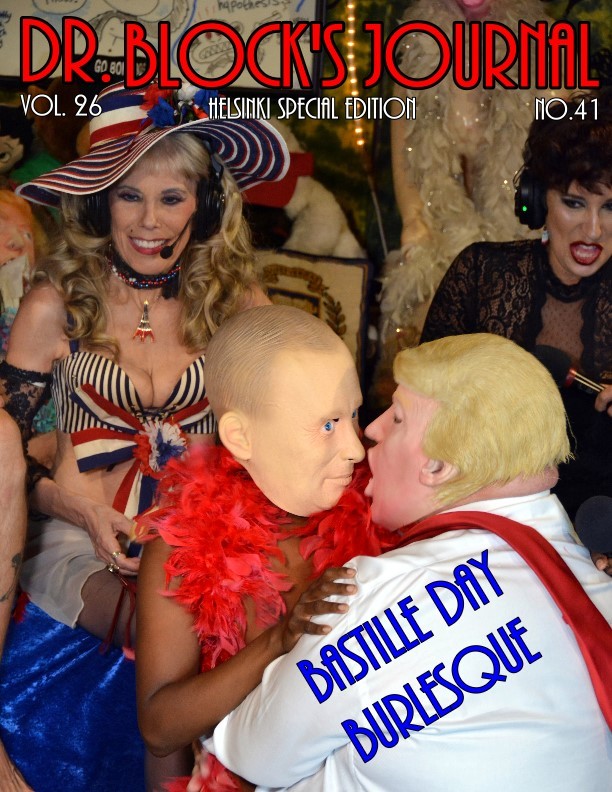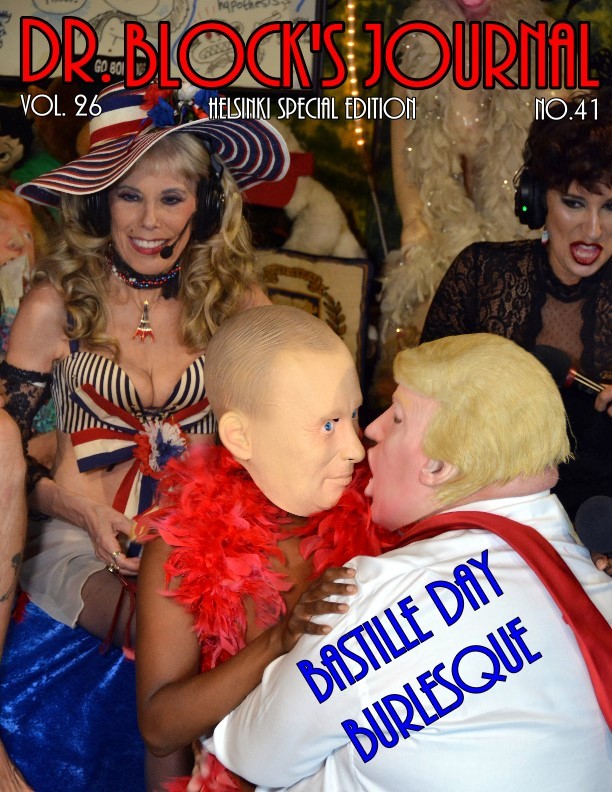 Length 01:36:53 Date: July 14th, 2018
Liberté, Égalité, Fraternité…Sexe!  Joyeux Quatorze Juillet!  Joyeux Jour Bastille!  Ou comme nous disons dans l'anglais "Happy Bastille Day!"
Yes indeed, Brothers and Sisters, Lovers and Sinners… Mes frères et Mes Soeurs, Mes Amours et Mes Pécheurs…
We go bonobos for Bastille Day with Burlesque, the Rubenesque and the Grotesque, avec les baguettes et les coquettes.
Mon Dieu, c'est magnifique! 
Burlesque, Rubenesque & Grotesque
The official "Burlesque" part of the show features Hollywood Jane Revue performers Veronica Voss, Lana Entendre and Georgia O'Queef. 
The "Rubenesque" is voluptuously represented by BBW porn star Calista Roxxx. 
"Most Well-Rounded Kinkster" 2017 SUZY award winner Rhiannon Aarons (who hooked us up with the Hollywood Jane Revue, making her an Ass. Producer for this show, in addition to being a guest) is also rather Rubenesque. Brainy and bawdy Rhiannon leads tRUMP by his tie, using it like a leash (that's why he wears those ridiculously long ties), clearly representing the "Grotesque." 
Burlesqu'ing with a beautiful smile as she keeps the show humming along is my sexy Ass. Producer (and Institute therapist) Phoenix Dawn.

Returning after a week away, Ikkor the Wolf is back in Bonoboville, leading the Womb Room congregation into hiphop heaven on Earth.

Arriving fashionably late, but just in time to steal the show are Chef Be*Live and Danièle Watts.
They're celebrating their second wedding anniversary, sparkling and bubbly as two clinking flutes of French champagne.


Yes indeed, two years ago on July 14, a few months after we met them at our 24th Wedding Anniversary, our "Most Bonobo Couple" got legally hitched in Las Vegas.  
In these terrifying times of alienation, dislocation and devastation fostered by unregulated corporations, we are blessed to celebrate the enduring love, ever-expanding lust and exemplary pansensuality of these two great artists, bonobo sapiens and friends, along with the sweet coquettes and hard baguettes of Bastille Day. 
Storming the Bastille & the PIC
Capt'n Max and I love France, (we even lived in Paris and Cannes for a bit), so Le Jour de Bastille en BonoboVille is always a special combination of French culture, bonobo love and kooky kink, even when we celebrate it on July 13th, like we did last year or in 2012.   
But this show broadcasts live on the actual holy day of Quatorze Juillet, commemorating one of the opening shots of the French Revolution, 229 years ago, on the 14th of July, 1789: the historic "storming" of the Bastille.
With it, old ideas about tradition, hierarchy, monarchy and religious authority were dramatically overthrown by the new Enlightenment principles of Liberté, Égalité, Fraternité.
This is the foundation for modern "liberal" values which, unfortunately, have been twisted into nefarious "neoliberal" armed corporate hegemony that is virtually destroying liberty, equality and fraternity around the globe, but it started out with the right idea anyway.
Though the "storming of the Bastille" has an erotic ring to it, conjuring images of forceful, wet, penis-in-vagina (PIV) intercourse, the event itself was not so sexy—unless you're aroused by deadly violence. The mob lynched the Bastille Governor and guards, followed over the years, by massive executions of French royalty and aristocrats via the famous French guillotine, followed by the military rule of Napoleon.  Ironically, when the Bastille was "stormed," one of the purposes was to free the inmates of this dreaded royal dungeon, yet the Bastille was nearly empty, housing only seven prisoners. The notorious Marquis de Sade was not among them, having been transferred to another prison ten days earlier.
As we celebrate another Bastille Day, the Bonobo Way—avec les baguettes et les coquettes—we can't help but wonder: Will history repeat itself?
After all Melania's "I really don't care. Do you?" jacket bears a strong resemblance to Marie Antoinette's "Let Them Eat Cake" meme.


With the U.S. Supreme Court turning before our helpless eyes into a fascist, racist, sexist, American oligarchy-nurturing, corporation-fellating, President-pardoning, imperial tribunal; as the American Prison-Industrial Complex (PIC) grows a million times bigger than the Bastille ever was; as more and more power and cash goes straight into the deep pockets of the plutocracy—and none of it "trickles" down to the 99.9%; as corporate interests destroy our environment and potentially all of human life on Earth, well, violent revolution does sound tempting.
Especially when you use exciting verbs like "storming."
Nevertheless, here in BonoboVille, we'd rather make love not war. 
Instead of the guillotine, we just spank willing bottoms with a hard baguette.
One great bottom we baguette-spank belongs to Ikkor's friend Brigitte, mother of five kids with the body of a hot model and a  quintessentially French name. She's also a nurse which accounts, in part, for her high sex drive. Generally, nurses have high sex drives. Maybe handling all those sick bodies for work makes them yearn to handle a healthy one for play. Or perhaps it makes them more tolerant of imperfect bodies. Next to porn stars, nurses are the best–especially for spanking.
Whack! Whack! Whack! Oui, oui, oui! Ooh la la, le joix de la fessée!
Before the first Bastille Day, French royalty and aristocracy epitomized the height of conspicuous consumption and disdain for those less fortunate. What gold (and golden shower) loving Presidunce does that remind you of?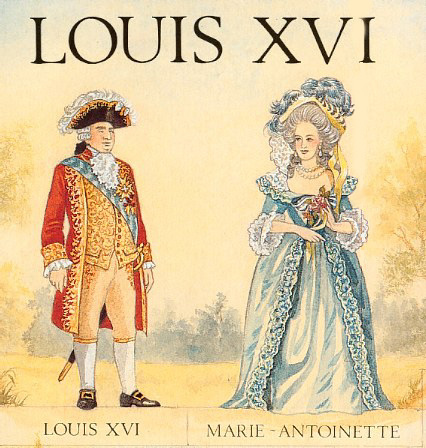 America's power on the world stage has been declining for several decades now, but it's excruciatingly disturbing for some of us to witness the Orange Occupant of 1600 Pennsylvania Avenue trashing the country's reputation with such speed and far-reaching rudeness.
Yet life is good, especially when good people gather to share resources, talent, humor, music, sex and love, and on Bastille Day 2018, fairly radiates bleu, blanc et rouge with communal ecstasy in the Womb Room and throughout the hot summer night amidst the twinkling lights of BonoboVille.
"It was the best of times. It was the worst of times…" Charles Dickens' Tale of Two Cities, London and Paris, just before and after the storming of the Bastille in the midst of the French Revolution, feels more relevant than ever now.
Storming Stormy
But before we board the Air France Time Machine to the French Revolution, we make a pit stop in Ohio, specifically the Sirens Gentleman's club in Columbus, where America's favorite porn star and one of my sheroes was arrested for doing her job, creating a Stormy Storm of smug and outraged media, before all charges were dropped due to a language technicality in the law itself.
Considering the holiday, we call it the Storming of Stormy.
Unfortunately, charges were only dropped against Stormy, not the other two dancers who were arrested with her. Graciously, Ms. Daniels has been donating tips from ongoing Ohio shows to the dancers' legal defense fund.



It's interesting—though police abuse of power is not surprising—that Ohio state law enforcement deemed it important enough to devote limited resources to ensure Ohioans' public safety from Stormy's boobs. I mean they're big, but I can't see them being wielded as a dangerous weapon against anything but hypocrisy (which I suppose is the conflicted ring-wing's constant state of being). But then maybe I don't have the imagination of the Columbus Police Department's avidly pro-Trump Detective Steve Rosser, who seems to have been a deciding force in the storming of Stormy at the Sirens Gentleman's Club.
This elaborate sting operation, despite all the real criminal activity going on in Ohio—such as that handsy wrestling doctor being protected by Republican Congressman Jim Jordan who is, in turn protected by Trump and his fellow unscrupulous corporate villains in the House GOP—truly shows who these police protect and serve.
Back to Burlesque with the Hollywood Jane Revue
Stormy is a striptease artist. Though she's also a porn star and unabashed to show pink—if it's legal, of course—there's quite a bit of burlesque in her show, especially if you count her real-life antics spanking the Trumpus, pants down, with a Forbes Magazine.
There are many types of burlesque and striptease. For an overview, check out my definition of striptease in the Wiley-Blackwell International Encyclopedia of Human Sexuality.
Over the years, we've had a variety of striptease artists appear on The Dr. Susan Block Show, including the great Bettie Page, Tempest Storm (so much storming in this blog) and Dita Von Teese.
So we're pleased to welcome a charming threesome from the Hollywood Jane Revue, directed by the rather Gaulois-named Blanch Bourgeois.  
Though the ladies perform individually, they're a team, dancing at different venues including their upcoming (as of our live broadcast) "Toy Box Burlesque" show at Rockwell Table and Stage.
PHOTOS: JUX LII
Each one gives us a teasing taste of her "specialty." Veronica Voss, who recently won a Burlypics competition (remember when I was a judge?), does a mini-striptease that involves slowly removing her gloves
Doesn't sound like much, but oh, how she removes those gloves—ooh la la! C'est magnifique! And the Womb Room crowd goes wild.
Georgia O'Queef is probably the most verbal of the three. Her name parodies her love of art and flowers. She's also into the "character" and cosplay side of burlesque, though for this show, she comes as "herself."
Lana Entendre, another burlesquer bearing a French name, occasionally flutters a silky, bejeweled French flag scarf that could have flown in the Moulin Rouge.
PHOTOS: HUGO FLORES
Later in the show, she removes her top to perform a tassel-spinning pasty dance to the tune of  Carmina Formosa's "The Kinkster."
Mon Dieu autre fois!
Huba Huba Superieur!
As Calista Roxxx observes, Lana has the "perfect boobs" for pasties.
Calista's sporting an impressive rack herself, but when I ask her to show off her most admired physical feature, she displays her big fleshy butt.
A proud BBW, she also reveals her Miss Piggy tattoo and, on her other leg, a tattoo of some kind of "Russian Heroine" with the word "Lover" emblazoned above it.

By this time, Danièle is sitting on Be*Live's lap in the Womb Room, wearing nothing but a big red boa and the mask of Vladimir Putin (reprising her fabulous and bizarrely believable performance from Lupercalia 2018) growling lecherously about his lust for that tattoo of loving Russian womanhood on Calista's thigh.
It's surreal, very burlesque, Rubenesque and, with Putin growling and groping, quite grotesque!
Trump-Putin Summit in Bromantic Bonoboville
Of course, the biggest Grotesquerie in the Womb Room is tRUMP himself—played parodically and heroically by TMI—sweating it out in his suit on this hot summer night on a short leash under the control of rocking Rhiannon Rhiannon (who is doing an art show in San Diego, Saturday July 21, from 5pm-11pm at the Take Me Home Gallery) and the Nasty Women of Bonoboville.
At various points in the show, I spank tRUMP's rump with a baguette, excoriating him for his numerous wrongdoings that are harming so many people from putting children in cages to signing SESTA.
I call it Trumpocalypse Therapy. Lord and Lady both know we need it in the age of the Orange Abomination.
 Of course, the burlesque of Commedia Erotica in Bonoboville can get a little crazy.


Sometimes I spank tRUMP with the baguette while he's kissing a naked and very womanly Putin.
 The Trumpster also goes down on Putin's "baguette," which starts out very large, but keeps getting smaller.
PHOTOS: JUX LII
Is tRUMP eating it?
 What a summit! Helsinki can go to Hell; the tRUMP-Putin BonoboVille Summit is a heavenly bromance.
PHOTOS: JUX LII
It turns out that the macho little Russian Dick-tator is a lot more womanly than our Intelligence every knew!
Breaking News: As I write this blog, the "real" tRUMP and Putin are having an even more kissy-kiss-kiss summit than we imagined—complete with bromantic gifts–Putin gives tRUMP one of his balls!–in exchange for major American baguette-sucking… just like ours.
I believe ours is more productive and positive for U.S. interests.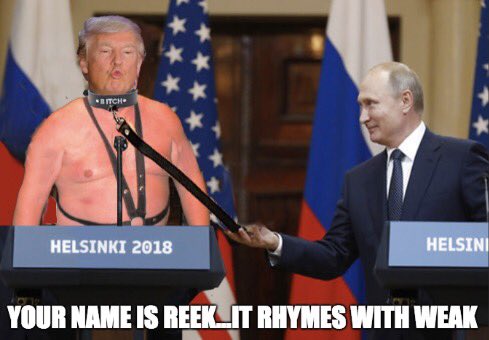 Plus our tRUMP isn't allow to speak, so he can't accidentally on purpose "mis-speak" about Russian meddling in America's 2016 presidential election.
The "news cycle" swings faster than a ferris wheel. So quick, now—while the Dick-tators are kissing—let's storm the Bastille of the American Prison-Industrial Complex and free ourselves from its awful ugly privatized chains.
And release those immigrant children to their families. The adult PIC is bad enough—and Putin has his own prison problem, as Pussy Riot has pointed out via beautiful Russian burlesque by "storming" (yes storming!) Moscow's FIFA soccer match, dressed as Russian police to protest on behalf of Putin's political prisoners.
But Jesus Vladimir Christ… baby jails?
This is what we've come to here in America made "great again."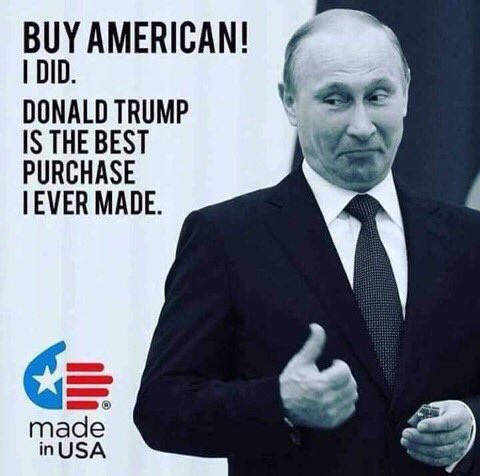 It's not all tRUMP's fault, of course; most of the U.S. presidents before him have helped to create this mess. Yes, even the much revered, almost deified, brilliant, sexist, slave-owning "Founding Fathers." But the Trumposity's breathtakingly narcissistic, astoundingly corrupt, ignorant, infantile, sexist, racist, treasonous rudeness makes it all so much worse.
At least, the March Against Trump in London was a nice big one—250,000 people—with a "Baby Trump" blimp flying overhead supposedly to "chase" Trump away.
Or maybe the Baby Trump blimp is chasing us, hovering over us, driving us nuts, hunting us down with his MAGA madness.
Aaagh!
I appreciate the creativity and intention of the Baby Trump blimp, but I personally would rather spank the Trumpus on his hands and knees with a baguette than have him flying over my head like a demented drone.
Coquettes et Baguettes
Trump isn't the only one who gets spanked on Bastille Day with a baguette.
Danièle (notice the French "accent grave" on the è) really wallops Phoenix with a baguette, all the while asserting that what she's doing "isn't sexy; it's therapeutic."
Personally, I consider it to be both sexy and therapeutic, but then, that's why they've called me the "sexy sex therapist" for well over a couple of decades now.
There are a lot of "sexy sex therapists" now, but when I started… well, let's just say, my only "competition" was Dr. Ruth.
Baguette spanking on Bastille Day is a Bonoboville tradition, and we certainly relish its practice on Jour de Bastille 2018.
Vive la France et le derrière français!


The problem is that these baguettes break easily. We are sending this problem to our diagnostics department to see why baguettes of Bastille Days past lasted through more spankings than 2018 baguettes. Is it freshness? Cheapness? Some special ingredient?
Whatever the cause, the fragility of the baguettes leaves us spanking each other with baguette parts that eerily resemble body parts, and eventually just bread crumbs.
 Here in Bonoboville, we turn a lot of holidays into spanking festivals, from Lupercalia to Spanksgiving to Passover's scallion floggings. 
That's one reason the theme of our next Speakeasy Journal will be "SPANKING (for adults only)."


The current issue is "Splosh 'n' Art," featuring Danièle and Be*Live, among others.
With these breakaway baguettes, it feels like we're combining spanking with splosh on this show.
A very dry and crumbly kind of splosh.
Hiphop Burlesque
Ikkor the Wolf often brings a burlesque element into his rap, but he pulls out all the stops for this show.
Maybe it's our burlesque guests; they don't actually get up and dance as he sings "She Bad" (burlesque has become a sort of "good girl's striptease," after all), though they do "dance" in their seats, cheer and applaud.
Maybe it's because he just got back from visiting his son, a Chippendale's dancer in Vegas, and was blown away by their amazing stage show that certainly includes a lot of elements of burlesque.
Maybe it's the heat. Then again, maybe it's Stormy Danièle.
As usual, she's a hypnotic vision of wild dance magic mixed with wrestling moves I imagine she picked up from facing her fears and wrestling Mistress Kara at my birthday show.
Rhiannon, Phoenix, Be*Live, Calista and I also shake our booties and baguettes.
We are all so blessed.
We are all so stormy.
And we are all so BAD.
 One of my favorites examples of old burlesque is Aristophanes' Lysistrata, in which the title character masterminds a plan to get all the women of Athens to gather in the Acropolis and announce that they're going to stop having sex with their husbands until they stop fighting the Peloponnesian War. Then they go upstairs, swinging their hips teasingly like burlesque dancers, and they wait. That was the first real literary example of women stopping a WAR with the power of their sexuality. Very bonobo before any humans even knew bonobos existed.


Three cheers and a bonobo beer for French President (and erstwhile tRUMP bromancer), Emmanuel Macron, for the new aptly named French international plan to "Make the Planet Great Again"  via a series of measure to embed the environmental objectives of the Paris Agreement (from which tRUMP withdrew) in public action.
And so—for France!—we give one more Baguette Spanking of the Bastille Day Bride, Stormy Danièle—breaking the last baguette—and say "merci beaucoup" to all our burlesque, Rubenesque and grotesque (here's looking at you, Agent Orange) guests.
And with a final "free the nipple," that about wraps up the live broadcast.
Spreading the Bonobo Love
At this point, the after-party ensues, spreading that steamy, dreamy Bonobo Summer of Love feeling around the compound.
The Couple of Honor, Danièle and Be*Live, are both naked as Adam and Eve before the Fall in the Garden of Bonoboville's Eden.
Naked except for a red feather boa, bread crumbs and the French flag, as well as a copy of the July 2018 Cosmo featuring my "Car Sex" Q&A, in part inspired by Danièle and Be*Live's notorious  car sex adventures described in more detail here.
Phoenix and I are like maid and matron of honor at a kinky reenactment of their kooky wonderful wedding.
Thanks to a French miracle, I find one more whole baguette which Danièle attempts to suck, sort of.

Then I give the three of them a group spanking.
It's hot, so I get to water-pistoling every one, especially Danièle.

Shoot Water Guns, Not Real Guns!
We whip, hug and hula hoop circles of radiant infinity all around the Happy Couple and ourselves.
Embracing bonobo love.
Stretching into starlit yoga.
Inhaling each other's electric aroma.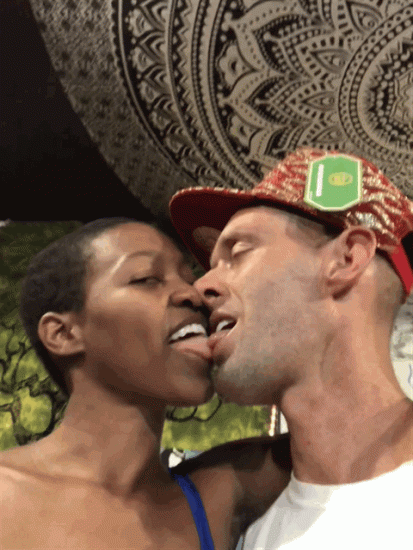 Kissing. .
Basking in the joy of their artistic romantic marital collaboration.
Meanwhile, Brigitte requires more spanking.
We start with a piece of broken baguette and move onto my hand.
Ouch! I mean that about my hand. Brigitte's butt can take a lot of whacking!
PHOTOS: JUX LII
All that standing next to the surgeon for hours, on the ready for life-or-death anything, must keep her derrière in great shape.
It looks really good under the electric sting of Glamazon Goddess Phoenix' neon whip.
I also give her a good Bonobo Way book-spanking, but even then, my arm gives out before her buns of steel.
Before we know it, it's time to fly like fireflies up the French-style balcony of BonoboVille and into the admiral's chambers where Capt'n Max, whose philosopher ancestor, Gaetano Filangieri, helped to inspire the French as well as the American Revolutions, storms my Bastille.
Fortunately, no guillotines are involved. Seulement Liberté, Égalité, Fraternité…Sexe! 

Let us storm the Bastilles of the American PIC. Nicely, of course, in a Bonobo Way. But not too slowly. Otherwise, we the 99% may soon find ourselves in one big all-American detention camp.
Thanks to Our Volunteers: Videographers- Chris Hayward, Ray; Photographers – Hugo Flores, Slick Rick, Jux Lii; On-Campus Bonobos – Phoenix Dawn, Abe Perez, Camille Rosebud, Mita Altair, Harry Sapien, Gideon G., MarsFX, Clemmy Cockatoo, Ana & Miguel.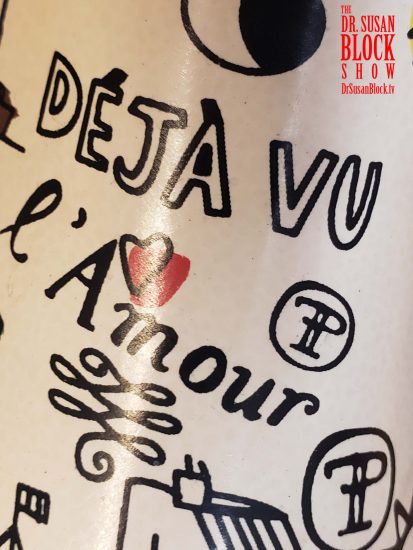 © July 14,  2018. Susan Block, Ph.D., a.k.a. "Dr. Suzy," is a world renowned LA sex therapist, author of The Bonobo Way: The Evolution of Peace through Pleasure and horny housewife, occasionally seen on HBO and other channels. For speaking engagements, call 310-568-0066.