From "The Golden Age of Adult Cinema" to Silver Valentines on Venice Beach: A Show Blog & Travelogue of Love ❤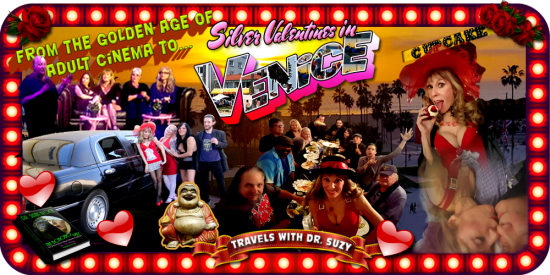 Length 00:59:42 Date: February 12, 2017
by Dr. Susan Block.
What a lovely, long, luscious Valentine's Day weekend; from broadcasting live at the Golden Age of Adult Cinema with porn stars of the 1970s and 80s to a romantic, orgasmic Silver anniversary V-Day with my Valentine on Venice Beach… a place which, in many ways, has never left the 1970s and 80s.
Valentine's Day is often a mixed box of chocolates; some of which are bound to harbor your least favorite flavor—bitter melon, stressed out strawberry, lonely licorice or anxious anisette, for example. When it comes to matters of the heart, I prefer Lupercalia, the original Valentine's Day (more on that in a moment), featuring ancient Roman whips and floggers instead of commercialized candy and flowers.
Limo to the Cupcake
However, I must admit to very much enjoying the flavor I happen to bite into for this year's High Holiday of Love. Why? Read on, taste the flavors, and ye shall be answered…
It starts in the Bonoboville parking lot as eight of us squeeze into the Bonobo Limo, aka the "BBC," with Best-Actor and 2016 SUZY-award-winning thespian Luzer Twersky at the wheel. Luzer is still a winner, now starring in the hit off-Broadway play God of Vengeance, for which he has been lauded by the NY Times' Charles Isherwood as being "wonderfully slimy." However, he's between performances at the moment; thus he is back to playing our chauffeur in the reality show of our lives.
A gift from a Bonobo Way reader, the BBC is almost two decades old, so that puts us nearly halfway back to the Golden Age of Adult Cinema before we even enter David Bertolino's theatrical production of that same name, which is now playing at the congenial Cupcake Theater in NoHo. With fine whiskey pouring from crystal decanters in the limo bar, Team Bonobo is in a nostalgic mood… the Grey Poupon helps too.
Watch some of the limo ride here.
Porn's Golden Age
You could say the 1970s-80s, the "Golden Age" of Adult Cinema, was the era between the sexual revolution and the cyber revolution, and well before the Trumpocalypse of 2017. That's got nothing to do with Trump's golden showers in Moscow or Mar-A-Lago… but then again, who knows? Politics and porn have always mixed, as we soon find out more about…
Porn lovers who grew up during this "Golden Age" of xxx films that were actually shown in movie theaters (and then on VCRs) look back on the period with fondness, and those who didn't live through it often see it as a time that was more innocent and yet "dirtier" than it is now. David got swept up in the nostalgia when he produced "The Deep Throat Sex Scandal" at Hollywood's Zephyr Theater, where we also did a couple of unforgettable live broadcasts of The Dr. Susan Block Show, including a Tribute to Harry Reams right after the actor's death. As David met the stars of porn's "Golden Age," setting up several at the Hollywood Show alongside mainstream stars of that era, he befriended many of them. "The Golden Age of Adult Cinema" is the latest fruit of these friendships.
Dedicated to the memory of porn historian Bill Margold, this production presents four different female stars of the 1970s and/or 80s on each of three separate Sunday evenings, doing interviews with affable comedian Nick Santa Maria; this first night featuring Nina Hartley, Seka, Christy Canyon and Porsche Lynn, playing to a 200-seat theater packed to capacity and a standing ovation.
Plucky Porsche Lynn
Having already interviewed the great and sexy Nina, Seka and Christy on previous shows, but never Porsche, I was eager to grab the amazing Ms. Lynn for a chat during my show after the show. Porsche is a fascinating woman who has overcome some pretty extreme adversity, beginning with her PTSD-wracked Korean War veteran father killing her young mother and then turning the gun on himself when she was just a toddler.
PHOTO 1: SMB.  PHOTOS 2 & 4: JUX LII.  PHOTO 3: JACQUIE BLU
Unlike the other three stars whose childhoods appears to have run from normal to idyllic (proving that porn performers don't always or even usually have abusive upbringings), Porsche's was fraught with murder, mayhem and molestation.  Yet, she never let the horrors get her down. Rather, she channeled her trauma and frustration into becoming a porn sensation, making many a heart (and other parts) throb with desire for her million dollar legs, luscious lips and sparkling twinkle in her mesmerizing eyes. Later, she transformed herself into a successful dominatrix/entrepreneur in Phoenix, Arizona, as well as an author and public speaker. Moreover, she knows all about Lupercalia, appreciating the way I stroke her arm with my Jux Leather finger-flogger. The only thing better than chatting with this remarkable woman would be getting her over to Bonoboville. That's next!.
September, Savage & Joi

Time flies as the lobby buzzes with conviviality and commerce. It's a bustling marketplace of vintage erotica, heartwarming memories and famous mammaries. Golden Age "Debbie Does Dallas" hunk Herschel Savage, host of the after-party (with Ron Jeremy and Paul Thomas who are MIA) bounds up to my elevated platform. 
PHOTO 1: ABE. PHOTO 2: JUX LII.  PHOTO 2: B NATURAL
I also interview effervescent 21st century porn star September Reign and debonair Club Joi swing party host John, as well as Gypsy Bonobo!
PHOTOS 1, 3, 4, 5 & 6: B NATURAL.  PHOTO 2: JUX LII
This being the Cupcake Theater just hours before V-Day, we offer all of our guests Valentine candies and cupcakes. It soon becomes clear that nobody wants to eat either. Even retired porn stars watch their figures. Though one or two do suck the cupcake icing off of my fingers. After all, calories from finger frosting don't count, especially on V-Day Sunday.
George Bush, Sr. Made an Offer She Could Refuse
Then up to my platform, above the hub-bub of the after-party/autograph marketplace, steps Rhonda Jo Petty, known during the Golden Age as the "Farrah Fawcet look-alike," though Rhonda had, and still has, much larger breasts than Farrah.
PHOTOS 1 & 3: JUX LII.  PHOTO 2: SMB
As many have done before, Rhonda reveals a "secret" on my show. Apparently on the grand and glorious day in 1980-something, on the same day that Ms. Petty won a trifecta at the Kentucky Derby, she received a mysterious, well-wrapped box hand-delivered by a U.S. Secret Service agent. In the box was the Vice Presidential seal as well as a key to a hotel room at the Ramada Inn. Presumably, this was a key to then Vice President George Bush, Sr.'s room. We'll never really know since, having spent all day feature-dancing, Rhonda was happy to just cuddle up with her Trifecta winnings and couldn't be bothered to accept Bush, Sr.'s invitation. She did express a few regrets that she passed up a brush with history, though she keeps his seal and Ramada Inn room key in a safe. However, she still feels winning that trifecta was far more important than sleeping with the Veep and future POTUS.
Seka, Penny and Cupcakes
Before we know it, it's time to pack up the limo and go.  A few hugs and kisses to Seka, Nina, David, and great Golden Age of Porn photographer Penny Antine. Then it's back to Bonoboville, Sweet Bonoboville.
PHOTO 1: B NATURAL.  PHOTOS 2 & 5:  SELFIES.  PHOTO 3:  STEVE ZAMBRANO.  PHOTO 4: JACQUIE BLU.

All in all, The Golden Age of Adult Cinema (running two more Sundays) is a wonderful experience for any porn lover; a unique opportunity to experience these pioneers of erotic entertainment up-close and personal in a theater environment that honors them as the artists they are. Plus, for a few extra bucks, you can get your picture taken dry-humping an icon!
Venetian Valentine
Usually, the day after a show, I get up and blog about it. But it's Valentine's Eve, the night before the 25th V-Day for the Captain and me, so we ditch the blog (until today) and make a V-Day getaway to Venice Beach. At first, we're just going to spend the day on the Boardwalk, but we decide to stay overnight. Strange beds (like strange bedfellows) tend to be aphrodisiacs for silver marriages like ours, so we book two nights at the Air Venice Hotel.
Now driving a town car (another Golden Age throwback), Luzer transports us to Air Venice, which lives up to its name in the sense that it is very airy. It's also very clean, comfortable and conveniently located right on the beach where the seagulls meet the skateboarders. Also, as soon as we arrive at our room, we hear the melodious sound of a woman screaming in ecstasy down the hall.
"Happy Valentine's Day!" I call back to her. She moans. We are bonobo sapien sisters calling out to each other in celebration of our sexuality and female erotic empowerment from the wilds of Venice Beach.
It's a good omen.
Bonoboville at the Waterfront
Since we've extended our stay to two nights, we invite our Bonoboville "family" to join us for Valentine's Eve dinner at the Waterfront Café. It's also Jacquie Blu's birthday, so we make it a Bday Party too. Harry, Gypsy, Del Rey, Abe, Ana, Miguel, Nori and even Mar come along.
Everybody orders, and we get an extra plate of fish and chips, just in case.
It must be another omen because suddenly in strolls the Mayor of Bonoboville himself, the Golden Age of Adult Cinema icon of icons (MIA at the Cupcake Theater the night before because he was at the Grammies), our old friend Ron Jeremy.
Ron Jeremy Joins Us for V-Day Eve
Ron gives us hugs, nipple tweaks and a "rare" T shirt from the 2003 Sexpo in Sydney (we'd rather he'd brought a case of Ron de Jeremy rum, but T-shirts are cool), then tells some jokes, plays harmonica, poses for photos and eats the extra plate of fish and chips, as well as half my soup and salad, more chips, salsa, bread and someone else's leftover fish. He's hungry, as usual, and there's no pussy to eat at the Waterfront Café, so other kinds of fish will have to do.
Jacquie gets a nice birthday cake with cream (on her face, of course), but she'll have to wait to get her spankings until Lupercalia this Saturday.  She also gets Ron Jeremy to cop a feel of her titties.
The Waterfront Café is very cool for letting all this nonsense happen in the back of their fine establishment. Waiters and busboys nod at Ron, as he gives Gypsy's boobies the eye; they'll be telling Hedgehog tales around mimosas on V-Day.
As for the food, on a scale of 1 – 10, I'll give the Caesar salad a 6. Nice crunchy lettuce, but just anchovy paste; no whole anchovies.  On the 1 – 10 scale, Max rates the men's room at 1. "It's filthy," he explains. Good thing we have a room in the hotel next door, or our V-Day would be ruined before it's even started.
I will say that the pool tables are quite nice, and the wine isn't bad, especially after you down a glass or two. All in all, the Waterfront Café is a relaxed, reasonably priced place to host a Valentine's Eve company dinner… as long as you don't use the restroom, or you're too pleasantly inebriated to care.
International Crisis Valentine Sex
Back at the hotel, my Valentine and I take foreplay selfies, strip (with very little "tease") and snuggle skin-to-skin between crisp white sheets in the queen-size bed that's slightly too small, keeping us close, which is good for Valentines of any age.
We stay off social media, also good for Valentines. But we do watch TV, as we can't resist the Trump administration imploding over the Flynn resignation (or was he fired?) and Mar-A-Lago's latest attraction, "International Crisis Dinner Theater," featuring "Rick the Man" star quarterback carrying the nation's nuclear "football." How much more cracked can Trumpty Dumpty get before he has a great fall?
The aroma of impeachment acts as an aphrodisiac, especially combined with being in a strange bed, having just fed the the Hardest Working Man in Show Business and interviewed some hot porn stars, mixed with a dollup of Jux Lii's Cannabelly Extra-Virgin Coconut Oil, and all the right moves, honed over 25 years of paying very close attention to each other's slightest sounds and movements.
Soon I am joining the lady down the hall in singing arias. Then Max enters stage left, singing baritone. The clock strikes 12:30 am, and we seem to be starting Valentine's Day 2017 on just the right note.
As I drift off in my silver Valentine's arms, I think of all the messed up V-Days of my life— crippled by expectations, disappointment, faking happiness (if not orgasms), anger, impatience, selfishness and most of all, stupidity—and how this one (so far, at least) is so not one of those. This is one of the rewards of aging together. Considering how many various and sundry punishments there are (aches, pains, wrinkles, forgetting where you put your phone), I decide to enjoy the rewards.
V-Day in Venice
It's not as historic as Venice, Italy, but Venice, Cali is a lot more geographically desirable to Bonoboville, and on a beautiful day like Feb. 14th, 2017, it's the best. We see so many lovers of different ages, shapes and sizes walking hand-in-hand like us, we wonder if someone is making a documentary.
We do brunch at the Sidewalk Café, a landmark since the Golden Age of 1978. The Caesar salad has whole anchovies and real Parmesan cheese slices, so it gets a 9 (the croutons could be crunchier). Max loves the men's room, partly because it's spotlessly clean, but mainly because it shares a sink with the women's room, and it also gets a 9.
We shop along the boardwalk. Since I was a little kid on holiday in the Golden Age of Atlantic City just before the casinos opened, I've loved shopping on boardwalks. In India and Afghanistan, I found my fetish for bargaining, which is as difficult to find in America as the right Domme for your needs. Venice shopkeepers are smart to bargain with customers, making us feel good that we get a "deal," whether or not we really do. Otherwise, why not just get it on Amazon?
Max picks up a wooden Buddha to sell in Bonoboville's new gift shop, and I get a Tree of Life pendant with garnet (security), carnelian (courage), peridot (prosperity), aquamarine tanzanite (communication) and amethyst (balance) from crystal mystic Daniel Mukai, who sits meditating on mandalas in his van until customers call him. I also get an "angel aura quartz" pendant that is supposed to give me "inner peace" and help me to "connect with angels," which I don't quite believe, though Max does, and we both get slightly hypnotized by the way it glows between my boobs.
Living the Cliché: A Sunset Walk on the Beach
Then we take a walk on the beach, I'm almost embarrassed to say, because, what a cliché! But it's fun. Besides, going to Venice without walking on the beach is like visiting Disneyland without going on rides. I stick my toes in the crisp, cold sea, while the Captain observes the tides. We don't swim or anything; this is Silver Anniversary February in the Pacific, not the Ecosexy Caribbean in June. Mostly, we just walk along the beach like the old RƎVO˩utionary Valentines that we are, imagining we can figure out what the seagulls are saying to each other, savoring our time together, away from the tyranny of machines.
Well, except for the camera on my phone, of course.
Sunset from the Erwin
At less than half an hour to sunset, we hop into a SoCal-style rickshaw called an "Awesome Pedicab,"  which is the silver-haired, golden-aged, decadent and lazy people's solution to walking that damn boardwalk more than twice in one day.
Our driver, Chris, is a very affable former IT guy who'd rather be outside, working his hamstrings off, hauling us up and down those hills than sitting inside a cubicle; we can respect that lifestyle choice.  We ask him to take us to the Erwin Hotel (where we'd considered staying before we found the Air Venice), and he and the little dog that sits in a basket on his handlebars pull us right up to the door.
As we ascend the elevator, floor by floor, we find ourselves leaving Venice boardwalk funk for Venice rooftop swank, and soon we are overlooking it all. The maître d' tells us to get drinks at the bar and then sit in the front or stand in the back. We go to the bar, but just before we arrive, a party of six orders eight different complicated cocktails and appetizers.
The great ball of fire is falling fast, so we skip the bar and slide to the back, just in time to exchange a kiss as it goes down behind the cold Pacific. It's not breathtaking exactly, especially with all the heads of other couples bobbing around in front of us, but it's very nice. With all the other couples, trouples and parties of six, it's also a special moment shared between us as well as among strangers.
But then, it's dark, and dinnertime, and the Erwin rooftop is crowded with hungry hipsters that no longer seem like one big community of Valentine bonobos at sunset. So, we catch a ride in Chris' Awesome Pedicab over to the Candle Café where the Caesar salad gets a 7 (no anchovies, just capers), and Max awards the restroom a 2. However, the Mahi Mahi Tacos are delicious, and an Apple Martini makes them even better; plus, the candlelit ambiance is just right for Valentine's night.
It's nothing fancy, but a more sincerely romantic V-Day than Don Trump, Jr. tweeting about his plan to fool his wife into thinking he constructed the ridiculous towel heart and swans, probably made by an illegal immigrant towel artist.
Trumps' V-Day and Ours
As for Trumplethinskin himself, we understand that the Reality TV star did not spend the High Holiday of Love with his beloved wife. While Melania was in or around her Golden Tower in New York, Trump had Valentine's lunch with Chris Christie in the White House; on a scale of 1-10, we'll give that a 0. Junior's pseudo-deceitful towel art gets a 3. At least, he's trying.
We share a chuckle over the Valentine meme showing Putin embracing a pregnant Trump from behind.  It isn't exactly an aphrodisiac, at least not for us. However, good silver Valentines that we are, we squeeze one more romp and an aria each in before February 15th. It may not sound like the apex of romance, but there's pleasure, intimacy and meaning beyond words in sharing orgasms with one's lover of over 25 years on the High Holiday of Love.
Lupercalia in Elephant Journal
Since we stay off social media, including emails, throughout the day of February 14th (kind of like fasting on Yom Kippur), it's already February 15th by the time we see that my Lupercalia piece is picked up in Elephant Journal. Yay!
Thus the pendulum swings toward from the flowers to floggers as we pack up and leave Air Venice bound for Villa Bonobo.
Speaking of bonobos, February 14th was also "World Bonobo Day," and probably will be next year.  Of course, every day is Bonobo Day in Bonoboville, every year is the Year of the Bonobo, and we urge you to donate what you can to help save our Love Ape cousins from extinction. If we can save them, then maybe we can learn from them how to love each other instead of all this hate, greed, jealousy, bigotry and folly.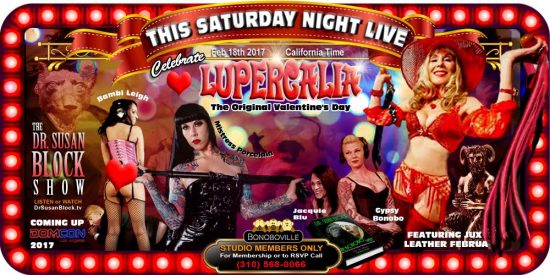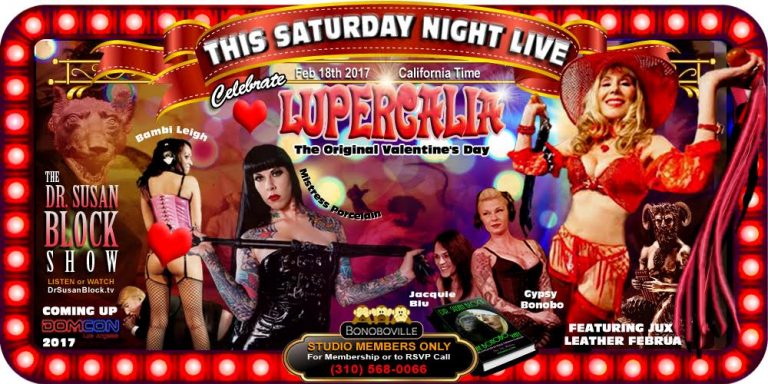 Next: This Saturday night, February 18th, we will celebrate Lupercalia, the original pagan Valentine's Day, with celebrity guests, floggers, floggees, friends and lovers (check out the burgeoning roster here). As those of you who know me know, Lupercalia is more my "thing" than Valentine's Day for all the reasons I give here. But when you've got to do it, you've got to do it, and nobody does it better than my Valentine.
Thanks to this week's volunteers: Camera Operator – Sean Reidy; Photographers – B Natural, Jux Lii, Steve Zambrano, Abe, Max. On-Campus Bonobos Abe Perez, Del Rey, Gypsy Bonobo, Harry Sapien, Jacquie Blu, MarsFX, Johnny Jungle, Clemmy Cockatoo, Ana & Miguel.  Special thanks to Del Rey and Johnny for editorial assistance and to Clemmy for making the banner at the top of the page. Dr. Suzy's Show Bonobo Tank Top by Christopher Lee Designs.

© Feb. 16, 2017. Susan Block, Ph.D., a.k.a. "Dr. Suzy," is a world renowned LA sex therapist, author of The Bonobo Way: The Evolution of Peace through Pleasure and horny housewife, occasionally seen on HBO and other channels. For speaking engagements, call 310-568-0066.
---
Explore DrSusanBlock.com
Need to talk? Sext? Webcam? Do it here. Have you watched the show? No? Feel the sex. Don't miss the Forbidden Photographs—Hot Stuff, look at them closely here. Join our private social media Society. Join us live in studio 😊. Go shopping. Gift shop or The Market Place. DrSusanBlock.tv, real sex TV at your toe tips. Sex Clips Anyone? FASHION, we have fashion! We also have politics. Politics? Have you Read the book? No? How about the Speakeasy Journal? Click here. Ok, how about some free sex advice?
---