A Very Happy Whip-Snappy Lupercalia 2017
Length 1:44:37 Date: February 18, 2017
Friends, Romans, FemDoms, lend me your ears! I cum to bury Valentine's Day (not to praise it)… and to resurrect the Lupercalia for modern times.
Lupercalia is the original holiday of the heart, the wild municipal whipping party referenced most famously in Shakespeare's Julius Caesar, which the Catholic Church sanitized and Hallmark commercialized into what we now call Valentine's Day.
Go Lupey!
To celebrate the primeval festival of hearts and flogging, I gather together some of So Cal's finest flogging Mistresses and sexiest heart-shaped butts, transforming the Womb Room of Bonoboville into the Cave of the Lupercal for the occasion.
Most of my Lupercalia 2017 guests are virgins to the mysteries of the holiday, while many others are back for more. Since I first learned about the ancient Ides of February festival around 2006, I've seen so many people, tired of the usual V-Day stress, sales hype and artificially-sweetened "fake news" about love, go loopy—or "lupey"—for Lupercalia. It's one way to "go bonobos," pagan style, with a little bit (or a lot) of "impact play." It has "legs," you could say, plus that beautiful heart-shaped, well-whipped-to-rosy ass. Indeed, my article on the subject was just picked up by the esteemed and rather mainstream Elephant Journal.  
Maybe someday the leather Lupercalian whips, called "februa" (yes, that's where we get the name of the month, February), will be sold alongside Valentine candy, cards and engagement rings. Actually, I might even sell them in my Bonoboville store. But for now, it's a relatively noncommercialized, slightly kinky, fresh, yet oh-so ancient way to welcome the earliest glimmers of Spring.
Lupercalia Commedia Erotica
I open Lupercalia 2017 channeling the spirit of the great Greco-Roman God of the Wild, the horned and horny goat, Pan, a.k.a. the Roman Faunus, a.k.a. Lupercus the shepherd god, the Lord of the Lupercal.  I also call Pan the Patron Saint of the Bonobos since their Latin classification is Pan Paniscus, and they are the horniest apes on Earth.
Not being very bonoboësque, the early Church turned poor Pan into the Devil around the time it outlawed Lupercalia, eventually replacing it with Valentine's Day. The rest is Satanic history. With Pan's horns on my hat (three sets!) and his horniness in my heart, I tell the remarkable, part-mythological and part-historical story of the holiday which you can find in fuller form here, here, here or here.
As I started doing in 2016, I cast some of my guests and staff into playing the main characters in this tale of tails, and voila: we have another excellent Commedia Erotica theatrical production of the Bonoboville Players.  One of our surprise guests, the esteemed artist/mistress Sheree Rose, calls our Lupercalia Commedia the "best performance art" she's "ever seen"—and she's seen—and done—a lot of performance art!
Performance art, bonobo liberation, erotic theater therapy, erotic hypnosis, or just having fun while learning, the goal is to relax your defenses and wake up your senses, including your sense of history.
Romulus & Remus in Bonoboville
I begin with the star, namesake and true feminist heroine of the Lupercal, the Luper. If you don't know a "luper" from a "leper," the former is Latin for "She-Wolf."  Our Luper is played in fine "furry" fashion by the voluptuous and brainy librarian Milf/Mistress, wife and mother, Rhiannon Aarons.
The other two main characters of our Lupercalia Commedia are twin brothers, Romulus and Remus, the sons of Mars (God of War) and Rhea Silvia (daughter of King Numitor of Alba Longa). Our Romulus is played by our favorite (and only) februa-maker, Jux Lii of JuxLeather, shirtless in a kilt. It's not quite a toga, but more Roman than jeans.
The part of Romulus' twin brother Remus is played by sexy submissive Bambi Leigh, whose amazing heart-shaped butt wowed us all at our Anti-Inaugural Circus, and wows us again as she pulls up the skirt of her tight white mini-dress to reveal her candy ass and sweet pussy pie. Yes indeed, she's going commando! Woohoo and whoa! We turn the Facebook Live cam in the other direction, as the DrSuzy.Tv cam zooms in for a close-up, and the congregation surges forward for a better look at Ms. Leigh's divinely constructed, also heart-shaped vulva.
It's true that our "twins" don't look anything like each other. Moreover, our Remus is a beautiful girl, not a guy. Here in Bonoboville, this is what we call Commedia Erotica "license." Oddly enough, their last names are pronounced the same: Lii and Leigh. Also, since so many of the old-time heroes were either men or nonhuman animals, it gives us an excuse to have more hot women on the stage.
The Great Wolf/Milf of Rome
Soon after Romulus and Remus are born, their evil great uncle Amulius has them tossed into the Tiber River. Reprising his critically acclaimed Lupercalia 2016's performance, with extra salty Italian cursing and exclaiming, is veteran character actor of  El Teatro Arlecchino in Genoa, Italy, Capt'n Max, who also happens to have been born in Rome.
In this production, the Tiber River is played with great creativity and sensuality by our own heart-shape-bunned Gypsy Bonobo wearing red devil horns on her head and pasties on her nipples which keep falling off, much to the chagrin of the Facebook cam operator and much to the delight of the crowd. Well, who can keep pasties on in a River?
After Romulus and Remus are tossed into the Tiber, they are miraculously rescued by the She-Wolf who "suckles" them in that cave they call the Lupercal. A wolf suckling human babies sounds pretty crazy. However, when you think about it, it's not as farfetched as an immaculate conception.
Interestingly, the word "lupa" is Latin slang for "prostitute," making the Luper/Lupa of Lupercalia the Great Wolf-MILF of ancient Rome, also censored by the Church as a harlot not worthy of even a corny Valentine. When you think about it, or watch this show, the Lupa/Luper word play explains a lot… especially all the suckling.  
At this climactic moment in our Commedia Erotica play, our Romulus and Remus get on either side of our She-Wolf and really chow down like hungry babies, sucking her lovely natural tits—I mean, teats.
Being a real-life Mom, Rhiannon knows something about breast-feeding. Like a true Method actor, she pours her life experience into her portrayal of the She-Wolf who suckles the heroic founders of Rome. Our Romulus and Remus, more given to oral passion than passionate oratory, appear to really relish this!
Nurtured on wolf's milk, Romulus and Remus grow up strong—maybe a little too strong. Remember, these boys are sons of Mars, not bonobos, so pretty much as soon as they can walk, they go off and murder their Great Uncle, though he sort of deserved it for having tossed them in the Tiber and stealing their Granddad's kingdom. Then they go down the road a few miles to build their own city, but they fight over a fence—or maybe, you could call it a wall. A "Beee-yoo-ti-full wall," as our unpresidented president Humpty Trumpty might say, sitting on this Great Wall. Then, as now, such man-made barriers to movement can be great sources of contention.
Thus, fighting like common chimps over the damned dumb fence, Romulus kills his brother Remus.
Being bonobo sapiens here in Bonoboville, we change the ending from Romulus killing Remus to Romulus spanking Remus' bare butt with the paddle Goddess Phoenix gave to me at our Pre-Lupercalia Fyber-Optic Flog Fest. I know, it's an "alt fact" to have Romulus paddling Remus instead of killing Remus, but at least we admit that it is. Besides, it gives us another chance to ogle Bambi Leigh's Valentine-shaped bare ass.
Blood and Lipstick
Meanwhile, back in the Roman foundation myth, Romulus mourns and struggles with his guilt over somewhat accidentally killing his beloved twin brother. Vanity wins out over fraternity, however, when he names their city "Rome," after himself. Otherwise, we'd all say "When in Reme, do as the Remans…"
In any case, Remus' spirit lives on, as does that of Romulus, in the college fraternities that would meet sometime between February 13th-18th every year within that dark, womb-like cave of the Lupercal where the She-Wolf/Whore (Luper/Lupa) once suckled and nurtured their twin great-great-grandfathers. There they sacrificed a goat to Pan and marked each other's foreheads with its blood. In Bonoboville, instead of goat's blood, I use red lipstick to mark my guests' foreheads with Lupercalian hearts. Though Sheree said that when she celebrates Lupercalia in the future, she'll use real goat's blood.
Before and after performing these blood-red and milk-white mysteries (not uncoincidentally the familiar, dramatic, red and white hues of Valentine's Day), the ancient Luperci got religiously drunk. This we honor later in the show with a ritualized Bonoboville Communion between Gypsy and Rhiannon, featuring both of their sets of luscious mammaries, capable of suckling a new generation of heroes. The ancients drank wine, of course; our Holy Water is Agwa de Bolivia Herbal Coca Leaf Liqueur.
From the goatskin, the Luperci cut the "februa" whips and then ran out of their cave, laughing and howling like wolves, as they raced through the hills and towns, whipping, snapping, whacking, flogging and stroking the hands and willing behinds of ladies looking for luck, love and fertility.  
Pregnant Trump, Valentine Putin & Fascism by Incoherence
To represent an odd, somewhat disturbing form of "fertility," we flash a shot of an evocative drawing project on a wall in New York on Valentine's Day, featuring a romantic, naked Putin spooning an also naked, very pregnant Trump.
Speaking of Trump, we alternately gag, spank and flog him (in voodoo doll form) throughout the show for embarrassing America at his recent, rambling, disjointed press conference—a sort of "fascism by incoherence"—peppered with "alt facts" and name-calling nastiness. With reality taking on less meaning than Reality TV, it is much easier for those in seats of power to do what they want to the people without interference.
We must continue to go bonobos and go "lupey" for resistance!
Mistress Cyan & Genesis to "Tie the Knot"
At this point, the story-telling portion of the program gives way to the flogging, and we whip it up for Lupercalia 2017 with some of the finest flogging mistresses.
DomCon's FemDom-in-Chief Mistress Cyan, decked out in a shiny black latex catsuit, is our alpha headmistress of the evening. Winner of the 2016 SUZY Award for "Best Dr. Suzy Spanking," Ms. Cyan gave me my first adult birthday spanking in 2005, as well as a very nice flogging before I'd even heard of Lupercalia, and she generously dishes out spankings and floggings galore on Lupercalia 2017 to Gypsy, Bambi and our birthday girl Jacquie Blu.
Having just given a series of seminars and demonstrations on "impact play" at Stanford University, Mistress Cyan knows what she's flogging about.
As always, Sanctuary's Head Mistress comes with an entourage, this time including her partner Genesis and Lady Remedy Ann, as well as Garry Spain. This is Lady Remedy's second Lupercalia in Bonoboville, and she gets into the ritual flogging with relish.
As for Genesis, a.k.a. Genny, she and Mistress Cyan have a momentous announcement to share, auspiciously delivered during the season of the High Holidays of Love. That is, they will be getting married this summer! Marriage is not for everyone (one of three "hard limits" for Jacquie!), but Capt'n Max and I have loved being married for almost a quarter century.
We are very excited to see Mistress Cyan and Genesis "tie the knot" (so to speak) of sweet marital bondage, and we wish them all the very best.
I'm touched and honored when the venerable Mistress Cyan permits me to mark her forehead with the red-lipstick Lupercalian heart. After she accepts the heart, so do Genny and Remedy, as do many others in the Bonoboville Congregation.  Actually, by the end of this show, almost everyone's head has a heart-on!
The Magnificent Mistress Porcelain
Within a gathering of fabulous FemDoms, Mistress Porcelain Midnight is always a standout. DomCon LA 2017 Mistress of Ceremonies and winner of two 2016 SUZY awards for "Most Creative Domme" and "Best Bonobo Way Book-Spanking," she looks stunning for Lupercalia in a royal purple latex and lace bikini that really shows off her amazing heart-shaped ass.
She uses Jacquie's birthday gal ass to give us a great demo of why she won "Best Bonobo Way Book-Spanking," and she does quite a bit of flogging on her first Lupercalia celebration, to the tune of Carmina Formosa's "The Kinkster," inspired by The Bonobo Way. 
Always the gracious guest, Ms. Porcelain brings us a beautiful bouquet of February flowers. One of our slogans for Lupercalia is "floggers not flowers," but with Ms. Porcelain, we'll take flowers and floggers any day.

And yes, besides getting a good birthday book-spanking from Ms. Porcelain, Jacquie gets an OTK (Over the Knee) spanking from Sheree Rose, and floggings and spankings galore from Ms. Cyan and Rhiannon (not to mention a titty-squeeze from Ron Jeremy on her actual birthday), giving her one happy Lupercalian-red behind.

The Church may have banned Lupercalia for centuries, sugar-coating its lusty history with the forced coupling of Valentine's Day, but we are bringing it back from the annals of prehistoric Rome to the anals—and hot heart-shaped asses—of modern Bonoboville.  And why not? I'm all for romance, and I've got the almost 25-year-old marriage certificate to prove it. But I'll take communal lust and pleasure over commercialized love and pressure any time. Better to have your buns beaten (lightly) on Lupercalia than have your heart broken (badly) on Valentine's Day.
Meanwhile until Lupercalia 2018, if you haven't already done so, it's time to sign up for DomCon 2017 where you will see all these lovely ladies, and I will be a Guest of Honor!
The He-Wolf, Glyde Awards & the Politics of Stupidity
In the midst of all this wild Lupercalian FemDom flogging steps shirtless "Sexiest Rapper" 2016 SUZY award-winning Ikkor the Wolf, rapping "She Bad" as the ladies twerk, spank and commune.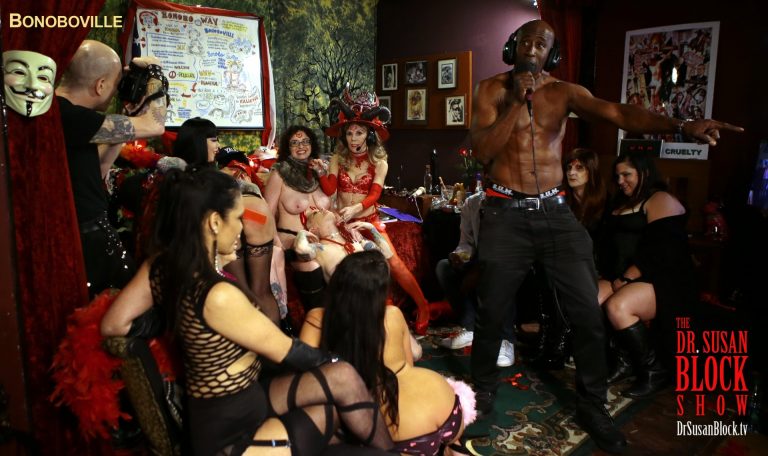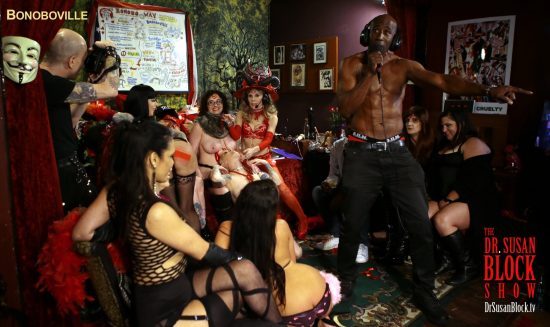 Between the He-Wolf and the She-Wolf, there's a whole lot of howling going on in this show.
Since we have several SUZY award winners in the Lupercalia congregation, we pass around the one (and only!) statuette for posing. Some of you may have noticed that its head is "protected" by a very durable condom, that condom being a Glyde America Vegan Condom, the world's best, most sustainable condoms and winners of our "Best Condom" 2016 SUZY award. Thanks Glyde, for keeping Bonoboville well-stocked, safe and responsible!
We also get a surprise visit from comedian Daryl Wright, 2011 SUZY Award winner for "Most Intoxicated," and his sexy new GF Valerie. They don't do much on the show, though I do give Valerie a lipstick hard-on, and Daryl gets a close-up view of Bonoboville Communion. Later Valerie confesses that she'd like to be flogged, though Daryl isn't exactly all about it. However, he is all about praising Trump for being a "genius" because he landed his clown car of billionaire incompetents in the White House without even winning the popular vote. Valerie even admits to voting for the Orange One. Daryl might have, but he can't vote because he's a convicted felon.
I guess you could say that any dictator who swindles the populace is a "genius" of sorts. That doesn't make it right. In fact, it's almost a recipe for making it wrong.
Daryl "hates" Hillary because she "wanted it too bad." He and Valerie say they admire Trump because he has captured the hearts of the "stupid people," because he speaks their language. He is one of them. Personally, I'd rather not have a Dictatorship of the Stupid, but I guess that's just me, Max and a few out-of-touch safety pin liberals.
Honestly, I fantasize about doing to these two American nudniks what Romulus did to Remus, but I try to be bonobo about it and talk with them. Then Daryl starts yelling like a Trump Bro, and Max gets testy. When I tell him he can leave unless he calms down, Daryl  calms right down and starts talking like a reasonable person about how everything Trump has done in office so far has been terrible.
Then Valerie takes off her top and parades around the bar as I snap photos of her and Gypsy, and all politics are forgotten, or at least, forgiven.
 Until Lupercalia 2018…. Keep on flogging the Resistance!  And please post a comment. Love to hear from you.
Thanks to this week's volunteers: Camera Operator – Maurice Plough, Conwell Stewart; Photographers – B Natural, Jux Lii, Taylor; On-Campus Bonobos Abe Perez, Del Rey, Gypsy Bonobo, Harry Sapien, Jacquie Blu, MarsFX, Johnny Jungle, Clemmy Cockatoo, Ana & Miguel.
© February 19, 2017. Susan Block, Ph.D., a.k.a. "Dr. Suzy," is a world renowned LA sex therapist, author of The Bonobo Way: The Evolution of Peace through Pleasure and horny housewife, occasionally seen on HBO and other channels. For speaking engagements, call 310-568-0066.