Pre-Lupercalia Fiber-Optic Flogfest!
Length 1:32:05 Date: February 4, 2017
It's February, so-named for the februa, leather strips that the ancient Roman Lupercalians would wield across hot palms and willing behinds, flogging and whipping the populace into a sexual frenzy that would very often lead to a baby boom nine months later.
Lupercalia is the original Valentine's Day, when the mid-February festival focused more on the pleasures of inclusive lust than the pressures of exclusive love. Unsurprisingly, the ancient pagan, Pan-centered Lupercalia was far too wild for the early Christian Church. Once ensconced in the power seat of Rome, the Church turned the horned and horny, great and goat-legged god Pan into Satan, aka the Devil, and transformed "The Lupercal" into the sanitized, commercialized holiday we now know as Valentine's Day.
Pan Paniscus and Valentine-Shaped Buns
In a way, I love Valentine's Day—because I love love. Married almost 25 years (to the same man!), I'm a living proof of lasting love, and Capt'n Max and I celebrate it every day, even when we're too mad to even talk to each other. But honestly, single or married, I've always found Valentine's Day to be rather forced; so, when I discovered its freewheeling roots in Lupercalia, I was thrilled to put my heartfelt February energy into the primeval Festival of the Februa.
Moreover, here in Bonoboville we are lupey for Lupercalia, partly because we are perpetually inspired by Pan, God of the Wild and patron saint of the bonobos, their Latin classification being Pan Paniscus. This year, not only are we whipping it up for Lupercalia, we're gearing up for it with this first Saturday of February pre-Lupercalian warm-up.
Speaking of the heart, there's another symbol of Valentine's Day, as well as a popular social media icon, which seems Lupercalian in origin. Consider that the classic Valentine "heart" looks nothing like the cardiac organ for which it appears to be named. It does, however, closely resemble a well-whipped set of buns. No wonder we call the perfect ass, "heart-shaped." Because the heart logo's dimensions are that of the perfect ass. Moreover, when it's whipped or flogged, it glows bright red… just like several butts on this wild, whiptastic show.
Goddess Phoenix & FetPros
Kicking off our pre-Lupercalia warm-up is one of the world's finest floggers, DomCon's resplendent red-carpet hostess and professional Dominatrix extraordinaire, Goddess Phoenix, who first graced our stage on New Year's Eve, winning the 2016 SUZY award for "Most Dazzling Domme." Once again, the Goddess dazzles the Womb Room with her hypnotic fiber-optic floggers that seem to shoot like stars across the heart-shaped asses of several subbies, electrifying the ancient Lupercalian custom with a 21st century spin.
She also lets us know about her brand new brainchild, FetPros.com, here to "fill the hole" (in more ways than one) that the demise of Backpage's adult section created. Fetpros features professional FemDoms, Masters, slaves and submissives showing off their BDSM talents, turning 50 Shades of Grey into 50 million colors of the fetish rainbow.
The Goddess displays her various leather, light-up and soft-cloth floggers with rhythmic flair, as well as her powerful hands, on several willing behinds, including our own Gypsy Bonobo and Jacquie Blu, to the spank-catchy tune of Carmina Formosa's "The Kinkster."
The Joy of Ms. Joy Luck
However, the Goddess focuses much of her dazzling dominance on a beautiful virgin to Bonoboville, Ms. Joy Luck, fet-pro player of Sanctuary Studios LAX.
Ms. Joy Luck more than lives up to her name, as she is a joy, and we are lucky to have her. With more than "enthusiastic consent," she follows Goddess Phoenix's instructions and subjects her heart-shaped ass to her various implements of pain and pleasure, pronouncing each stroke "delicious."
Pre-Lupercalian Sybian Ride
After the break, the plucky Ms. Luck volunteers to ride the Sybian—for the first time! First she strips naked, as the Womb Room gasps, murmurs and suddenly gets a lot more crowded. People in the bar, gallery and the garden see her on the monitors, stop what they're doing, and soon are thronging in to witness, up-close, this vision of loveliness, a nude Venus amongst us, the Goddess of Beauty herself, giggling and mounting the infernal machine.
To keep the Lupercalian rhythm going, Goddess Phoenix whacks Ms. Luck from behind with a neon orange paddle she later gives me as a gift, and I spank her other cheek with The Bonobo Way, as she fingers her shaved labia and clitoris.
Actually, she seems to enjoy the spanking more than the Sybian, as she dismounts before she comes, and asks for more spanks and flogs, which we are only too happy to provide her.
Later, the Goddess generously lets a couple of my other guests, Madam Raven Rae and Sir Pent try out her fiber-optic floggers on Ms. Joy Luck's lovely, lucky naked derriere.
Sexy Madam Raven Rae  
It's great to see Madam RavenRae, whom we last saw on Winter Solstice with Elvis, back in Bonoboville. She's like a member of the family that we haven't seen since the holidays.
FetPros supporter and Goddess Phoenix's partner in FemDom Power Parties, as well as winner of the 2016 SUZY award for "Sexiest Domme," Madam RavenRae is sexy as ever in rich Lupercalian burgundy to match my own.
Sir Pent & His Nipple-licious Slavegals
Also on DrSuzy.Tv for the first time is the gallant Sir Pent (pronounced "serpent"), with his two submissives, one of whom is his wife, aka Slave Princess, while the other is her best friend, submissive Fire. Both curvy ladies are only too happy to be flogged by their Sir, simultaneously or separately, butts or boobs. 
Fire even submits to a special pre-Lupercalian naked boob-flogging, her prodigious nipples hardening with each flick of the Februa.

This reminds me to give a shout-out to good old Cosmo magazine, which features my advice on nipple play in the current issue. This triggers Gypsy's fond memories of her first sex lessons as a young Cosmo Girl. Maybe some of those lessons were from me… No wonder she turned out so fantastic.

Nipple play leads to relationship talk, and Sir Pent and his nipple-licious slavegals divulge some juicy details of their boundaried but BDSM-open Ménage à Trois.
The Wolf Howls for the Lupercal
And wouldn't you know it: several members of the cast of "Ménage à Trois," the erotic trilogy by Tuesday Conner that we featured on last Saturday's show, join us from our studio audience, including Tuesday, the Oracle, Twin Butterflies and "Sexiest Rapper" 2016 SUZY award winner, Ikkor the Wolf.
The Wolf happens to be another Lupercalian power symbol. The star of the Lupercalia story is its namesake, the "Luper." If you don't know a "luper" from a "leper," the former is Latin for "She-Wolf." I'll tell you more of the story on February 18 when we celebrate Lupercalia, or you can check out last year's Commedia Erotica performance. For now, I'll just say that the Luper makes her star appearance when she miraculously rescues the infant twins, Romulus and Remus, the future founders of ancient Rome, from drowning in the Tiber River. Then, she "suckles" them in a cave they call the Lupercal. Interestingly, the word "lupa" is Latin slang for "prostitute"… which explains a lot, especially all the suckling.
Ikkor is most definitely a He-Wolf, though he nourishes the Womb Room with his music.  He doesn't even have to stand up; he just lays back between the sexy legs of Madam RavenRae as he raps, "She Bad," and we all dance and flog our hearts with februa.
Trump/Bannon Wrecking Ball
Did you think that, aside from the safety pins on my boobs, we managed to avoid politics on this show? Not a chance! How is it even possible, with such crazy "alternative facts" (the latest being Kellyanne Conway's much parodied, nonexistent "Bowling Green Massacre"), along with shocking and unconstitutional executive orders shooting like misplaced missiles out of the White House on a daily basis, in the face of some of the largest protests the world has ever seen?  Is this chaos sheer incompetence or something more nefarious; a deliberate Art of War-like maneuver to push the media and the public into such a confused, out-of-balance state that we can't even see that this brand new executive team without a mandate is taking a wrecking ball to peace, liberty and all that we hold dear.
This is why I love the meme parodying Miley Cyrus' "Wrecking Ball" with a near-naked and quite corpulent Trump riding the wrecking ball that is Stephen K. Bannon's head. As the Clown-in-Chief and his surrogates lurch, screech and crash into things, like drunken kids driving a tank down Main Street, Bannon is fulfilling his mission to "wreck" the America he seems to so passionately resent.
Continuing to celebrate the Chinese New Year of the Cock, we keep Trump under "gag order" with a dildo. We also put him in a collar and a sailor hat (symbolizing his relationship with Navy man Bannon as well as his lethally botched Navy Seal mission against an Al Queda house in Yemen). You could say it's our Trumpocalypse Therapy, kind of like using a punching bag to release frustrations, or maybe a voodoo doll.  But Trump only cares about people saying he's got a big one (cock or inauguration crowd), when we all know it's pretty tiny.  He just wants to be loved, which must be a bitch when you've got the lowest approval rating of any new U.S. President… ever!
Bannon is more of a true believer, in love with war and crisis (just look at his films), as well as capitalism, nationalism, patriarchy and "Judeo-Christian values," which, according to the second of his three ex-wives, comes down to his being an old-fashioned wife-beater.
World Bonobo Day & Golden Age
What's a good ethical hedonist to do? Resist and protest, practicing rƎVO˩utionary peace through pleasure, the Bonobo Way. Speaking of which, February 14th is "World Bonobo Day," as so declared by our friends at the Bonobo Project. So, please donate what you can to these wonderful folks, as well as Lola ya Bonobo and the Bonobo Conservation Initiative, and give the gift of The Bonobo Way on Valentine's Day to someone you love, even if that someone is YOU.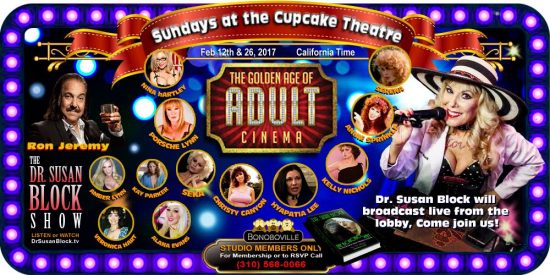 Just before Valentine's Day, we will broadcast The Dr. Susan Block Show live on Sunday, February 12th from the Cupcake Theater with Nina Hartley, Seka, Ron Jeremy, Amber Lynn, Kay Parker, Veronica Hart, Alana Evans, Hyapatia Lee, Kelly Nichols and more stars of the Golden Age of Adult Cinema – nothing to do with Trump's Golden Showers… then again, who knows?
Post-Show Flogging, Orgasms & Bonobo Love
Meanwhile, on this pre-Lupercalia warm-up show, the flogging continues into the wee hours. I even get a fiber-optic flogging lesson from Goddess Phoenix, using Jacquie's amenable ass and back for my target practice.
Then it's time for my Valentine. After kissing our guests on both cheeks, we grab each other's not-exactly-heart-shaped but very happy buns… to romp together like young Lupercalians through the orgasmic countryside of our marriage bed.
Don't miss Lupercalia 2017 – featuring  Mistress Porcelain Midnight,  Bambi Leigh and more –  next Saturday, February 18th in Bonoboville.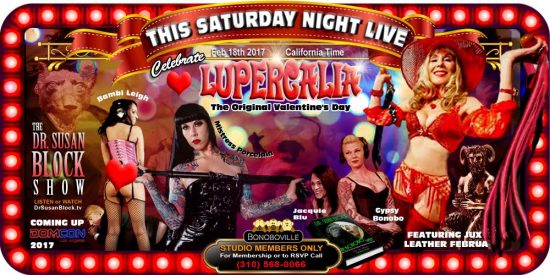 As always, join us in-studio or watch us online.
Thanks to this week's volunteers: Camera Operator – Conwell Stewart; Photographers – 2G Photography, Andy Martin, B Natural, Diego Sanchez, Jux Lii; Bartender– Marcia Parker; and our On-Campus Bonobos Abe Perez, Del Rey, Gypsy Bonobo, Harry Sapien, Jacquie Blu, MarsFX, Johnny Jungle, Clemmy Cockatoo, Ana & Miguel.
© February 5, 2017. Susan Block, Ph.D., a.k.a. "Dr. Suzy," is a world renowned LA sex therapist, author of The Bonobo Way: The Evolution of Peace through Pleasure and horny housewife, occasionally seen on HBO and other channels. For speaking engagements, call 310-568-0066.