F.D.R. (F*ck Da Rich):

OnlyFans Flips! Wars Suck! Bonobos Rock!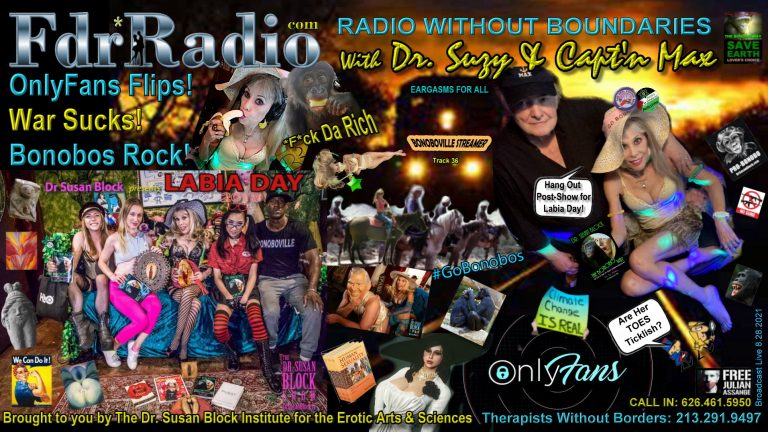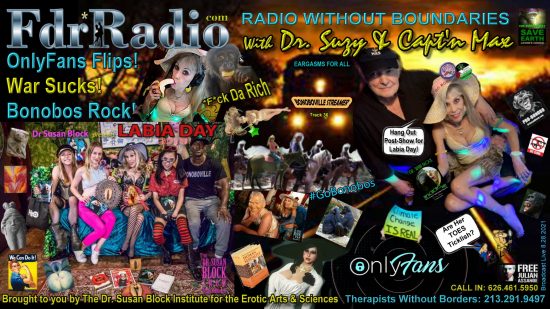 Length 01:36:13 Date: August 28, 2021
by Dr. Susan Block.
Is humanity going bananas? Or have we always been this crazy, and it's just the Internet click-bait mainstream media mixed with the hysterical social media that make us seem more bonkers than we really are? Or is the media making us bananas? Or is it the Coronapocalypse?
This is a central topic of exploration as I eat a banana (we #GoBonobos for bananas and vice versa) and Capt'n Max sips a Corona (don't blame the beer for the virus!) on our very sapiosexual, penetrating and eargasmic broadcast.
Yes, most people call shows like ours "podcasts," and sometimes I do too for the sake of clarity; but really, I'm a broad, not a pod.
Our Holy Trinity of main subjects are: 1) OnlyFans Flips 2) War Sucks & 3) Bonobos Rock.
OnlyFans Cries Uncle!
First we celebrate the giant flipflop of OnlyFans. Just last Saturday, we were ranting in rage over this site rising to success on the basis of sexually explicit content announcing that it was going to start censoring sexually explicit content.
Well, apparently our ranting, combined with the screams of OnlyFans sex worker creators, shook that company out of its sanctimony.
When the sex workers, fans and Free Speech advocates cried "foul," OnlyFans cried "Uncle!"
Of course, it's a temporary "suspension" of what appears to be impending censorship, which sounds like the proverbial ax could drop at any time (so OnlyFans creators would be wise to plan accordingly and diversify their platforms). Nevertheless, it's at least a short-term economic victory for sex workers, and—I hope and want to believe—a long term public relations triumph as the mainstream gets to witness sex workers as workers, like all workers of the world, but with special skills in the erotic arts and sciences—including a gift for effective screaming.
The publicity also brings to light the insidious anti-sex efforts of Dominionist groups like Exodus Cry, supported by the New York Times' sleazy Puritan-in-residence Nick Kristoff. These religious political groups pretend to fight "trafficking," but really want to make porn and other forms of legal sex work illegal, in addition to making life as miserable as possible for those sex workers struggling on the margins.
Listen to F.D.R. and/or read my latest Counterpunch article for more about why and how OnlyFans Flips Its Fanny.
And celebrate! Kick up your flipflops and have a Corona (the beer, not the disease)!
No More Perma-War
Chugging along through the Tunnel of Love, we make a stop in a War Zone.
As the world can see—and shouldn't be shocked by—Afghanistan is a mess. This might have something to do with the constant fumbling of "leadership," and it's true, for the most part that these Pentagon generals are not geniuses; they are stewards for the Military Industrial Complex (MIC), and they don't even know how to win wars, let alone exit gracefully. However, the horror we are witnessing is mostly reflective of the inherently vicious nature of war in all its stages: invasion, occupation and evacuation.

Destiny plays a larger role in our lives than we hubristic humans will ever understand.

Biden is no genius, saint, orator, or even very lucid much of the time, but he's just trying to clean up a very bad mess. In terms of leadership, the ultimate blame for this mess goes to the evil architects of the Afghanistan invasion and occupation, George W. Bush (now a painter and pontificator!), Dick Cheney (irritatingly still alive), Donald Rumsfeld (Rot in Piss, Rummy!) and the rest of those nasty Neocons who conned and just plain forced Americans into what many call "Forever War" (in Afghanistan and Iraq) and what I've long called Perma-War (since 2002) that we're now trying to straighten out.
You ever try to straighten out a bad perm? Well, I have, and let me tell you, it's murder.
And yes (as predicted, but still shocking), tragically and horrifically, a real mass-murder blasted through the heart of the evacuation.
As those of you who know us know, Max and I don't often say "thank you for your service" to the troops. For the past several decades, the American military and its "troops" have waged wars that benefited no one but the MIC and a few oligarchs. We don't blame the lowly "troops" for America's horrific foreign policy, and we understand that they join up because they want a secure job, the military being one of the few American agencies that practices socialism. Nevertheless, we're not about to "thank" them for their service anymore than the folks that deliver our mail. Actually less, because they joined an organization that commits violence in America's name.
But we do give a heartfelt "thank you for your service" to the extremely brave troops that are manning the Kabul airport to try to keep people safe—that's real "service"—and we mourn those that perished in the ISIS-K bomb blast on Thursday. They are heroes because they died helping to end a war, not wage one. They probably didn't choose that role; maybe they even joined the Marines because they were pumped to fight "bad guys." But destiny plays a larger role in our lives than we hubristic humans will ever understand. So, they died ending a war, not starting one, and we thank them for their service and honor their terrible deaths, along with the dozens of Afghan civilians who died with them.


Hopefully, we will learn our lesson and never invade and occupy another country, but I'm not betting the Bonoboville farm on that.
ISIS Ammosexual Incels
Pride pushes America to fight back. Obviously, I support Biden's pull-out, but not his retaliatory drone strike. Even if it only killed fighters, as was first announced, that's not likely to phase suicide bombers. Plus the horrific tragedy is that it did kill several innocent civilians. And if our relationship goes back to them suicide-bombing us and us droning them, isn't that another war?
ISIS-K suicide bombers are scary. Who would become a human explosive? Like the WWII Japanese Kamikazes, the suicide bombers seem inscrutable to the American way of war which prefers droning their enemies.
Some suicide bombers are probably forced into it. Imagine being given the choice of 1) dying by an immediate bullet in your head or 2) getting a decent meal and a warm, inspirational pep talk before being strapped into the explosives, given a push into a crowd and letting fate take its course (some bombs don't detonate). A "Sophie's choice" like that is such a frightening position to be put in, I can't say these involuntary suicide bombers are truly evil. Some are almost as trapped as their victims.
But others are caught up in religious fervor, fantasizing they'll go to a glorious, rather erotic heaven for such an awful act, and/or they are righteously angry at American Empire, perhaps because a relative was killed by a U.S. drone. Some just want to die and bring as many fellow humans as possible down with them.

In both the East and West, the lack of a satisfying, socially sanctioned, sexual outlet is a central part of a constellation of issues that come together to form a human explosive

There's nothing good about suicide, but Capt'n Max and I both have respect for those who take their own lives without taking anyone else with them. It's sad, but people who die by suicide (these days you aren't supposed to say "commit" suicide, which strikes me as odd verbal hair-splitting, but not worth fighting about) aren't evil by any means, whereas suicide bombers, who take as many people as they can with them, certainly are.
Why would they do such a thing? Being a sexologist, I tend to see sex—or the lack thereof—as a motivation for these crazy acts. I'd wager that most voluntary suicide bombers are ammosexual incels, and I explain why on this show.
Without a doubt, voluntary suicide bombers are ammosexual—people that love weapons with erotic passion—as they are willingly strapping live explosives to their bodies. Sometimes, like the Underwear Bomber, the device is attached to the most intimate parts of their naked flesh.
Are they incels, that is, "involuntary celibates"? Though some have parents, siblings and cousins that may or may not approve of their deadly acts, most don't have grieving spouses or lovers, and many appear to be young male virgins. The "involuntary" nature of their virginity might be due to poverty and/or religion, but it is no more or less forced upon them it is on the ammosexual incels of Western culture who complain about their lack of sex or women's rejection before gunning down innocents and sometimes themselves.


Interestingly, in both the East and West, the lack of a satisfying, socially sanctioned, sexual outlet is a central part of a constellation of issues that come together to form a human explosive—or mass-murderer, depending on your personal and cultural weapons of choice.
Covid Bombs
Westerners have other odd routes to becoming suicide bombers. Yes, the way the anti-vax anti-mask folks are catching, dying from and spreading Covid, they're essentially slow, stealth suicide bombers. The difference is the suicide bombers know what they're doing; at least the voluntary ones do. The Covidiots think the virus is a hoax, the vaccine makes them sterile, masks are for Nazi-led sheep or they're immunized by their fervent belief in the Gospel according to Donald Jesus Christ tRump.
Some say we should let the unmasked and unvaxxed just kill each other (and there will be less MAGAts and QAnoners), except they are spreading the disease among the more vaccinated population as well. Though taking the vaccine renders you more capable of fighting severe disease and death, you can still get Covid, suffer perhaps chronically, and even die.
Just when we think we're done with the Covid topic, thanks to our inexperience with Clubhouse, suddenly Kristen is on the air with us, eager to share his "I'm not anti-vax; I'm just not vaxxed" position again. Since he already explained it on F.D.R., it wouldn't be fair to our listeners to give it more valuable airtime, especially as it encourages people to forgo the vaccine! We believe in airing opposing views, but not overdoing that "fairness" to the point our own point of view gets lost in the debating sauce.
We love Kristen, as we love many past DrSuzy.Tv guests and volunteers who have worked and played in Bonoboville so closely and wonderfully with us for some 30 years, many of whom, like Kristen, are not vaccinated, and some of whom won't even wear masks. Therefore, for the foreseeable future, we will be loving them from afar.
At least we haven't seen any of our old friends tearing up supermarkets or airports with tantrums because vaccines and/or masks are required to do whatever they might want to do. Here Afghan people are hanging from planes to come to America, and Americans are fighting on planes, Ugly Americans fighting for their "right" to spread disease like suicide bombers.
Maybe it's harsh to compare Covid spreaders with suicide bombers, and to be fair, it's not just Americans. Covidiocy has spread around the world, along with Covid-19.
This Delta variant is particularly wicked, which is why Capt'n Max and I have basically become shut-ins. I've been a kinky adventurer most of my life, but excuse me if I don't challenge Domina Delta to a catfight. Don't feel sorry for Max and me though; we never lack for amusements in Bonoboville, though admittedly there are fewer than there used to be.
And there's always good, old-fashioned, marital sex! Pretty cheap, convenient, organic and not environmentally destructive. In this bananas world, sex helps keep you somewhat sane. Well, me at least.


As some of you may have figured out, we often (but not always—can't be too predictable!) have sex on a Friday night which is considered a "mitzvah" (good deed) in Judaism. And it was a very good deed indeed—I even called out to Jesus!—infused with the orgasmic, hole-y spirit of sex. Amen and Awomen. I love all the gods and goddesses.
Happy Labia Day 2021!
Listen to F.D.R. as we talk about the importance of sexual expression—physically, intellectually and spiritually—as well as sex education, thanks to some Redditors who provide us with stimulating questions and stories.
We're on several platforms, but the Reddit crowd are the most interactive. Lots of interesting comments and questions. One dude says that with my hat, bustier and evil grin, I look like I'm cosplaying Lady Dimitrescu Mods from Resident Evil Village. I had no idea who she was, so no, I'm not cosplaying her, but since I've been sporting my own signature hat and bustier for over 25 years, I'd say chances are good that she's cosplaying me. Though the fabulous Mae West preceded us both.
I suppose, since I am such a Make-Love-Not-War bonobo gal (and honestly the Resident Evil Village videos, though skillfully executed, are way too gory for me), that Lady Dimitrescu Mods would be my Evil Twin.
Other topics include the latest Climate Crises here, there and everywhere; Generation Q; humanity's tribal nature; flipflops for foot fetishists; the influence of advertising dollars on censorship; "trigger warnings" and their relationship to Roy Rogers' horse; our silly salacious police raid; why some people identify as "asexual"; Dr. Joycelyn Elders and the importance of sex education; wild shows and orgiastic bacchanals of Bonoboville's pre-pandemic past and much more!
Speaking of wild shows and sex-education, don't miss this week's awesome, orgasmic throwback, Labia Day 2018!
Yes indeed, it's almost Labor Day, not one of the more inspiring holidays on the calendar, since its never seemed like a true workers' day like May Day. So, fed up with the old unsatisfying Labor Day matrix, I decided to read between the lines—and lips—to find a similar, onomatopoetic, but far more suitable and bonoboësque name for this early September day off from the daily grind.
Don't miss it!
And free Julian Assange! We don't have time to talk about him on this show, but his current incarceration is an example of modern MIC-boosting government censorship at its most cruel and unreasonable.
And Happy Birthday Miguel!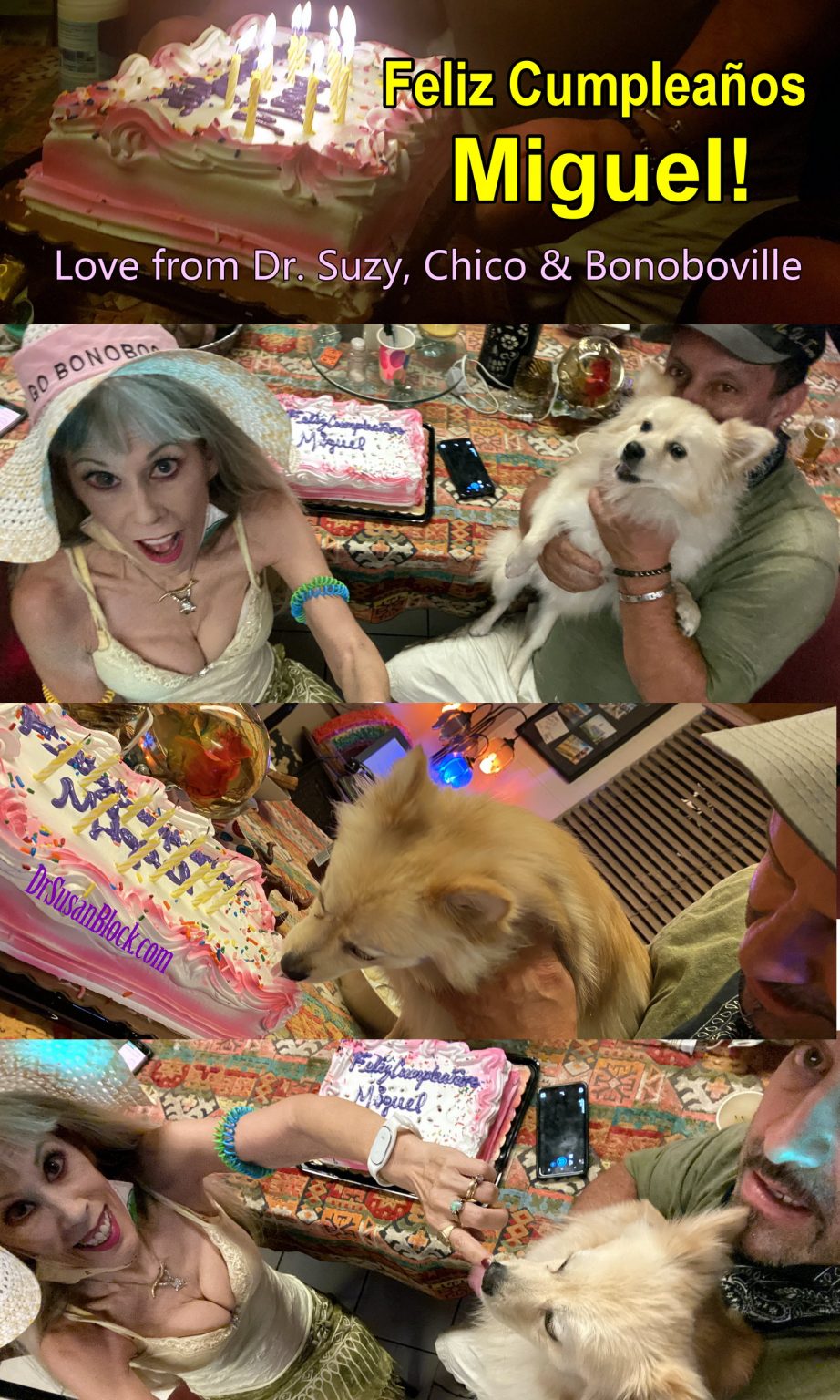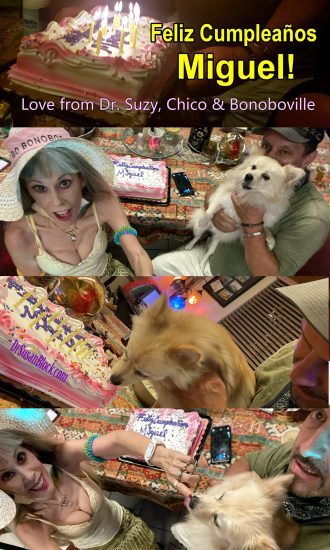 Breaking News: RIP Ed Asner, who just passed away as I write this. We will talk more about this great actor, union leader and leftist activist next F.D.R. and in the meantime, enjoy this interview I did with Ed at the Hollywood Show. And remember to follow Ed's excellent sex advice: "Relax!"
© August 28, 2021 Susan Block, Ph.D., a.k.a. "Dr. Suzy," is a world renowned LA sex therapist, author of The Bonobo Way: The Evolution of Peace through Pleasure and horny housewife, occasionally seen on HBO and other channels. For speaking engagements, call 213-291-9497.
"OnlyFans Flips! War Sucks! Bonobos Rock!" PHOTO ALBUM