F.D.R. (F*ck Da Rich):

OnlyFans, Afghanistan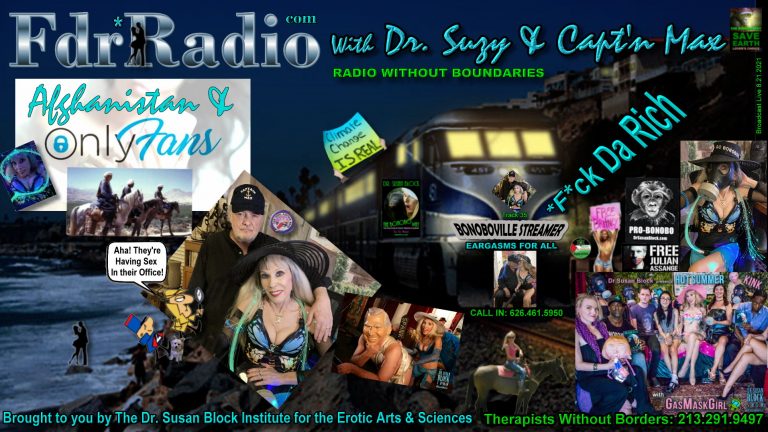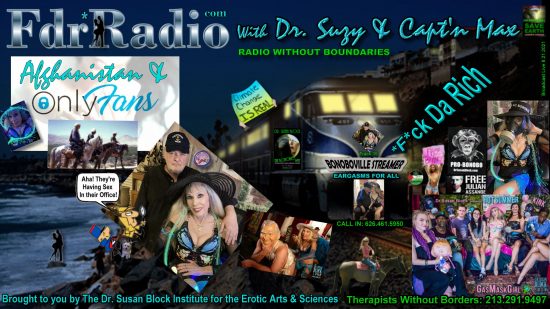 Length 01:16:35 Date: August 21, 2021
by Dr. Susan Block.
This show's original title was censored on Reddit. We first called it "Love, War, Incels & OnlyFans," but a minute into our live broadcast, Reddit shut us off announcing that something (they wouldn't say what) was in violation of their "standards." Quick-trying to think like a bot, we changed the title to "Love, War & OnlyFans," and then all was well; in fact, in our first 20 minutes or so, we gained another 5000 listeners on Reddit alone (a lot for us); Joe Rogaine, watch your big dildonic head—we're coming down on you!
But alas and alack—a BIG lack of Free Speech!—when I started talking about ammosexual "incels," Reddit shut us off again. I wasn't encouraging the ammosexual incel mentality; in fact, I was sharply criticizing it and talking about how we as individuals and a community can combat it. However, the censorship bots generally can't tell whether you're using a word to promote or critique something, so they just censor first and ask questions… never.
OnlyFans Flips Its Fanny
(This section has been revised since the show to reflect OF's flipflops)
Read "OnlyFans Flips Its Fanny" on Counterpunch


The latest bomblet to drop on sex workers in the newly revitalized Holy War on consenting adult sexuality has turned out to be a dud. Last week, OnlyFans, a site known for its sexually explicit content, dramatically announced that it would no longer allow sexually explicit content. Less than a week later, they—just as dramatically—changed their mind.
OnlyFans has proven itself to be a very fickle pimp

Talk about a flipflop!
OnlyFans has proven itself to be a very fickle pimp.
The response to the first announcement that they were shutting down the porn was intense. Sex workers screamed they couldn't pay rent. First Amendment defenders worried over the speech-suppressing power of Mastercard. Twitter guffawed that OnlyFans banning porn was like KFC not selling chicken, or as Stephen Colbert chortled, "They know that fans of OnlyFans are only fans of one thing, right?"
Apparently, the screams, jokes and worries were too much to bear (or bare), and OnlyFans put the brakes on the censorship, abruptly and (somewhat) contritely stating, ""Thank you to everyone for making your voices heard… We have secured assurances necessary to support our diverse creator community and have suspended the planned October 1 policy change. OnlyFans stands for inclusion and we will continue to provide a home for all creators."
This is a victory for Free Speech and sex workers, even though OnlyFans (OF) doesn't even apologize for giving its hardworking adult content creators economic and emotional whiplash. Moreover, they say they have "suspended" the planned changes, rather than canceled—or better yet, trampled on—them.
OnlyFans Not Taliban
Talk about biting the hand that strokes you—and then asking for more strokes… while threatening to bite it again, though who knows when? Now creators aren't sure whether to celebrate with new content or pull out of this on-and-off bad romance that's starting to remind them of their toxic ex-lover who only proposed marriage after they were caught cheating.
See, "pulling out" isn't just the right thing to do in Afghanistan. Toxic situations abound around us. Whether it's our fault or Dubya's, sometimes it's best to just split.
Not that OnlyFans is the Taliban. They won't amputate your hand if you're caught stealing. But they will cut off your account if you reveal something they deem too "explicit."
So, though many sex workers are relieved and happy to relax and stay, at least for now, others are migrating to similar sites, like JustforFans, Frisk, Fansly, AVNStars and PocketStars, nipping at OnlyFans' designer heels.
Sex Workers of the World Unite!
How did OnlyFans get its fanny spanked by its own fans and creators?
In the beginning, circa 2016, when OF was just a fresh, innocent, U.K.-based start-up, resourceful porn stars, strippers and other sex workers discovered its potential as a platform for selling their "adult" content directly to fans, a safe, reliable, sex-positive haven in a cold, sex-negative (but sex-obsessed) world.
Especially well-suited for erotic performers with differently shaped bodies, disabilities, independent temperaments and special talents who don't tend to be hired or well-treated by the big adult film companies, as well as for those who like to work from home, OF has been a lifesaver during the Coronapocalypse. When many sex workers didn't receive Covid Relief—a slap in the face and pocketbook since sex workers are workers too—OF was there to heal the sting.
One measure of OF's positive effect on erotic entertainment was that it pissed off regular porn producers who couldn't rely as easily on desperate performers to do unappealing scenes on the cheap.
As more and more sex workers used, promoted and earned decent livings from OF, they made the company a major financial success. Celebrities such as Beyoncé, Bella Thorne and Cardi B joined in on the fun and profit, dropped OnlyFans' name in songs and blew it up into a full-fledged phenomenon, paying out more than $300 million a month to content creators.
With more and more "fans," it seemed everyone benefited, including the lowest-level sex workers. Though I never joined (having a hunch about the platform's impending fickleness), I was happy for my friends and the many DrSuzy.Tv guests who made good money, free from directors pressuring them to engage in uncomfortable scenes, creating their content for "only fans" who enjoy it enough to pay for it.
Dominionists in Your Bedroom
Then a funny thing happened on the way to the bank. As Axios reports, "sex sells but it also scares off venture capitalists." Once the already rich and famous started using the site, that sounded the bell to usher the lower-income sex workers into the digital gas chambers where their hard work would be exterminated like pestilence… only for it to be resuscitated a few days later, with the veiled threat that it would soon be gassed again.
Sadly, sex workers have been sucker-punched like this before, such as when Tumblr banned porn, Patreon suspended adult content creators and Federal authorities shut down Backpage in 2018. In 2020, thanks to hooker-obsessed New York Times hack Nick Kristoff and the pernicious Christian Dominionist group, Exodus Cry (run by sleazy breezy Laila Mickelwait), MasterCard and Visa cut off Pornhub (Paypal already had in 2019), forcing performers to find yet other payment options. Interesting factoid: Facebook has far more cases of "sex trafficking recruitment" and "child sexual abuse material" than Pornhub.
OnlyFans has had its faults; they've been too lax with fraudulent accounts, and skimming 20% from hardworking creators is some pricey pimping. However, OF was a lifeline in the quicksand swallowing up sex workers during the (ongong) pandemic. María Riot, an active sex worker and OnlyFans creator, tweeted, "OnlyFans made it possible for many sex workers to pay rent and food during a pandemic where in-person work was and still is a huge risk. It helped me to say no to potential bad clients and turn down porn shoots with exploitative companies because I already had my basic needs covered… Prohibition only pushes sex workers to the margins, to be less safe, more exposed to violence and exploitation. It does not stop trafficking and abuse. It further conceals it and exposes unrecognized workers to further criminalization, erasure, fear and persecution."
When OnlyFans announced it had essentially joined Team Censorship, the company appeared to expect sex workers like Maria Riot to simply pick up their porn and move, like gypsies or the houseless in so many areas of the U.S. Many sex workers worried they'd have to go back to "the streets" or risk their lives working as masseuses like the ones who were mass-murdered by a customer upset by their "temptation."
It's a risky world out there these days, and for sex workers it's even riskier. OnlyFans owner Leonid Radvinsky (who also owns MyFreeCams) and the Sunday Times-dubbed "King of Homemade Porn," Founder/CEO Tim Stokely, stoking the flames of risk with their flip-floppy business approach just makes it a little riskier.
It's also painfully ironic to read Radvinsky and Stokely's public relations hogwash about standing for "inclusion" when they were ready just hours before to throw their most popular content creators under the bus to success on the highway through hell.
Adding insults to injuries (and more jokes for the comedy shows), there was the sexual hair-splitting. Though "explicit" content was deemed forbidden, nudes were still okay (as long as they weren't too sexy)… or were they? Of course, now those vague new rules have been "suspended," or are they? Like most big social media, OnlyFans informs you of what is and is not allowed in as ambiguous a way as possible. Added to their flipflopping, they are sure to confuse anguished content creators, driving them to self-censorship, self-harm and worse.
What erotophobic, hypocritical forces pushed OnlyFans into almost slaughtering its own cash cow, only to turn around and moo, "Bessie, I love you! Give us a kiss… please!"?
First, let's dispense with the laughable but infuriating notion that "cracking down" on "sexually explicit content" helps to reduce the exploitation of minors or other nonconsenting victims of sex trafficking—or any of the other excuses the anti-sex brigades deploy as cover for their control fetish and the Holy War they're waging for absolute Puritanical power, aka "Dominion."
SESTA/FOSTA Follies
Remember the SESTA/FOSTA laws of 2018? Backed by the anti-sex brigades, they were supposed to stop sex trafficking. However, hard Government Accountability Office statistics show that SESTA/FOSTA have done nothing to stop sex trafficking, but they do a lot to harm consenting adult sex workers. Of course, that's part of the plan these anti-sex Holy Warriors, like Kristoff's beloved Exodus Cry, have in mind. They also have a nasty—and often deliberate—habit of conflating two very different forms of sex work: illegal prostitution and legal adult film production.
"Pornography has been declared separate from prostitution since the People v. Freeman in 1988," says Sinnamon Love, a Black feminist pornographer, founder of the BIPOC Adult Industry Collective and former guest on DrSuzy.Tv (back in 1999!). "This is a legal industry. The ways in which these anti-porn lobbyists are trying to equate pornography with prostitution and pornography with exploitation is really trying to roll back a federal [ruling]."
Just as the U.S. invasion and occupation of Afghanistan was never about "winning" a war (it was about serving the "Merchants of Death"), so SESTA/FOSTA laws were never about stopping sex traffickers. They were and are about serving and empowering the anti-sex crusaders (on the Right and the Left) and their bought-and-paid-for politicians, the real prostitutes in this torrid tale.
From porn sites to news to social media, these politically connected, cash-rich, religious, anti-sex groups (many of which are connected to Dominionism) are putting our once "free" Internet into a chokehold. They have been busily pressuring the already "risk-averse" Mastercard company, which now refuses to process sex-related transactions without invasive ID verification and other prohibitive requirements. The ugly capitalist truth is that payment processors are the ultimate judge and jury of what can be sold online, and they can deny service to anyone their bots deem risky, essentially ruining their livelihoods, if not their lives.
The credit card behemoth's excuse is that customers "charge back" transactions for "adult" goods and services—but they do this mainly because Mastercard lets them charge back sex-related transactions far more easily than any others.
It's also because our sanctimonious society denigrates sex work even as we consume it like a starving baby gorging on Mommy's milk only to spit it up into her beautiful, nurturing face.
A Sex Worker Victory!
Just when all seemed lost for our heroic sex workers, a miracle happened! Well, the "miracle" of remembering OnlyFans' fanny; that is, its "bottom" line. Realizing how much moola it stood to lose, not only did OF change its mind on a dime, so did its "banks." So it seems those dreadful chargebacks are no big deal, unless the bankers want them to be.
That's Stokeley's story and he's sticking to it, at least for now. Metro Bank and Bank of New York Mellon made "it difficult to pay our creators," though he would not say what bank is now supposedly proving to be more of a player than a prude.
"They were about to have a mass exodus of creators and subscribers and fell back," observes OnlyFans content creator and DrSuzy.Tv guest King Noire. "They knew sex workers brought them money and they thought they could fuck us over and no one would care. We called bullshit."
And OnlyFans called "Uncle!"
Yay! #GoBonobos! Chalk one up for the sex workers! At least, for now.
Read "OnlyFans Flips Its Fanny" on Counterpunch


From OnlyFans to Afghanistan
This brings us back to Afghanistan. If you're a regular F.D.R. listener, you know the many reasons why we support pulling out, the main one being we should have never invaded that country in the first place. The "first place" was, in fact, 40 years ago, when in our fervent effort to defeat Communism, we armed the Mujahedeen that created the Taliban. In other words, without American and Soviet intervention, there would be no Taliban in Afghanistan.

Pulling out is good, but pulling out is messy.


So maybe once we're gone for a while, they will also be gone. After all their main appeal is that they effectively resist the imperial invaders (that's us).
When I was in Afghanistan, it was opening up, and working women in Kabul wore sleeveless tops and miniskirts on the street. Ironically for the U.S. and its current moralizing "what about the women?" complaint, when Soviet influence was strong in Afghanistan, the country was most supportive of women's rights, and that's exactly when the U.S. started arming the Mujahedeen and future Taliban.
George Dubya Bush, Dickface McCheney and Rummy the Dummy managed to make a bad thing worse in Afghanistan. A lot worse. That band of ammosexual neocons deserves most of the blame for this mess.
And yes, pulling out is good, but pulling out is messy. It's actually awful, with human beings falling off planes, tossing babies over fences and scrambling to get out before you're killed for helping the Americans. It's like pulling out of Vietnam, but in some ways worse because there's more media, though the Khmer Rouge' devastation of Cambodia could give the Taliban a run for their cruelty.
Here's a big question: Is the U.S. really truly pulling out and surrendering to peace, or are we just turning the place upside down, just to continue drone-bombing the poor people of Afghanistan anyway—guaranteeing that the Taliban will grow in strength as a counterpoint to us American devils?
It's tough to compare atrocities, but there's no doubt the Taliban are awful in that medieval sort of way, abusing and executing women for showing an ankle and LGBTQ people just for existing, as well as musicians, dancers, artists and just about anyone doing anything they see as outside Sharia law. It's ironic since the Taliban's big cash-cow business is opium. Talk about hypocrisy.
As I've said many times, in addition to our interpreters and other helpers (whom the Taliban see, not unreasonably, as traitors), we ought to help vulnerable Afghan women and LGBTQ people leave too. If an Afghan is willing to say they're gay, I can virtually guarantee they're not lying.
Horse Dewormer? How about Horse DeMagat…
Speaking of lying, the MAGAt camp, while whining predictably about Biden's handling of an inevitably messy pull-out, is conveniently forgetting that their infallible Trumpty Dumpty set up the deal to leave with the Taliban last year, even persuading Pakistan to release from prison the chief who helped the late Mullah Omar start and run the Taliban back in the 1990s. History comes full circle, after hundreds of thousands of lives and hundreds of billions of dollars have been lost.
And speaking of tRump, I swore I wasn't going to talk about horses again for a while, but now the MAGAts are ingesting Horse Dewormer, aka Ivermectin, promoted by Fox news to treat Covid. They're afraid to take a vaccine, but they'll take Horse Dewormer they purchase in a livestock feed store—no problem! I love horses, and I often tell you to release your inner animal, that humans are, in fact, animals. However, that doesn't mean you should eat dog food or take non-human animal medications.
If only Horse Dewormer was also Horse DeMAGAt…


Seriously, despite our (admittedly pretty lame) efforts, Covid keeps up its killing spree. After mocking the virus as a hoax and spreading vaccine misinformation, Phil Valentine, often called "the new Rush Limbaugh" (to savor the passing of the old Rush, read my Anti-Eulogy) just died from the thing he denied. What a way to go.
Phil was unvaxxed, but some vaccinated people are getting it too, and while the great majority don't suffer much, some do. Our thoughts are with pioneering civil rights leader, Jesse Jackson, and his wife, vaccinated and just hospitalized with the dreaded Delta variant.
Interestingly, Native American are more likely to get vaccinated than any other American populations. Experts thought they would shun the shots, but no, Native Americans have the nation's highest Covid vaccination rate. "They're very wise," points out Capt'n Max.
Yes, I'd follow the advice of these wise men and women, some of whom are witchdoctors—real witchdoctors, not the QAnonsense-squawking quacks telling you the vaccine will turn you into an alien spaceship with Bill Gates' hologram bursting from your breastbone. Aaaagggh!
Bewitching Office Sex
Witches are an ongoing theme of this show. Max says OnlyFans is going after witches—the belladonnas—in addition to sex workers—or maybe Mastercard conflates porn with witchcraft.
Now that I think of it, he might have meant vampires, but he said witches, and we also get a question from a guy wants to know what to do about his girlfriend's "stupid" witch videos.
I'd say the problem isn't the witch videos, but the fact he finds them "stupid." No judgment here, but this indicates a serious compatibility issue. If Max found my witch videos—or any of my videos—stupid, I don't think we'd be going on any Adventures in Senior Sex.
Listen to the show for our "Senior (Sex) Moment" when we reveal secrets of making your orgasms grow bigger and better with age. Though you might have to give up on assuming some of the more athletic sex positions; no flying angels for the over-60 set.
For instance, we love to have office sex. This is partly because we are (almost) always working. We used to satisfy our mid-workday urges with a quickie bent over the desk or maybe a little oral from under the desk.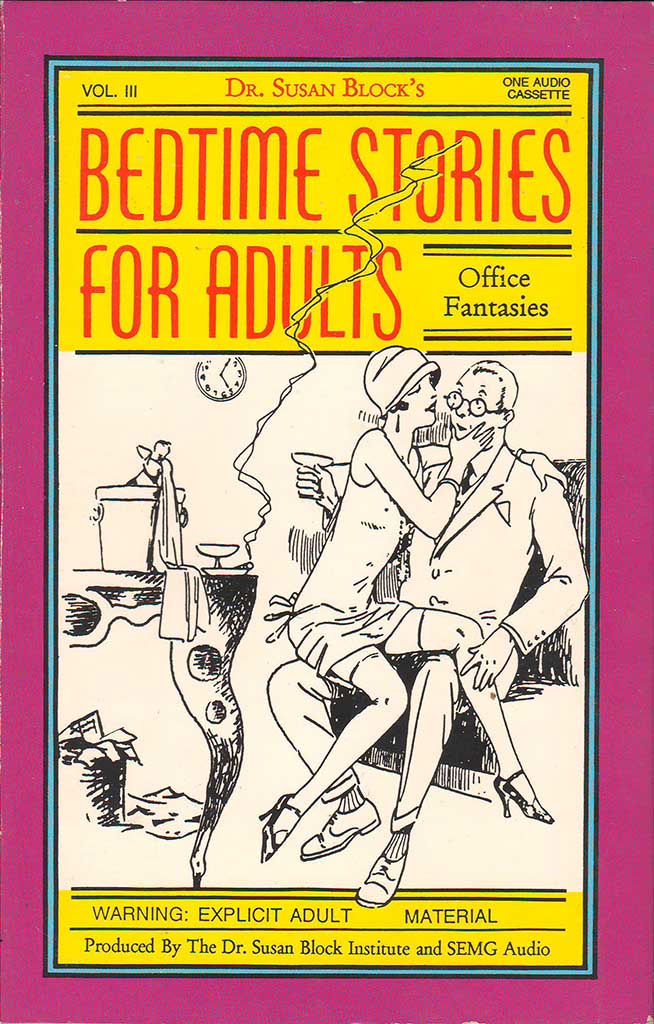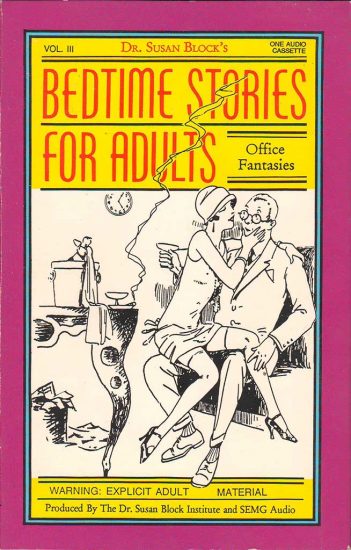 But we're a bit too old to assume those positions with ease these days, so we are fortunate to have a bed in our office. Though Inspector Amber Abeya of the Arcadia City Inspectors' Office doesn't think so; in fact, she's out to make office sex illegal! That is, if it's in a bed; under or over the desk is okay. What about under the bed?
And the plot of our police raid/panty raid thickens…
Speaking of mature sex, a 30-something Redditor asks for tips in maintaining his Cougar/cub relationship with a woman 20 years older than him. Listen up for our advice, including Max's stories of being picked up by Cougars when he was a young Elvis impersonator on the Italian Riviera.
As for me, I get more than my fair share of Cougar-lustful compliments on this show with the camera turned on me again.
This gives me a chance to give some of my begging foot fetish fans a treat and show off my feet! It's another steamy night, so I'm stocking-free, making a foot-reveal easy, though my sole is a little dirty (pun intended).
Speaking of hot summer kink, that's the name of our Bacchanalian throwback: Hot Summer Kink with GasMaskGirl.
We broadcast this show live in 2018, predicting everyone would soon be masking up, and here we are.
And unlike OnlyFans, we won't charge you (for now), and we'll never censor our own site.
Left Be Friends!



My "Survival of the Friendliest" interview (which fascist Facebook censored at first, but it's up again—at least for now) about bonobos, dogs and humans is now on Counterpunch. Hopefully, our bonobo cousins can inspire Lefties with their amazing abilities to share resources, empower females and eliminate murder and war. I call it The Bonobo Way. And our beloved dogs can maybe help us be friendlier with our fellow humans… or at least fellow Lefties.
Seriously, Brothers and Sisters, there's too much in-fighting on the Left! I consider myself a Lefty, but politics is my hobby, not my profession. Despite the ongoing censorship challenges, I'm glad I'm a sexologist, not a professional political commentator, because many of these so-called Lefties, especially the really successful ones, seem to hate each other! Maybe it's just an act for ratings, but they criticize each other almost as much as they do the Right Wing, sometimes more.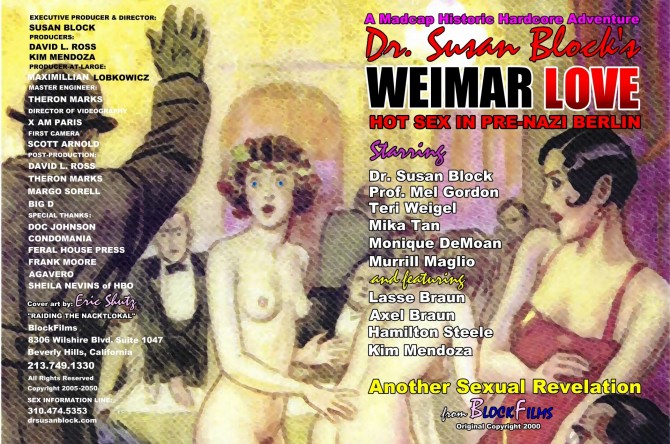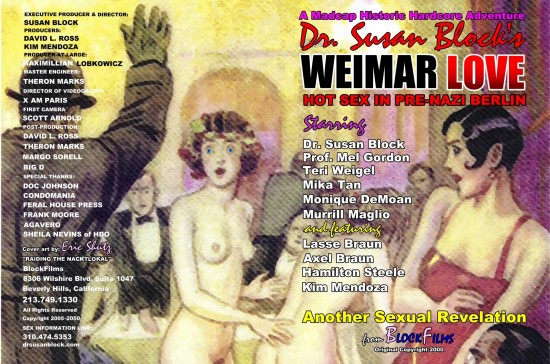 Anyone who says the Left is a Cult is high on horse dewormer. The Left can't agree on anything. I suppose this shows that we Lefties are independent freethinkers, unlike those authoritarian Right-Wingers. It also—as the historic fate of Weimar Germany reveals—fertile soil for fascism to grow.
In Free Britney News, we feel obliged to give our gal Britney a friendly reminder not to smack anyone's hands or even just the phones in their hands or any kind of nonconsensual, contract-signed smack… at least not now while freedom is so close, we can smell it.
Meanwhile Julian Assange is still locked up in Hades, London. The worst kind of censorship is where they censor your whole life which is essentially what they have done to Assange.
Censoring Incel Critics
Now back to the reason this show was censored on Reddit: my use of the word "incels." In this case, Reddit made what they were censoring pretty clear, but without spelling it out. That is, they deleted our live show entitled "Love, War, Incels & OnlyFans," and when we retitled it "Love, War & OnlyFans," they let us broadcast.
I realize Reddit has had some virulent Incel groups on their site, and they want to be vigilant, lest they turn into a mass-murder cheerleading site. But isn't it obvious that we're not promoting the Incel philosophy? Quite the contrary, we're severely critiquing it, attempting to warn our audience of its burgeoning dangers and exploring solutions. Of course, it's not obvious to a bot what the red flag of "incel" really means; easier to simply shut it down.
But how can you talk about stopping crime without using the word "crime"?


Sadly, Big Tech Censor Bots can't tell the difference between a murderer and the detective on the case because both use the same words.
It's like all Big Tech censorship—whether it's Google/Youtube, Facebook/IG, Twitter or Amazon—all of which are currently engaged in a frenzy of content/speech suppression that mainly hurts small content creators who aren't even the culprits their restrictions are supposed to be protecting society from. These Big Tech companies are so huge, they really should be public utilities. However, we're living in a privatized world and these are private companies, so they have a right to make their own private, economically-motivated decisions. The problem is that they are so big we all pretty much have to use them just to communicate with one another, including with our "fans." So, the Big Tech companies' unfairness, which would be no big deal if they were of reasonable size, is devastating to many different people, with sex workers on the front lines of the devastation, though all of us are being censored for sexual and political speech.
This had the effect of somewhat inhibiting my discussion of the ammosexual incel issue, but unfortunately for everyone, censorship is not going to exterminate this psychosexual virus, and there are many toxic variants, and no known vaccine. Virulent ammosexual incels are everywhere—cleaning their AR-15s in your nice neighbor lady's basement, riding on trucks with the Taliban toting AK-47s, storming the U.S. Capitol with a long flagpole for a phallic weapon (no guns allowed at the Insurrection), drone-bombing while pledging to no-fap, then suddenly "snapping" and spraying a corner of your community with death.
I'll have more to say about this shortly (watch this space)! But Big Tech censorship won't stop the Incel Rebellion any more effectively than SESTA/FOSTA stopped sex trafficking.
The AI of the bots is no match for the AI of the Ammosexual Incel, at least not at the moment. The real problem is these two types of AI are joining forces. Consider how many programmers are probably ammosexual incels.
The best solutions (the Bonobo Way, the Jigsaw technique) involve communication, but how can we communicate when we're being censored?
And so, we little Bonobo Sapiens ride the Love Train Speakeasy Bar Car where we "Speak Easy" about difficult topics for as long as we can talk about them, as we drink, smoke and grapple with creeping—and very creepy—fascism, censorship, sickness, violence and confusion from the Left and the Right.
Well, at least we have our orgasms! And our love… And all of that is free.
© August 21, 2021 Susan Block, Ph.D., a.k.a. "Dr. Suzy," is a world renowned LA sex therapist, author of The Bonobo Way: The Evolution of Peace through Pleasure and horny housewife, occasionally seen on HBO and other channels. For speaking engagements, call 213-291-9497.
ONLYFANS AFGHANISTAN PHOTO GALLERY