Dr. Susan Block Wins "Best Animal Activist" Award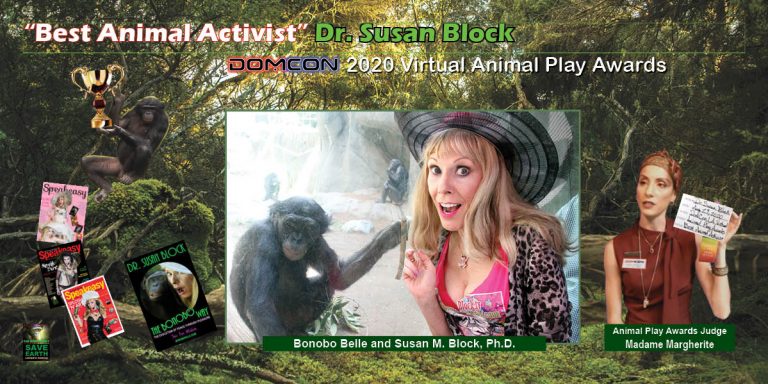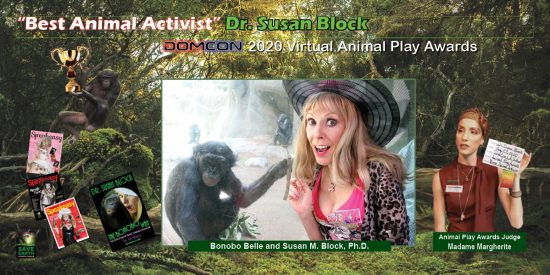 DomCon Animal Play Awards and Pet Show Director Madame Margherite presented the "Best Animal Activist" award to Dr. Susan Block at DomCon 2020 Virtual, honoring Dr. Block for her decades-long advocacy of the bonobo apes and active dedication to save humanity's highly endangered close cousins from extinction, as well as spreading The Bonobo Way of "peace through pleasure," FemDom power, male well-being and ecosexuality. Founder and director of the Block Bonobo Foundation, devoted to protecting and studying bonobo apes, as well promoting the Bonobo Way, Dr. Block's "pro-bonobo" efforts also include her Bonobo Way talks, presented annually at DomCon since 2015, as well as AASECT (American Association of Sex Educators, Counselors & Therapists) 2016 and 2019, Yale University (her Alma Mater) on WYBC, AdultCon, UC Berkeley and the Keynote Speech at the first academic Ecosexuality Symposium at University of Puerto Rico. It's all based on Dr. Block's critically-acclaimed book The Bonobo Way: The Evolution of Peace Through Pleasure, the manifesto that has educated thousands about the "Make Love Not War" bonobos, plus the 12 Steps to Releasing Your Inner Bonobo, a guide to incorporating some of the peaceful, female-empowering, pleasure-positive ways of the bonobo into your sexuality, your everyday life and human society at large.
---
Explore DrSusanBlock.com
Need to talk? Sext? Webcam? Do it here. Have you watched the show? No? Feel the sex. Don't miss the Forbidden Photographs—Hot Stuff, look at them closely here. Join our private social media Society. Join us live in studio 😊. Go shopping. Gift shop or The Market Place. DrSusanBlock.tv, real sex TV at your toe tips. Sex Clips Anyone? FASHION, we have fashion! We also have politics. Politics? Have you Read the book? No? How about the Speakeasy Journal? Click here. Ok, how about some free sex advice?
---
---