Labia Day 2019 live from the Womb Room!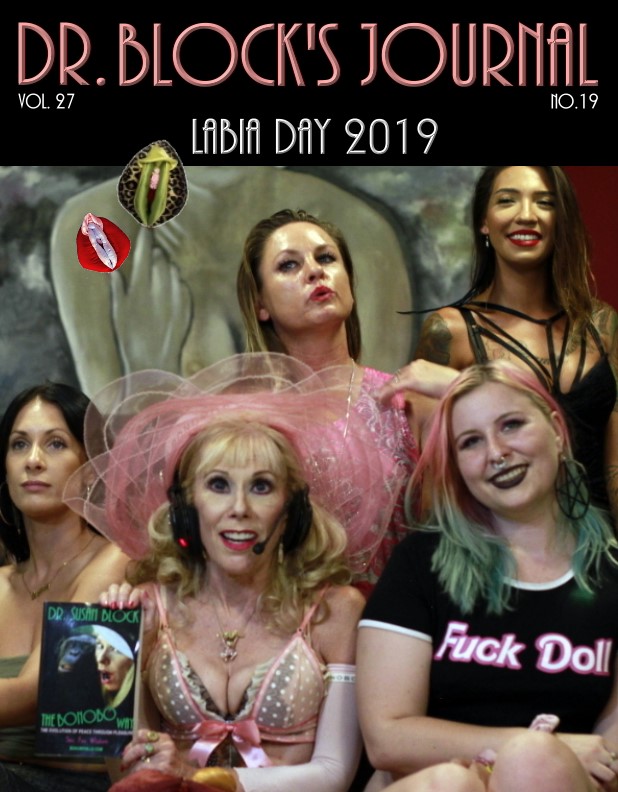 Length 01:26:05 Date: Aug 31st, 2019
Happy Labia Day, Brothers and Sisters, Lovers and Sinners!
It's our 5th annual Labia Day show live from the Womb Room sanctuary in the little Love Church of The Bonobo Way in Bonoboville.
#GoBonobos for Pussy Power!
WHY do we celebrate Labia Day on the Saturday before Labor Day?


Good question!
Labor Day Blues
Five lusty Labor Days ago, I felt my usual Labor Day pains, which have afflicted me since I was a child in the suburbs of Philly, laboring at growing up (which I never actually did), and then as a young lady laboriously pursuing her "higher" (yes, I did inhale) education at Yale.
In those bygone days, the first Monday of September always marked the close of another sunny summer, with "labor"—meaning school, winter and work—looming ominously and stressfully ahead.
Post-graduation (yes, much to my haters' shock and consternation, I did graduate from Yale) and after a few years in New York and San Francisco, I moved to LA, land of endless summer. I loved it. I still do. I've traveled the world, from Paris to Kathmandu, but I always come home to LA.
Yet Labor Day remains bittersweet. Like any public holiday, it's a good excuse to break out the booze and BBQs, but the whole "labor" theme has never struck me as an authentic celebration of "We the People," the 99% who didn't inherit money from Daddy—the real workers—and that includes sex workers.


In reality, Labor Day is more of a paltry pacifier thrown like a scrap to the starving from the obscenely overstocked banquet table of the .001%—the Trumps and the Pelosis, the Buffets and the Bezoses. It's one measly Monday where we theoretically don't have to labor for The Man, but we're supposed to consume high-calorie processed foods from company stores like Walmart, watch military-style parades and endure boring speeches from corrupt politicians.
A more apt, authentic date to honor the working classes is May 1st, an old pagan holiday of the people, the fairest of whom would dance around lovely phallic Maypoles and lead the occasional Spring uprising against the powers-that-be. More than 80 countries around the world celebrate International Workers' Day on May 1. The big exception is the U.S. of A. Fearing that commemorating May 1 as Labor Day would stir up socialist sentiments in the wake of Chicago's Haymarket Massacre and the Pullman Strike, in which U.S. Marshalls killed a number of striking workers, U.S. President Grover Cleveland deliberately ignored "May Day," choosing the first Monday of September in 1882 as *our* Labor Day.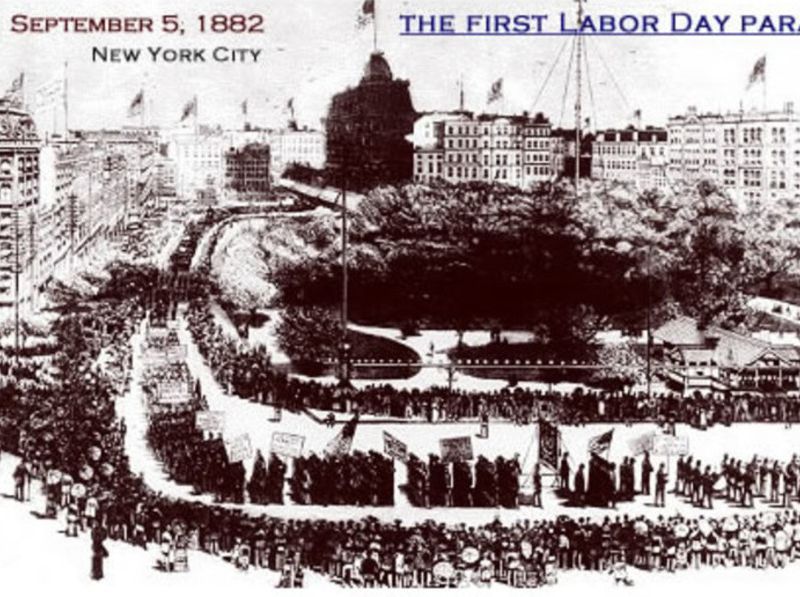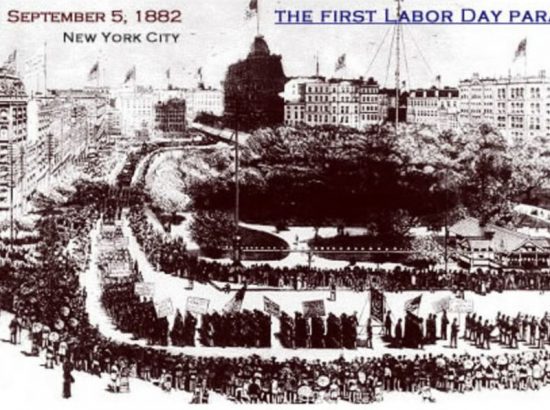 Not that capitalism takes a holiday, nor does corporate greed. On the contrary, to fully exploit the large numbers of non-laboring laborers (a.k.a., potential customers), "Labor Day" is a huge retail sale weekend. Thus, ironically, many laborers employed in the retail sector—more than half of whom are women—not only labor on Labor Day, but work longer hours.
Now with Trumpelthinskin in office, it's worse than ever for people who engage in actual "labor." Labor unions are being phased out, one bad Supreme Court ruling at a time—unless you're in that Dutch Shell union which required that you attend a Trump rally or not get paid–in my home state of Pennsylvania!

Unemployment may be low, but workers are laboring longer hours than ever for Uber, Amazon or "self-employment" in the 24/7 digital economy that was *supposed* to be a time-saver, but really never stops demanding our labor.
And what about sex workers?
Sex Workers of the World Unite!
Sounds good, but it's like herding cats…
Nevertheless, sex workers are workers, as the Trumpus well knows, having paid for—and "paid off"—quite a few, the most famous being our brave American heroine, Stormy Daniels.
And then there's Karen McDougal, not to mention First Sex Worker Melania.
But do we celebrate sex workers on Labor Day? Not a chance… at least not in public.
Labia Day is Born
Therefore, back in 2015, fed up with the old Labor Day matrix, I was inspired to read between the lines—and lips—to find a similar but far more suitable and bonoboësque name for this so-called "day off" from the daily grind.
Later, I learned I wasn't the only one to have this onomatopoetic epiphany as there are #LabiaDay hashtags going back to 2011.


Nevertheless, no one celebrates Labia Day quite like we do here in the Womb Room.

Thus, for me, and maybe now for you, Labor Day has become Labia Day… or actually, the Saturday before Labor Day, is Labia Day.
You all can gorge on penis-shaped grilled meat parts and buy a bunch of plastic with plastic on Monday, but how about giving the Saturday before up to Pussy Power?
Can I get an Amen? Can I get an AWOMEN?

Check out our first, second,  third and fourth celebrations, and get into the Labia Day spirit!
Now in its fifth great year, this fun, female-empowered and sex-educational new holiday has blossomed like a brilliant Georgia O'Keeffe flower in the Garden of Bonoboville, celebrating and exploring those ubiquitous but mysterious and always absolutely fabulous, fleshy doors to female pleasure, birth and miracles that we call labia (that's Latin for "lips").
Interestingly, this includes "labor" at its most basic, as a lady's nether lips "go into labor," along with the rest of her reproductive system, if and when she gives birth. Other times, a lady's labium (singular for labia) might tease, please, squeeze, release, open, close, squirt and explode in ecstasy.


Whether you have labia or you like labia or you're just "labia-curious," Labia Day is for you!
Kick off the Fall season with Pussy Galore.
Labia Day celebrates LIFE
After all, the labia are the doors to life.
Sure, there's in-vitro fertilization (IVF), but most human life is conceived when something—usually a penis or the IVF equivalent of a turkey baster—goes through the labia, the doors of sex, pleasure, pain, power, procreation and recreation.
If perchance the sperm fertilizes the egg within, about nine months later, the labia become the doors of birth. Though these days, many babies are born via Caesarian or "C-section"—sometimes to save the mother or baby's life (as in my own case), but mostly because it's more convenient for the doctor, with the added benefit to the hospital of adding a hefty extra charge to your bill. However, your natural way into this whacky world we call home is through the labial gateway.
Birth is a biggie, but unless you're one of those fecund females who gets knocked up every time she has sex, the labia are used far more often for recreation than procreation.
 The labia are the doors to the playground within—every woman's personal Womb Room.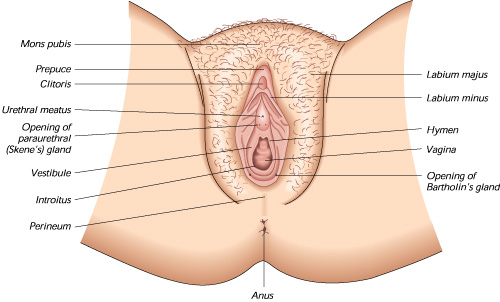 Anatomically speaking, every woman, including post-op transwomen, has two sets of labia, the labia majora or outer lips and the labia minora or inner lips. The labia majora are usually bigger and naturally covered with pubic hair. Though in some women, the labia minora are larger and fleshier than the labia majora and, especially when aroused, flare out beyond them like tropical flowers.
PHOTO 1: SELFIE. PHOTOS3: BIANCA.  PHOTOS 2 & 4: J.B.
Regardless of size, at the peak of these four luscious labia is the crowning jewel of female sensation, the clitoris or "clit," the most sensitive part of a woman's body, with over eight thousand nerve endings that have no function whatsoever except to receive pleasure.


We adore us some clitoris!
As I intoned on my first HBO show, the labia are the doors to a lady's pleasure, and the clitoris is the doorbell. A gentleman never enters a lady's pleasure palace without first ringing her doorbell.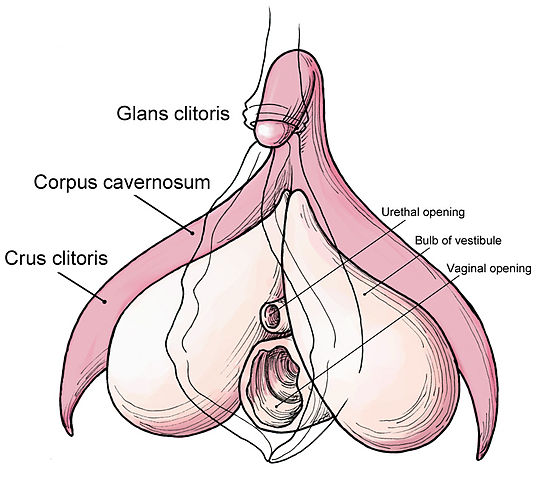 Gently please, and it never hurts to add a little lube. When it comes to real estate, the three most important factors are: "location, location, location." When it comes to labia pleasure, they're "lubrication, lubrication, lubrication." I recommend coconut oil if you're not using latex.


Every woman's two sets of labia are different, just as our clits, tits, feet, faces and other body parts are as different as snowflakes. No, it's not just liberals who are "snowflakes"; we all are.
Diversity makes us awesome!
Tomi Lahren is Gunning for Your Labia
Just in time for Labor Day, Fox TV blonde Tomi Lahren's new clothing line, Freedom, aka Free Dumb, is all made in China.
And just in time for Labia Day, Tomi's yoga pants and shorts have a holster for your lady gun right above your vajajay.


It's all naughty fun and games until someone shoots themselves between the labia. Clitty Clitty Bang Bang! Ouch.
Are Right Wingnuts okay with abortions if they're performed via Second Amendment methods? Because in this outfit, you can get the bloody job done while doing the plow position.


Hey, I'm open-minded; remember last week's Dolphin Sex show?

But this is a fetish I won't support, especially on Labia Day. I understand that a lot of people, including some of my guests on this show(!) feel that guns are sexy: the power, the danger, the phallic shape. Yet this takes ammosexual to crazy extremes. Then again, just being ammosexual is crazy. Or maybe it's the "new normal." More and more people are going ammosexual, but that doesn't mean I have to support it.
Tomi, get out of the clothing design business. Doesn't Fox pay you enough?
Play with the fire power between your legs and forget about the AR-15 under the bed. Need a hand? Call us…



Seriously, all summer, it seems that every other Saturday, there's a mass-murder. The biggest mass-shooting (yes, there were a few) on the afternoon of this show happened in Midlands and Odessa, Texas where Ana is!
Ana's okay (btw, she and Miguel just celebrated their birthdays, thus the pix above and below).
MIGUEL'S BIRTHDAY PARTY PHOTOS: AUTHOR
Still, it brings this crazy, ammosexually-charged mass-murder epidemic that much closer to home.
We really ought to learn from our Make-Love-Not-War bonobo ape cousins how to get on the path of peace through pleasure… if only our capitalism-corrupted leaders would let some of us workers—including sex workers—take the wheel.
Labia Art
The Dr. Susan Block Show is a show about sex with a capital X, though it's not always X-rated.
But this show is. After all, what's a Labia Day celebration without seeing some real-life labia?
I do demonstrate certain anatomical labia lessons (see outer and inner lips above) on my Wondrous Vulva Puppet by Dorrie Lane.


I collect labia art. I especially like pussy sculptures, though since our recent move, most are still packed away in (ahem) boxes.
My beautiful old Pussy Pipe, by sculptor Bill Pacak, never fails to amaze the Womb Room congregation, especially when I pull the inner labia out of the vulva to show everyone how it works.
My talented assistant Sunshine McWane makes balloon labia for Labia Day. Holding one, I feel like a kid at a clown-themed birthday party, but instead of a poodle, I've got a vulva.
We also show and discus the hilarious ancient sculpture of Baubo, the ancient Greek Goddess of Mirth, whom I learned about in Pussy: A Reclamation by Regena Thomashauer. When Demeter, Goddess of the Harvest, was deeply depressed over losing her daughter Persephone to Hades, the King of the Underworld, Baubo suddenly and mirthfully revealed her pussy, thereby bringing her out of her funk.
Baubo is kind of an old hag version of Aphrodite, known as Venus to the Romans, Goddess of Love, Sex, Pleasure and, of course, the Mount of Venus.
We honor her under an umbrella emblazoned with Sandro Botticelli's Birth of Venus.
Also fascinating and very funny are the Sheela na gigs ("Sheela" being the Irish form of the Anglo-Norman name "Cecile," and "gig" being English slang for female genitalia), Irish Medieval female gargoyles opening up their labia with their hands, often positioned over the entryways of churches. There are different interpretations of these odd ancient sculptures; to me, they represent more proof that the labia are indeed, the doors to the sanctuary, the Womb Room, a place of worship and wonder.
And they are the gateway to pleasure, to creation, to paradise. When streaming with come, they are truly the Pearly Gates, but just to the Little Death, not the big one. Not many die inside a vagina, despite the myth of Vagina Dentata (vagina with teeth).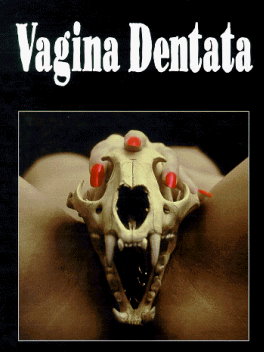 Though the art and artifacts are marvelous, the real-life labia are even more impressive.
PHOTOS: J.B.
Kudos to Sunshine and Violet Coxx, for sharing their lovely labia on Labia Day.
Pussy Talk
Before the labia "come out," I discuss various labia-related issues with my bevy of beautiful guests.
Here in the Womb Room, we call this "Pussy Talk."
The vagina loquens or "talking vagina" is a tradition in literature and art, dating back to ancient times, that involves vaginas, vulvas or pussies talking (usually thanks to a magic charm), the labia operating like our upper lips, usually about sex.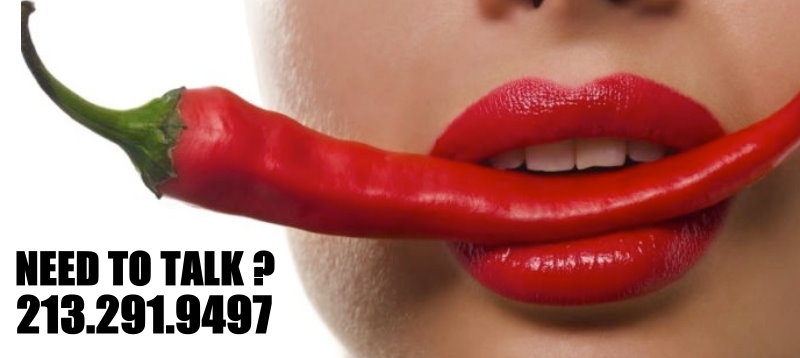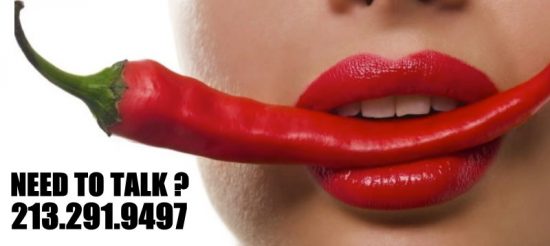 Our "pussy talk" is also about sex, with an emphasis on the pussy for Labia Day.
I have a bevy of beautiful guests on this show, including the aforementioned Violet Coxx who made her debut on DrSuzy.Tv a few weeks ago in Violet Gold. She (and her labia) made such a good impression, we invited her back for Labia Day.
We also invited our longtime friend and show guest, the fabulous Amanda Blow. Amanda was first on the show waaaay back in 2011 in Porn Star Girlfriend and, most recently for My Birthday in 2017.
Amanda Blow earns her name by giving some of the world's best blowjobs on and off camera. She has given many, as well as stripped like a pro (wait, she is a pro) and masturbated, on DrSuzy.Tv, and has clips on Pornhub, among other outlets.


She's late, the naughty girl, so she also earns herself a spanking and a fiber-optic whipping.
But she earns points for wearing pussy-pink.
Amanda hasn't done porn for a while; she's more of a private money-up-front sex worker these days. She calls her pussy "Million Dollars."


Accompanying Amanda is a girl posse of very sexy fellow sex workers. Actually, there's one sex worker named Sierra, Amanda's roommate, and one burlesque dancer/advice giver named Lola Risqué, though Amanda calls her Lo, who just moved in with Amanda and Sierra.
Sierra is a true sex worker. A lot of people are "sort of" sex workers, including me, being a sex therapist, but I rarely see my clients in person, and when I do, I don't have sex with them… though I do spank them occasionally.


But Sierra is, in the finest sense, what we used to call a hooker. Jesus loves the hookers, and so do I.  And so does Max.

Labia-wise, Sierra says she has the kind of inner labia that stick out beyond the so-called outer labia. She's a little self-conscious about that, especially when Amanda prods her to talk about it.
It's Pussy Talk: saying female sexual things that need saying.
All labia are beautiful, though people have different preferences. I hear from a lot of men and women who prefer Sierra's kind of inner lips that protrude beyond the outer.

Lola likes to combine burlesque and BDSM. She says her pussy's name is Daphne in a way that makes me wonder if that's her real name or the name of her high school girlfriend. She has a few sex partners, but isn't polyamorous, nor is she cheating.  "I'm 24," she explains.
And then there is Violet, bubbling with bonhomie, a pleasure to behold—and spank!
Yet Violet is also a deep thinker, a "sober alcoholic" and a sensitive empath who has been through her share of struggles over the course of her 25 years of life on Earth. When I ask my guests to share their feelings about and experiences with their labia, Violet offers that she went through some severe labial pain, a kind of temporary vaginismus. With some help, she healed herself, and is now "in the pink" of labial health. To see just how pink, check out this show's Forbidden Photographs.



Violet shares post-show that she's "made amends" with her "ex," stand-up comic Dex Carvey (Dana's son), over Boba tea. Stay tuned for future developments.
In the midst of all the Pussy Talk, comes some Dick-tation from a caller and several commenters on the Facebook Live feed. Listen above or watch below for details.
Labia Day Display
Time flies when your pussy's talking.
PHOTOS 1, 3, 5: J.B.  PHOTO 2: BIANCA
Before we can say "vajajay," it's time for the Labia Day Display.
Our first volunteer is Violet Coxx.
Violet "loves being naked," and that include showing off her pussy.
Though first she shows off her pink plaid schoolgirl skirt and her panties that say "Fuck me harder."
That's no surprise, considering her T-shirt says "Fuck Toy."
The frontal view is beautiful.
But the view from behind shows more… which calls for a spanking, of course.
After the spanking, I ask for more volunteer labia, and Sunshine, dressed in red (to represent the menstruating pussies, she explains), shows off her beautifully-shaved Mound of Venus.
Wow, what a nice view of Sunshine we haven't seen before on DrSuzy.Tv, though she's a longtime peep show performer (so it's not like we're the first to see it).
PHOTOS 1-2: BIANCA. PHOTO 3: SELFIE
Of course, I show mine too, making it a nice labial combination: the young maiden (Violet), the mature woman (Sunshine), and the older woman (that would be me).

I cordially invite our other guests to share their labia with us, but like most escorts, they keep them under wraps until a serious buyer comes along. Yes indeed, these pussies have a price tag! Sierra's starts at $500/hour and goes up, depending on what you want those labia—or other body parts—to do.
Amanda almost joins the show-your-labia party, when I stick Bonoboville dollars into her skimpy pink(!) g-string.
But though she used to be the "wild one" on the show, she now won't "go all the way," holding out for the big money shot, having quit porn and joined the ranks of the far more private escort sex workers. She has decidedly mixed feelings about it, as well as the recent trajectory of her career path, and she later confesses she wanted me—or Capt'n Max—to "force" her to take off her panties. But we don't force anybody to do anything, except in fantasy.



So the sex workers just sit back in the couch and enjoy the show.
Though they get in the Labia Day spirit with toys and art.
Towards the end, Sierra decides to show off her amazing ass.
I'm delighted, of course, as I am at all acts of erotic exhibitionism.
Well, maybe not all.

PHOTOS: UNSCENE ABE
But I certainly enjoy them when performed on my show by pretty ladies like my guests.
Speaking of which, Violet gets another spanking in the after-party.
She also gets a good cropping.
PHOTOS: UNSCENE ABE
And a fiber-optic whipping.
And a Bonobo Way book-spanking.


And a fingering—ooh la la!—entering those luscious labia gates into tight wet heaven on Earth.
After that spanking, I have to give Violet a Labia Day gift: a signed copy of the NEW Speakeasy Journal: Spank 'n' Art.
God and Goddess bless Labia Day!
Pussy-Grabber-in-Chief Kept Gagged & Handless
For Labia Day—and pretty much every day—we keep the Pussygrabber-in-Chief far from the pussies, letting our plush dick doll effigy of the big narcissistic crybaby sit in the corner on my Eames chair, gagged with a penis pacifier.
Moreover, this particular Trump effigy has no hands, not even tiny ones, so he can't actually grab any pussies.


On a related topic, have you noticed tRump's neck labia?
Sorry (not sorry) for the ad hominem attack, but there's a vulva in the middle of his throat!
Post-Show Gifts, Pool Time & Orgasms
Post-show, we also give each of our guests a Labia Day gift: more signed copies of the Speakeasy Journal: Spank 'n' Art.
Then the Captain and I say our farewells.

Between Amanda's entreaties to join us for a private threesome and spanking Violet's labia, we were pretty turned on.


Also pool time before the show is an aphrodisiac.
It certainly gets my pussy wet!
So, alone in our ship of sheets, just the two of us, the Captain orgasmically enters my harbor of love… right through my labia!
Happy Labia Day 2019!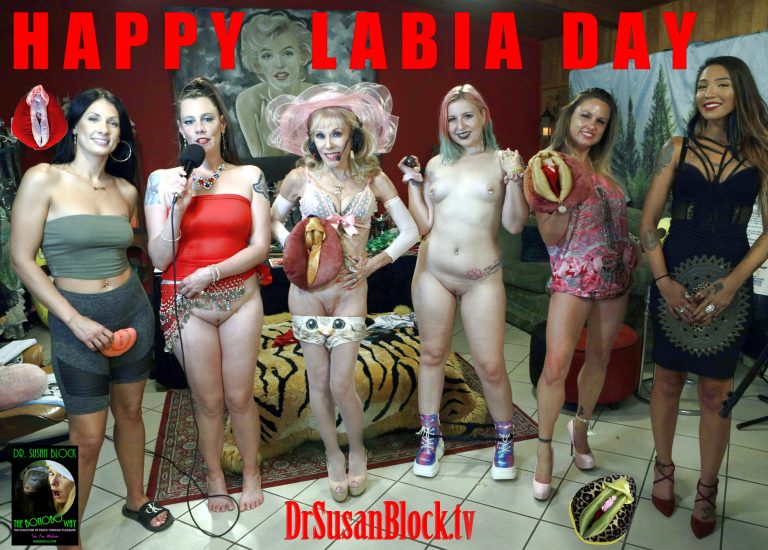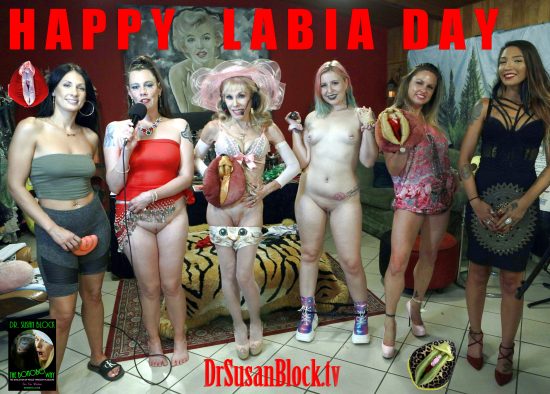 © September 1, 2019. Susan Block, Ph.D., a.k.a. "Dr. Suzy," is a world renowned LA sex therapist, author of The Bonobo Way: The Evolution of Peace through Pleasure and horny housewife, occasionally seen on HBO and other channels. For speaking engagements, call 310-568-0066.