Self-Love September 2019 Kick-Off!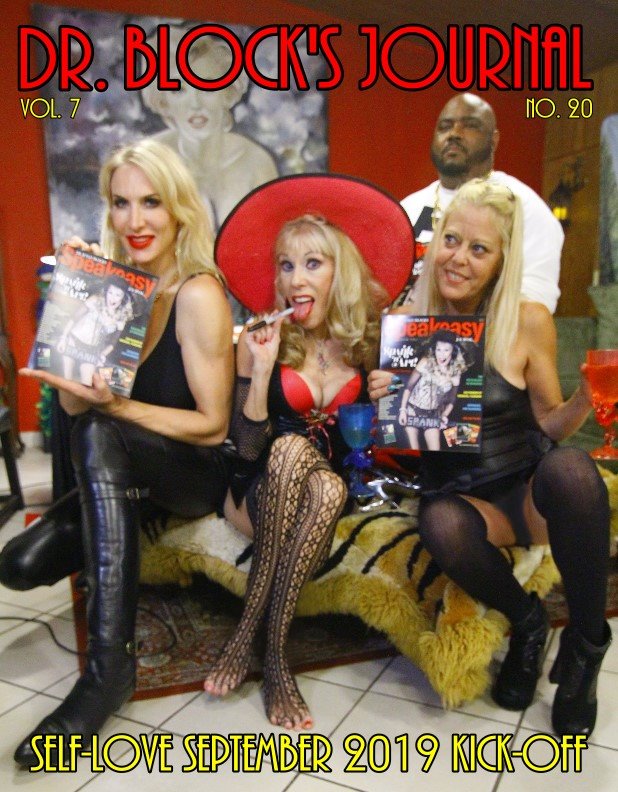 Length 01:35:34 Date: Sept. 7th, 2019
by Dr. Susan Block.
Happy Self-Love September!
It's the first Saturday night of Self-Love September which is, according to the Internet, more about noble ideals of self-improvement than the earthy reality of self-pleasure.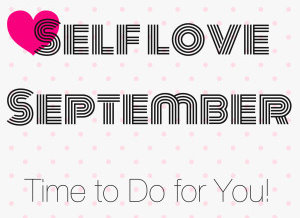 This may be because the monthly designation has only been around for a few years (in contrast, May as Masturbation Month goes back to 1994), or it may be because endorsing the benefits of solo sex is still very taboo.


I understand "self-love" means a range of different things.
One common #SelfLoveSeptember maxim is to "accept that although we will always be less than perfect, we are works in progress that deserve to be loved." Fair enough, though kind of banal.
Moreover, in my not-so-humble opinion, if self-love doesn't include a little quality masturbation time (which could include mutual masturbation, if you have a lover), you're not fully loving yourself.
I mean, I believe in getting exercise, taking care of myself and all that. I do yoga (almost) every day, and lately I've been "gifting" myself with pool time at least once a week.
And no, I don't self-pleasure in the pool, as in our current location, the neighbors are too close by… well, except for a little "secret" rub-riding on my floatie dolphin.

Self-pleasure, self-love, self-abuse; however you want to spin it, it's natural.
Aside from grasping tree branches and smartphones, the human fingers appear to be made for stroking, strumming… self-loving!

Bonobos love to masturbate, as do other apes like us.


As George Carlin said, "If God had intended us not to masturbate, he would have made our arms shorter."
Of course, there's no reason you can't go bonobos for self-love all year around; but Self-Love September is a great time for you self-love slackers to step up your game.


Need a hand? Call the Therapists Without Borders of the Dr. Susan Block Institute anytime 24/7 throughout Self-Love September and all year round.
Does Trump Deserve Self-Love?
Before introducing my fabulous guests, I give a quick pitch for our new Rush Limbaugh ReBUTTal video. Yes, for those of you who are wondering, Rush is still alive! Before the Trumpus made "hate" his platform,  Rush Limbaugh spewed hate from his microphone. Then a few months ago, Rush rushed me (via Mark Steyn) using "Post-Trump Sex Disorder" to SELL his cruel and creepy, expensive ($60 a month!) and lame "Limbaugh Letter"… and I don't even get royalties!
After my cogent, funny and (of course) sexy "Rush Limbaugh ReBUTTal," I give Maya's beautiful butt the spanking that Rush and Mark Steyn really deserve.
It being Self-Love September, I wonder: Do Rush, Mark and Trump deserve self-love?


No! Not considering how much damage they've done to the world, including inflicting many with this new kind of PTSD, Post-Trump Sex Disorder.
Then again, maybe if they loved themselves, they'd do a lot less damage. Trump especially seems to loathe himself, thus needs all that narcissistic pumping up every minute of every day, demanding constant praise to fill all that emptiness inside, exhausting the rest of us to the point of delirium… and that special kind of PTSD that stems from the Drumpf Overdose forcefed us every day. A little self-love might go a long way; he might even love himself so much, he resigns!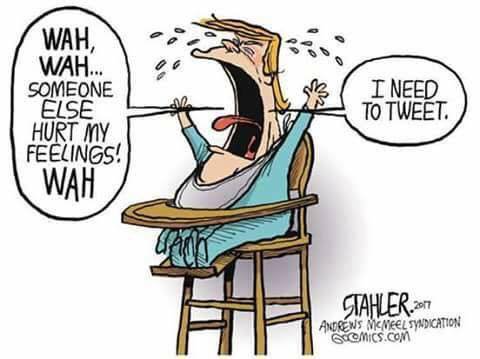 A little real masturbation instead of tweet-masturbation might also benefit us all!
Pamela Anderson for President!
Speaking of giving right wingnuts the spanking they deserve, three cheers and a bonobo beer for Pamela Anderson—actress turned "activist"—on The View where big blustering slut-shaming militant Meghan McCain—whose greatest accomplishment is being war criminal John McCain's spoiled bratty offspring—tries to stomp on Pam every which way she can.
However, looking gorgeous, composed, angelic and rather bonoboësque, Pam gives this rabid bitch a soft-spoken, but hard-hitting verbal smackdown, defending Julian Assange, Chelsea Manning and all whistle-blowers with compassion and common sense. When McCain accuses Assange of putting our national security at risk by publishing important news and exposing cover-ups like a good journalist should (but most don't), Pamela replies, "You know who's put national security at risk? The military. How many people have the American government killed innocently and how many has WikiLeaks?"
And the crowd goes wild. And Meghan McCain goes berserk and yells at the crowd! Because they're right. Pamela is right. None of the war criminals (all "putting our national security at risk") that Assange exposed have been punished, continues Pamela as she speaks truth to idiocy, "but they put him (Assange) in jail to shut him up."
People on the right and left call Pam a bimbo, but that's because they don't like to believe that a beautiful woman who appears naked in public could possibly be smart. But she is smart (okay, maybe not so smart about some of her choices in men before Assange, but what women haven't made those mistakes?). And she's right, especially about the military and the unconscionable imprisonment of journalists and whistleblowers. Free Assange! Free Chelsea Manning! Pamela Anderson for President!
Because it's our Self-Love September kick-off, we regale ourselves with photos of naked Pam—including one of self-loving self-PLEASURING Pam, throughout her long and illustrious career.
And no, this doesn't take away from her gravitas as an activist.
On the contrary; it's a lot more dignified than the Trumpus trying to force foreign dignitaries to stay at his bedbug-infested properties, or using a Sharpie to alter a weather map.
Speaking of which, it feels appropriate to gag our Drumpf Voodoo Doll with a Sharpie (instead of his usual penis pacifier), considering this week's Trumpocalyptic nonsense.
Then, from spanking the monkey to spanking the Presidunce, I give him a good wallop with the Forbes that Stormy Daniels spanked him with, as well as his silly MAGA hat.
Then I spank him with a Speakeasy Journal… SPANK 'n' Art edition, of course. I hope this is as therapeutic for you as it is for me.
Amazon Giantess Goddess Severa
Now for my fabulous guests!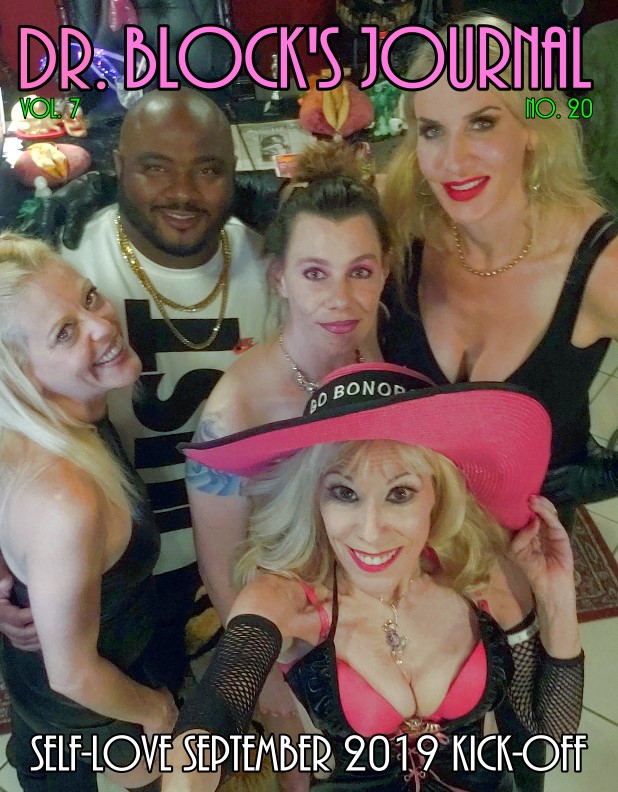 I first introduce the spectacular Goddess Severa whom I met in the elevator, and then again with her pink tutu-clad slave/photographer/unicorn at the Mistress Photo of DomCon 2019.
Standing 6'5"—without high heels—Goddess Severa really brings the "giantess" fantasy to life.
A true Amazon woman, she's a Jiu Jitsu black belt, a wrestler and—having shot up to 6' tall before she was 13—a natural FemDom.
PHOTO 1: BIANCA.  PHOTOS 2 & 3: MATT DEEP
She's also disarmingly sweet, but she can be as "severe" as her name, and if a consensual situation calls for it, she's got the muscle and moxie to smack down Superman.
Foot fetishists will appreciate this Goddess' impressive feet, wearing size 12 Double Wide, with a big toe large enough to fellate like a cock, and a ballerina's high arch.
She brings along a collection of ladies' shoes that she recently inherited, including Louboutin red-bottoms and amazing fetish high heels, which she wants to "share with the fetish community."


As we talk, we discover that, despite the fact that she's over a foot taller than me, we have a few things in common, including our appreciation for Mistress Tara Indiana, who was Goddess Severa's first teacher when she ran the Den of Iniquity in New York.
We also share a fondness for spanking; more about that in a minute!
SwingerBash: Jay & Michelle
Next I introduce our Jay 607 and Michelle Lust, co-owners of SwingerBash, throwing large and small swing parties from California to New York and many places in between.
They put on couples parties, holiday parties, Superbowl parties, cuckold parties, gangbang parties, BDSM parties, BBW parties (according to Jay, those are the "biggest," so to speak) and parties just for the sheer sexual fun of it.
Jay confesses to having first seen me on HBO's Real Sex when he was seven or eight years old; not that he quite understood what was going on, but it inspired him to want to throw parties where people could be sexually free.   
 Jay's "last name" is actually his New York area code. He also tells some stories about his near-death experience (I can relate), as well as a tale of "little people" fighting (jealousy being the main culprit, as can happen, unfortunately, at many swing parties), having sex and then more fighting and more sex at one of the SwingerBash parties that you'll have to listen to the show above or watch below to hear.
As for Michelle's "last name," I give it to her right before the show—and lusty woman that she is, she certainly lives up to it during the show.
PHOTOS 1, 4, 5: MATT DEEP.  PHOTO 2: BIANCA.  PHOTOS 3: AUTHOR
A divorced "soccer mom," now that her three kids are pretty much grown, Michelle has transformed herself into a swinging MILF. A true exhibitionist, she loves "performing" sex at the SwingerBash parties—from gangbangs to giving golden showers—and she loves doing it right here on DrSuzy.Tv.
Goddess Severa Spanks Naughty Michelle
Golden Showers can be messy (though we've done quite a few on DrSuzy.Tv, including our Golden Showers on Trump with Mistress Tara and the Dominatrixes Against Donald Trump, aka D.A.D.), and gangbangs require two or more ready-and-able cocksmen (we've done that too).
That's just one reason I like to feature spanking on the show—no mess (well, unless the spankee squirts, which happened last Spanksgiving with Juici Jenny across my lap) and all that's needed are two willing participants.
First, I ask Goddess Severa if she enjoys giving a spanking, and I'm not surprising to hear her reply with a resounding "yes," though I'm impressed that she's been giving spankings since she was young enough to be getting them from parental authority figures.
Which reminds me: Please DON'T spank children; it's cruel, tends to lower their IQ and teaches them that violence is the answer to problems. DO spank consenting adults who enjoy being spanked.
Then I ask Michelle if she enjoys getting spanked to which I'm delighted to hear an enthusiastic "yes," whereupon she drapes her svelte little body over the Giantess Goddess' leather-clad lap.
When Goddess Severa pulls up Michelle's dress, we all find that this "bad girl" isn't wearing any panties—like she dressed for the show, hoping she'd get spanked… or something.
Not that we need a "reason" to spank Michelle's beautiful butt, but it's nice to have something to scold about between smacks.
And smack her Goddess Severa does! In proportion with her 6'5" form, the Goddess' hands are impressively immense.
Though I don't think the Goddess is trying to spank hard, she can't help but pack a wallop with that prodigious palm.


As the spanks rain down, turning Michelle's checks as pink as my bra, I worry that she's suffering beyond the point of pleasure, so I ask "How are you doing there, Michelle?" and I'm gratified to hear that she's "loving it."
PHOTOS: MATT DEEP
The investigative Goddess Severa finds another "reason" to spank Michelle, especially considering the underlying "shoe theme" of this show.
Naughty Michelle left the price tags on the bottoms of her high heeled boots! Not only is that negligent; the tags reveal that the shoes were only $9.99.
PHOTOS: MATT DEEP
"I love bargains," confesses Michelle as Goddess Severa's spanks her bare bottom, then squeezes it lovingly, then spanks it some more, and the studio audience goes wild with good-natured voyeuristic glee.
Michelle Rides the Motorbunny
After that good, old-fashioned, over-the-knee (OTK) spanking, it's time for Michelle to take her virgin ride on the Motorbunny.
This wasn't my idea (though it's a good one!); Michelle had asked if she could experience the Motorbunny before the broadcast, having seen it work its magic on previous Dr. Susan Block Shows.
PHOTOS 1 & 3: MATT DEEP.  PHOTO 2: BIANCA
For safety's sake, we cover it in Saran wrap and set it on the sheepskin tiger rug, whereupon I "order" Michelle to take off her dress.


Now the soccer-MILF is wearing nothing but her garter belt, stockings and those booties with the price tags on the soles.
With a little fear and a lot of excitement, she mounts the min-mechanical bull.
I take control of the controls while my lovely assistant Sunshine McWane holds the mic, so we can hear her moan. Goddess Severa stands tall behind her, wielding the Juxleather riding crop on her naked ass as she rides.
What a divine feminine tableau—perfect for Self-Love September. After all, though three of us are "helping" Michelle to climax, the Motorbunny is essentially a big masturbatory vibrator.
PHOTOS 1 & 2: MATT DEEP.  PHOTOS 2 & 4: BIANCA
On a deeper level, it takes a lot of self-love—and courage—to ask for what you want, especially when it comes to pleasure, and Michelle certainly does that.


From the little she tells us about married life, it doesn't sound like she's always been so sexually bold. On the contrary, she had to learn and push herself to be an erotic adventurer. And the world is better off for it! Apparently, she is too. She certainly has a good orgasm on her first Motorbunny ride.
Hallelujah, praise the Lady!
It's the Bonobo Way of female empowerment, male well-being, ecosexuality and peace through pleasure.


Amen and AWOMEN.
Shoes, Glorious Shoes
At this point, I start singing about the shoes to the tune of "Food Glorious Food."
Then Michelle, Sunshine and I try on and play with Goddess Severa's shoes.
Ana even joins in the shoe party.
 I'm honored that the Goddess buckles the strap of one of her more artistic, impossible-to-walk-in shoes for me.
That is, it's one of those shoe styles just for sitting or lying down, not for walking or even standing—yikes!
Actually, we can't walk in any of them as Goddess Severa only brought one of each pair, but we do have fun trying them on.

If they're not the right size for our feet, we just wear them on our hands.
Post-Show, Pool, Parrots
In the after-party, we give each of the guests a copy of the Speakeasy Journal: SPANK 'n' Art edition.
Of course, I sign all the Journals with a Sharpie.


Then Sunshine helps me on with my own shoe while I stick the stiletto heel of the other one into our Baby Trump voodoo doll's mouth.
Well, the Orange Skull puts his foot in his mouth constantly; he should have a shoe in his mouth. Maybe an entire shoe store for all the gaffes he's made.
We sip champagne, talk about sex, love, life, politics and the wild parrots of Arcadia.
That's not a fantasy, the Wild Parrots of Arcadia and Pasadena are real.
PHOTOS 1: UNSCENE ABE. PHOTOS 2-3: AUTHOR
Of course, parrots are tropical birds, and the heat of So Cal is not the wet heat of the jungle (thank Goddess), but the dry heat of the desert.
The story is that back in 1969, when a fire broke out in a Pasadena aviary, a bunch of parrots were released from their cages. Since then, they've thrived and multiplied.


They squawk like lunatics every day, usually around sunrise and sunset. Sunshine hears them on her way to the gym. Capt'n Max and I hear them just before sunset.
Sometimes we go out to watch them congregate on the phone wires outside Bonoboville. It's fun to try to figure out what they're saying, but the best part is when a couple of them seem to kiss.
Oh, here I go again, talking about animal sex, but yes, these "lovebirds" are an aphrodisiac.
So is my Saturday pool time.
PHOTOS: AUTHOR
So is doing a show with all these sexy people.


All of which means the Captain and I enjoy an orgasmic Self-Love September celebration (the mutual way).
Make love to someone you love tonight, even if that someone is you.
I love you.
© September 7, 2019. Susan Block, Ph.D., a.k.a. "Dr. Suzy," is a world renowned LA sex therapist, author of The Bonobo Way: The Evolution of Peace through Pleasure and horny housewife, occasionally seen on HBO and other channels. For speaking engagements, call 310-568-0066.