Porn Star Girlfriend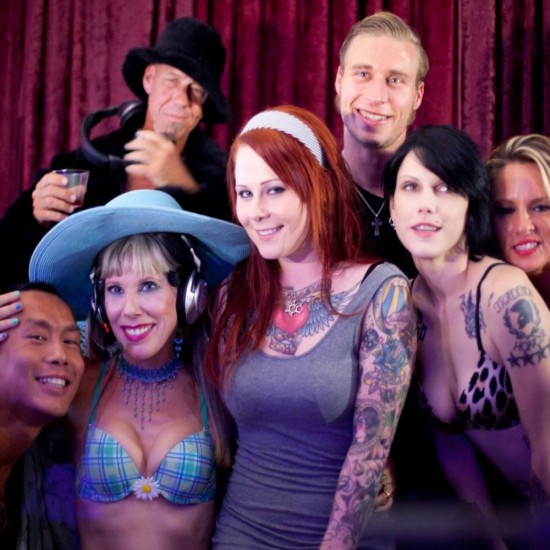 Length: 92 minutes
Date: 09/04/2010
Porn Star Girlfriend
This Dr. Susan Block Show features a galaxy of some the hottest porn stars in rotation around Dr. Suzy in the Speakeasy studio. There's no doubt that guests Misti Dawn,Keni Styles, Cadence St. John, Michael Vegas, Bon Jon Syn and Amanda Blow shine in the adult industry.  But this show also reveals them to be down-to-earth, humorous, and "normal" in every other aspect (except, perhaps, length—and maybe girth) of their day-to-day lives. Our guests are great examples of the contemporary adult industry's shifting attitude from an illicit profession to an informed and enjoyable lifestyle choice. To that end, porn superstar Misti Dawn (a top Burning Angel and self-styled "Super-Nerd of Porn") shares how her search for a safe way to explore her fantasies led her to her current position in life. Keni fills us in on his own background as the Thai-born, South London-raised, trailblazing heterosexual Asian porn star he is. It only seems appropriate to break out Dr. Suzy's naughty Thai deity toys (given to her by none other than her Thai sister-in-law) and the bottle of Thai whiskey with two real snakes floating in it while the conversations keep on spinning.
 Our guests talk with Dr. Suzy about the urban legends of penis size/ethnicity correlation, discover how porn could be the ultimate way to "go green," and give frequent caller Imtiaz a little advice on how to take his frequent dates with porn stars to the next level. Misti, Cadence and Amanda also discuss their experiences with relationships: what happens when they go from "porn star" to "girlfriend," and whether they prefer to make that transition with partners in or outside of the industry. Our next call-in guest is well familiar with the tricky negotiations that come along with a "girlfriend" label, author of The Girlfriend Experience, Rebecca Dakin. Rebecca's memoir details her experience as a legal escort in England, and inspires a colorful discussion of the Girlfriend Experience versus the Porn Star Experience, as well as the ins and outs of a British legal system that sanctions escort services but prohibits "making a living off immoral earnings." Cadence and Dr. Suzy share how the Los Angeles Police Department's own mission to stamp out immorality has personally affected each of them, and the call for Agwa is made to wash the taste of those memories out of their mouths, as well as celebrate Dr. Suzy's legal victory over the LAPD, the settlement of which helped to build the Speakeasy.
 Once the Agwa  bottle is cracked open, we know that some sexy licking and sucking is in the stars, and indeed a flurry of lips, tongues, nipples, butts, and a little bit of spanking give us all a taste of what's to come in the erotic after-party. The show ends as our guests quickly flash their most intimately positioned tattoos to the cameras, but the night is just beginning for these stars, who put on a stellar display of sex across the Speakeasy universe—from the bar to the bathroom to the pool table to several couches to out under the real stars on the fire escape. Photos and video coming soon! This was some of the hottest post show action we've seen in awhile… and we thank our lucky stars for that!
Caller 1 Imtiaz wants to know if he should pursue relationships with porn stars past mere platonic dates
Caller 2 Author Rebecca Dakin discusses her book The Girlfriend Experience
Caller 3 asks if there are any exercises that can increase penis size
Caller 4 wants to know if it's wrong to have incestuous thoughts about his mother
---
Explore DrSusanBlock.com
Need to talk? Sext? Webcam? Do it here. Have you watched the show? No? Feel the sex. Don't miss the Forbidden Photographs—Hot Stuff, look at them closely here. Join our private social media Society. Join us live in studio 😊. Go shopping. Gift shop or The Market Place. DrSusanBlock.tv, real sex TV at your toe tips. Sex Clips Anyone? FASHION, we have fashion! We also have politics. Politics? Have you Read the book? No? How about the Speakeasy Journal? Click here. Ok, how about some free sex advice?
---