Anais Burlesque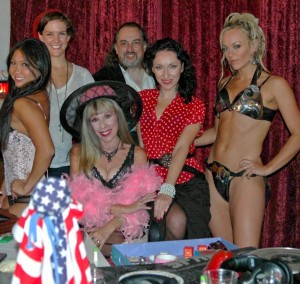 Length: 91:41 minutes      Date: 08/28/2010
There's no doubt that the explicit depiction of sex in art and entertainment can be arousing, but sometimes, just a tiny taste is enough to inflame our passion into explosive territory. Tonight on the Dr. Susan Block Show, we play with the notion of erotic expression through restraint in literature history, theater, dance—no nudity on the show tonight, but with its delicious performances of erotic theater and burlesque dancing, trust us–it's seriously sexy! Our first topic is a new play centered on the life Anais Nin (called, appropriately ANAIS: an Erotic Evening with Anais Nin), the groundbreaking and taboo-shattering diarist and erotica author of the 1930s.
 Award-winning playwright Michael Philips brings the writings of this extraordinary woman to life with the help of lead actress Sonia Maslovskaya, both of whom are in studio tonight to promote their play before its opening at the Sherry Theater in Los Angeles. Dr. Suzy give us some background on Anais, who was unique for her unashamed life of passionate play, erotic exploration, and candid confessions—not to mention having two husbands at the same time!–and then chats about how her controversial works have affected both our guests and herself.  The Love Doc especially cherishes Anais as an influence in her life, from her college days to her relationship with Prince Max, and even the creation of the Speakeasy.
 We're then treated to sensual readings of two excerpts from the play that showcase Michael's interpretation of the diarist's thoughts, and Sonia's purring performance ("like church bells ringing about rigid penises," according to Dr. Suzy) captivates the studio. Beyond mere titillation, it's a glimpse into the complicated and ambivalent inner workings of a woman that tempers eroticism with honest emotion and thought…though, to be fair, the lesbian sex scene in the back of a taxi *is* quite arousing. Then, following along with a Dr. Suzy wardrobe change, we switch from the delicate café latte of confessional erotica to the bold and brazen feather boa of burlesque dancing. Lalas Burlesque know a little something about tempering eroticism with a little mystery, and the girls are ready to let it slip.
 Baby J gets naughty with some nylons and a pair of scissors, while Tonya Kay hammers in a mind-blowing construction-themed routine that literally—literally!—has her shooting sparks from her crotch with the help of a rather large power drill. Afterward, the girls join the show along with Erin Lamont, the founder, manager, and choreographer of the troupe, to discuss their view of burlesque as the art and talent of tease—selectively revealing only as much as is needed to arouse their audience. They argue that burlesque is different from stripping, and is an empowering rather than objectifying art; their credo of "liberate your inner Lala" is one the wild Bonobo Gang can definitely appreciate. We wrap up the show with our traditional Agwa shots, though everyone keeps their tops on this time in the spirit of the art of tease. All the talk about empowerment and sensuality really puts everyone in the mood to ease up the restraint at the erotic after-party, but we're reminded that eroticism can take many forms, not all of which have to be explicit or graphic to give us loads of pleasure.
Caller 1: Imtiaz talks about his recent interest in Anais Nin, inspired by Dr. Suzy, and shares a coincidental connection he has with her.
---
Explore DrSusanBlock.com
Need to talk? Sext? Webcam? Do it here. Have you watched the show? No? Feel the sex. Don't miss the Forbidden Photographs—Hot Stuff, look at them closely here. Join our private social media Society. Join us live in studio 😊. Go shopping. Gift shop or The Market Place. DrSusanBlock.tv, real sex TV at your toe tips. Sex Clips Anyone? FASHION, we have fashion! We also have politics. Politics? Have you Read the book? No? How about the Speakeasy Journal? Click here. Ok, how about some free sex advice?
---