My Birthday Bacchanal 2017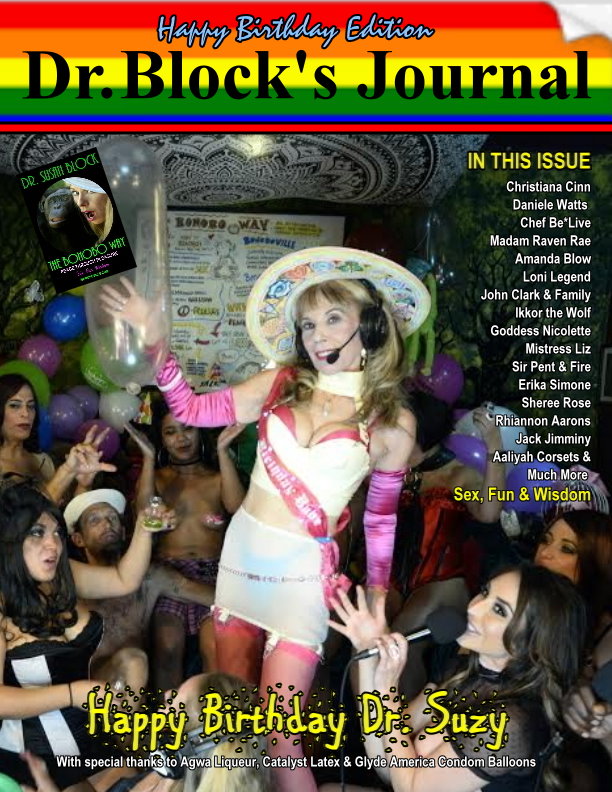 Length 01:45:44 Date: June 10, 2017
Wow. What a birthday. What a bacchanal of beauty, bonobo love, music, laughter, spanking and rejuvenating sex with a capital X.
Amen and Awomen.

Praise be to the power and glory of sex.

It keeps you young.
And you keep me young, brothers and sisters, lovers and sinners of Inner and Greater Bonoboville.
At least, you keep me from ever growing up.
The proof is in this party, un feliz cumpleaños, un buon cumpleanno, yom hooledet sameyach, un joyeux anniversaire, an ecstatic orgiastic celebration of life, a Festival of Eros, with a nod of respect to Thanatos, and a very happy birthday to remember through any remaining birthdays I have left on this Earth.
Thank you, Bonoboville—my awesome staff (see bottom of this blog), guests, readers, listeners, viewers and patrons—for everything you do that makes this crazy, kinky, wild and wonderful life possible.
Thanks most of all to my charming Prince Max, for always being here for me, Captain of My Heart, husband of 25 years, my "prime mate" and very best friend, and for always loving me, no matter how bad a birthday girl I am.
For this great birthday of birthdays (I won't give you the number; I don't want to shock you), I give thanks, and I give spanks—birthday spankings with The Bonobo Way, baby! Surprise blowjobs, naked dancing, cake sploshing and orgasmic Sybian rides also ensue. More about that in the "highlights" below.
I don't have orgiastic birthday parties like this every year. Sometimes, I don't have any party. Though I always try to do something pleasurable. Peace through pleasure; it's the Bonobo Way, and if you won't allow yourself pleasure on your birthday, when will you?

Last year, I spent the anniversary of my entry into the world watersliding into the warm baptismal waters of Puerto Rico. The year before, Capt'n Max and I rode horses and frolicked around the Madonna Inn, where everything is pink, which has long been (and obviously still is) my default birthday color.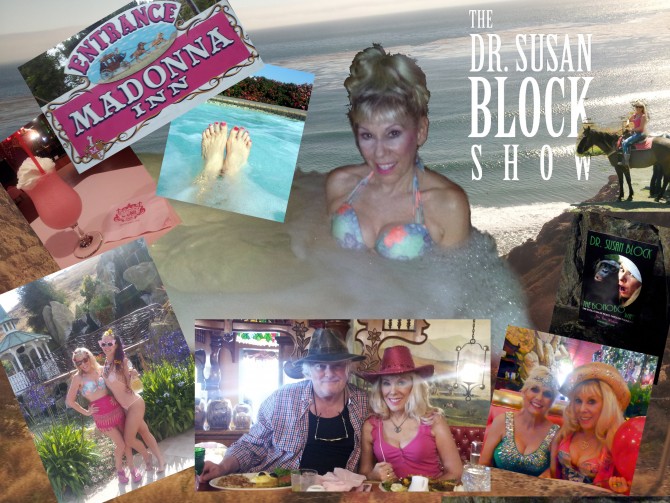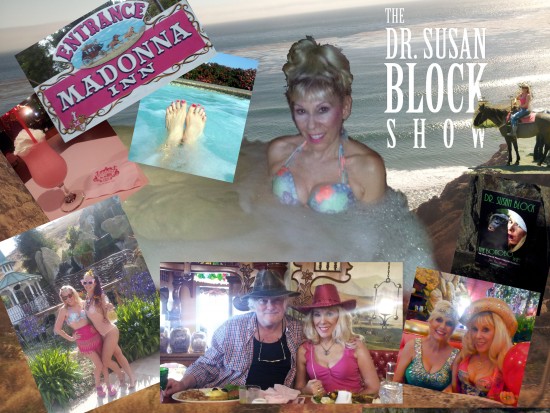 The year before that, we just took a room with a private jacuzzi at the hotel next door and spent the whole night making love, being born again. The last big birthday party I threw was in 2013. That one featured a sword swallower whose girlfriend swallowed his sword at the same time. It looks even more amazing than it sounds. Check it out on the DrSuzy.Tv archive.

This time, my actual birthdate (June 10th) lands on a Saturday and, having just come back from DomCon and Yale, a party in Bonoboville is just what this Doctor ordered.
Throwing your own birthday party can make you feel a little silly. People congratulate you for nothing but being alive. Though at my age, that is an accomplishment.
In ancient times, people feared evil spirits, and it was a common belief that malevolent forces stalked you on your birthday. This is not as superstitious as it sounds. A long list of prominent people who kicked the bucket on the same date they were born includes: history's greatest playwright William Shakespeare, American President Franklin Delano Roosevelt, actress Ingrid Bergman, feminist author Betty Friedan, Italian Renaissance painter Raphael and country singer Merle Haggard. And it's not just famous people. A 2012 study led by Dr. Vladeta Ajdacic-Gross, published in the Annals of Epidemiology, followed mortality rates on over two and a half million individuals over a forty-year time span (1969-2008) and found that statistically speaking, people are fourteen percent more likely to die on the day they were born than any other day of the year. Bumping up the numbers are various factors, including high rates of suicides (mostly by depressed men) and people doing foolhardy things to "celebrate" their birthdays, like having sex while skydiving. The sheer stress of Your Special Day also appears to bring on more lethal heart attacks and strokes. So, that ancient fear that "evil spirits" are more likely to snatch you on your birthday than other days now has hard science to back it up. Sorry, I don't mean to blow out your candles too soon, but this is not an "alternative fact."
In part, to protect the Birthday Person (BP) against such awful influences, the tradition of the birthday party evolved, surrounding the vulnerable BP with love, laughter, music, gifts and entertainment as a kind of "protection" against birthday-stalking demons.
I must have better protection than the Secret Service because in terms of all of that, this birthday party is off the charts!
Here are some highlights:
Greeting my fabulous guests—and feeling so blessed! Poets, porn stars, FemDoms, comedians, filmmakers, musicians, friends and lovers. Some bring wondrous gifts—erotic, edible and magical—but the best present is their presence.
Waving a giant oblong birthday balloon. If you look closely, you might notice that it's actually a condom. Thank you Glyde America Condoms! Only in Bonoboville will you see condom birthday balloons. Then again, maybe we'll start a trend. I can just see a condom balloon-festooned float in the Pride Parade. Amazingly, the size of this particular condom is "Slim Fit." That would make an Xtra-Large about as big as the Goodyear Blimp.
Showing off my luscious ivory latex gown, created by Catalyst Latex, which spills over the bed like melted vanilla ice cream. With my hot cherry pink "Birthday Babe" sash, bra and gauntlets, I feel like a cherry vanilla swirl birthday party dessert.
Effervescent actress Daniele Watts stripping down to her Birthday Suit (unwrapping herself like a gift) even before I take off my skirt–actually, within the first five minutes of the opening of the show. "I need to be naked," she explains, "I've had a stressful week." For this we are empathetic, but also quite grateful.
Giving gaudy birthday party rings to my guests. I love receiving gifts, of course, but giving them is even better. It's the Bonobo Way. The power to give pleasure is the greatest power we have. Actually, some guests get rings, some get bananas, and a lucky, hungry few get both.
Comedian Daryl Wright, 2012 SUZY award winner of "Most Intoxicated," accusing me of having a "Yale fetish." It's true that I'm wearing a cherry pink Yale dog bandana I just got at my reunion, but I'm not wearing a Yale thong (they're all in the wash from the reunion—more about that coming up!), and should school spirit only be for the jocks or what? Daryl tries to poke fun of Yale football, and though Yale is not known for pigskin prowess, they did just beat Harvard in their last Big Game, so Daryl, go back to the bar!
Kicking up my rainbow high heels for Gay Pride Day in LA. And yes, Gay Pride could use a mascot, and what better mascot than the bonobo? For millennia, major religious groups, politicians and other authorities have railed against homosexuality and bisexuality, deeming it 'unnatural' and dangerous to society. Gay Pride season is a time to acknowledge that same-gender sexual relations are not a decadent, peculiarly human perversion of nature, but natural and even socially beneficial. Many other animals enjoy 'gay sex,' most notably, the bonobo. Of course, the bisexual nature of bonobos doesn't exactly parallel human bisexuality or queer inclinations. Regardless of the differences, witnessing the fluid sexuality of bonobos helps gay, bi, transgender and other LGBTQ folks embrace their sexuality. Moreover, gay sexual activity is key to keeping the peace in Bonoboville. That is, when male bonobos engage in penis fencing and other erotic interactions, they're less likely to kill one another. And when the females do the hoka-hoka, they're more apt to look out for each other. Bonobos demonstrate that LGBTQ sexual diversity is utterly organic, adding to the richness of our individual lives and the ecology of society. It may even be the key to peace on Earth. The bonobos show us the way as a new, peaceful, bisexual Great Ape paradigm for humanity. That's why Gay Pride should take the bonobo as a mascot, and help to save the real bonobos from extinction. How about it, Gay Pride? What a great birthday gift that would be!
Christiana Cinn showing off her latest Penthouse spread to all of us "lovers and sinners" who she turns into her adoring "Cinners." Christiana, who first visited Bonoboville with her Pet Sister, Pet of the Year 2015 Layla Sin, also announces that she has won the title of "Runner Up" for Penthouse Pet of the Year 2016. Woohoo! #GoBonobos for Christiana, a very special bonobo girl.

Christiana's friend Jack Jimminy giving me a nice butt slapper for my birthday and providing his butt for a few slaps: the first Birthday Spanking of the night!
Birthday spankings in general are a continual highlight of the night, of course. Where does the tradition of giving "birthday spankings" come from? One theory is that thy are based on the old medical practice in which doctors spank newborn bottoms on their actual birth day, supposedly to get them breathing properly. Or it may well be a way to ward off those evil spirits—as it arouses the libido. Rule of thumb: Don't spank your children, even on their birthdays (it lowers their IQ and makes them more likely to support Trumps); do spank consenting adults who enjoy it. And we do enjoy it!
Celebrating the Trumpster's birthday (actually this Wednesday, June 14th – which Del Rey has dubbed "International Small Penis Day") by giving him a much-deserved book–spanking with The Bonobo Way and humiliating his miniscule member as Christiana sings "Happy Birthday Mr. President."
First, we spank our Trump doll who is wearing two birthday hats, giving him an aptly devilish look. Then, towards the end of the show, John Clark puts on a Trump mask and gets down on his hands and knees for a good whack. Not bad for an 84-year-old guy.
Amanda Blow revealing her boobs which are much larger than when we last saw her.
Amanda sucking her banana with such compelling skill and passion that Chef Be*Live stands up and confesses, "I'm jealous of that banana."
Amanda sucking Chef Be*Live's "banana" with even more skill and greater passion, as his newly wedded wife Daniele applauds and cheers them on with glee. The rest of us also cheer for this amazing surprise blowjob in the middle of the show, as Amanda Blow more than lives up to her name and makes up for missing our 25th Wedding Anniversary.
Daniele and Chef Be*Live High-Fiving after Amanda Blows.
Erika Simone, our favorite Drag Queen Uber Driver, giving us the deets on her new SlingQueen "Office Space" play parties.
Everybody enjoying their birthday bananas, though Amanda clearly won the banana-sucking prize for this show.
The Classic "Birthday Moment": Making a Wish, Putting My Lips Together and BLOWING out my candles.
Christiana's Cake & Agwa Communion
Ikkor rapping a rousing rendition of "She Bad" as Christiana does one of her amazing splits, and we all birthday-boogie to the beat.
Sharing a hand-slap with my Gemini Brother, the amazing Abe Bonobo, who keeps our computers humming, our websites running and our show broadcasting—all at the same time! Abe gets to hang out with Penthouse Pet Christiana for this birthday. On his last birthday, he got to hang out with Penthouse Pet of the Year Layla Sin! Wonder what's in store for next year? Happy Birthday Abe! Also, Happy Birthday, Nori Carter (he's here too)! Why do so many Gemini guys go cyber?

Poppers (the streamers, not the drug)!
Photo Blasts from the Distant Past: Me as a baby and a reprise of me holding Derek the day after his very first birthday.
Watching Sir Pent give a fantastic flogging to Gypsy Bonobo's perfect pink buns on the St. Andrew's Cross.
Giving Aaliyah Corsets an earth-shattering orgasm on the Sybian. Afterwards, she asks me how to squirt, which I tell her, and I just got the news that my instructions worked. Woohoo! Squirt for Peace!
Setting sail with my Captain into a night (well, morning) of amazing orgasmic birthday sex. Rule of thumb: Always let the Birthday Person come first. Then, everybody has a good time.
Thanks again to all for an unbeatable, bonoboësque Birthday Bacchanal! If you want to give me a gift, please donate to Lola ya Bonobo, Bonobo Conservation Initiative, The Bonobo Project or one of the other organizations helping to save our kissing cousins from extinction listed on Block Bonobo Foundation. Here's hoping your birthday, whenever it falls, is filled with love. I love you!
Watch this show all week for free in the Bonoboville Lounge. Censored version on Facebook. Permanent archive on DrSuzy.Tv.
Thanks to Our Volunteers: Videographers: Benjamin Hinman, Michael Sullivan, Maurice Plough, Photographers – Slick Rick, RiqueMB, Eric Kolowoski, Jux Lii; On-Campus Bonobos – Abe Perez, Del Rey, Gypsy Bonobo, Harry Sapien, Jacquie Blu, MarsFX, Johnny Jungle, Clemmy Cockatoo, Ana & Miguel. Dr. Suzy's Hair: Mark Brown. White Latex Gown: Catalyst Latex.
© June 11, 2017. Susan Block, Ph.D., a.k.a. "Dr. Suzy," is a world renowned LA sex therapist, author of The Bonobo Way: The Evolution of Peace through Pleasure and horny housewife, occasionally seen on HBO and other channels. For speaking engagements, call 310-568-0066.