FemDom Bday & Trump: The Last Family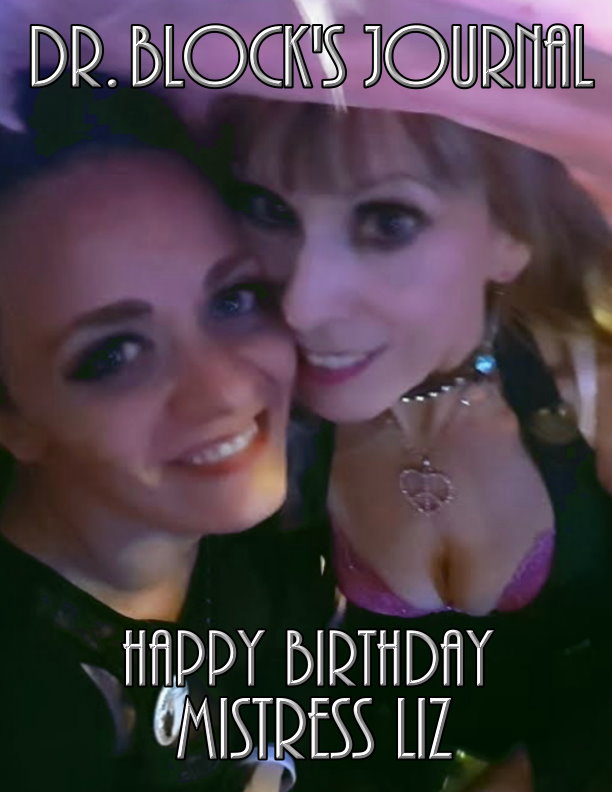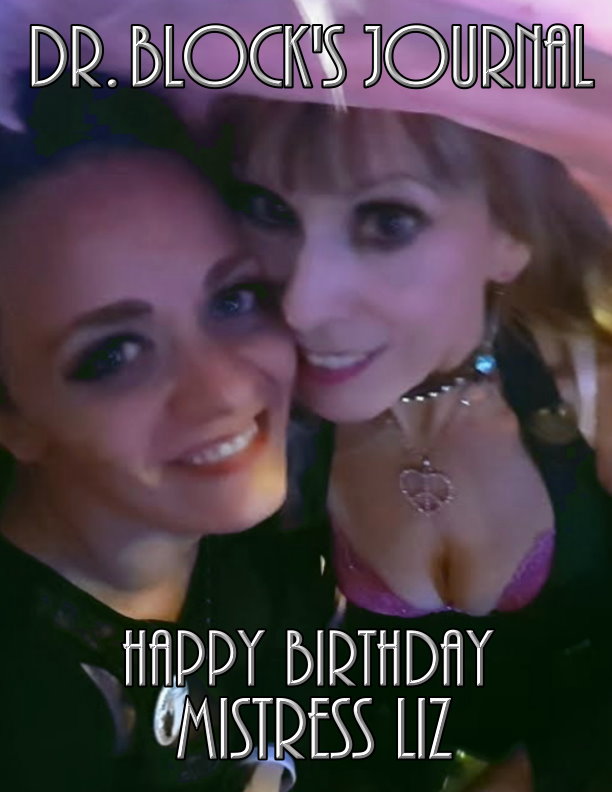 Length 01:48:06 Date: June 17, 2017
We had so much birthday fun last week, we just have to celebrate another one! And wouldn't you know: it just happens to be the "29th" anniversary of Lifestyle FemDom and now Sanctuary Pro-Domme Mistress Liz's emergence into the world.
And then there's Trump. With the Orange One's ongoing, annoying, unnerving shenanigans, we desperately need Trumpocalypse Therapy in the form of parody. Besides good sex, laughter is the best medicine for a world gone bonkers. Bonkerville is just outside the city limits of Bonoboville.
So, between Ms. Lizzy's deliciously kinky BDSM birthday celebration, a Trump parody called "The Last Family," a naked "Predicament Bondage" scene and a few rounds of lusty Bonoboville Communions, the fun—and therapy!—never stop on this show.
Also featuring Mistress Liz's fellow Sanctuary pro-Domme, the svelte and sultry Goddess Pepper, adorable Sanctuary submissives Mpenzi Barbie and Bratty Wolfie, and Trump parodist/comedian Kevin Michaels, with a surprise visit from my old friend the Hedgehog in the after-party, this show agitates, educates and stimulates your funny bone, as well as, perhaps, your other bone.
We Splosh the NY Post!
We start with a round-up of some of the week's highlights in Bonoboville and around the world. Bonoboville is making a splash—with splosh—in the New York Post.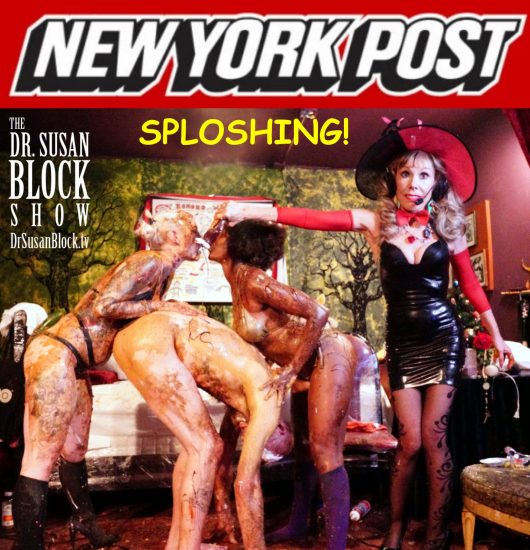 The piece by Heather Hauswirth features an interview with me and some very messy, sexy, funny clips from our kinky and delicious Splosh 'n' Art show with Daniele Watts, Chef Be*Live & Gypsy Bonobo.
Bill Cosby's Sleep Fetish
We talk about the Cosby Case, which ended in a mistrial. Apparently, the defense strategy of putting half the jurors to sleep worked, and Pill-Slipping Bill remains a free man.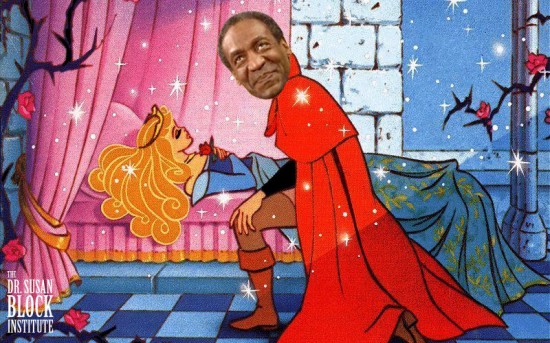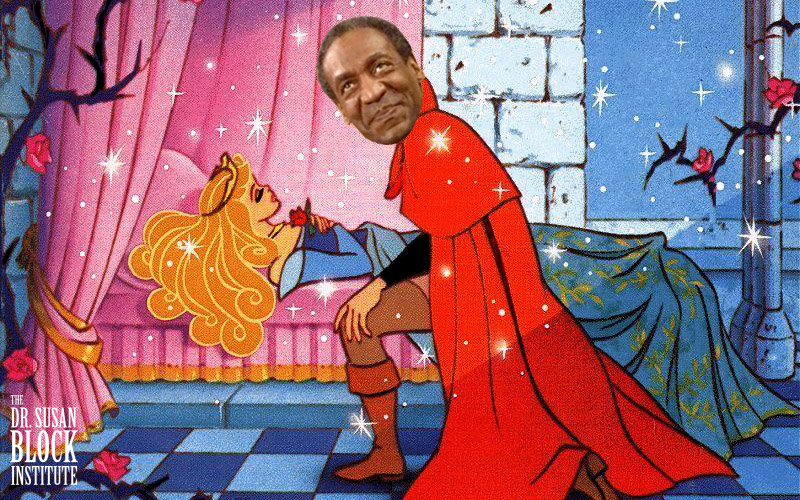 More than 50 women have accused the iconic star of rape, usually after some stealthy drugging. This is not bonoboësque, to say the least. My advice: do not accept Bill's invitation to come over for a celebratory drink. For insight into what may have motivated this beloved actor to commit the crimes he is charged with, see my article Bill Cosby's Sleep Fetish, aka Sleeping Beauty Syndrome. If you or someone you love has a sleep fetish, it will also help you to practice and enjoy it consensually, the Bonobo Way, instead of the (alleged) Cosby way.
Unpresidented President's Birthday Spanking
Before we go into full-on celebration mode for Mistress Liz's birthday, we celebrate our big baby Drumpf's birthday (June 14, which Del Rey has officially dubbed "Small Penis Humiliation Day") by putting him under gag order with a penis pacifier and making him wear the "DUNCE" hat which doubles nicely as a big birthday chapeau. We also give him the Bonobo Way book-spanking that he so richly deserves, which no one in his cabinet of billionaires or family of enablers is courageous enough to give the Mango Mussolini. With the Trump brand in the White House, all of America has been put into a kind of nonconsensual bondage, forced to reckon with his narcissistic values, babbling baby tweets (covfefe, anyone?), authoritarian whims, constant lies, contradictory statements, gaffes, goofs and poisonous presidential orders.
Our chosen "therapy" for this madness is Trump parody, which is kind of redundant, since Trump himself is an "unpresidented" parody of the U.S. presidency.
Kathy Griffin & Shakespeare vs. Real Mass Shootings
Filmmaker Michael Moore has encouraged Trump Resisters to make fun of Mad King Donald—to "spank" him figuratively with jokes and barbs—mainly because it really upsets the big fat blowhard, but also because it makes his crazy-making reign more bearable for the rest of us. That was our motivation to make Trump's Golden Shower, now playing (censored) on Youtube and (uncensored) in Clip-O-Rama.
However, we are now seeing that Trump parody can be a dangerous line of work. Case in point: Comedian Kathy Griffin has been excoriated, pelted with death threats, cited in vicious tweets by the Donald, Don, Jr. and Anderson Cooper, investigated by the Secret Service and fired from her jobs with CNN and Squatty Potty (yes, it's a defecation aid… and you think we're kinky), all because she appears in a photo holding Trump's bloody head. It sounds and looks kind of horrifying. But hey, it's not his real head, folks; it's a parody! Griffin called it a visual metaphor for Trump's famous 2015 comments about Megyn Kelly: "You could see there was blood coming out of her eyes. Blood coming out of her wherever." Many see it as a take-off on the Biblical Princess Salome holding the head of John the Baptist. The image is like many take-offs on Salome, such as the erotic painting by Scott Siedman now hanging in the Bonoboville Gallery of Erotic Art.
It's not really funny, at least not to me. This is partly because it's too ISIS-ish. However, I appreciate it as a provocative piece of political art, and I wholeheartedly defend Griffin's right to create and exhibit it. Full disclosure: I met her a few years ago at an Emmy's party and found her to be a charming, down-to-earth lady. More to the point, there were hundreds of images of Obama being lynched and burned produced during his presidency, and neither Obama nor his family ever complained.
Kathy Griffin, we just want to say that we here in Bonoboville support you, and we'd love to have you on our show now that you're not so busy with CNN and Squatty Potty. If you could promote a device that helps you poop, you can visit the Womb Room.
Then there's Shakespeare's Julius Caesar being performed by Shakespeare in the Park with a Caesar that resembles Trump and a Calpurnia like Melania. Donnie, Jr. is complaining loudly about this. Seems he wants to censor Shakespeare now, since he can't get CNN or Squatty Potty to fire him. Btw, the play does not condone assassination, quite the opposite. It shows how when those trying to preserve the Republic—Brutus, Cassius and the Senators—assassinate the would-be dictator, they don't get their Republic back. They get another much more authoritarian dictator, Augustus Caesar (played hilariously as Jared Kushner in the Shakespeare in the Park production). If the Trump  family would just settle down and study their Shakespeare (that they obviously didn't read in school because their rich conniving Daddy could bail them out of stuff like that), they'd see that Julius Caesar actually works in their favor.
Of course, real violence is the opposite of art. It's not the Bonobo Way. We condemn James Hodgkinson, the shooter at the Republican baseball field, as strongly as we condemn any shooter. Apparently, the guy liked Bernie and hated Donnie. So, the right is trying to say that he represents the Resistance. Ha! That's like saying Dylann Roof represents the Republicans. Hodgkinson had a history of domestic violence (as do many mass shooters) and mental instability. Why was Hodgkinson legally allowed to have three guns and a permit to carry a concealed weapon? Ask our Republican Congress whose beds are feathered by the NRA.
Trump: The Last Family
Our own Trump parodying guest, Kevin Michaels (thanks, Clemmy Cockatoo!), has not received any nasty presidential tweets or death threats, though he sees mysterious men in black lurking around his trash and in his dreams.
He talks about creating Trump: The Last Family, now available on iTunes, which he wrote and directed with a cast of top-notch voiceover actor/impersonators. It doesn't display Trump's bloody head, but it jabs the tangerine-feathered tweeting fowl quite effectively.
In the second part of the show, we play an audio clip featuring the Donald and Melania having sex—loud, Donald-centered, very quick sex, of course.
Libidex Latex & Gay Pride
Listening to "unpresidented" presidential sex scenes gets my other guests primed for some sex scenes of their own. Since they are denizens of the dark world of BDSM, I attire myself in a dark latex "Adelphi Dress" by Libidex, another one of my fabulous outfits from DomCon 2017.
Latex needs to shine, so I exhort Gypsy and Sanctuary subbies Mpenzi Barbie and Bratty Wolfie to shine me up and rub me down with latex lube.
To brighten up the darkness, I accessorize with a pink bra, feathered hat, my Bonobo Project bracelet and Pride Month rainbow high heels. Speaking of Gay Pride, we take a moment of silence to remember our brothers and sisters who died in the Pulse Nightclub massacre one year ago. Then we get back to the business of celebrating.
Birthday Book-Spankings & Bonoboville Communion
The serious fun gets into gear as Mistress Liz blows out her candles and opens her presents, one of which is delivered on the arched back of the crawling Mpenzie, at the behest of Goddess Pepper.
Then Ms. Liz takes an enthusiastic Birthday Bonoboville Communion from Goddess Pepper's salty cleavage as the spicy Goddess leans back upon my bed.
Waterboarding (Bonobo-Style) with Agwa de Bolivia Herbal Coca Leaf Liqueur ensues. Then, with a green leafy flourish, Mistress Liz gets lei'ed!
This being a FemDom's birthday, she prefers giving the birthday spankings to receiving them, and these she delivers to the two subbies, on their hands and knees, skirts up, panties on, with The Bonobo Way. Thwack, whack, crack! Sixteen for each subbie.
The gals get their reward, licking their Bonoboville Communion off the high-heel sandaled feet of the Birthday Mistress, getting waterboarded and lei'ed. The Womb Room is starting to look like an Emerald City Luau.
"Unpresidented" Predicament Bondage
After the break, we get into some wild "Double Predicament Bondage." This is Mistress Liz's birthday brainchild and the visual highlight of this show.
Predicament bondage involves restraining a submissive into an uncomfortable position. If they try to shift out of position, their restraint causes them equal or even more discomfort or pain.
In double predicament bondage, the two submissives are restrained into uncomfortable positions that force them to maintain them or, if they attempt to switch, they will cause discomfort and pain to their partner.
For this physical, mental and emotional challenge, the subbies disrobe until they are wearing nothing but their collars, cuffs, Mpenzie's high heels and their birthday suits. Tension and excitement fills the Womb Room to the brim.
Both ladies' bodies are delightfully all-natural, though quite a contrast. Mpenzie (a Swahili name) is tall, dark, sleek and slim, with big hard nipples and a matching clitoris. Bratty Wolfie is voluptuous and fair-skinned with big natural boobs, "bratty" pigtails and a hairy bush (though her fleshy labia are clean-shaven) for the pubephiliacs and hairy armpits for the maschalagniacs.

You have to see this scene to believe it, but I'll try to describe it. Mistress Liz inserts a rather large, metal "pussy hook" (really an anal hook used in the vagina) into Mpenzie's G-spot; then Goddess Pepper attaches it to a hemp rope that she ties in an intricate manner around and about Mpenzie's naked body.
Meanwhile, Bratty Wolfie is made to get down on her knees, balancing a Bonobo Way book on her hands and another one on her head. At this point, Goddess Pepper instructs Mpenzie to place the spiked bottoms of her high heels into the soles of Wolfie's bare feet. Ouch! As long as she stays on her tiptoes, it's bearable, but if she leans back… Aiieee! Good thing that Mpenzie is into "discipline" and tries to avoid pain, while Wolfie isn't so disciplined but is a masochist, aka, a pain slut. So, each is well-suited to assuming her position.

Miraculously, they stay in position, as Mistress Liz and Goddess Pepper tease and flog them, until Bratty Wolfie drops one Bonobo Way and Mpenzie pitches forward, and then everyone falls apart in a gale of gasps and giggles.
Kevin Takes Communion
Now it's time for our parodist, whom I call Deadpan Kevin and who calls himself "the squarest person here," to take Bonoboville Communion for the very first time with both Mpenzie and Bratty Wolfie serving as Altar Girls.
Kevin is willing, very willing—but shy about it. Or maybe he's just trying to milk some laughs out of our audience, hemming and hawing (though he knows we're running out of time) and looking the other way while Gypsy gamely demonstrates the sucking of the nipple, the lapping up of the salt and so forth.

Finally, he sucks up his salty Communion nipples with the relish of a mazophiliac sodium-gourmand.
Then he takes his waterboarding like a brave POW.
Thus Deadpan Kevin loses his Bonoboville Communion virginity and is no longer the squarest person in any room.
It's always fun for me to get my more intellectual guests to release their inner bonobo and the sexpots to weigh in on politics and philosophy, and I love getting to do both on this show.
Ron Jeremy in da House
It's warm and balmy, like the first night of Summer, so we frolic in the garden and on the balconies.
Then who walks in but the Mayor of Bonoboville himself, Ron Jeremy.
Ron missed my birthday last week because he was in Orlando. So tonight he makes it a double-header and plays "Happy Birthday" on harmonica right on the balcony for both me and Mistress Liz.
Then he mingles with the subbies, and talks about his handshake with Trump two years ago which happens to have been in… the New York Post! When Page Six asked how big Trump's hand was, Ron generously replied, "Me and him have similar-sized hands."
So where is Ron Jeremy's cabinet position? I guess, even though he's got the Trump flattery act down, Ron's not a billionaire. And then there's the small matter of the "porn is a public health crisis" platform of the GOP, not to mention Trump himself, rather hypocritically, signing it.
Thank God, Goddess and the Devil for Trump parodies! We support all of them, funny and not-so-funny. We need them to get through this. And one of them might just get through Trump's own mop of wispy hair and into his self-obsessed brain, making him want to "step down" consensually (it's no worse than declaring bankruptcy, Donnie!) before things get really "sad."
Happy Birthday Mistress Liz! Visit her and the other ladies at Sanctuary. Then, if it's a Saturday night, you might want to top off your evening in the sexy sparkling Garden of Bonoboville, where you never know what might transpire.
Thanks to Our Volunteers:  Videographers: Conwell Stewart, Jim Burzelic, Jonathan Ibarra, Photographers – Slick Rick, Graham Kennedy, Eric Kolowoski, Jux Lii;  On-Campus Bonobos – Abe Perez, Del Rey, Gypsy Bonobo, Harry Sapien, Jacquie Blu, MarsFX, Johnny Jungle, Clemmy Cockatoo, Ana & Miguel.  Dr. Suzy's Hair: Mark Brown. Adelphi Dress: Libidex.
Original prints of all photos are available from the photographers. Call 310-568-0066.
© June 17, 2017. Susan Block, Ph.D., a.k.a. "Dr. Suzy," is a world renowned LA sex therapist, author of The Bonobo Way: The Evolution of Peace through Pleasure and horny housewife, occasionally seen on HBO and other channels. For speaking engagements, call 310-568-0066.