Summer Magic & the Motorbunny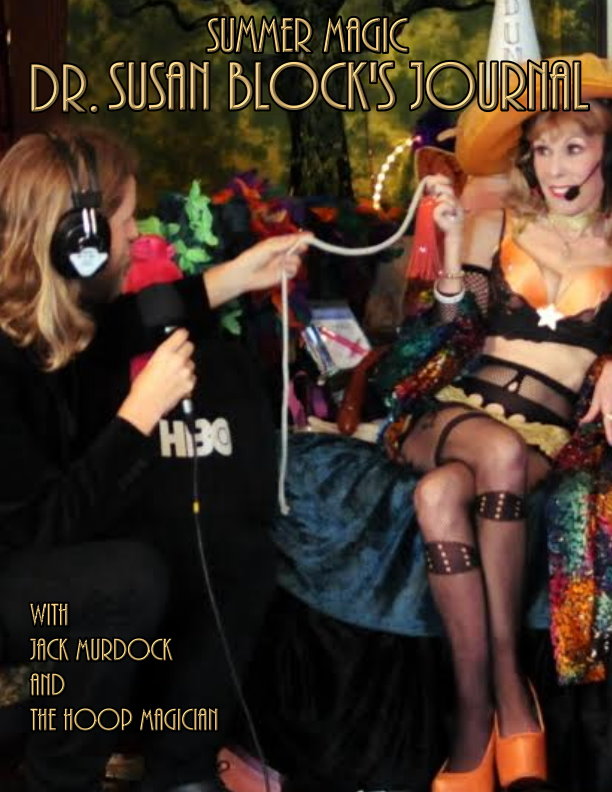 Length 01:31:45 Date: June 24, 2017
It's Summer Solstice time, aka Midsummer, when Earth's northern hemisphere basks in the most sunlight of the year. Time to get away from the computer, the grind, the fake news and all things Trump. Tis the season of warm nights, Sex on the Beach (the drink and the activity), sexy witches flying the friendly skies… and magic.
For the magic, on our first show after the Summer Solstice, we have a magician and a Motorbunny. And though we don't pull a rabbit out of a hat, we do pull an orgasm—or four!—out of the Motorbunny. We're also treated to some enchanting magic tricks by our featured guest, sleight-of-hand artist, Jack Murdock.
Tarot Card Magic & Love
Before the card tricks begin, I bring out my own deck of Tarot cards, an Aleister Crowley set designed by Frieda Harris. It's too bad that the most iconic cards in the deck are sometimes called "Trump cards." Arrghh! That toxically obnoxious family is even poisoning the ancient game of card play with their tawdry brand.
So, in the spirit of resistance, we keep our Trump doll under gag order with his penis pacifier, "DUNCE" cap on his head, and we call the Tarot's most powerful cards by their more formal name, the "major arcana."
We start with magic. The "Magus" major arcana card represents the strong will of magicians to have their own way with nature, to create "illusions" that the rest of us believe in. This is the essence of the creative impulse and the drive to power, as well as an essential aspect of being a performance magician—or, for that matter, a Tarot card reader. However, if misguided, "Magus" energy can turn into aggression, mendacity, con artistry, egoism, hubris and the abuse of power; thus, the Trump card becomes the Trump administration.
For whatever reason, Harris drew the Magus with a rather small penis and large balls. Crowley chose her less explicit painting for his deck (the Magus keeps his see-through undies on), but we examine all three of Harris' prototypes, one of which really shows it off. This gets us, his captive audience, back to bemoaning the small-endowed con artist with the Agent Orange hair, who has stolen the show on the world stage.
To balance things out, we explore "The Lovers" major arcana card, ruled by Gemini, the sign of the Summer Solstice season, not to mention my birthday as well as that of one of my other guests,  Sanctuary pro-Domme Mistress Liz. This is the card of love, marriage, devotion, trust, cooperation, optimism. Essentially, it's what I call The Bonobo Way of conflict resolution.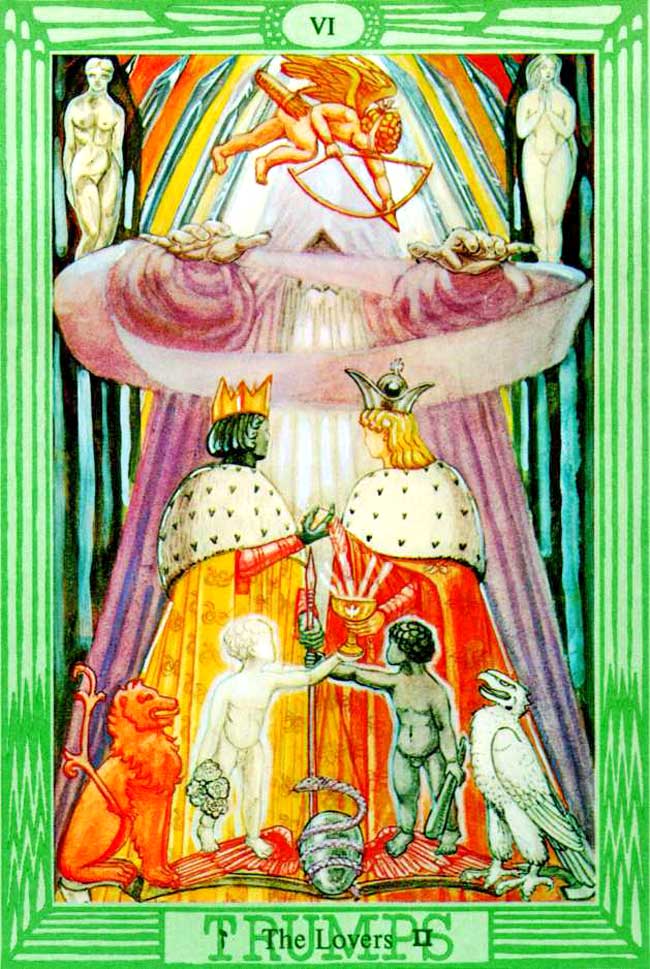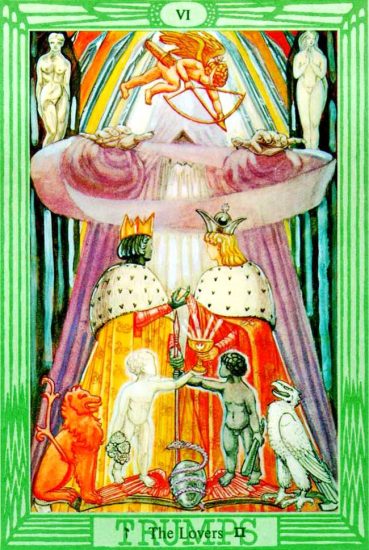 The Lovers show us that a peace-through-pleasure combination of existing contradictions is far superior to aggressive confrontation as a solution to conflict. In politics, the message is clear: exercise diplomacy before violence. Make love, not war. It's very bonobo, even though Crowley and Harris, let alone their card-conjuring Medieval and ancient Egyptian antecedents, didn't know bonobos from bananas.
Or did they? Many are the mysteries of the cards…
Magic of Murdock
Jack, our guest magician is a Magus of card tricks. He starts by making a couple of clown noses (balls?) disappear and then reappear in Gypsy Bonobo's  astonished hand.
Next, he performs some lightning-swift, sleight-of-hand card maneuvers that make all of us cross-eyed trying to see what the hell he's doing… to no avail, of course. Jack's a fast one.
Speaking of which, any guy looking to impress a date would do well to learn a few simple magic tricks. I can almost feel (and maybe smell?) every pussy in the Womb Room get wet as Jack makes magic.
As for female magicians, Jack admits that there are very few. Slowly, this is changing. Like female stand-up comics, FemDoms and national leaders, women are starting to step up on the world stage.
Meanwhile, besides sleight of hand, Jack specializes in sleight-of-mouth tricks. One wonders how that translates into the bedroom…
He also brings out some rope, in deference to two of my other guests, Mistress Liz and Sanctuary submissive Mpenzi, who enjoy rope play of a different kind. Then, he proceeds to tie us all up in knots—mentally—as he makes the ropes vanish, reappear and change size before our amazed eyes.
Jack's funniest trick is also his sexiest, most "obscene," and definitely his most remarkable, which I describe down below, after the Motorbunny test-drive, when he astounds us all.
Shelbi's Hoop Magic
Jack balances out his astounding "Magus" power with his adorable girlfriend, Shelbi Mullen, who at first tells me she's just here to watch, but then joins her magic man onstage. Together, they embody "The Lovers" card in the Tarot.
Shelbi assists Jack, holding his mic through much of the show, as even a talented magician needs both hands to do sleight-of-hand. However, she is also a talented performer, a hula-hoop artist who wows the Womb Room with her circles and twirls, creating another kind of summer magic with her spinning illusions.
Jack and Shelbi "met cute" when she dropped a twenty in his hat as he performed his act on Venice Beach. Not missing a beat, he suggested they spend the cash on dinner together. That was nine months ago, and the magician and the hoopster have been together ever since. Jack is also teaching her magic, so she is on her way to becoming one of those rare female magicians.

In some ways, they take their performing from the streets to the sheets, and back again. He makes her feel magical, and she spins circles around him. Their passion, in turn, inspires their performance art. That's the power of sex magic, when the Magus meets The Lovers card.
Bonoboville Communion with Agwa
All that magical passion makes us thirsty. Time for Bonoboville Communion with our favorite Holy Water (besides female ejaculation and semen, of course), Agwa de Bolivia Herbal Coca Leaf Liqueur.
Everyone wants to commune, but no one volunteers to go first, so I step up to the Communion plate with Mpenzi as my altar. I ask her to model her sweet, tight, pink, white and blue striped sailor girl outfit, showing off her penis pacifier that is so much bigger than Trump's little thing—it's yuuge! She sits down next to me and pulls up her top to reveal her gorgeously hard chocolate nipples, like Hershey kisses, from which I take a delicious Communion.
Then Mistress Liz licks up Gypsy's beautiful salty pink boobs and receives her Waterboarding, Bonobo-Style.
Now it's Jack's turn. With a romantic flourish, he takes his Communion from the back of Shelbi's neck. Then he leaves his magician's need for control behind, leans back between Shelbi's lovely legs and takes his Waterboarding, Bonobo-Style, like a good POW.
Motorbunny Magic
After the break, our attention turns to the Motorbunny, which happens to be sitting right in the middle of my bed.
This is the moment that Mpenzi has been waiting for. Since she'd wowed us all with her performance style (and substance) at Mistress Liz's birthday, we asked her to come back to Bonoboville to test-drive our brand new Motorbunny.
Since we know it will be a seat used by many, Gypsy (a real nurse by profession) makes it safe by wrapping the machine in saran wrap. Then she covers the attachment (we choose the thickest one since Mpenzi professes to be a "size queen") with a Glyde America all-vegan condom and lubes it up with Astroglide.
Mpenzi takes off her sailor suit to reveal her elegant, model-slim, naked body tied up in rope like human macramé. Mistress Liz is the macramé artist, and her design allows for the Glyde-condom-covered Hitachi Magic Wand to be held firmly in place on Mpenzi's exposed clitoris. Mistress Liz isn't leaving the Motorbunny's magic up to chance or to Mpenzi's will. She calls the process "forced orgasm."
All trussed up, Mpenzi ascends the Motorbunny, with Mistress Liz controlling the Hitachi and me working the Motorbunny dials that make the machine "vibrate" and the attachment "rotate."
After some rotating, vibrating and a whole lot of gyrating, Mpenzi comes three times. At least, she says—and looks like—she does.
Then I request that the Hitachi be removed, partly so that we can better view Mpenzi's marvelous body, including her powerful pussy hopping up and down on the attachment, and partly so that she can better judge the vibrational effect of the Motorbunny itself.
Now she has one last "pure Motorbunny" orgasm that also seems to be her deepest climax of the show.
Our conclusion is that the Motorbunny ranks up there with the best of these types of straddling vibrators, and from what we hear, it's a bit less expensive than the Sybian, which we also adore.
Jack's Wild Card
Then Jack does his most mind-boggling trick yet. It starts innocently enough, with me picking a card which turns out to be, appropriately, the Queen of Spades.
Jack rips off the corner of the card to "mark" it. Then he gives the larger part of the torn card to Mpenzi, and he appears to "lose" the smaller piece of the card. We all look around and he hesitantly asks Mpenzi to check up inside her vagina, and lo and behold, there is the missing piece of the card!
How does he do that? He says he'll reveal his secrets, but he doesn't. The magician's mastery must remain a mystery. Otherwise, it's seen for what it is: a trick.
Hooping the Night Away
And with that, it's time to wrap up another great show.
But between Shelbi, Mpenzi and me, the after-party is a hula hooping festival of fun.
Even though we barely have space in the Womb Room for one hoop, we manage to get three going. Shelbi even teaches us a few new tricks.
So, our Summer of Love in Bonoboville is off to a magical start. Check out my Yale reunion travel-blog for an adventure in Ivy League nostalgia, explore Dom Con 2017 if you're intrigued by BDSM, get The Bonobo Way for erotic inspirational summer reading, stay tuned for more magical shows on DrSuzy.Tv and join us for pleasure under the palm trees sometime, if you dare to release your inner bonobo and evolve from the magic follows.
This show is produced by Clemmy Cockatoo. Thanks to Our Volunteers:  Videographers: Conwell Stewart, Jim Burzelic, Jonathan Ibarra, Photographers – J. Rivas, KZP Photography; Intern Michael Sullivan; On-Campus Bonobos – Abe Perez, Del Rey, Gypsy Bonobo, Harry Sapien, Jacquie Blu, MarsFX, Johnny Jungle, Ana & Miguel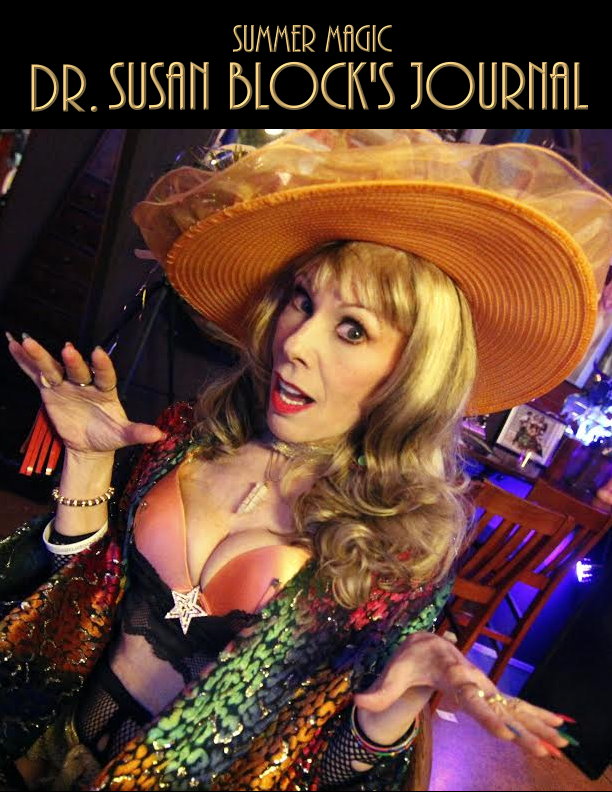 © June 25, 2017. Susan Block, Ph.D., a.k.a. "Dr. Suzy," is a world renowned LA sex therapist, author of The Bonobo Way: The Evolution of Peace through Pleasure and horny housewife, occasionally seen on HBO and other channels. For speaking engagements, call 310-568-0066.