Kink Month II: A PUSSY'S REVENGE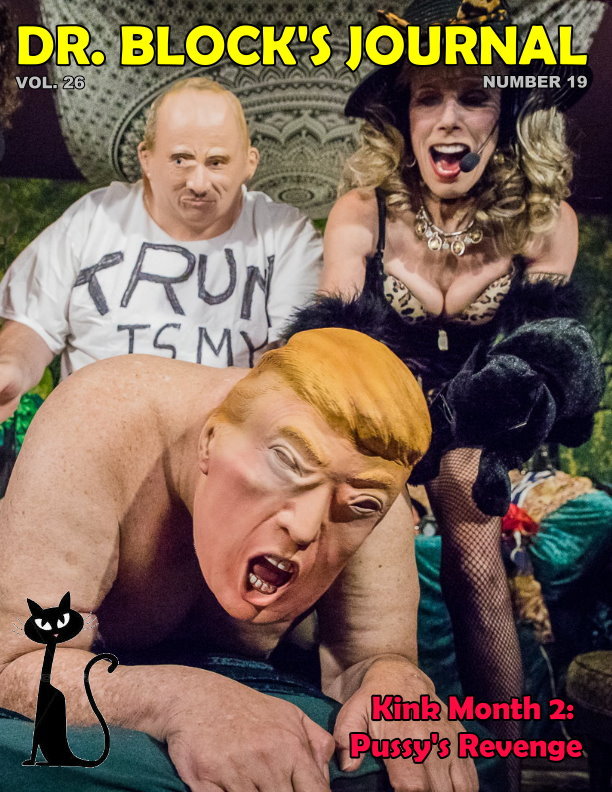 Length 01:48:59 Date: October 14, 2017
Kink Month II, 2017, on DrSuzy.Tv, creeps up and pounces on its prey like a pussycat crossed with a tiger.
Thus unfolds "The Revenge of the Pussies"—cats, kittens, leopards, lions, tigers, vulva puppets, and real live vaginas—against the power-mad Pussygrabbers of the World, especially the scary-clown, jack-o'-lantern-colored Pussygrabber-in-Chief who sits, spewing "Fire and Fury" and trash from our White House, thanks to our state of electoral dysfunction.
Not only does the Agent Orange Goblin grab real pussies, as he brags on the Access Hollywood tape that didn't seem to bother his religious supporters; he also is determined to grab the reproductive rights of pussies everywhere, plunging us into a real-life Handmaid's Tale, which is one reason those religious supporters like him so much.
Meanwhile, American women, and men who love women, are not going down without a fight. Call it a catfight.
Meowwww! This pussy has claws.
The pussy, the cat or "le chat" (en français) has been a symbol of female sexuality, mystical power, curiosity and independence for many millennia, since the ancient Egyptians first domesticated felines and honored them as great goddesses like Bast and Sekmet.
Using the word "pussy" as a term for female genitalia came later, probably in England during the Gregorian Era, though its origins are hotly debated among erotic etymologists.
Here in Bonoboville, we love pussy, as well as pussies, and the middle of Kink Month seems like a good time for me, my beautiful feline assistant Gypsy Bonobo and my featured guest, performance artist, recent MFA grad and kinkster Rhiannon Aarons, to sic our respective pussies—literal and figurative—on one of our favorite tRUMP impersonators (artist's model Michael Q. Schmidt) for our scheduled dose of Trumpocalypse therapy.
Hurricane Harvey "The Whiner" Weinstein
Though first, I have to say a word about Hollywood's Hurricane Harvey.

Actually, I say a few words directly to the ousted and publicly disgraced movie mogul Harvey Weinstein:
Harvey, you should have called me years ago. I've helped thousands of men like you through my uniquely effective practice of Phone Sex Therapy, Fetish Counseling, Predatory Fantasy Roleplay and Bonobo Liberation Therapy.
I don't know you, Harvey. Unlike much of female Hollywood, I was never raped, molested, massaged or flashed from the shower by you. But I do know a lot of guys like you. They are my sex therapy clients, and with the help of the wonderful, understanding Therapists Without Borders of the Dr. Susan Block Institute, these guys are keeping their problematic and/or taboo urges under control. They are channeling their predatory fantasies into Erotic Theater Therapy, and they are not acting them out in real life where they can hurt people.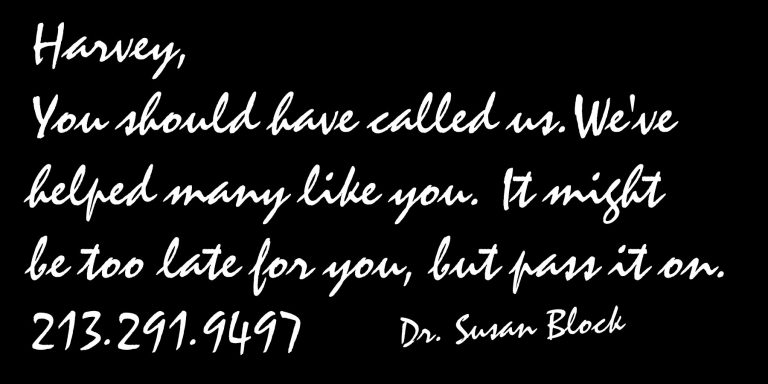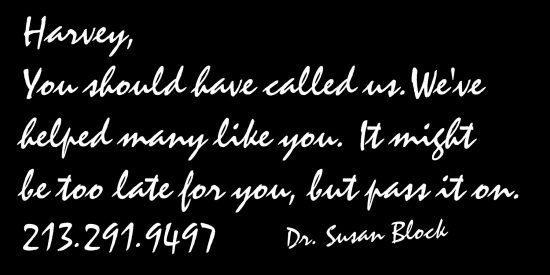 It might be too late for you, Harvey, but please pass it on to your fellow pussygrabbing "dinosaurs," moguls and clueless dudes around the world. They need help!
Otherwise, they may well experience the Pussy's Revenge. As you now know, even soft and pretty pussies can bite and scratch. Don't mess with us!
Go bonobos for bonobo female solidarity. Hoka Hoka!
Then I get back to whacking Trump; that is, Michael Q. Schmidt in the Trump mask.
Why am I not whacking Weinstein like I whack Trump? First, because we don't have a Weinstein mask, and nobody in Bonoboville looks quite as awful as he does, especially soaking wet, naked and masturbating. Oy Harvey!
Seriously though, Harvey Weinstein is not an elected official. He doesn't have his finger on the nuclear button. He doesn't have the power to withhold aid from Puerto Rico, trash America's deal with Iran, destroy women's rights, bring Nazis into the White House or push the button on North Korea. Trump is all of that, and then some.

On the other hand, Weinstein is an influential power broker like Roger Ailes, Bill Cosby or Bill O'Reilly. Unlike those three disgraced pussygrabbers, Weinstein has actually, in my not-so-humble opinion, made some very positive contributions to the lexicon of American entertainment, including the brilliant, groundbreaking, eerie and erotic Sex, Lies and Videotape.
Now with that police recording of Whine-stein's pathetic and nauseating attempt to bully a starlet, whose breast he admits to grabbing into his hotel room to watch him shower making the rounds on the internet, he's doing Sex, Harassment and Audiotape.
Just imagining Harvey Weinstein stark naked, dripping wet and wanking makes you wonder, if George Clooney was asking women to watch him shower, would we feel differently? Harvey is a big fat hairy ass of a man, kind of like our friend, Ron Jeremy, but not as honest, not at all. In fact, this is just one way in which the porn industry, in general, is much more honest and open than the wholesome-on-the-outside, sleazy-on-the-inside Hollywood.
Now Weinstein has been kicked out of the Academy of Motion Picture Arts & Science which presents his cherished Oscars. Fair enough. And hey, if they can do that, why can't we kick Trump out of the White House? At a minimum, my former HBO director Shari Cookson who is also a Governor of the Documentary division of the Academy of Television Arts & Sciences (of which Trump is still a member, from his Apprentice days, when it included Reality TV) should kick him out of our Academy which presents the Emmys. Shari and I actually discussed this at a recent Emmys party. Do it now, Shari!
Besides The Apprentice doesn't hold a candle to Shakespeare in Love.
The Weinstein episode also reminds me of another reason America needs to decriminalize and de-stigmatize prostitution, to give guys like Weinstein a legal, hands-on, sexual outlet.
More and more Weinstein-harassed women are coming forth, in their own remarkable Revenge of the Pussies. Maybe they should give an Oscar to "Most Compelling Weinstein Victim." Bad joke, I know. It's just such a sad state of sexual affairs, puns intended; even the newscasters look uncomfortable covering this story. The only one who is enjoying the Universal Roasting of Harvey Whining Weinstein is the Pussygrabber in the White House (and his desperate enablers) because it momentarily takes the heat off of him. But here in Bonoboville, the heat is ON. It is always on.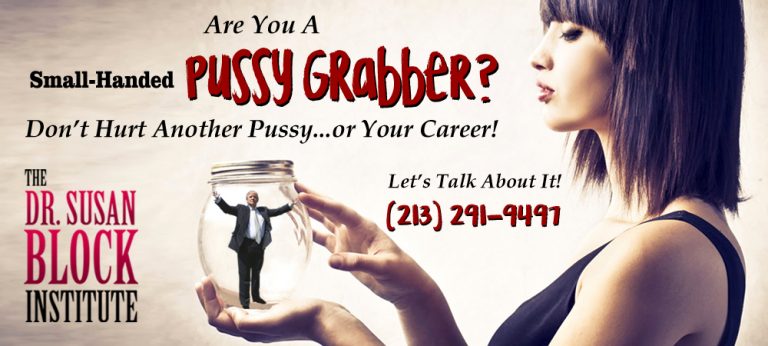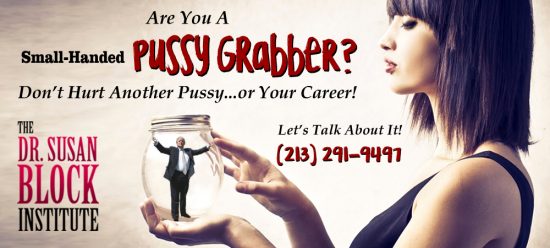 Boobilicious Bonoboville Communion & the Gourd
It's Kink Month 2: The Pussy's Revenge. Revving up for a nice evening of Commedia Erotica revenge, we first examine a traditional symbol of the season: a gourd. However, this is not just any kind of Cucurbitaceae, this gorgeous gourd is a very hard, magical-looking plant shaped like a baby brontosaurus, or a large green monster penis.
PHOTOS 1, 2 & 4: JUX LII. PHOTOS 3 & 5: CHRISTINE DUPREE.
Rhiannon takes a special interest, declaring her fondness for large monster penises of any creed or color, whereupon I invite her to perform "Coitis á Mammalia" on my gourd.
The academic in me is delighted to teach this MFA grad a new Latin phrase, even as the kinkster in me holds my gourd, with Gypsy and Rhiannon stretching at Xtra Large Glyde America condom over the huge head, including the little stem that makes it look like the gourd is ejaculating.

Miraculously, it doesn't break!
Then we commence Coitis á Mammalia, aka, "titty-fucking," in earnest. Rhiannon's big natural boobs are perfect for this great boob lovers' sex act.
This gourd is very cool. So cool, I take to calling him "Gourdy." We get more from Gourdy in the second part of the show, much more.
At this point, the voluptuous Rhiannon and the lovely Gypsy Bonobo share Communion to the eye-candied delight of all.
Such beautiful bare boobies unbound by bras!
I feel honored to be the High Priestess of these dazzling feline females, sprinkling the oh-so-sacred salt and delivering their Waterboarding, Bonobo-Style with Agwa de Bolivia Coca Leaf Liqueur.
Thus fortified—pussy, mind and soul—we are ready to take on President Tiny Hands.
Revenge of the Pussies—and Putin!
For this show's Trumpocalypse therapy, artist's model Michael Q. Schmidt shines in the thankless—but not at all spankless—role of Pussygrabber-in-Chief, aka the "Moron," aka the Dotard, aka the Clockwork Orangutan… with apologies to real orangutans who, though not as sexy as bonobos, are actually quite wonderful apes.
Rhiannon, Gypsy and I, like the Three Witches or the Three Graces (Bonobo-Style) or the three Pussies in Heat, pounce on Trump. We force him to strip naked (though that's not difficult, since Michael is a nudist). Then we make him "take a knee" (much more difficult, since this Trump has bad knees), and we spank him with our black cat paddles and The Bonobo Way.
Nurse Gypsy holds up his head, and hot MiLF Rhiannon rides him, rubbing her pussy against his back. Dominatrices Against Donald Trump founder Mistress Tara Indiana even makes a split-second appearance from her incognito perch in the Womb Room studio audience to lift Trump's sagging chin. Meanwhile, I spank Trump with the Bonobo Way, as my black-cat pussy puppet attacks.
Meow!
Why do we spank Trump? Oh, let me count the reasons… Actually, I lost count a long time ago, but punishing Mango Mussolini is a moral duty in Bonoboville, and so for starters, we pussies spank him for his pussygrabbing, his racism, his narcissism, his nepotism, his lies to the people of the U.S., and his Nazism. We spank him for his moronic tweet storms, his lame brained war with the media, his "alternative facts," his calling NFL players "sons of bitches" too. We spank him with special fervor for his vicious, heartless and unfounded attack on San Juan's mayor after he golfed through Hurricane Maria's shattering landfall in Puerto Rico, then telling the island's traumatized residents that they didn't experience a "real catastrophe like Katrina" and then throwing paper towels at storm victims, in addition to lecturing them about the crushing debt unjustly imposed by U.S. finance capital, all the while as American citizens continue to suffer and die without electricity and basic necessities on the beautiful "Island of Enchantment" which has been devastated by the effects of the climate change that he denies.
Then we bring in the Big Guns from Russia with Love: Vladimir Putin (played by Tim Sewell), wearing a shirt emblazoned with "Trump is My Bitch," proceeds to hump Trump from behind, a bromance that's worth its weight in gold.
Political Psychodrama or Trumpocalypse Theater Therapy; it works in that it's a lot of good clean fun, and nobody gets nonconsensually harassed. Plus it's pretty damn entertaining. Watch it now on DrSuzy.Tv.

Sex with Gourdy the Monster Gourd
In the second half of the show, Rhiannon gets her wish for sex with the big green monster gourd. It's still covered with the Glyde condom, which still hasn't broken. Gypsy puts another condom on the Hitachi Magic Wand, and Rhiannon gets comfy.
She shows us her pussy, which is very cute and furry on top, slick and smooth inside, as we play the Lords of Acid's Show Me Your Pussy (can you believe it's 20 years old?), with a hat tip to Michael Marinacci.
Then we dribble some Astroglide over everything and go to town… or to farmville… or wherever you go to have sex with gourds.
At first, I hold the Hitachi on Rhiannon's clitoris, as she positions Gourdy the Gourd against her pussy, and then puts it in… at least part of it.
Apparently, Gourdy is bigger than a faux rabbit that Rhiannon stuffed in her pussy for a performance art piece she did with Mistress Sheree Rose.
Rhiannon's pussy is hungry, to be sure, but that gourd is huge and rather heavy. So we switch; Rhiannon takes the Wand, and I take on the heavy labor of manipulating Gourdy.

When Gourdy gets too heavy for me, I come up with the nifty notion of pushing it into Rhiannon's pussy with my ass. Then I get the even better idea of balancing it like a strap-on dildo on my pelvis. Actually, the flat bottom of Gourdy's giant balls feels quite good against my own pussy, as I push the tip into Rhiannon's hungry pussy and the Hitachi vibrates the three of us. Wow!
Finally, Rhiannon comes with a flow of amrita around Gourdy's giant head. I plop back down on the bed, spent though invigorated.
Then Gypsy and Putin join us in whacking Trump some more, this time with the cum-drizzled gourd as the object of the Moron-in-Chief's discipline, "forcing" him into stress positions and generally torturing the poor guy. Ah, if only it could be real! Well, at least it's a release for us, and maybe entertaining for you. Watch it all now on DrSuzy.Tv.

We Are One
Bringing us to a different level of reality, a deeper level of rhythm and a higher level of bonobo love is Ikkor the Wolf, Bonoboville rapper extraordinaire.
Ikkor reminds us that "We Are One," as we dance and "take a knee" against police brutality.
We talk about stopping or at least reducing the terrible gun violence in America, how American disarmament must begin with our police. Instead, our so-called domestic protectors are being armed with military equipment as if to fight a war.
Make Love Not War. Resist! Practice the Bonobo Way of Peace through Pleasure. If the bonobos—and the Japanese—can do it, maybe we can too.
Back in Cosmo with P-Gasms
Just before show time, writer Jill Hamilton lets me know that I'm quoted in her article "He Has a G-Spot" on stands now in the November issue of Cosmopolitan Magazine.
Yes indeed, don't be afraid to go spelunking (consensually, of course) and find his P-Spot. Then maybe he'll find your G-Spot. Or take you to Paris. Or marry you. Or finance your next movie.
I sincerely hope I don't hear that Harvey (or Donald, or anybody!) forced some petrified starlet to massage his P-Spot. But that could be next…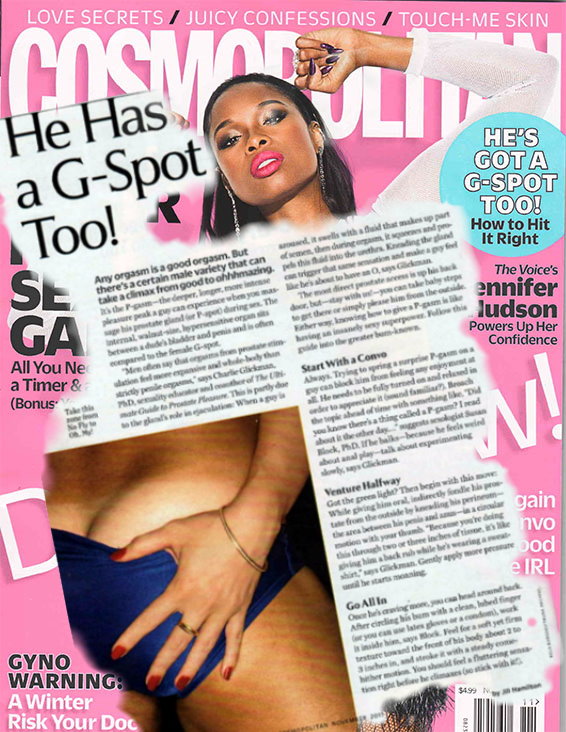 Learn to do it right. It's the Bonobo Way, after all. Pick up your copy of Cosmo, quoting yours truly on the subject of giving a man a "P-Gasm," as well as fellow sexologist, Dr. Charlie Glickman, a guest on DrSuzy.Tv in November, 2012.
A Pussy's Pleasure
The show winds down, and the after-party begins. It's pretty sedate, but good to connect with old friends and kibbutz (as Weinstein might say) with staff and featured guests.
PHOTOS: JUX LII
At this point, our darling Trump impersonator does what he's been really aching to do all night whilst being spanked, tortured and humiliated: breast-pump his rather large moobs. It's an unnerving, somewhat disturbing, though ultimately amusing sight. And hey, at least he's not the real Trump or Weinstein doing this in front of an unsuspecting intern. I'm a therapist, Gypsy's a nurse and Rhiannon's a medical fetish specialist. We're all pretty chill about people doing their fetish thing, though Harry Sapien does look a bit traumatized and might need therapy after this.
I give Gourdy to Rhiannon to take home with her. Then the Captain and I hustle up to our private quarters to release the giant monster orgasm that Gourdy got started.
PHOTOS: SELFIES
Yes indeed. I didn't realize I could be so "vengeful." But I must confess that "Kink Month II: A Pussy's Revenge" turned into my pussy's pleasure.
Thanks to Our Volunteers: Videographers: Kyle Garret, Jamal Berry; Photographers – Chris Phillips, Christine Dupree, Jux Lii; On-Campus Bonobos – Abe Perez, Camille Rosebud, Del Rey, Gypsy Bonobo, Harry Sapien, Jared Bonobo, MarsFX, Clemmy Cockatoo, Ana & Miguel.
Please post a comment and share your views. I always appreciate hearing from you!
© Oct 14, 2017. Susan Block, Ph.D., a.k.a. "Dr. Suzy," is a world renowned LA sex therapist, author of The Bonobo Way: The Evolution of Peace through Pleasure and horny housewife, occasionally seen on HBO and other channels. For speaking engagements, call 310-568-0066.