Kink Month III: Night of the Cougar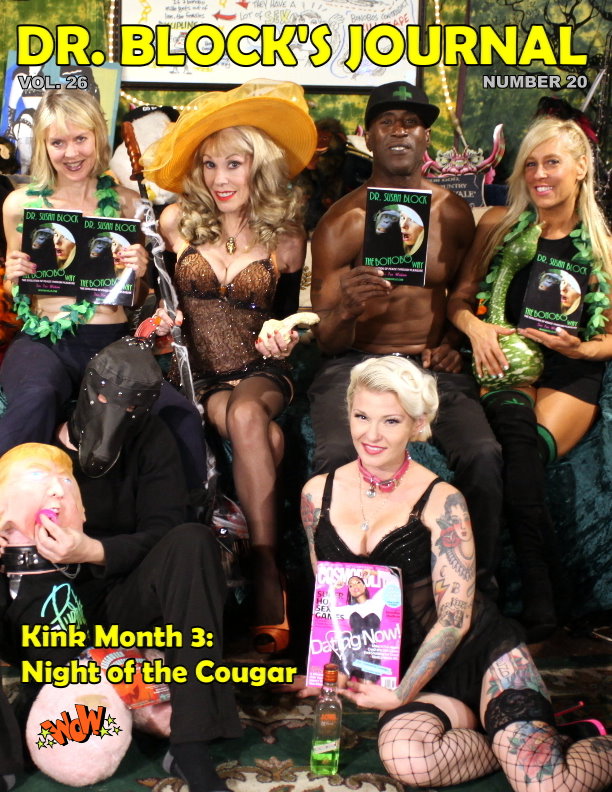 Length 01:40:01 Date: October 21, 2017
It's Kink Month 3 in BOOnoBOOville, Smoketober 2017, and the whirling winds of autumn are upon us, stirring up kinky Halloween dreams and the alchemy of scary sex.
Weinstein, Toback, O'Reilly, Trump & Pence
Scary sex can be fun, but only when it's consensual fantasy roleplay, not when it's a nonconsensual reality, and some pussy-grabbing creep chooses to assault you; that's not fun. At. All.
But the Revenge of the Pussies is upon us. Last week, it was Hollywood producer Harvey Weinstein getting fired and kicked out of the Motion Picture Academy for harassing dozens of young aspiring starlets, coercing them into sex, massage and/or watching him take a shower. Though the harassment and especially the rape charges are very serious, it's hard not to laugh when picturing this hairy, Falstaffian man-pig dripping wet and soaping up his pathetic ding-a-ling while sputtering promises to a nauseated young starlet about her role in his next Oscar-winning film as she tries to avoid getting splattered or soaked. Very Hitchcockian. And since when was the casting couch moved to the bathroom?
Whatever the venue, thanks to the burgeoning revenge of the Hollywood pussies—I mean actresses—Harvey is the one who is being splattered with his own crap, at least for now (and so is, as of this morning, director James Toback). But lefty Hollywood isn't the only hotbed of sexual hooliganism. Far from it. A few hours before this show, we hear that just after settling a sexual harassment lawsuit for a whopping $32 million, Fox extended right-wing anchor Bill O'Reilly's contract for five years at $25 million a year. Talk about enabling! That's practically pimping.
At least, Hollywood and the left have some shame regarding sexual harassment. The right, the alt-right, the Nazis, the KKK, General John Kelly and Fox News have no shame about sexual harassment. Indeed, they often flaunt it as part of their old-school, "manly" image. Ironically, what they are ashamed of is their own sexual desire, their need to be looked at, their interracial cuckold fantasies; their fears of inadequacy and—in some cases—their need to be sissified, teased, and dominated; all the while these people are not ashamed to be bigots, misogynists and are willing to turn a blind eye to the habitual sexual harassment happening at the very top of their own fields.
However, much to their chagrin and confusion, the culture is changing. More and more harassers are being outed, publicly humiliated (and not in a fun way), shunned and punished. It's the revenge of the pussies against the pussygrabbers, and in a way, this sisterhood response is very bonoboësque. Though rape is a common form of sex among common chimpanzees and other great apes (including humans), it is extremely rare among bonobo apes. Unlike common chimps—where it's every female for herself—bonobo females support each other against male aggression when it occurs, which is rare because the guys learn when they're young that the females won't tolerate it. However, these empowered bonobo females also make sure the males get some kind of sexual release with a different bonobo female or male, which is another important factor in keeping the rape rate low. Unless we want to live in a society where we keep all the straight guys in cages, we ought to consider our social relationship with sex and sexuality. One part of the solution would be to decriminalize and destigmatize prostitution.
The irony of the current Revenge of the Pussies is that, as far as contemporary pussygrabbers go, our Pussygrabber-in-Chief, who crazily got into the White House just after being exposed as a pussygrabber, is the worst. After all, tRump will not only grab your pussy, by his own admission, he will grab your pussy's—and millions of other American pussies'—rights to healthcare, contraception and liberty from being harassed by other pussygrabbers.
Veep Mike Pence won't grab your pussy, or so he says, with great fanfare about not even taking a dinner meeting with any colleague who happens to possess a pussy. Then again, who knows, guys like Pence often get caught with their pants down… eventually. One thing we do know now: Pence is deep in the pocket of the Koch Brothers and salivating to grab your pussy's rights to contraception, health care and liberty, in the name of "God." Therefore, my constant refrain of "Impeach Trump" has since expanded into "REMOVE Trump AND Pence."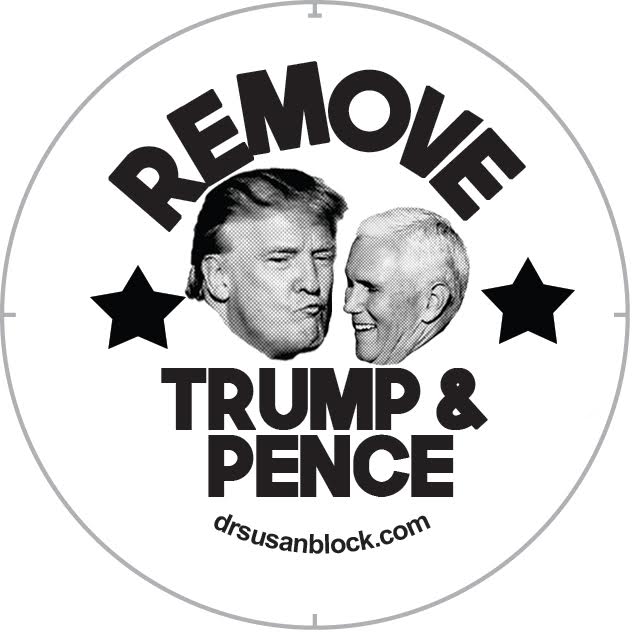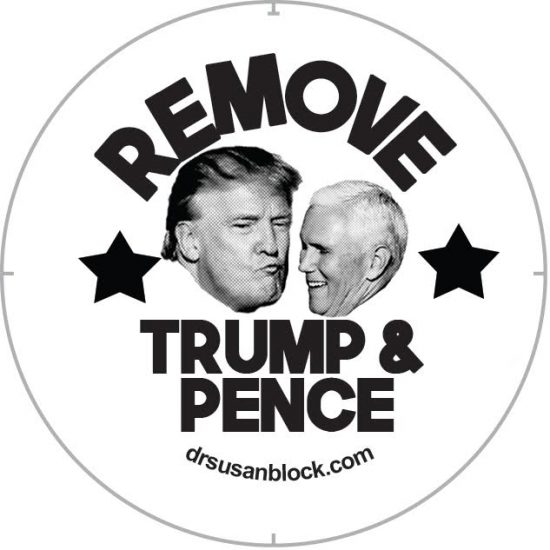 Yes, Paul Ryan would be next in line and, yes, he also wants to grab your pussy's rights and toss them into the trash heap. Though he somehow doesn't seem quite as odious as the tire fire that is the Trump/Pence administration, probably because he's younger, which provides a glimmer of hope for the Bonobo Way.


Cougar Sally Mullins
Which brings me to my featured guest on Kink Month 3: Kinkster, "Cougar" and "FemCom" Comedienne Sally Mullins.
Sally hosts "Hello Cougar," spotlighting her erotic encounters with younger men (aka "cubs"), on Drome Box Tv, brainchild of Jack Jiminy, whom we first met on my birthday show with multi-talented Christiana Cinn.
What is a "cougar"? Of course, the standard definition of "cougar" is a large American wildcat, like a puma or panther, a powerful pussy who could possibly eat you alive, if she's hungry. The other, more modern meaning of "cougar," according to our trusty urban dictionary, is "an 'older,' experienced woman who happens to find herself in a sexual relationship (committed or not) with a younger man. She is not necessarily a slut, nor is she desperate. She offers sexual expertise and is open to new experiences…Though older, she may actually look younger than her 'hook-up.' She is attractive, confident, and just wants to have fun. She will not attempt to trap her mate into marriage, children or even an exclusive relationship. She is not interested in drama or games, as that would interfere with the pleasure she enjoys."
This pretty much describes Sally who seems to enjoy her cougar lifestyle for a number of reasons, not least of which is that it provides a constant source of comedy for her show. She also seems to genuinely like the sexual energy and drive of younger men, and the fact that they don't try to control her, at least not outside the bedroom (where she kind of likes to be controlled), as older guys tend to do.
Yes, for Sally, it's all about guys. A cougar could be bisexual, though when I ask if she'd go "gay for pay," she says yes without hesitation. In fact, she has done quite a few paying gigs here and there through her career (comedy doesn't pay much), including at the old Chateau where she used to work as a "switch."
Now she hunts for her "prey" on Craigslist, as well as everywhere else. She manages to pick up a few younger guys right here in Bonoboville, not that that's a huge challenge. Stay tuned to her show and ours to see how they fare…


P-Spotting in Cosmo with the Magic Dildonic Vibrating Broom
Sally may be a 21st century cougar, but when it comes to actual sex acts, she's very traditional, preferring missionary position intercourse above all.
Since Jill Hamilton's interview with me in Cosmo about how to stimulate a "Man's G-Spot," aka his P-Spot or prostate, is on stands now, I ask Sally if she likes to stimulate men anally. She frowns a bit and replies that she'll only "go there," if she really likes a guy. Otherwise, no go.
It's understandable, and it's yet another reason why we need legal, professional sex workers to help out the less appealing men of this world. After all, every guy deserves to experience a P-gasm, if he wants one.
On that note, I take a whirl around the Womb Room on my Magic Dildonic Vibrating Broom. This Halloween seasonal fantasy pleasure toy is perfect for penetrating your man's P-spot (or your lady's G-spot), as you ride the vibrating shaft into bliss. Plus you can use the broom end as a spanking paddle. Harry Potter never had it so good.
Gypsy Bonobo grew up on Cosmo, the Sexy Girl's Bible. I've been quoted in the magazine since 1996 when it ran excerpts from The 10 Commandments of Pleasure. It's great to see this venerable publication keeping up with the P-spotting times.
Ikkor, Smoketober & Bonoboville Communion
Into this den of felines comes Ikkor the Wolf and his Smoketober Fest Crew. I take great pleasure in introducing sexy Ikkor to our Cougar Sally. I love the fact that both have animal avatars, the wolf and the cougar. Also, Ikkor is wearing a black T-shirt with "#BONOBOVILLE" on it, and Sally is wearing a black T-shirt with "PERVERT" on it. Let your kink flag fly or show your bonobo pride; we're for both together.
Not that Ikkor is in need of female companionship as he is accompanied by two hot blondes in cannabis-themed leggings, Brigitte and Teresa.
Practically crying out for a Bonobo Way book-spanking, Brigitte almost immediately gets over my knee. What a naughty girl! And what a spankable bottom. And what kissable lips.

Brigitte takes the first Bonoboville Communion of the night, licking my boobies worshipfully, so I feel like a Sacred Altar of Older Womanhood.
Then I waterboard her, bonobo-style, pouring the green liquid down her throat as she reclines obediently between my thighs.
Inspired by our example, Cougar Sally takes Bonoboville Communion from Ikkor's awesome abs. "I love salt!" she exclaims, licking lustily, as Ikkor smiles in Smoketober bliss.
Trumpocalypse Therapy & Gourdy 2
Thus fortified, Sally undertakes Trumpocalypse Therapy, applying finger-flicking CBT (cock and ball torture) to our Trump Dickhead's micro-penis, as I spank him with the Bonobo Way.
As usual on DrSuzy.Tv during this year of insanity, anxiety and PTSD (Post-Trump Sex Disorder), punishing our Trump surrogate proves very therapeutic for all. And who knows, maybe there's something to voodoo, and it'll work!
Throughout this part of Trump's punishment, Adam, Sally's "human pet" in a canine mask without the ears ("He feels bad, he forgot the ears at home," explains Sally compassionately), sits quietly by our feet like a good dog.
Then I bring out the big guns. That is, the big gourd. I call him Gourdy 2, having given Gourdy 1 to his number one lover, Rhiannon Aarons, last Saturday.
Gourdy 2 also has a rather strong effect on Sally. His sheer presence makes her want to remove her top, with only a little encouragement from me, and some hands-on help from Brigitte to the tune of Carmina Formosa's "The Kinkster." Sally looks great in her "PERVERT" T-shirt, but she looks much better topless. With Gourdy between her boobs, she looks downright delectable, in an ecosexual way.
With eating on our minds, we turn to our favorite "food of love"… music!
Ikkor raps "She Bad," which is the perfect Cougar Anthem. Though Sally claims not to dance, she gets up and boogies with Gypsy, Brigitte and me, or gets down and plays with her dog.
Rather Sally's dog plays with her. Typical pet who thinks he's a human.
In closing, we take a knee against police brutality, marveling at how the Mango Man-Child's viperous negativity has given Colin Kaepernick's movement such publicity. So we even make our tRump surrogate take a knee with us. Actually, we sort of behead him, but not on purpose!
We need a new national anthem anyway, instead of the current one that celebrates war and slavery and is too high-pitched for most of us to sing.
We give a shout-out to Madame Margherite, queen of the human pets, who will be joining us for Halloween Saturday Night in BOOnoBOOville this Saturday, October 28th. On November 4th, we'll celebrate Capt'n Max's birthday and the 4th anniversary of The Bonobo Way with Goddess Virgin, Goddess Soma and a galaxy of stars.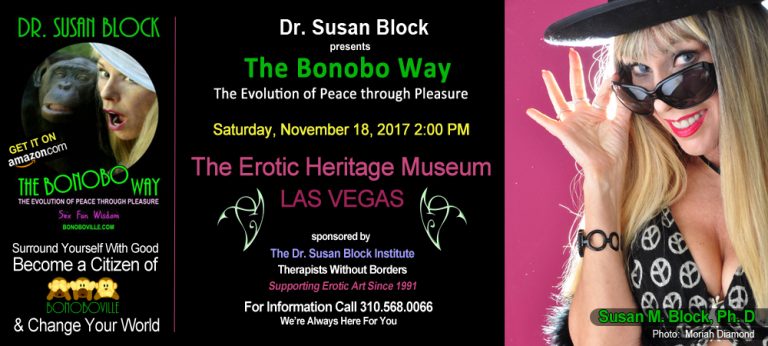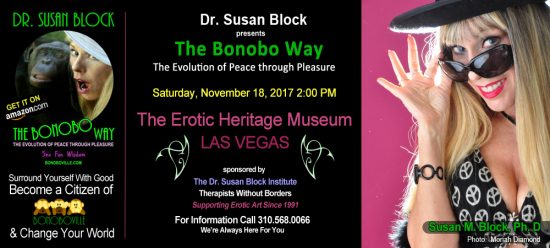 Then The Bonobo Way of Peace through Pleasure plays Vegas at the Erotic Heritage Museum. Join us on Saturday afternoon, November 18th 2pm. #GoBonobos in Vegas. The week after that, get your rumps ready to be roasted for our traditional Spanksgiving in Bonoboville (check out last year's) with Madame Raven Rae on Nov. 25th. Much excitement ahead in Bonoboville. It's not for everybody. But for some, Membership Has Its Pleasures.
Who Bad?
After the show, the Smoketober festivities, book-signings and Cougar maneuvers continue.
It's pretty low-key, but it's all one big kinky aphrodisiac for the Captain and me. In fact, he invites me to watch him take a shower, and I accept! We even give each other massages—with very happy endings.
We Bad!
Thanks to Our Volunteers: Videographers: Jamal Berry, Martin Morrow; Photographers – A. Singletary, Christine Dupree, Jux Lii, Slick Rick; On-Campus Bonobos – Abe Perez, Camille Rosebud, Del Rey, Gypsy Bonobo, Harry Sapien, Jay Red, MarsFX, Clemmy Cockatoo, Ana & Miguel.


© Oct 21, 2017. Susan Block, Ph.D., a.k.a. "Dr. Suzy," is a world renowned LA sex therapist, author of The Bonobo Way: The Evolution of Peace through Pleasure and horny housewife, occasionally seen on HBO and other channels. For speaking engagements, call 310-568-0066.