Kink Month Kick-Off 2017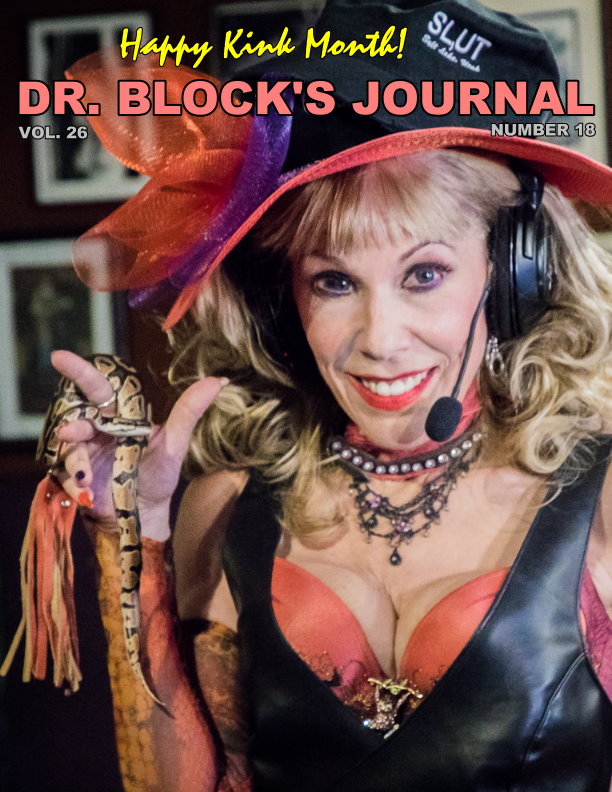 Length 01:41:01 Date: October 7, 2017
Kink Month 2017 kicks off, spanks down, chats it up and climaxes on the Motorbunny in BOOnoBOOville with sexpots, sexperts and kinksters galore.
From clinical sexologist and Sex-Positive LA director, Dr. Laurie Bennett-Cook to "bi geek" porn starlet, Gracie May Green, her gal pal Amilia Onyx, a snake named Zeus, our old friend Maya, our own fabulous Gypsy Bonobo, Ikkor the Wolf, Jacquie Blu, Capt'n Max, and our Trumpocalypse Therapy spanking puppet (this week, we spank him with a roll of paper towels), Dotard Drumpf, a kinky congregation gathers together in the Womb Room Cathedral of Kink-Positivity and inclusivity.
Hallelujah, Brothers and Sisters, Lovers and Sinners. 'Tis the season to #GoBonobos for kink!
October is Kink Month, as has been so declared by our kinky friends at The Stockroom, for the sake of sales, sex education and good vibes.
Yes indeed, as the autumnal spirit of darkness descends, whirling like a devilish dervish around Halloween revelry, stirring up adventures, fear as an aphrodisiac, costumes, pranks, roleplay and just plain playing (consensually, of course), Kink Month falls upon Bonoboville.
But what is Kink? Kink is any kind of sex that Ted Cruz would legislate against but would "like" on Twitter.
The term derives from the idea of a "bend," aka a "kink", in one's sexual behavior, as opposed to "straight" or "vanilla" sexual activity. Kink can be a little—or a lot—taboo. Most fetishes could be considered kinky. You could say that kink is 50 shades of sexy… but that gives too much credit to a bad film and an even worse book. Kink is "unconventional" sex, but if you're already kinky, the conventional can be unconventional, and therefore kinky. Marriage could be kinky. Missionary can be kinky if you always do it doggy.
And no, Virginia, celebrating Kink Month doesn't mean you can only get your kink on in October. You can be kinky as you wanna be any month, anytime. But just as May is Masturbation Month (thanks to the good folks at Good Vibrations and my dear friend Dr. Betty Dodson), September is "Self-Love September" (conjured by Jungian creatrix Kelly Ann Maddox), February is Black History Month, March is Women's History (Herstory) Month and June is LGBTQ Pride Month, so as to spotlight the subjects and stimulate discussion, October is the month to open up your erotic closet and let your kink flag fly. This is a key aspect of releasing your inner bonobo.
Make Kink Not War!
For your own sake and that of others: Shoot the gun between your legs. "Peace through Kinky Pleasure" is the Bonobo Way, and we need it now more than ever.
As we begin our Kink Month kick-off, America just had another terrible mass murder. It's been the hit of the week on all the 24/7 news channels. They say it's the worst shooting in American history. Well, not really. As my Counterpunch publisher Jeff St. Claire points out, "The title for America's top mass murderer—on the domestic front—belongs to Col. James Forsythe, and the men of the Seventh Cavalry, who slaughtered as many as 300 unarmed men, women and children at Wounded Knee on the icy morning of December 29, 1890."
This sort of state-sponsored violence doesn't get the same horrified response as individual violence within the state, but a tree sprouts from a seed, and state-sponsored violence propagates violence within the state. America's state of Perma-War in Afghanistan and around the world has come home, keeps coming home, more and more.
Even though the media's claim is "topped" by Wounded Knee, still, Stephen Paddock killed a lot of people. Though no one is exactly stating this statistic, it could be that this was the largest number of white people killed in a mass shooting. Fifty-nine innocents were murdered, and hundreds were injured. This one hits close to home, partly because Las Vegas is close to Los Angeles, and we have a lot of friends there. I don't know of any who were killed, but I'm not sure. One of our favorite DrSuzy.Tv guests, Mistress Porcelain, has a dear friend, a beautiful young attorney, who was one of the murdered. There are many heroes in this atrocity who jumped into harm's way to help others. We salute them at the beginning of this show, as we do the victims and their loved ones.
Some call it unfathomable because Stephen Paddock was white, a multi-millionaire and unaffiliated with ISIS or some other crackpot cult. But it's very fathomable that a man who amasses 47 firearms is going to use them for the reason they were manufactured some day. It is all too fathomable, so fathomable that we all know it's going to happen again and again, maybe next year, maybe next week, maybe later today. And yes, Stephen Paddock was in a crackpot cult; he was part of American Gun Culture. We are all in the line of fire for this crackpot cult that terrorizes us inside and outside America. We need more Cum Shots, Not Gun Shots.
American gun culture is an extension of the Military Industrial Complex (MIC), or maybe it's the other way around. They are symbiotic, feeding each other and destroying us. This is one reason why I practice—and preach—the Bonobo Way of "peace through pleasure" (including just recently at Adultcon!); it's the opposite of perma war and gun culture. No, it's not the way of America right now, at least not in the White House or on Capitol Hill, populated by voting bodies whose souls have been purchased by the MIC and the NRA. But it's the way of more and more humans (bonobo sapiens), and it's the way of the future, if there is to be a future, for all of us.
Dr. Laurie Bennett-Cook, Sexologist Extraordinaire
My first Kink Month Kick-Off guest is a counselor to kinksters, as well as being a happy, active kinkster herself, the sapiosexual, sensitive, voluptuous, insightful and delightful Dr. Laurie Bennett-Cook.
In one of those "small world" scenarios, Dr. Laurie had been in the studio audience for a show about 10 years ago when we were in Downtown LA, then reconnected with us when her husband's medical patient, our own Jacquie Blu, invited her to be a guest.
"I am really looking forward to doing this as, honestly, it's a total dream of mine since the first time I met Dr. Suzy when I was a baby sexologist," Dr. Laurie wrote to Jacquie. "A speakeasy of hers was my first induction into anything sex party-ish. Obviously, I was hooked!"
In fact, it was a factor in helping her decide to switch from going into law to becoming a sexologist, now in private practice in Long Beach, director of Sex Positive LA, a "kinkucation" teacher at USC, as well as being a total MILF (and GILF), happily married for over 15 years. Interestingly, Dr. Laurie's husband is a member of the Sioux Native American tribe, so he appreciates my reference to Wounded Knee as the worst gun massacre on American soil.
Dr. Laurie even gives me a useful gift: a SLUT (Salt Lake Utah) cap which I promptly put on top my other hat.
When I ask her if any of her clients suffer from Post-Trump Sex Disorder, Dr. Laurie confirms my theory that yes, many experienced a deep drop in libido for a few months after the electoral dysfunction of November 8, 2016, and though it's bounced back to some degree, the constant barrage of enervating, alarming and bewildering Drumpf-o-tainment puts many couples on opposite sides of the mattress come bedtime.
As fed up with the Big Baboon in the White House (with apologies to baboons) as we are, Dr. Laurie accepts my invitation to punish our surrogate Trump. This show, we do it with a roll of Bounty paper towels, playing off the Mango Monster's recent crass, insensitive, self-aggrandizing act of tossing paper towel rolls like bank shots at storm-shocked Puerto Ricans; the same people whom he's been insulting and nickel-and-diming in the devastating wake of Hurricane Maria.
Dr. Laurie gags our Trump puppet with three paper towels, to everyone's delight in the Womb Room. Then she spanks him hard on the balls with the roll. "Wow, I'm surprised at how much I'm enjoying this," she says, rather breathlessly. It's silly, but it does release some stress and PTSD that so many of us suffer from these Trumpty-Dumpty days. We call it Trumpocalypse Therapy, bonobo-style.
Gracie, Amilia & Zeus
My next guest is adorable, bespectacled, "bi geek" porn starlet, Gracie May Green. Though tiny as a mouse, Gracie's sexual energy is big as a house.
Maybe she was raised by bonobos?
Gracie brings along her sultry gal pal, Amilia Onyx, who brings along her tiny baby python, Zeus. I miss my own dearly departed snake Evie, so I have a great time playing with little Zeus, as do most of us on the show. However, Dr. Laurie is not so fond of snakes, and backs away as if little Zeus might bite her… at first.
By the break, she has courageously moved past her fear, at least a little. Touching Zeus' cool shiny skin as I hold him, she grins and exclaims, "He's not slimy!" Another snake hater turned into a snake lover in Bonoboville…
In terms of Trump, Amilia explains that she doesn't support him but is "trying to co-exist." This gives Capt'n Max an opening to make it clear that he doesn't want to "co-exist with Nazis," at least not quietly. And so we engage in our Trumpocalypse therapy, discussion and dramatization every Saturday night.
The other part of the therapy is escape, which we also do every Saturday night. Peace through pleasure, baby! So after all that serious discussion and Trump–spanking, it's time for Bonoboville Communion. Amen and AWOMEN.
Amilia is only 18, so she can't drink the Agwa, but she does serve as an Altar Girl, proving her alabaster ass as the altar for Gracie to lick up the sacred salt.
Waterboarding Gracie is a bit of a challenge in this position, but our little bi-geek downs the whole shot like a Mory's Cup champion.
Dr. Laurie provides her sumptuous cleavage for Jacquie Blu's Bonoboville Communion. It's a special moment for both, as Jacquie is a patient of Dr. Laurie's husband who also referred her to the surgeon who will perform her breast enhancement surgery this Thursday. Yep, in just a few short days, our Jacquie is jumping up to a D cup!
Gracie May Rides the Motorbunny
After the break, Gracie performs a striptease, kicking off Kink Month by kicking off her sneakers, socks, pumpkin-colored top and jeans, down to nothing but her G-string, to the tune of Carmina Formosa's "The Kinkster," inspired by The Bonobo Way.
Then she hops on the Motorbunny with Amilia giddily operating the remote control from her phone.
At first, Amilia goes a little too fast, then a little too slow. Soon, she gets the hang of it, and puts Gracie on one smooth ride mounting into blissful climax.
"I want to thank my friend Amilia," proclaims Gracie post-orgasm, as if receiving an Emmy. The charming little exhibitionist also makes sure to thank her fans who, she says, were in her mind as she gave her Academy Award-winning (or maybe SUZY-award-winning) performance.
Spankings, Ikkor & Maya
Since we don't have anyone on the show with a fetish for kicking or being kicked (remember Brother Love?), we decide to turn our Kink Month Kick-Off into a Spank-Off.
Performing the Kink Month 2017 Spank-Off is Mistress Dr. Laurie spanking, scratching and whacking Jacquie Blu's bare bottom with a Jux Leather brown belt.
Then Ikkor the Wolf takes the Womb Room stage, and asks us teasingly what we'd like to hear. We tell him it's Kink Month, so of course, we need to hear "She Bad."
Gracie twerks and gives Amilia a lascivious lap dance, as Ikkor raps and everybody snaps to the music.
Shake that Thang!
There's time for one last Bonoboville Communion… or maybe two.
Our old friend Maya, who came prepared in an easily removable dress, volunteers to be my Altar Girl. Actually, she bares her beautiful boobies (my, how they've grown!) for both me and Gracie to lick up our sacred salt.
Maya takes Communion from her Bonobo Mama (that would be me). Ooh, her tongue is sweet!
Then she takes her Waterboarding, Bonobo-Style, swallowing every drop of the green elixir like a good girl.
The kinky good vibes continue into the after-party, as couples play in the bar, the garden and the art gallery.
High on the communal ecstasy of Bonoboville, the Captain and I ascend the stairs to make kinky love as the palm trees sway, the ambulance sirens scream, and the autumn stars twinkle through the constantly changing clouds.
Thanks to Our Volunteers: Videographers: Michael Sullivan; Aaron Collins, Khristian Abasolo; Photographers – Christin Dupree, Jux Lii, Slick Rick; On-Campus Bonobos – Abe Perez, Camille Rosebud, Del Rey, Gypsy Bonobo, Harry Sapien, Jacquie Blu, MarsFX, Clemmy Cockatoo, Ana & Miguel.

Please post a comment and share your views. I always appreciate hearing from you!
© October 7, 2017. Susan Block, Ph.D., a.k.a. "Dr. Suzy," is a world renowned LA sex therapist, author of The Bonobo Way: The Evolution of Peace through Pleasure and horny housewife, occasionally seen on HBO and other channels. For speaking engagements, call 310-568-0066.