F.D.R. (F*ck Da Rich): Make Self-Love NOT War!
Length 01:26:32 Date: May 22, 2021
by Dr. Susan Block.
This self-loving locomotive roars out of the station with Capt'n Max raging against gun violence in America. Then comes my kinky but fairly simple solution: Shoot the gun between your legs!
Merry Masturbation Month, Brothers and Sisters, Lovers and Sinners, Fappers and Monkey-Slappers!
Seriously, we Americans really should stop denigrating sex (including solo sex) and fetishizing guns. Otherwise, we will all shoot ourselves in the foot—and the head—in this burgeoning ammosexual orgy of gun, bomb, knife and knee violence at home, as well as in America's (and our mercenary client state Israel's) wars and occupations abroad.
This is one reason we're celebrating Masturbation Month 2021 as if our lives depend on it—because, in a way, they do.
If we don't somehow transform our priorities and go The Bonobo Way of peace through pleasure instead of the ammosexual way of mass murder, police brutality, war and occupation, we're all going to die in a hail of bullets—and I don't mean the cute little vibrators.
Masturbation denigration begins at home, influenced by the original "influencer," that old-time religion, as Capt'n Max, Mariah, Unscene Abe and I discuss with our extended F.D.R. *family* of listeners on Reddit, Facebook, Instagram, Twitter and Youtube—gun nuts and peaceniks—all connected through love for self-love.
Testifying to the Power of Self-Pleasure
Adriana joins the self-love conversation at the Clubhouse station, describing her strict Evangelical Christian "purity" culture upbringing that strongly forbade any form of sexual expression (including masturbation) before marriage. Fortunately, the call of libidinous nature was stronger than the voice of religious sex-negativity, and by her late teens, she was soon moving onto internet erotica… though she always made sure to erase her searches, so as not to get caught.
Somewhat ironically, Adriana also grew up hearing her religious parents have fairly loud sex ("it was a small house") to the point where she and her siblings "stuck [their] fingers in [their] ears." Wow, what a contrast. She also found their *secret* pleasure stash. Parents always do sex-educate their kids, one way or the other, even when they don't intend to!
Mariah chimes in that she grew up in a somewhat similar household (though more Catholic than Evangelical), with sex (including solo sex) pretty much forbidden until marriage, though she also often heard her parents having audible (eargasmic?) sex.
It's actually healthy, normal and natural to hear your parents making love sometimes. But if the message is "Don't do as I do, do as I say," this can feel very unfair for young people. Though I still think it's usually better than not hearing any positive sounds of sex at all.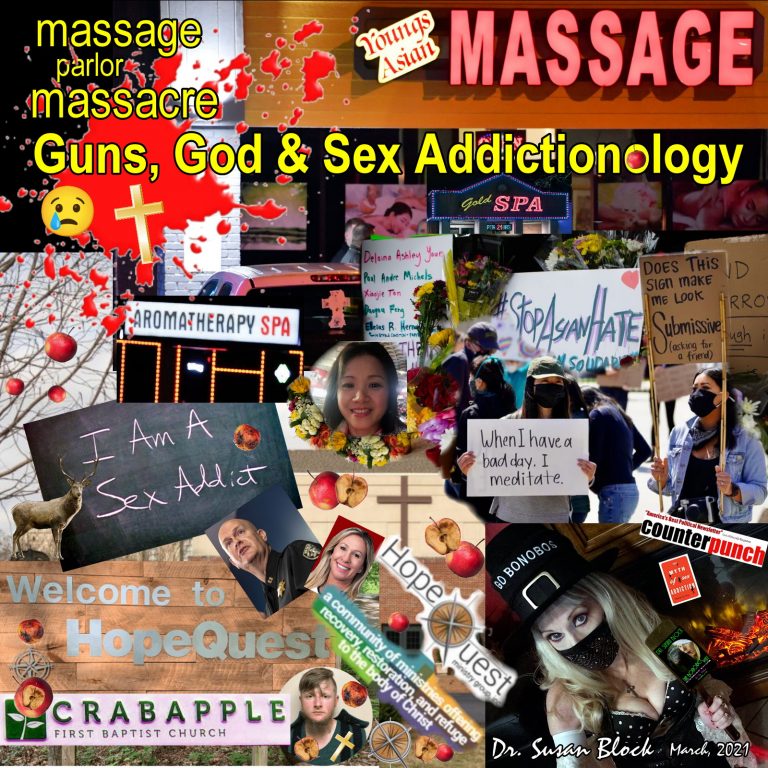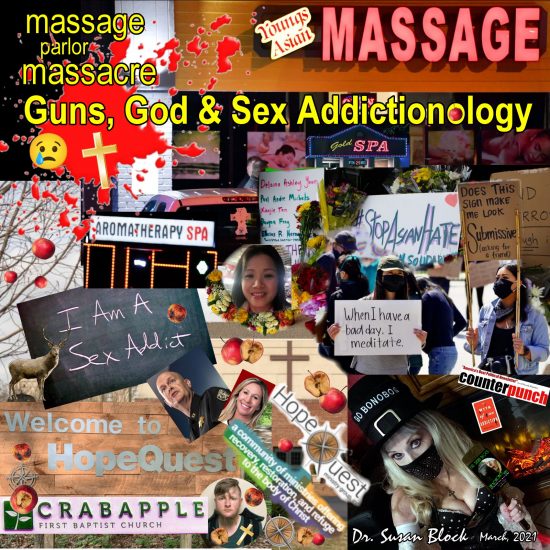 Perhaps that's one reason that both Adriana and Mariah are on sex-positive paths right now, despite their sex-negative and masturbation-negative upbringings. We're not sure, as we only scratched the surface with both of them (and we hope to go deeper on future shows). But considering how off-the-rails so many in American "purity" cults have gone—the Massage Parlor shooter and the Pastor Cuckold Trio of Death being a couple of recent extreme examples—Adriana and Mariah are doing quite well.
Maybe Bonoboville has something to do with it too. Not only do we have a pretty good recipe for peace (even in the Middle East!) through bonoboësque sex-positivity and global socialism, but we also try to practice what we preach.
This can get a little noisy, especially during Masturbation Month, which includes mutual masturbation.
Honestly, I can testify, Brothers and Sisters, that most things get worse with age, a lot worse. But, oddly enough, orgasms get better, at least some orgasms. Talk about shooting the gun between your legs. The morning of this broadcast, I felt like I was a cannonball fired right out of a howitzer cannon and then down a roller coaster and off the edge of the earth into an explosion of a million Peyote-infused particles that lasted several seconds or maybe millennia, depending on your sense of time, which I completely lost track of.
Capt'n Max dubs it "an art piece." Does that make him the artist?


I call it a mutual masturbation collaboration with art, artists and the incredible, gargantuan vastness of nature merging in true psychedelic fashion.
Two Captains of Different Ships
Later, another caller, an affable fellow named Chris—who says he's been watching me since I was interviewed by Oprah back in the 1990s (on the old Oprah Winfrey Show!)—further extols the marvels of mutual masturbation. We're in harmonious agreement on that point. Though I feel there are benefits to playing sexual solitaire that partner sex simply cannot match, such as the stress-free opportunity to focus all of your erotic energy on yourself. You Do You! It's not better or worse than partner sex, though individuals have their preferences. But it should be at least a part of everyone's erotic repertoire.


There's another point upon which Chris and I diverge, especially on this very "Make Love Not War" broadcast. As we get chummier, I ask his line of work, and he almost apologetically confesses he's a U.S. Army Captain "in charge of 767 people." Capt'n Chris appears to have started his military career without much ambition but, he says, "I decided to drink the Kool aid and become an officer."
Capt'n Chris sounds like a very nice guy (is that part of officer's training in America's woke army now?), but I can't bring myself to mouth, "thank you for your service" like Mariah sweetly says. In fact, I have to confess that if I was in charge of America's "defense" (ha! How much of that goes to actually "defending" the U.S.A.?) budget, I'd slash it so badly, he might well be unemployed.
He doesn't argue with me. In fact, don't tell the Pentagon, but it sounds like Capt'n Chris can't wait to retire and #gobonobos…
Capt'n Chris inspires me to ask Capt'n Max (who is not a real "Captain" of anything but Bonoboville's Ship of Fools for Love) to tell his Army story that features him braving paratrooper school (he's so scared of heights I could barely get him to go parasailing) and winning awards for sharp-shooting, climaxing during target practice at Fort Benning, Georgia, when young Max realizes that the targets he was hitting so precisely could be people someday. With that little military epiphany, Capt'n Max threw down his gun and set off down the Make-Love-Not-War road he's been on ever since.
Two different kinds of Captain, two different kinds of paths. Though both can agree that orgasms are vital to your health.
In fact, that's Virtue #2 of the 8 Great Virtues of Masturbation: It's "Healthy." We also squeeze in Virtue #3: "Masturbation is Relaxing." One more to go!
Yes, masturbation has "virtues." It's not self "abuse," and though that's just a word, and I'm a fervent supporter of Free Speech, words have tremendous power. We discuss how denigrating your beautiful genitalia by calling it "junk" takes its toll on our sexual psyches, giving us a subliminal message that sex is garbage.
This devolves into "junk in the trunk," triggering memories of Backdoor Amor Hilton extolling the pleasures of anal with her new BF on last week's F.D.R.
My particular word beef of the week (or year) is the way the woke mob—along with the more sanctimonious Banana Repugnicans—have coopted the word "grooming," defining it as a predatory process in the beginning stages of sexual abuse. But for many years, the word "grooming" has been used to describe a wonderful, medicinal, bonding and very physical type of caretaking among humans and other mammals, involving touching, stroking, massaging, combing the hair, and pulling out the occasional tick or other interloper. Bonobos do a lot of grooming; in fact, it's almost as important as sex (you could say it's an aspect of sexual "outercourse") in keeping the peace, through pleasure and touch, in Bonoboville. I realize I'm in a losing battle to rehabilitate the battered reputation of this simple innocent word, "grooming," on the modern verbal wrestling mat of sexual scandal. However, it's a battle worth fighting for this coming-at-you-from-behind Word Warrioress!
Gaetz-Gate & Gates-Gate
Speaking of sexual scandal, some Redditors ask me to comment on Gaetz-Gate, which I first must distinguish from Gates-Gate involving Bill and Melinda Gates, which we discussed at greater length on last week's F.D.R. Yes, there are two different Gates-Gates or Gaetz-Gates, depending on which Gated Community you live in. Otherwise, who really cares, except political celebrity gossip fetishists (of which, I suppose, there are a lot)?
As for Gaetz-Gate, I must confess I have been studiously avoiding this topic for weeks, waiting to see if any emerging news will be the proverbial "smoking gun" that makes me care about the whole sleazy fun-fest. Don't get me wrong; I despise Florida Congress-Clown Matt Gaetz's Trumpty-Dumpty Insurrection-supporting, mendacious, opportunistic politics. But I don't have a problem with him paying sex workers. He hasn't supported the so-called "sex trafficking" bills—and he stuck up for California Congresswoman Katie Hill when she was pressured to resign over the revenge porn posted by her ex—so he's not really a hypocrite about sex. The big confession letter Gaetz wingman Joel Greenberg (also friends with Roger Stone) says he and Gaetz thought the 17 year old was 19, and once they found out she was 17, they didn't touch her again until she was 19. If I later learn that Gaetz knowingly requested or "groomed" (in any sense of the word) a 17-year-old for sex, I will revise my opinion, but for now, I'm inclined to believe the indicted wingman who says he didn't know. This is why I advise sex-work customers to get proof of an escort's age, if there's any question, but since consenting adult sex work is illegal, that's not always as easy as it sounds. So sorry, not sorry, but I'm not going to jump on the McCarthyesque, Roy Kohnesque, "Hang Matt Gaetz for Sex Crimes!" woke mob bandwagon, even though my opinion still stands that Matt Gaetz is a total punk asshole, politically speaking, and should be run out of office and indicted for insurrection.
I also condemn Gaetz's Wingwoman, Congresswoman Margarine, aka Marjorie Taylor Green who, among her many proudly idiotic, casually bigoted pronouncements, recently compared Nancy Pelosi requiring facemasks to be worn in the Capitol to Hitler forcing Jews to wear gold stars on their arms before exterminating them in concentration camps. That's some classic anti-Semitism right there, trivializing the Holocaust to make a selfish, stupid point.
That "gold star," something we usually think of as a good thing, can mark us for discrimination. During the show, Capt'n Max asks what does it mean when Redditors give us "gold stars"? At the time, I assume it's like an Amazon gold-star rating, but now that I'm thinking about Margarine's words, I'm wondering if maybe that Redditor meant he wanted to make us wear "Gold Stars" of David like the Jews in Nazi Germany. Hmmm… Maybe I'm paranoia, but acts of anti-Semitism outside of Israel have risen by 438% in the last ten days.
Jewish Girl & Palestinian Boy Share Kiss
Blame it on Israel, and I do. I feel like I've "come out of the closet" as a #JewforPalestine with my recent rant against Israel's shameful war crimes, Shemah Yisrael. I'm receiving a lot of positive feedback, but I'm nervous about some of my sex therapy clients, as well as members of my family reading it. So far, mostly because I haven't posted it prominently on my Facebook timeline, I don't think they've seen it, but it might just be a matter of time. Well, I'm already the worst Black Sheep of the Block Family (there are a few of us), just by virtue of being an outspoken, kinky sexologist, but this could put me out to pasture.

There's this 90 year old Jewish lady: "I can't be a Zionist. No way. It is such an injustice; such cruelty; such distortion. The Holocaust was real. anti-Semitism is real. But it then doesn't give Jews the right to be the oppressor. It's breaks my heart."

Speaking of sexology, I usually talk and write about politics and culture from some sort of "sex angle" ("I love your sex angles!" exclaims Mariah), but I honestly couldn't think of one for Israel's unconscionable devastation of Palestine. At least not while the bombs were dropping last week.
Now there's a ceasefire (though the rotten apartheid continues), and I guess I'm calmed down enough to see a very personal "sex angle." I realize that my first epiphany of Palestine occurred in a kiss.
Talk about a sex angle!
It happened on a youth trip I took to Israel with Camp Ramah at the age of 16. I was no Zionist. Why did Jews need Israel when we had Miami? But others in the group were staunch Zionists. That bothered me, but I honestly didn't know why. One afternoon in Jerusalem while the others were shopping, a handsome young man who looked like Omar Shariff on a motorcycle, caught my eye, or maybe I caught his, and before I knew it, I was riding on the back of that motorcycle, clutching his waist, whizzing through the backstreets of Jerusalem where my Ramah tour group didn't venture, then up a rocky hill and into the beautiful, haunting Garden of Gethsemane where Jesus talked to God, and where we stopped to share that kiss.
Actually a few kisses. We were, as we used to say, "making out."
Did I mention I'd just broken up with my Jewish boyfriend (who went on to become an orthodox Rabbi), and so was feeling particularly horny?
I asked my new love where he was from, and he said "here," and something clicked in me, though I didn't understand what it meant.
My "Omar" (I honestly don't remember his name, and I call him Mohamed on the show, but upon reflection, I think Omar is more fitting) was a gentleman—or maybe just nervous he'd be stopped by Israeli authorities. He drove me right back to my waiting Ramah tour group where I was duly chastised and shamed not just for disappearing for a couple unauthorized hours, but for fraternizing with a Palestinian. Though I don't recall my Ramah counselors calling Omar a Palestinian. Maybe "Arab," spit out with a sneer.
"A Jewish girls [sic] hanging out with a Palestinian boy," comments Mundane Marvels on Reddit. "Sounds like the ultimate in in teen rebellion."
Yes indeed it was and, in a way, I never grew out of "rebellion" against this unfair, inhumane, sex-negative, war-mongering, demoralizing capitalist system, and neither has Capt'n Max.


I see another "Jew for Palestine," Emily Wilder, was just fired from AP over criticisms of Israel in tweets from her Stanford college days. The other side of the shame I feel over Israel's occupation of Palestine is the pride I feel over the fact that a lot of the top critics of Israel are my fellow Jews. Bernie, Joshua Frank and Norman Solomon on CP and many more.
And then there's this 90 year old Jewish lady: "I can't be a Zionist. No way. It is such an injustice; such cruelty; such distortion. The Holocaust was real. anti-Semitism is real. But it then doesn't give Jews the right to be the oppressor. It's breaks my heart." #JewsForPalestine
Masturbation Not Occupation! Make Self-Love Not War!
Which brings us back to the Merry Manual Stimulation Month of May.
Porno Charlie Sheen
Our Post-Show Throwback is Porno Charlie Sheen Masturbation Month Orgy (2011) shows how a little masturbation can turn into a fantastic orgy. Lots of porn stars in this one, featuring most of the cast of "Charlie Sheen's Porno Adventure," including Evan Stone in the title role, our old friend Eric John (with whom I share a special *moment* towards the end of the show), Eric's wife (at the time), the gorgeous, aptly named bank-teller-turned-porn-star, Vicki Chase, the late great Hollie Stevens, aka Hollie Wood (who, sadly, passed away from cancer a few years later), Russian super sexpot Jamey Janes, the director Jim Powers, plus you can see Porno Dan, Corpsy and an AVN journalist in the voyeur section of the Speakeasy.
Keep in mind that when we broadcast this show live in May, 2011, Charlie Sheen was at the top of his crazy Tigerblood game, doing shows and tours, making nonsensical but subversive-sounding statements and spouting fairly plausible 9/11 conspiracy theories, flanked by high class sex workers, drug dealers, comedians and body guards, acting like the Hunter S. Thompson of sitcom TV.
Except Charlie Sheen is no Hunter S. Thompson.
Maybe if you combined Charlie with his more authentic activist Dad, Martin Sheen… but you can't, so forget it.
The *new* Charlie Sheen was revealed along with his HIV-positive status in 2015, and no, that's not the problem. As Billie Porter just proved, you can announce you're HIV-positive nowadays and be cooler than ever. The problem was and still is that Certified "John," Charlie Sheen threw the sex workers in his life under the bus, implying they gave him HIV, when none of them did, as well as putting them at risk. On the Today show, Charlie said the reason he was confessing his HIV status was he was being blackmailed for $10 million by "unsavory and insipid types" over his diagnosis. "I'm imagining prostitutes," Matt Lauer replied clairvoyantly (a couple years before his #MeToo disgrace). Wow, Matt probably should have been seeing those prostitutes he was imagining, instead of locking coworkers in his office by pressing a button under his desk and making snide comments about sex workers he doesn't know.


"Life is like a penis. It gets hard sometimes, but not forever."


Also, Charlie testified against Heidi Fleiss. Bastard. He's spent a lot of cash on sex workers over the decades, about half a million a year, I'll give him that—though I'm pretty sure he got more than his money's worth. Maybe he can't get it up any more or wants to spend time with his family or whatever. Nevertheless, hypocritical betrayal is never a good look.
Fuck da Rich. And don't bite the hand that fucks you, rich Charlie.
But that's now, and Porno Charlie Sheen Masturbation Month Orgy is from then, way back when we thought Charlie was the sex worker's friend.
So watch it here, there or above, and remember, in the words of my friend FemDom Goddess Phoenix Steele (at least, she passed along these wise words),"Life is like a penis. It gets hard sometimes, but not forever."
Go Bananas for bonobos and give The Bonobo Way for Masturbation Month or Gay Pride Month coming up…
Sexual Health is Part of "Mental Health"
All the Royals are opening up about their trauma these days, from Prince Harry to Lady Gaga. It's kind of odd to hear these privileged mortal deities complain about this and that stuff we all go through. Nevertheless, rich people have problems too (yet another reason to "Fuck Da Rich," for their own good), and it's probably very therapeutic for them to talk about them.
In fact, maybe you should too! But you might want to do it privately. Also, Oprah (now vying with me for the title of International Mother Confessor and oddly coming up twice in this Journal) might not be paying you millions to divulge your most traumatic memories.
Whatever you think of the particular mental health spokes-celebrity (and there are a lot of obnoxious ones at the moment), there's no doubt, it's true. Mental health is very important. Not just our own mental health, but the mental health of everyone around us. Especially with all these guns proliferating.
So, take good care of your mental health, which overlaps with your sexual health (which is both mental and physical). And if you need to talk privately, call our Therapists Without Borders anytime.


© May 22. 2021 Susan Block, Ph.D., a.k.a. "Dr. Suzy," is a world renowned LA sex therapist, author of The Bonobo Way: The Evolution of Peace through Pleasure and horny housewife, occasionally seen on HBO and other channels. For speaking engagements, call 213-291-9497.