TIGERBLOOD MARDI GRAS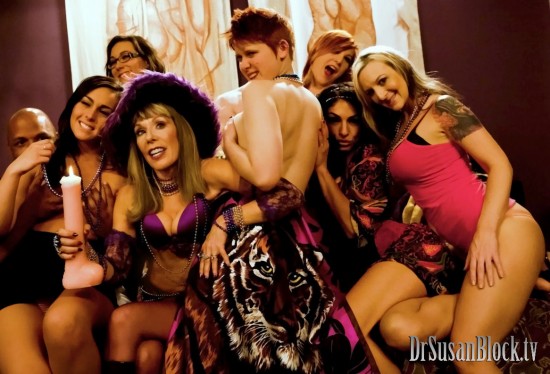 TIGERBLOOD MARDI GRAS
 Length:   1 hr:35 min.   Date: 03/05/2011

Laissez les bons temps rouler!…and roll they certainly do as Grand Marshall Dr. Susan Block presents Tigerblood Mardi Gras, celebrating the wild party animal in all of us…sauntering across her stage with te tigress' sultry elegance in regal purple hat, a matching tiger print sarong and purple panties personally signed on the butt crack by Heidi Fleiss.  Tossing beads to the topless, she transforms the Institute's Womb Room into a French Quarter carnival with a winning cast of Commedia Erotica characters, porn stars and erotica aesthetes, climaxing with a wild girl-girl-girl-girl pile-up in the show bed.
Featured In-Studio Guests
Lily Cade  is first to doff her top for Dr. Suzy's string of beads. Gold Star lesbian, Cal Tech and USC-educated porn star and tiger-blooded pussy hunter, Lily romps through the show like a court jester in heat, commenting on all the topics and having some kind of sex with almost every woman in the Womb Room, not to mention the very long nose on Dr. Suzy's Pantalone mask.
Katie Kinns is next to flash for her Fat Tuesday reward as well as try her luck on the stripper pole poker table, dedicate her purple lace panties to Panty Boy and mess around with all the guests as well as her BF Mona Sunoy who just finished his first DVD, "Lost and Found," a "trainer porn" film for young couples.
Persia Pele is looking very regal as she prepares to ready to play Queen Esther at our Purim Bacchanal coming up on March 19.  But she's not too royal to share her generous rack and red lace panties and express her support for media rebel Charlie Sheen.
Sinn Sage just a few weeks after having wowed the Speakeasy with her first B/G scene on Eros Day XII with fellow four-eyes Dane Cross (who shows up at the tail end of this broadcast with two civilian hotties in tow), Sinn flashes her gorgeous naturals across the Womb Room, then scampers around, showing off the most talented ass of 2011, collecting beads, lovers and multiple admirers.
Chloe Rivers a brand new porn starlet, shows off her pert boobs and all of her other lovely ladyparts—for the first time on the air! The other ladies go after cute Chloe like cats on fresh tuna.
DJ Foothill publisher of Fast Lane Magazine, brings Chloe to make sure she stays out of trouble—or gets into it and takes a bunch of photos.
Shay Morgan and Rob Loads are just another nice porn star couple-next-door who fit right into the Speakeasy.
Vita is Dr. Suzy's hot new assistant and also a Block Institute therapist.
Bon Jon Syn another key Team Sheen player and Block Institute therapist, Bon is gearing up to play Esther's King Ahaseurus on Purim "Being a male porn star, there is no better role than the King of Persia. I look forward to playing with my harem and queen. She is way hot and loads of fun to have sex with.  Purim is gonna rock!"
Jack the Zipper award-winning Playboy porn director, Charlie Sheen fan and invisible man, slinks in and out of the Womb Room.
Featured Guest By Phone
Rachel Rabbit White sex blogger and originator of the viral media phenomenon "Lady Porn Day" joins us by phone from Chicago to talk about why women like porn and what kinds of porn some women like, as well as the hotness levels of Charlie Sheen, Zak Sabbath and Rahm Emmanuel, and wins a copy of Dr. Suzy's Squirt Salon.
Topics
Mardi Gras, Tigerblood, Charlie Sheen, Goddesses, Porn Stars, Lady Porn Day, Empower Women Sexually, Exhibitionism, Lesbianism, Bisexuality, Politics, Media, Revolution, Bonobos, Love
Action
Flashing, Stripping, Panty Play, Agwa Body Shots, Dripping Hot Candle Wax, Hitachi Magic Wand Play, Kissing, Cunnilingus, Spanking, Paddling, Tribbing, Fingering, Rough-Housing, Dildo Play, Buck Angel Dildo Play, Using Nose of Pantalone Mask as Dildo
---
Explore DrSusanBlock.com
Need to talk? Sext? Webcam? Do it here. Have you watched the show? No? Feel the sex. Don't miss the Forbidden Photographs—Hot Stuff, look at them closely here. Join our private social media Society. Join us live in studio 😊. Go shopping. Gift shop or The Market Place. DrSusanBlock.tv, real sex TV at your toe tips. Sex Clips Anyone? FASHION, we have fashion! We also have politics. Politics? Have you Read the book? No? How about the Speakeasy Journal? Click here. Ok, how about some free sex advice?
---