St. Patty Sex Evolution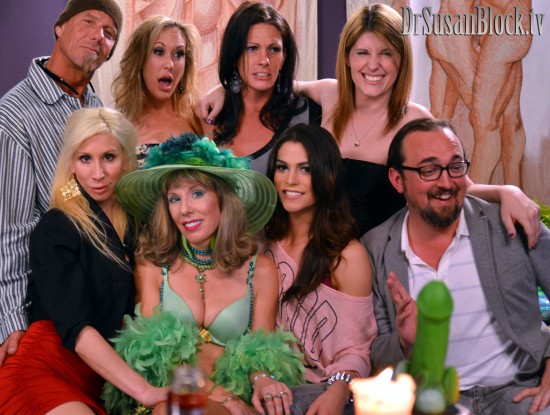 Length: 96:36 minutes        Date: 03/12/2011
Erin go bragh…. or bragh-less!  It was a sizzling St. Paddy's for all, as women, men, trans-women, trans-men and other gender-blenders gathered on The Dr. Susan Block Show to celebrate St. Pat's and sexual evolution:  Ch-ch-ch-changes of our minds, our sexual selves and lifestyles, as well as breaking through gender-confining stereotypes.  Armed with her favorite asp (St. Pat may have driven the snakes out of Ireland, but Evie rules the Womb Room) in one hand and an shamrock-green dildo in the other, Dr. Susan Block drives away fear, questions convention and literally charms the panties off every 'girl' in the studio. Bedecked in kelly green feathers and lace, Dr. O'Sexy leads us over the rainbow and into a sensuous, sexual pot of gold, as she entices her cast of Commedia Erotica players, featuring two sexy, saavy, liberated women and three fabulous trans-women porn stars, into revealing their most precious ass-ets. From stripping to "tucking" to talking about the most personal aspects of their sexual evolution, climaxing in an orgiastic sea of writhing, semi-naked bodies on Dr. Suzy's show bed where all the girly-girls, boy-girls, boy-boys and girl-boys enjoyed each others' blarney stones…and shillelaghs too!
Featured In-Studio Guests

Brandi Love – Our fiscally prudent hotwife, MILF, porn star and author of Getting Wild Sex from Your Conservative Woman has advice to sexually-charged singles everywhere: "Marry someone who will allow you to explore your sexuality."
Well-spoken by a woman well-dressed, well-bred (granddaughter of the "Great Bear of Wall Street" Jessie Lauriston Livermore) and well-fucked, Brandi takes a spin on the stripper pole—flashing her toned topless body and super saucy derriere barely covered by her pink lace thong panties (for Panty Boy). Dr. Suzy calls her Wonderwoman, and we're just wondering if she can also fly…
Morgan Ray – Joining us panty-less and armed with a Masters Degree in Psychology and Sex Therapy, as well as over 100 adult film appearances, Morgan has been featured on Gene Simmons Family Jewels and Showtime's How to Deep Throat.  Much to the envy of some of the transwomen and to the delight of all of the men in the studio Morgan shows-off her perfectly preened, totally shaved, pink and perfect pussy, as she confesses her deep feelings of genital insecurity about to Mother Confessor Dr. Suzy, legs spread, atop the stripper pole poker table.
Amy Daly – Translesbian pornstar and past recipient of the Tranny Awards Best New Face Award, Amy is quick to educate audience members on PC terms used for describing individuals such as herself:  "shemale and tranny are offensive", the preferred word to use is "transwomen" if you're not close friends! May we also mention how impressive her pure, hormone-grown breasts are?
Morgan Bailey – 6'3" straight award-winning transwoman porn star with skyscraper legs and incomparable sass to match her hot ass, and a winning "tuck" technique, Morgan is the first guest up on the stripper pole, and shows us that she is still proud to brandish her personal pole.  And just what was the first non-organic object to enter Morgan?  "Nerf darts!" she swears, in her smoky, cum-hither voice.
Domino Presley  – Winner of the 2011 Shemale Yum Model of the Year and the Tranny Awards Best Up & Cummer. Domino has a look that most women and transwomen alike would die for. She gives us a peek at her impeccable, recently enhanced posterior and adorable natural boobs as she spurs waves of disbelief among heterosexual men in the studio audience.  The secret to Domino's amazing abs?? "It's all the dick I suck."
Buddy Wood – Tranny Awards Best DVD Director, visionary and innovator of LA's only transsexual strip club, Sunday nights at Vintage Industrial Strip Club, Buddy confesses to having nursed a healthy obsession with transwomen from an early age.
Bon Jon Syn – Fun-lovin porn star, master of martial arts, personal trainer and phone sex therapist here at the Institute, Bon is now preparing for his role as King Ahaseurus in next week's Purimspiel.  "It is good to be the King" he muses "I can't wait to play with my queen and my harem."
Max  – self declared "tranny lesbian," executive producer and chief engineer.
Topics
St. Patrick's Day, St. Patty, Green, Money, Envy, Sexual Evolution, Open Marriage, Conservative Hotwife, MILF, Sex Therapy, Post Graduate Porn, Transsexuals, Transwomen, Shemales, What Defines a Woman?, Purim, Persian New Year, Eunuchs, Exhibitionism, Clitoral Comparisons, Labial Insecurities, Religion and Sex, Transsexuality in the Bible, Bonobos, Love.
Action
Flashing, Stripping, Panty Play, Agwa Body Shots, Dripping Hot Candle Wax, Hitachi Magic Wand Play, Pole Dancing, Kissing, Cunnilingus, Spanking, Paddling, Fondling, Fingering, Rough-Housing, Dildo Play, Penis Play, Pussy Play, Sucking, Slurping, Love.
---
Explore DrSusanBlock.com
Need to talk? Sext? Webcam? Do it here. Have you watched the show? No? Feel the sex. Don't miss the Forbidden Photographs—Hot Stuff, look at them closely here. Join our private social media Society. Join us live in studio 😊. Go shopping. Gift shop or The Market Place. DrSusanBlock.tv, real sex TV at your toe tips. Sex Clips Anyone? FASHION, we have fashion! We also have politics. Politics? Have you Read the book? No? How about the Speakeasy Journal? Click here. Ok, how about some free sex advice?
---