Purim Bacchanal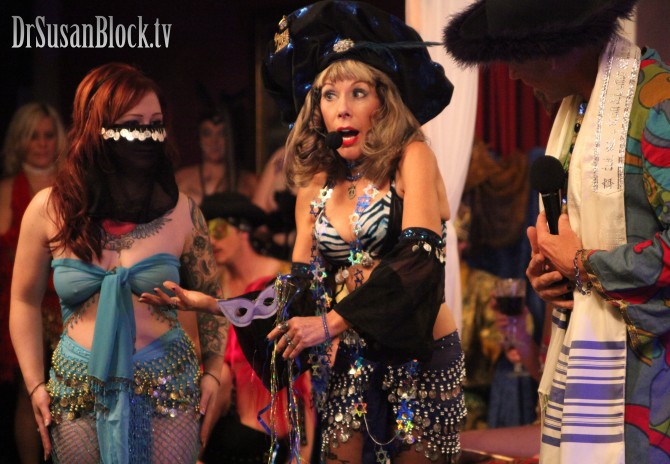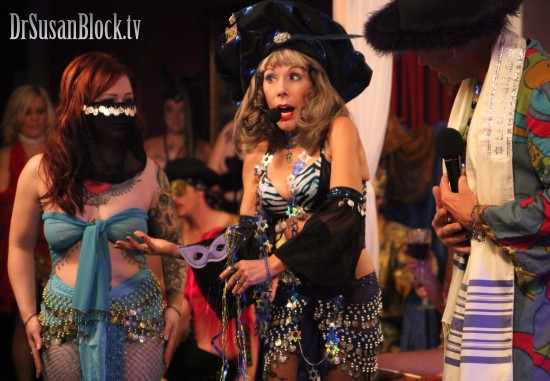 Length: 73:28 minutes          Date: 03/19/2011
See the pix and video at drsusanblock.tv
This show within the show celebrates Purim's Feast of Lots with lots of sex, fun, wisdom and potent Weapons of Mass Seduction, brought to you by the Queen of Seduction, master storyteller Dr. Susan Block.  Captivatingly kosher in blue mask and harem-wear,  Dr. Suzy takes us on a magic carpet ride into her exotic erotic interpretation of Purim's Biblical Story of Esther. Commemorating the 8th anniversary of "Shock & Awe" (Bush bombing of Iraq) and the day Obama (change we can believe in?) bombs Libya, the same Supermoon day radiation plumes from Fukushima, Japan are said to start reaching American shores (all Weapons of Mass Destruction), Dr. Block unleashes a very different kind of armament: Weapons of Mass Seduction.  Her Commedia Erotica cast of porn stars, poets, transwomen and filmmakers (we at the Speakeasy spare no expense when it comes to honoring sexy heroines who Shtup for Peace) perform the timeless tale with improvisational panache(no rehearsal whatsoever) and XXX-rated action. This broadcast also celebrates the even more ancient Persian New Year or Nowruz with traditional spoons and fire used in very nontraditional, rather kinky ways.
Dr. Susan Block's Commedia Erotica Purim Players
Misti Dawn — Lusciously nerdy, A-list alt porn star, cupcake mistress and our divine Venus on Eros Day 12 (see the pix and video on drsusanblock.tv), Misti is our illustrious Queen Esther, the Biblical trophy wife who uses her sexual skills to seduce her husband the king into reversing a genocide edict against her people.
Michael Vegas — Up and coming porn phenomenon (about to play Luke Skywalker in Axel Braun's Star Wars parody), our awesome Eros on Eros Day 12 (where Axel first saw Michael *fly*) and Misti's boyish BF, Michael is Biblical party animal King Ahaseurus (the historical king Xerxes), often wearing nothing but his crown while wielding his powerful golden penis scepter and a large, strategically placed Persian New Year spoon.
Bon Jon Syn — Fun-loving porn star, martial artist, film producer and Institute telephone sex therapist Bon Jon is the "hero" of the Purim story, pious but practical Pimpin' Cousin Mordecai, Queen Esther's cousin who coaches her in her seduction of the King.
Sinn Sage — A vibrantly sexual porn star/adventurer, Sinn plays "against type" as the sex-negative Queen Vashti, the king's first wife who refuses to dance naked for her royal hubby and his princely drinking buddies, only to be banished or executed in the Bible—or (at the  Speakeasy) stripped naked and *hung* on the gallows (a St. Andrew's Cross) as a kind of female human sacrifice that allows the heroism of Esther to emerge.  Torturing Sinn's knock-out, naked, natural body is one of the high points of the Purim spiel.
Dark Phoenix — Preeminent Fire Master Dark Phoenix plays Prince Haman (crank your groggers!) to perv-fection as the quintessence of pompous evil, the king's right-hand man who orders  the Jewish genocide with as much joyous glee as he fire-tortures Sinn/Vashti's amazing ass.  DP is also a very good sport when it comes to being "sacrificed" on the cross and the spoon-beating he gets in the end.
Lord Exceter Miles — Gently sinister Dom Exceter takes on the coveted role of Palace Guard, the keeper of the cross (St. Andrew's cross, that is) and wielder of the Nowruz spoon and silver dildo sword.  In the after-party, a miraculously resurrected Sinn/Vashti gives it back to the Lord as good as he gave it to her.
Lily Cade  — Gold-star lesbian porn star Lily is Lilith, really a character from another Bible (or, to be more precise, Talmud) story, that of the first woman before Eve Demon Goddess of the Harem, who seduces Sinn/Vashti into staying in with the girls instead of going out to dance for the king and then comforts her erotically as she is *sacrificed* upon the cross.
Tindala and FeralKytn — There are many wonders of the world, but most pale in comparison to the vision of totally tricked-out, topless ponygirls Tindala and FeralKytn as the king's horses carrying Mordecai/Bon on their trotting backs for his ceremonious ride throughout the womb-room. Oh, these feisty fillies!
Morgan Bailey — Transwoman porn star Morgan is deliciously dynamic as the Head Eunuch as well as the king's personal eunuch as well as Mordecai's favorite eunuch and everybody's BFF.
Katie Kinns — sexy fun-loving girl Katie is a harem girl during the show and her real-life BF Mona Sunoy is her passionate (illicit?) lover who plunders her treasure with wild gymnastic sex in the king's harem during the erotic after-party
Sienna Sinclaire,  Ginny Blossom, Siren Selene — these lovely ladies of porn and fetish round out the king's harem in fine, topless-titty shaking form.
Michael Phillips —Award winning playwright and author, Michael looks hilariously authentic as Rabbi Mikael in Dr. Suzy's personal Orthodox Jewish garb (talis and Yeshivish black hat) but sounds slightly kinkier than Lubavitcher when he reminds us that the hamantaschen not only resembles Haman's hat, but also a vulva.
AV Flox — is our sexy guest commentator, writer, and blogger for Sex and the 405.
Ezra Butler — is the self-described "illegitimate love-child of Strategy and Creativity," though we also understand one of his parents is a rabbi.
TOPICS
Purim, Book of Esther, Nowruz, Persian New Year, Harem, Bible sex, genocide, Weapons of Mass Seduction, Weapons of Mass Destruction, masquerade, truth, teasing, politics, cycle of violence, peace through pleasure
ACTION
sex, dancing, drinking, flogging, spanking, bondage, fellatio, cunnilingus, handjob, sexual intercourse, spoon beating, fire jumping, dildo play, human horseback riding, Persian feasting, naked fire play, bellydancing, eating dates, grapes and hamentaschen
---
Explore DrSusanBlock.com
Need to talk? Sext? Webcam? Do it here. Have you watched the show? No? Feel the sex. Don't miss the Forbidden Photographs—Hot Stuff, look at them closely here. Join our private social media Society. Join us live in studio 😊. Go shopping. Gift shop or The Market Place. DrSusanBlock.tv, real sex TV at your toe tips. Sex Clips Anyone? FASHION, we have fashion! We also have politics. Politics? Have you Read the book? No? How about the Speakeasy Journal? Click here. Ok, how about some free sex advice?
---
---