Monkey Bible Bang Sisters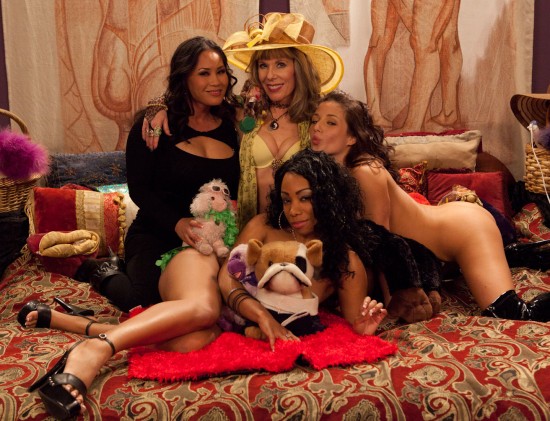 Monkey Bible Bang Sisters
Length:   1 hr: 34min.      Date: 02/26/2011
We could all use a little religion from time to time. Porn stars are a shining example: they passionately cry out the Lord's name—often while 'on the job.'
This week's RadioSUZY1 show features a none-too-ascetic line up of erotic professionals plus one documentarian:
Adult model/video vixen Ms Kartier and her wife, hip-hop artist Kali B, red-hot porn starlet Charity Bangs, Spice Radio hostess and fellatio buff Jessica Bangkok, and last but not least, Monkey Bible Project filmmaker Jaime Williams.
In the beginning…the Irreverend Dr. Susan Block, framed by her golden Sunday hat and the serpent slithering up her arm, draws these two ageless and seemingly opposing forces of religion and natural sexuality, the angel and the animal within us, into one awe-inspiring show…The first sexual revelation bubbles up as our porn star guests reveal their rather pious religious backgrounds: Sweet Charity Bangs, freshly sprung from her native South Carolina where her bible-thumping mother taught her to fear God and sex (Mom currently has no comment on her daughter's promising porn career) is bursting with exhibitionistic joy to have arrived in the Sodom and Gomorrah of LA. Jessica Bangkok, whom the good Lord blessed with a pair of delectable endowments worthy of Mother Mary, was raised to be a good Catholic girl.
Ms. Kartier was brought up "strict Baptist" but went to Catholic schools and is now an independent woman raising her daughter and enjoying her wife. Which brings us to Kali B…who gets, well, 'baptized' all the time by female ejaculatrix Ms. Kartier's Holy Water.  Filmmaker Jaime's Catholic upbringing is one of multiple strands that run through her project which is loosely based on Mark Laxer's book "The Monkey Bible" about a deeply religious young man who discovers he may be the result of a scientific experiment mixing human and ape DNA and fears he will no longer be accepted into heaven.  The Monkey Bible is the catalyst for her cross- country journey to find links between science and religion, which led her to Dr. Suzy, the bonobos and the Institute….After a couple of calls and a round of "What is Heaven?" fantasies (Max declares he was "in Heaven" earlier that morning with the one he loves, as the audience sighs), Charity gets more charitable by performing a strip tease on the stripper pole…And on the 7th day the Lord created Charity Bang's banging body…Hallelujah, Brothers and Sisters! Holy communion via Agwa follows, as our starlets sprinkle the salt and ritualistically lick it off of each other's naked flesh before downing their shots.  As a Grand Climax, we have the Second Cumming, Speakeasy style!  Bringing along her little vibrating friend, aptly named "EVOLVED," the fabulous Ms Kartier takes center stage and female ejaculates for the viewing pleasure of the congregation. But this is no mere leaky faucet.
This is a real erotic performance art piece accompanied by the lyrical sexual poetry of Kali B, delivered in her heavenly voice, erotically hypnotizing Kartier (and the rest of us), shepherding her to the land of squirt and honey, as she baptizes Dr. Suzy and the ever absorbent Luv Mat. And all rejoice in the after-party as many deep, Agwa-infused Sex-and-God dialogues ensue, and Dr. Suzy bangs Charity Bangs with a Pyrexions G-spot stimulator. Amen! Awomen! What better spiritual path for us all than to tune in to The Dr. Susan Block Show to satisfy our senses along with our spirit? Is there a greater destiny? Eschatologists be damned.
Call 1: Reggie asks the guests their favorite positions. Doggie-style all around, except Dr. Suzy who prefers woman-on-top.
Call 2: Robert asks if any of the ladies have performed double-penetration scenes. None have yet, but Charity is definitely willing.
---
Explore DrSusanBlock.com
Need to talk? Sext? Webcam? Do it here. Have you watched the show? No? Feel the sex. Don't miss the Forbidden Photographs—Hot Stuff, look at them closely here. Join our private social media Society. Join us live in studio 😊. Go shopping. Gift shop or The Market Place. DrSusanBlock.tv, real sex TV at your toe tips. Sex Clips Anyone? FASHION, we have fashion! We also have politics. Politics? Have you Read the book? No? How about the Speakeasy Journal? Click here. Ok, how about some free sex advice?
---