Porn Star Penis Dialogues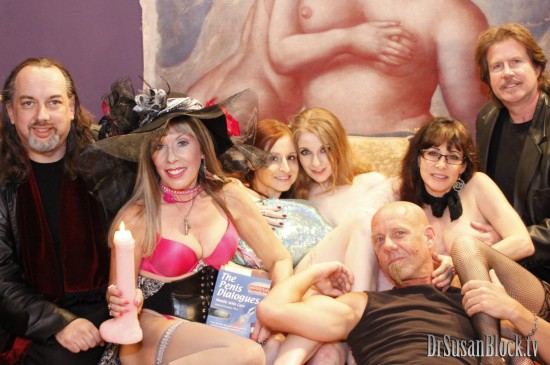 Porn Star Penis Dialogues
Length: 101 minutes        Date: 02/19/2011

There's no doubt we love the ladies and their lovely ladyparts here at radioSUZY1, but because we believe in bringing harmony to the universe, this edition of The Dr. Susan Block Show is all about the Big Yang that dangles opposite the Yin in our world, the sausage to the eggs of our balanced breakfast, the rocks and hard places to our soft ones…in other words, the mighty male penis.  Rest assured, though, we promise our in-studio guests make sure the night isn't a total sausage fest.
On the girls' side of the dialogue sit "adult action hero" and fetish model Paris Kennedy, angelically sexy porn newbie Ela Darling, and AVN Hall-of-Famer/Playboy TV "Nightcourt" Bailiff/IPSA certified sex surrogate Alexandra Silk, not to mention our host Dr. Susan Block.

On the boys' side we have Alexandra's partner Luc Wylder, celebrated porn star and producer on his way to IPSA certification; fun-loving porn star Bon Jon Syn, newest member of the Block Institute's team of phone sex therapists;  award-winning playwright and raconteur Michael Phillips; therapist and author Dr. Gabriel Constans, whose book The Penis Dialogues: Handle With Care serves as a girthy counterbalance to Eve Ensler's famed Vagina Monologues; and, of course, Prince Max engineering from his revolutionary outpost in the Speakeasy's Womb Room.
Armed with Pipedream Toys penis candles and her personal copy of The Penis Dialogues, Dr. Suzy turns first to Paris to hear how her perspective on the male member changed when she realized she wasn't a lesbian, thanks to her experience as a professional sub and how wearing a strap-on makes her feel powerful. Alexandra and Luc explain their own D/s dynamic, as well as Luc's feelings about his other best friend and travel companion below the belt. We're then introduced to Ela—or reintroduced, as Dr. Suzy and Ela shared an intimate romp late in the evening on Eros Day—who enthusiastically sucks on a cock-shaped lollipop while she discusses how doing lesbian porn fills her insatiable chasm of desire for vagina while her husband's cock fills her other chasm.
When Dr. Suzy's grilling about interesting pet names for the male member stalls on the standardized "cock," she reads an excerpt of pet names aloud from The Penis Dialogues, including some more old standards (dick, prick, pecker), some metaphoric (member, unit, middle leg), some technical (joystick, hard drive, microphone),  and some way out-there (dillywhat and Leno?), and keeps everyone laughing. Michael adds his British touch to the list with his own personal penis names of Todger, Charlie and  Bartholomew. As these details start to get everyone a little wet, Dr. Suzy's penis-shaped water gun gets overly-excited and squirts a money-shot down Ela's throat before Dr. Constans calls in to offer some dialogue from his book, reading an excerpt about describing an erection to someone who has never experienced one. The talk turns back to the female guests who excite a lot of penises as they show off their bras and panties: sheer red zebra on Ela, red lace on Paris, and the exotic "transparent" set on Alexandra. With all this exposed skin, it's logical to start the Agwa "cock"tail tradition, as lime salt disappears in a flurry of licking and sucking. Not to be outdone by the ladies on a show about manhood, Bon strides up to the stripper pole to dramatically expose his own manhood (nicknamed "The Beast"), dancing as Michael reads an excerpt from his own "Penis Parables" about a boy's rude awakening to the reality of adult sex.  Then Alexandra licks her salt off the back of The Beast.  Alas, not all penises work as reliably as Bon's, and Luc and Alexandra fill us in on what sex surrogacy is, and how it can help individuals and couples overcome sexual dysfunction.
Moving right along, from functional erection to ecstatic ejaculation, this last climactic squirt in our dialogue comes not from staff, but the distaff.  Ela, Paris, Alexandra, and Dr. Suzy converge on the show bed, and with the help of a Hitachi Magic Wand and Paris' practiced fingers, Ela squirts for the first time on-camera. And we do mean "on-camera," as her fountain of holy water splashes all over JuxLii's camera lens!
The penises in the room shout their approval (via the mouths of their owners), and Prince Max shouts his solidarity with the ongoing Middle Eastern revolutions, encouraging his revolutionary brothers-in-arms to overthrow the 'dick'tators and oppressive regimes that try to hold back sexual and personal freedom from gushing forth.
Though the on-air broadcast ends here, the energy stays erect and gushing throughout an Erotic After-Party that climaxes with Dr. Suzy fingering Alexandra to another squirting orgasm all over the floor of the Speakeasy bar. So the penises, the guests of honor for the night, end up being soaked by the rains of female ejaculate… but we have a feeling they don't mind.
Caller 1, Dr. Gabriel Constans, discusses and reads from his book The Penis Dialogues: Handle With Care
---
Explore DrSusanBlock.com
Need to talk? Sext? Webcam? Do it here. Have you watched the show? No? Feel the sex. Don't miss the Forbidden Photographs—Hot Stuff, look at them closely here. Join our private social media Society. Join us live in studio 😊. Go shopping. Gift shop or The Market Place. DrSusanBlock.tv, real sex TV at your toe tips. Sex Clips Anyone? FASHION, we have fashion! We also have politics. Politics? Have you Read the book? No? How about the Speakeasy Journal? Click here. Ok, how about some free sex advice?
---