Valentine Lupercalia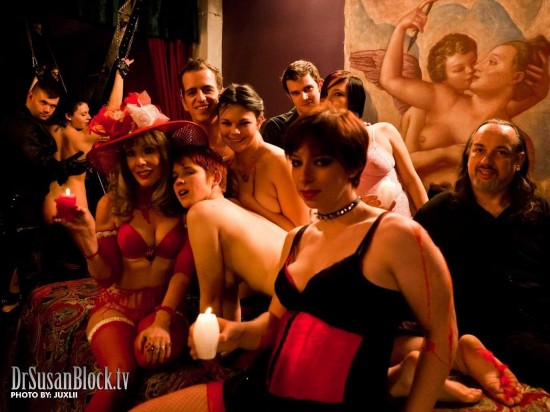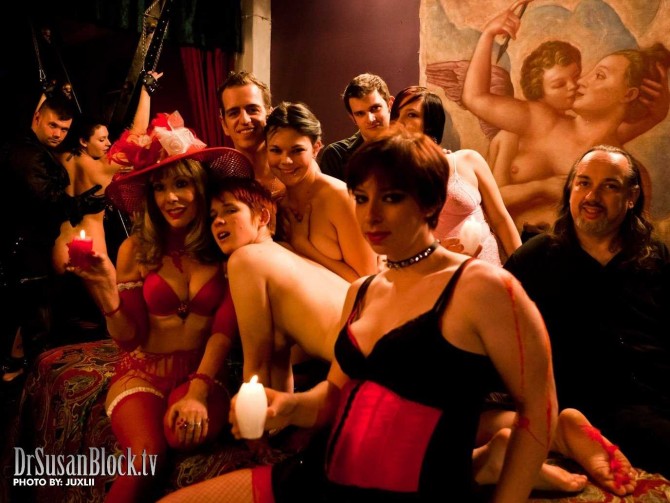 Valentine Lupercalia
Length: 90 minutes        Date: 02/12/2011
Sappy cards, insincere flower bouquets, stomach-cramping chocolate and sugar binges, wallet-breaking candlelit dinners, guilt trips…if Valentine's Day leaves a bad taste in your mouth, don't beat yourself up over it–beat someone else in honor of the ancient celebration of Lupercalia!
We explore the primal erotic joys of Lupercalia on this edition of The Dr. Susan Block Show, with its animal sacrifices, lust-filled whipping, and decidedly pre-consumer attitude towards love. A lusty mix of guests and observers gather in the Speakeasy's womb room to hear the story of Lupercalia as spun by our host Dr. Susan Block, who is somewhat surprised to find two naked goddesses already writhing in passion in the bed behind her as the show begins!
These passionate revelers turn out to be Lily Cade, also known as Artemis the huntress from Eros Day (Diana for Lupercalia, a Roman holiday) and Slavic temptress Jamey Janes, whose "Rrrrrrrrussian" accent is thick as her libido.
Dr. Suzy politely requests that both ladies' lively libidos calm down long enough for her to light penis and vulva-shaped candles from Lucky Mojo for the crowd while she teaches us the ancient roots of the Hallmark beast we know as Valentine's Day. A pre-Roman celebration of spring and the shepherd God Lupercal (also known as the goat-horned god Faunus or Pan), young, naked lads would gather to spill the blood of a goat, fashion thongs and whips out of its skin, and proceed to flog the gracious maidens in their towns. The rush of hormones, the crack of the whip, the howl of the wolf, the red of the blood and white of the milk of the sacrifice beats red and white candy hearts any day in our view!
The crack of Dr. Suzy's red and black leather flogger across Jamey's nude rear signifies the end of the lecture, and as Jamey and Lily continued to flog, finger, and spit on each other, our host turns to interview the rest of the guests seated in the radioSUZY1 studios.
Porn star Lucy "Squirter Girl" Blaze, in her cute red and white heart boxers, and boyfriend Chad Diamond, discuss their Valentine's Day plans (or lack thereof), while playwright and director Michael Phillips waxed philosophical about his own journey from "cynical romantic" to "agnostic," shared his poem about "True Love" that offered a welcome shift from the typical February treacle that passes for poetry, and confessed his favorite part of Valentine's Day… the next day's half-priced candy. Next up to introduce themselves are long-absent BDSM master Lord Artimus Foul, with biting-fetishist Ms. BoxCutter, both active-duty Marines visiting from Kansas, and submissive Toy and Dani.
We segue to calls, first from Imtiaz Waris on Lupercalian mythology, then to Sherri and a couple of other lady fans of Michael's. Lord Exceter Miles, Siren Selene and another sub join the show, greeting their good friend Lord Foul, who describes how his name comes from an obscure sci-fi character who is the "Desecrator and Destroyer of the World." Considering he's a demolitions expert in his other life as a Marine, it's apt.  Jamey and Lily enthusiastically down their Agwa shots as another caller breaks in to ask the Love Doc's advice about a sexually tempting 19-year-old stepdaughter, before she calls Ms. BoxCutter up to the bed to indulge her in her biting fetish between the powerful canines of Jamey who bites her lips as Lily bites her neck. Not to be outdone, Lucy hops up on the bed where she leans back in Dr. Suzy's arms and unleashes a tsunami of a squirting orgasm thanks to Jamey's handy use of the Hitachi Magic Wand and Lily's own magic fingers, spraying her liquid love into an Agwa shot glass (though most of it just soaks the bed). Jamey gets her own turn to try squirting for the crowd, and when she doesn't, she takes her frustration out by whipping and dominating Chad, her "little bitch boy."
We have just enough time for Katie Kinns and boyfriend Mona Sunoy (his first-ever time on the mike!) to check in and share good news about Mona's film project before the howling wolves of the midnight hour herald the end of the on-air show and the start of the erotic afterparty, which is practically dripping with communal ecstasy of flogging, whipping, fingering, moaning, and every other type of primal, passionate Lupercalian joy the wild bonobo gang could think up. From our sore butts to yours, Happy Valentine's Day and Happy Lupercalia!
Caller 1: Imtiaz Waris shares  Lupercalian mythology and complement Michael
Caller 2: More praise for Michael from Sherri and her two girlfriends
Caller 3 is aroused by his new 19-year-old stepdaughter
---
Explore DrSusanBlock.com
Need to talk? Sext? Webcam? Do it here. Have you watched the show? No? Feel the sex. Don't miss the Forbidden Photographs—Hot Stuff, look at them closely here. Join our private social media Society. Join us live in studio 😊. Go shopping. Gift shop or The Market Place. DrSusanBlock.tv, real sex TV at your toe tips. Sex Clips Anyone? FASHION, we have fashion! We also have politics. Politics? Have you Read the book? No? How about the Speakeasy Journal? Click here. Ok, how about some free sex advice?
---