Shameless Erotica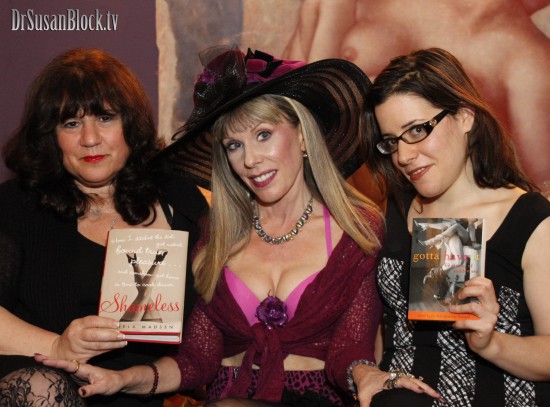 Shameless Erotica
Length:       N/A        Date: 02/05/2011
Who says you can't always get what you want (besides the Rolling Stones)? Whether you pay for it, write about it, or use a little hoodoo magic, the guests on this edition of The Dr. Susan Block Show believe there's no shame in making yourself happy–one orgasm at a time!
Joining host Dr. Susan Block in the radioSUZY1 studios (permanently relocated to the Womb Room at the new heart of the Speakeasy), Pamela Madsen, author of Shameless: How I Ditched the Diet, Got Naked, Found True Pleasure, and Somehow Got Home in Time to Cook Dinner and Rachel Kramer Bussel, prolific editor and award-winning author here to talk about her latest book of short erotic fiction entitled Gotta Have It: 69 Stories of Sudden Sex..  Also in-studio is fellow Yale alumna Dr. Rachel Royblatt, visiting from Omaha, with her Tantra goddess friend Carmen; and call-in guest Cat Yronwode from Lucky Mojo, the supplier of the penis and vulva-shaped candles that featured prominently in this year's Eros Day celebration.
This being the first week after Eros Day, everyone's still in a bit of a hangover mode, and so we ease into the show with a little recap of the previous week's orgiastic action: the porn stars, the sex, the erotic art by Scott Siedman, the blow up dolls from PipeDream Products decorating the Speakeasy, the (inflatable) sheep that suffered an unfortunate fate at the hands of a unnamed reveler… ahem.
Moving right along, Dr. Suzy turns to Pamela Madsen (whom she dubs the "Betty Friedan of the 21st Century Horny Housewife") to talk about Shameless, an autobiographical account of her journey from housewife to empowered sexual being through the use of sexological body work. Pamela's intensive erotic massage sessions with licensed practitioners taught her many things about achieving sexual fulfillment, loving her body, and undergoing profound transformational healing that go far beyond just "getting her rocks off." Her book serves as a message of hope to women everywhere, especially those in long-term marriages or monogamous partnerships, letting them know they have the opportunity to explore of their sexual sides and find true happiness without needing to be ashamed. "Happy endings" aren't just for fairy tales… and neither is magic, as our first caller attests to. We thought the Lucky Mojo penis and vulva candles were pretty lucky on Eros Day–we lit them during the candlelight vigil to call Eros (played by Michael Vegas) forth to save Venus (played by real-life porn star girlfriend Misti Dawn) from the bondage cross and get the party started–but Cat Yronwode (pronouned "Ironwood") fills us in on how lucky they truly are with a little lesson in practical hoodoo magic.
Turns out the hand-crafted candles are molded from live models, and each of the colors can be used to attract a different type of lover (e.g. white for a new lover, red for plain old hot sex), if one follows a ritual that could involve string, bodily fluid, cowrie shells, carving a name in wax, or focused prayer. Lest we think that this kind of magic stands in opposition to organized religion, Cat points out the sexy Old Testament chapters of the Song of Solomon that have great erotic power when recited.
After Cat signs off, we get to a little on-air recitation from our two authors. Rachel goes first, reading one of her own short stories from Gotta Have It that combines food and sex in the most mouth-watering of literary morsels. After all, the book is a collection of stories 1200 words or fewer, the perfect length for a little naughty reading in bed or in the loo. Rachel claims authorship for three of the book's stories, written under various pseudonyms, and shares how adopting different personas, especially male ones, affects her style and voice while writing erotica. Next, Pamela reads a humorous excerpt from Shameless about her first spanking experience at the hands of a paid professional.
After a quick and relatively tame Agwa shot break–sorry pervs, no nipple licking tonight–the conversation shifts to the perils of monogamy when the wild bonobo libidos within us lust after sexual promiscuity. To keep their wild passion burning with their next lovers, Dr. Suzy hands out a few Screaming O vibrating cock rings to our guests before the live show turns into the erotic after- party, where guests, audience members, and Speakeasy staff mingle and get naughty in their typically shameless manner. We should all be so lucky–after all, if the pursuit of happiness is one of our inalienable rights, why be ashamed to get what you want?
Caller: Cat Yronwode from Lucky Mojo talks about the magic hoodoo rituals associated with our Eros Day penis and vulva candles
---
Explore DrSusanBlock.com
Need to talk? Sext? Webcam? Do it here. Have you watched the show? No? Feel the sex. Don't miss the Forbidden Photographs—Hot Stuff, look at them closely here. Join our private social media Society. Join us live in studio 😊. Go shopping. Gift shop or The Market Place. DrSusanBlock.tv, real sex TV at your toe tips. Sex Clips Anyone? FASHION, we have fashion! We also have politics. Politics? Have you Read the book? No? How about the Speakeasy Journal? Click here. Ok, how about some free sex advice?
---
---