EROS DAY XII Orgy in The Womb Room
Length: 86 minutes            Date: January 22, 2011
The ritual is the match, the orgy the flame.  Within just a couple hours of opening up the Institute's brand new Womb Room, our 12th annual Eros Day had ignited into a stellar display of sensual, naked and winged bodies and souls soaring, flailing and thrusting into one another on and around the Olympic-sized bed surrounded by burning cock candles, buzzing pocket rockets, pulsing bongo beats, majestic erotic art and anatomically correct blow-up angels flying through the rafters above.
It was a Commedia Erotica Heaven on Earth worthy of a Botticelli or Bronzino, or at least a Fellini movie, and one of our best Eros Day orgies ever, with some very tasty hors d'oeuvres.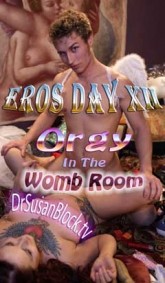 As I was in the center of this astrophysical-erotic storm, I will let you see it through the eyes, ears and other highly attuned senses of radioSUZY1 blurbologist Haley: "Forget the Ringling Brothers, this Eros Day was truly the Greatest Show on Earth, with a pantheon of porn stars, a plethora of penis candles and vibrating cock rings, and a parade of painted pleasure-seekers that moaned and partied all night long in celebration of the passionate, sensual, and decadent… where else but at Dr. Suzy's Speakeasy?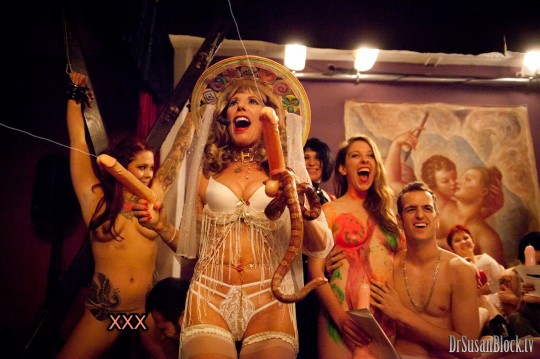 Eros Day is the Block Institute's yearly Bacchanalian gala that commemorates multiple manifestations of "Eros," the Greek god of sex and pleasure who "blew the breath of life" into all things; the penis-shaped planetoid that circles the Earth and comes closest to us around January 22; and the "feeling" of Eros, the intangible energy of love and lust that embodies the Block Institute's philosophy of the Bonobo Way of Peace through Pleasure. This Eros Day 2011, the spirit of Eros was definitely in the air and in the hearts of all in attendance—not to mention the pants…"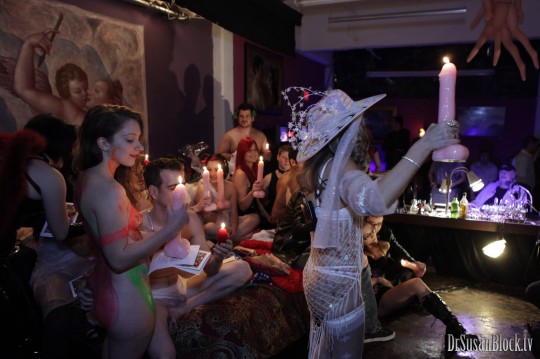 Not that all in attendance took off their pants.  Nor did everyone partake in the orgy.  There were about 180 people, and only about 40 got into the orgy, at least in the public areas of the Speakeasy.
The rest danced, drank–a lot (this was a Festival of Bacchus as well as Eros, and the Agwa and other libations flowed freely), got their naked bodies painted in neon black-lit swirls, pleasured their palates at the Aphrodisiac Buffet with caviar, fresh oysters, Speakeasy meatballs, chocolate cocks, Helen's special bleu cheese-stuffed dates wrapped in bacon and other culinary delicacies, and ogled the erotic art–living and simulated.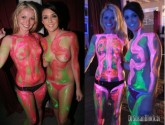 As Haley saw it through ambrosia-colored glasses, "The evening began early with merry revelers meandering about the Speakeasy with various libations in hand, admiring the décor (significantly enhanced from last year's Eros Day), Pipedream Toys inflatable sex dolls and Lucky Mojo penis and vulva candles sprinkled about, and the art of Scott Siedman adorning the walls. His gorgeous and sensual paintings showcased both the duality of human life through sexuality, often imbuing his depictions of warm flesh with a tinge of darkness or even sadness.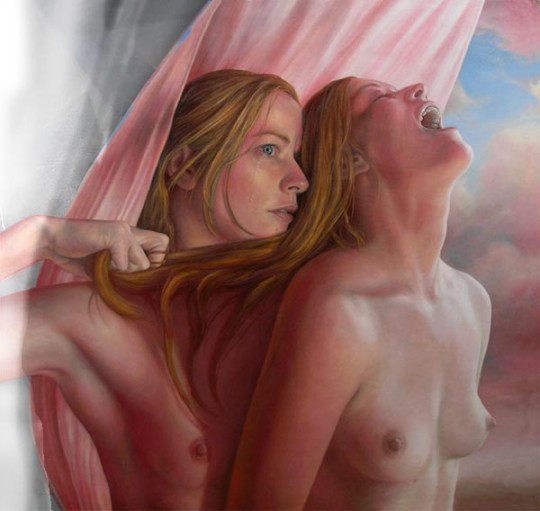 It was an appropriate theme for Eros Day, for the pleasurable fun begins with the sacrifice of an innocent victim—Venus, the lover (and mother!) of Eros in Classical mythology. This Eros Day, Venus and Eros were embodied by real-life couple Misti Dawn and Michael Vegas, whose lovemaking has christened many a romantic corner of the Speakeasy with their presence and bodily fluids, making them more than ready to take on their divine duties.
Gradually, the revelers were coaxed (or ordered) from the bar and surroundings into the Womb Room–a cathedral-like space in the heart of the Speakeasy built especially for this night—gathering around the central bed to await the main event.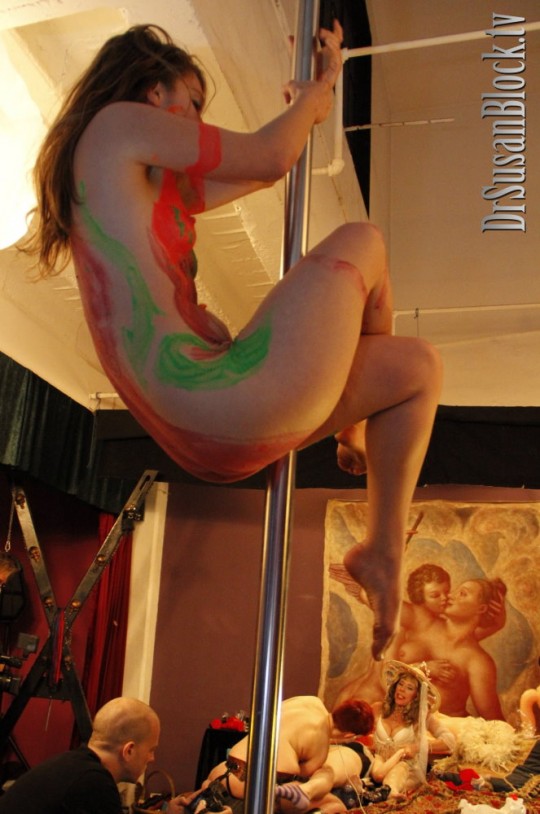 Beneath Siedman's magnificent fresco-like painting of Eros and Venus (inspired by the classical Bronzino), Venus/Misti reclined in the massive bed, clad only in her tattoos and golden belly chain, joined by a  veritable pantheon of gods and goddesses, swathed in gossamer white togas: silver-tongued alt-porn star Cadence St. John as Athena, Virgin Goddess of Wisdom; cocksure "100% lesbian porn star" Lily Cade as Artemis, Goddess of the Hunt (virgin to men, but women are another story); our Lady of Latex RubberNecro as Persephone, Goddess of the Dead.  Also joining the divine congregation were towering Titan Mistress Snow Mercy and her collared submissive boy kyle, fetish model and spanking enthusiast Sinn Sage, last year's AVN Best Male Newcomer award winner Dane Cross, Speakeasy regulars Katie Kinns and boyfriend Mona Sunoy, dominant Dark Phoenix and his pain-loving submissive Lilo, porn star Chad Diamond, mic nymph Janel, nude sprite Camelia Jule and Obameros, star of Eros Day 2009: Orgy for Obama–quite a pedigreed pantheon, if we do say so ourselves!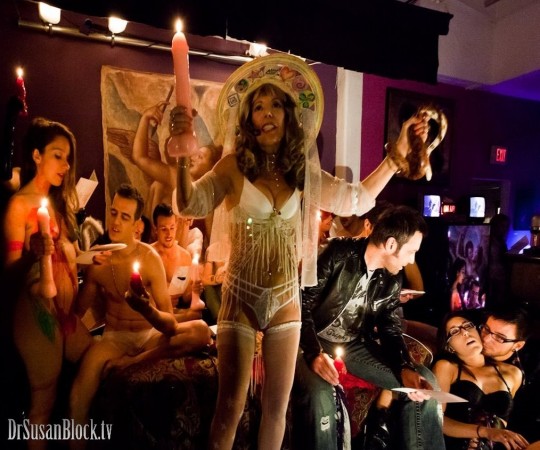 Soon enough, the Irreverend Dr. Susan Block took her place before the congregation in a sparkling ensemble worthy of a Southern Baptist preacher crossed with Mae West in Sex: a wisp of a white g-string with star-patterned gartered stockings and one of her signature hats trimmed with garlands of stars around phalluses, yonis and Tarot card symbols. After greeting a crowd buzzing with lusty anticipation (and perhaps a few beverages), she began officiating the grand Eros Day rites.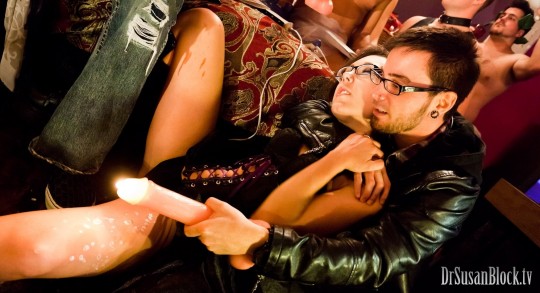 On Eros Day, we celebrate a story that stands in stark naked contrast to the conventional Judeo-Christian tale of the Fall from the Garden of Eden. In that fable, Woman dooms humanity to eternal suffering by succumbing to the temptation of a treacherous snake.  In our story, Venus/Misti was the Divine Mother Goddess who enlightens humanity about sexuality, not to doom but to liberate us from our sexual repression.  And the only snakes in sight are the Love Doctor's docile pet Eve coiled around her arm and several bodily appendages recently 'liberated' from their trousers.But we humans often retreat behind ignorance and fear. As Dr. Suzy said, 'just as Prometheus was bound upon the rocks for teaching humanity how to make fire, so Venus has been bound to the cross for teaching us how to make love.'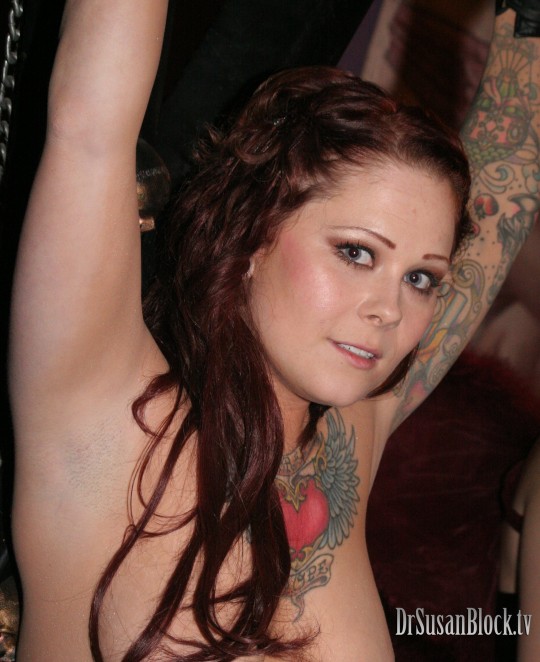 At this point, Venus/Misti was led onto the Bondage Cross by none other than Zeus, King of the Gods of Porn Valley, Axel Braun–multiple AVN-award-winning film director, son of Original Eros Day patriarch Lasse Braun, and the first man to make Dr. Suzy squirt.
For our shame, repression, oppression, bigotry and stupidity–the sins of humans who deny their sexual natures—Zeus shackled Venus (with plush Stockroom shackles) and flogged her breasts to the sounds of drumming and the Love Doctor's rhythmic narrative, climaxing as she baptized the congregation with Holy Water from her Pipe Dream penis-shaped 'guns.'
The lights dimmed as Dr. Suzy led us in the Eros Day Prayer, a candlelight vigil with, what else but giant penis-shaped candles, during which we beseeched Eros to not only come and save Venus from bondage and suffering, but for the benefit of us all—because "as soon as Venus is free, the party can start!"
And so we prayed to Eros as we began to play for Eros.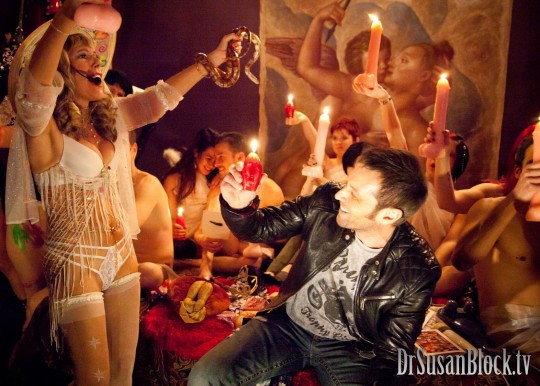 EROS DAY PRAYER
Praise be to the Power and Glory of Eros!
God of Love, God of Lust, God of Life!
Radiant Phallic Planetoid! Holy Spirit of Sex!
O Eros: Blow into us the Breath of Life!
O Planetoid: Come close to us tonight!
Release the Spirit of Sex within us,
The Spirit that created us from Sex,
The Spirit that inspires us through our sexuality,
The Spirit that makes us horny!
Praise Be to the Power and Glory of Eros!
Live long, fuck well, touch others
In Heaven and on Earth
Amen! Awomen! Happy Eros Day!!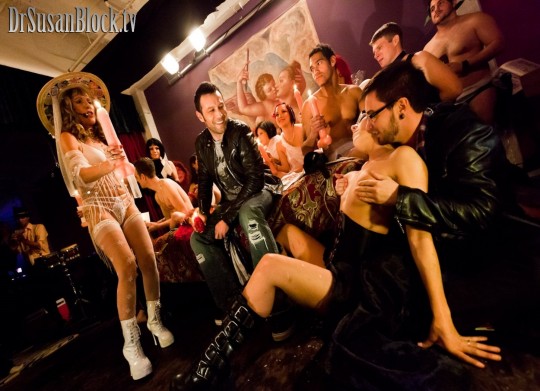 And with that, a winged and loinclothed Eros/Michael appeared at the edge of the Womb Room, confidently navigating through the throngs of viewers towards his captive lover.  After lingering seductively at the stripper pole to remove his loincloth, Eros approached the bondage cross and touched his lover slowly, stroking his fingers across her captive flesh, taking his time to carefully unfasten each shackle that held her bound to the X.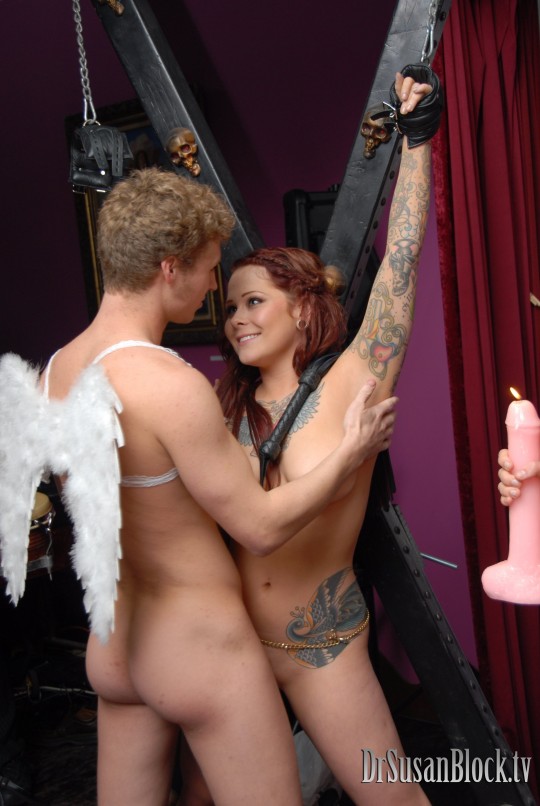 With the snap of the last cuff around her ankle, Venus was free! God and Goddess embraced each other in a kiss so intensely passionate it sent shockwaves through the crowd. To cheers and toasts, Amens and Awomens, the Divine Couple did a pas de deux around the stripper pole, Eros/Michael shedding feathers from his wings as he flew, and all present breathing in the heady scents of the Eros Spirits."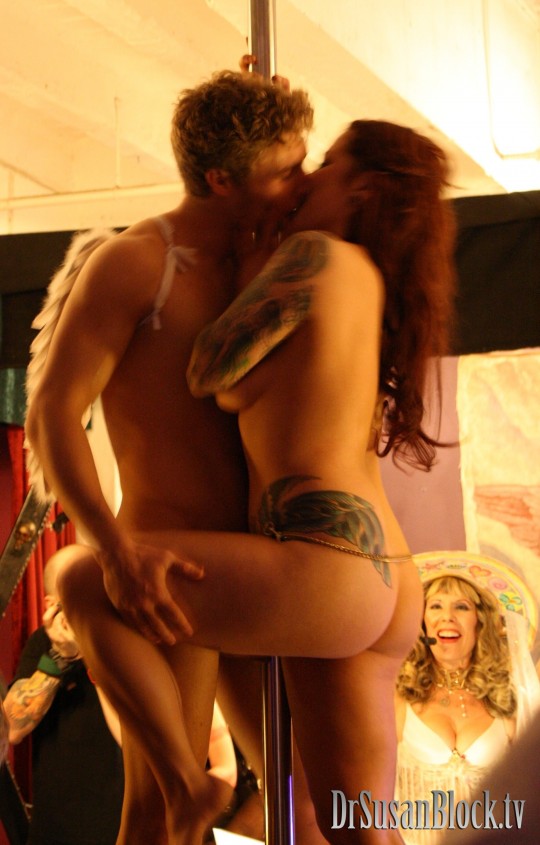 The delicious fruit of knowledge having been tasted by the protagonists, the rest of us began to eat up some enlightenment of our own as the post-rescue orgy commenced.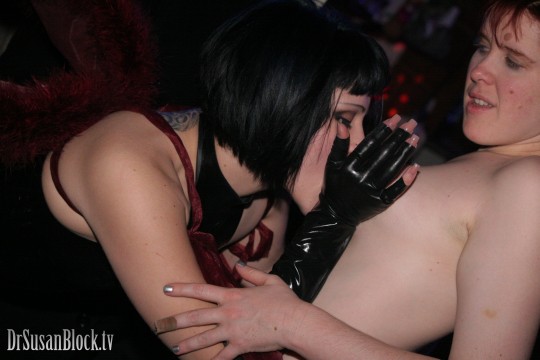 Dane Cross and Sinn Sage were the first to surrender to the Spirit of Eros right on the floor of the Womb Room, with Dane pouring hot candle wax across Sinn's inner thighs and pert bare breasts. Lily Cade, the aggressive Artemis ever on the Hunt for Cunt, approached and traded spanks with Sinn until the Virgin Goddess brought the Porn Nymph to a screaming, squirting, finger-banging orgasm, then slid in with her appropriately rustic leather-harnessed strap-on before moving onto the crotchless crotch of RubberNecro/Persephone's black latex catsuit under my burgundy angel wings. With a Herculean flourish worthy of his AVN Award, Dane took back Sinn, grabbing her by the hair and ravishing the porn nymph roughly in trademark classical style, both of them exploding with sound, spurts and much fury, in Sinn's very first on-camera "girl/boy" scene ever!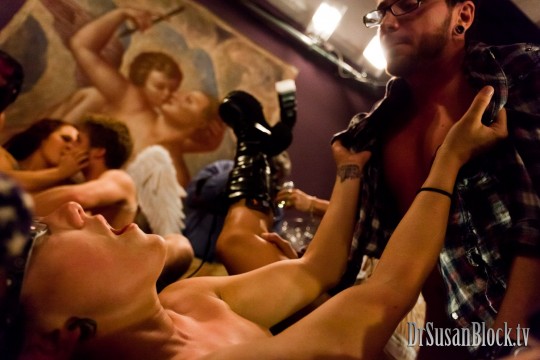 Next thing I knew, the Goddess of the Hunt was in my own cunt, and the Spirit of Eros was spreading around the Womb Room like the flames that Dark Phoenix use to tease luscious little Lilo as he strapped her now wingless and toga-less body to the Bondage Cross.  Pocket Rockets buzzed around the room, along with a Hitachi Magic Wand and a Buck Angel crystal sword worthy of Hermes (a gift from the FTM God Himself), just in case anyone needed a boost through the gates of pleasure.  As for the Screaming O vibrating cock ring fit for a Love God, Eros wore His all Eros Day night, as did several other happy planetoids.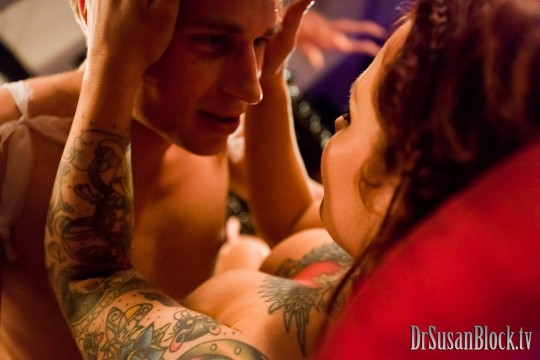 The live broadcast of the show climaxed with a crescendo of Olympian orgasms, but the night itself had barely eased into foreplay.  The stripper pole attracted exhibitionists like burlesque-loving porn star Lucky Starr and Jeremy Steele, while the Aphrodisiac Buffet (roast beef division) proved beyond tempting to gourmands like porn legend/ Eros Day regular Ron Jeremy.  As the orgying continued in fits and spurts in the webcam room, on various couches and surrounding beds and back to the central show bed, more Sex Gods and Goddesses like April Flores (with whom I wound up desecrating a blow-up sheep—I know, Ewe!), Ela Darling, Persia Pele, Mia Culpa, Kelly Shibari, body-painted Gemini nymphs Sarah and Jerica, Exceter Miles and Siren Selene joined the wanton and ecstatic Commedia Erotica celebration of sex "still vibrating in the loins and minds of all those lucky enough to have been enlightened that evening."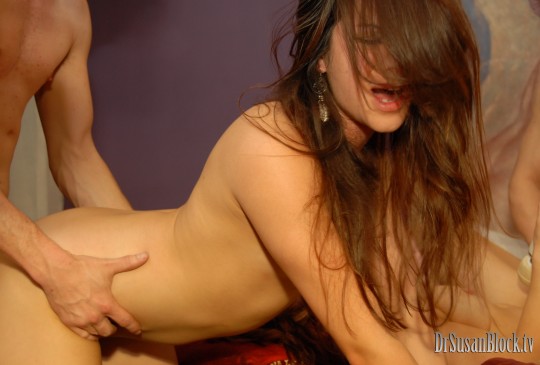 Of course, orgies aren't the only way to celebrate Eros Day.  And not everyone has the opportunity to go to an orgy, let alone an orgy in a "womb room."  But everyone has an opportunity to make love with someone you love, even if that someone is you.  In more mythic terms, there's the orgiastic aspect of Eros Day over which Eros reigns with Venus His mother, supreme lover and partner-in-crime, and then there's the intimate side of Eros Day, the feeling of Eros for Psyche, his human wife.
Anyway, after a slight detour into what I will discreetly describe as Martian territory, my own Eros Day adventure among the sex gods, goddesses and angel dolls of the Womb Room, climaxed back in the arms and skewered upon the lovely planetoid of my own Eros, my darling husband and co-creator in all things, the engineer of Eros Day and much more, Max.
Check out all the amazing pix, clips and the Raw Edition of the Eros Day Orgy in the Womb Room on drsusanblock.tv, plus clips featuring more hot porn stars than an exploding galaxy.  And see you next Eros Day!
Related Links
A portion of the proceeds from all Eros Day donations and memberships go to help save the highly endangered bonobos from extinction in their native habitat of the Congo (via the Lola ya Bonobo Sanctuary and the Bonobo Conservation Initiative), and promote the Bonobo Way of peace through pleasure around the world.
See the Eros Day Orgy in the Womb Room video steam, clips and all the Hot XXX Eros Day Pix
Watch the Eros Day Orgy in the Womb Room Raw Edition
Eros Day Paintings by Scott Siedman
Enjoy Eros Day Pocket Rockets by The Original Doc Johnson. Drop Pocket Rockets, Not Patriot Missiles!
Bondage Cross Handcuffs and Flogger by Stockroom
Eros Day Peckers, Dolls and other novelties by Pipedream Toys
Eros Day Condoms by Condomania
Eros Day Penis and Vulva Candles by Lucky Mojo Curio Co.
Eros' wings by Bizzy Bee.
Eros Day Live music features DJ Don Tonic and the Sonic Percussion Ensemble.
Body Painting by Paul Solano
Maleah's Cock Cookies & Special Cakes by Le Petit Cake Gourmet
Berkeley sponsorship by Frank Moore and our good friends at LUVeR Underground Visionary Revolution.
Eros Day Drink of Choice: Agwa di Bolivia Coca Leaf Liqueur
"A great evening…a moveable feast…where theatre was part of the sex" "Home for Eros Day with Dr. Suzy" by Gram Ponante
Eros Day by Luke Is Back
Divested Films Eros Day Celebration Blog
Try Tzepao Sanpien Chinese Aphrodisiac
View Amazing Photos from Eros Days Past
Watch Eros Day X: Orgy for Obama Inaugural BALL (those were the days ;)
Watch the First Eros Day with Lasse Braun, Teri Weigel and Murril Maglio
Read Lasse Braun's Lady Caligula
Want to talk about Eros, Communal Ecstasy or any other aspect of sexuality?  Call the Telephone Sex Therapists of the Dr. Susan Block Institute: 213.291.9497
The best laid plans may not get you laid the way you planned…But it doesn't hurt to plan ahead for communal ecstasy!  Join us for Eros Day January 21, 2012
The  free photo gallery below include select PG-rated photos from our Eros Day XII: Orgy in The Womb Room.  Photos by JuxLii, Alex Filangieri,  Mike Paisner, Mike C, Felix, Rick Garcia, Hugo Flores, Casey Cudrowski, Andy Martin and Jes Andrade.   To see the full amazing XXX-rated hardcore artcore galleries of photos by these fabulous photographers and more from this awesome Eros Day and other shows and parties, go to DrSusanBlock.tv.
---
Explore DrSusanBlock.com
Need to talk? Sext? Webcam? Do it here. Have you watched the show? No? Feel the sex. Don't miss the Forbidden Photographs—Hot Stuff, look at them closely here. Join our private social media Society. Join us live in studio 😊. Go shopping. Gift shop or The Market Place. DrSusanBlock.tv, real sex TV at your toe tips. Sex Clips Anyone? FASHION, we have fashion! We also have politics. Politics? Have you Read the book? No? How about the Speakeasy Journal? Click here. Ok, how about some free sex advice?
---