F.D.R. (F*ck Da Rich):

Go Bonobos in 2022, Arcadia Kangaroo Court & Happy Eros Day!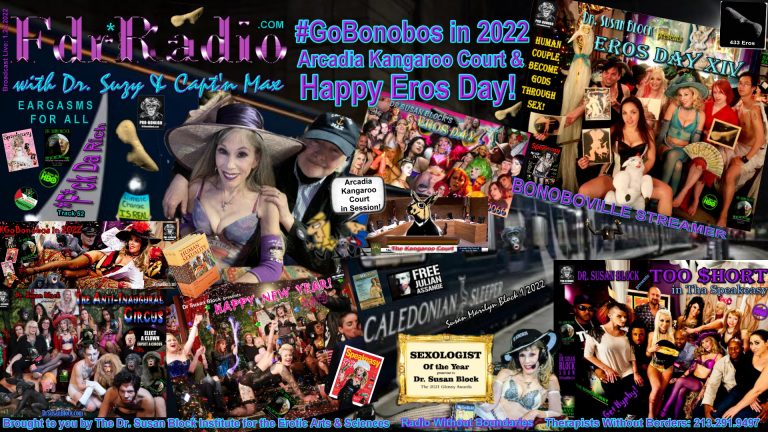 Length 01:23:12 Date: January 22, 2022
by Dr. Susan Block.
It's our first live broadcast of the year from the Soul of Downtown Arcadia.
It's also from the sole, since I grant the requests of several high heel, stocking and foot fetishists.
It's also from the heart as I kick off this spin around the sun with my heartfelt New Year's resolution, my sexy-lefty Bonobo Manifesto, #GoBonobos in 2022.
Well, part of it.
Between the foot lovers, pop-up questions about female ejaculation and so-called "addiction" to vibrators, the Trump's golden Storm, Vice coming back, the story of Eros Day and the Arcadia City Council's recent Kangaroo Court, Capt'n Max and I have a LOT to explore on our first night train into 2022.
Leaving Bonoboville station (almost) right on time, we choo-choo through the Tunnel of Love, around the kinks in the tracks, following the twinkling lights… into the future we go!
We also pay tribute to the past with four uniquely exciting DrSuzy.Tv throwbacks, each of which I've included here for your viewing convenience, sex education and eternal peace through pleasure.
Enjoy the NYE fun as we spank out the old annus (and anus) and flog in a very Happy Nude Rear with a sparkling, sensational night of communal ecstasy, collective joy, bonoboësque spirit, rainbow-ësque diversity, resistance to oppression from all directions and pure pleasure… with a little bit of pain, featuring a galaxy of porn stars, pundits, singers, swingers and LA's most preeminent pro-Dommes.

The dreary, dreadful inauguration of America's Clown-in-Chief and the closing of Ringling Brothers and Barnum & Bailey converge as Bonoboville busts out the perfect antidote with a silly, spectacular circus of sex and kink featuring human animals and party animals, rousing speeches and arousing striptease, plus a breathtaking, sparkling climax with four hot ladies giving Trump those Russian Golden Showers you've heard rumors about.

Get Hyphy in my Womb Room as we welcome Oakland's own Rap University Dean of Pimpology, the one and only Too $hort. Promoting his new (at the time) album NoTrespASSing and his deliciously nasty "Money on the Floor," Shawt Dawg fits right into the Speakeasy scene of ethical debauchery. Our Too $hort Night in tha Speakeasy also features Bonnie Rotten just before she won every award in adult films and a bunch of other exciting D-list celebrities… as the strippahs wrap around the pole and the gangstahs rap about their holes.

It's also Eros Day… sort of. It's the date (January 22) that the late great Lasse Braun told us on January 22, 2000, that the planetoid Eros 433 was closest to Earth, and we celebrated it with a big bacchanalian orgy every January 22 for 14 years.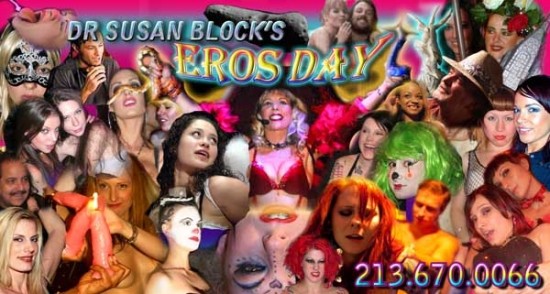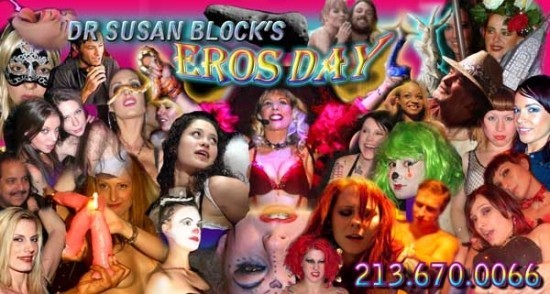 Then we found out that Eros' orbit around Earth is not actually annual, and that it was only on January 22 in 2000, so we stopped celebrating every January 22, but we never forgot the orgasmic magic of Eros Day.
We also talk a bit about Eros' intense and rather controversial romance with his mother, the Goddess Aphrodite, Goddess of Love, Sex and Beauty. See, even the Greeks had Mommy fantasies. Probably, every culture does.
This particular Eros Day throwback, "Eros Day XIV: Human Couple Become Gods through Sex," was the very last before we heard the truth.
Though not as big and bacchanalian as earlier Eros Days, it's very intimate and super sexual, and bittersweet, being the last one.

Arcadia City Council Kangaroo Court
This being our first live broadcast after our recent subjugation to the neo-Puritanical powers invested in the Arcadia City Council, where—having committed their notorious "panty raid"—we were trotted out like harlots in the square, as they circled the wagons and pelted us with lies, bigotry, religiosity, hypocrisy, sex-negativity, "mattress madness" and a targeted exploitation of obviously nonsensical "rules."
Just because a rule exists doesn't mean it shouldn't be changed. That's what lefty Democrats have been saying about changing the antiquated, undemocratic Filibuster in the U.S. Senate, and that's just one reason we need to change some antiquated undemocratic Arcadia zoning laws.
Though honestly, we're not even sure they're "laws," since no one—not perjuring Arcadia City Inspector Amber Abeyta, bloviating City Councilman Tom Beck nor hypocritical Councilwoman April Verlato—will answer our multiple requests for the Arcadia zoning law that states how we must store our mattresses.
That's because there isn't one, and this hearing was the textbook definition of a kangaroo court.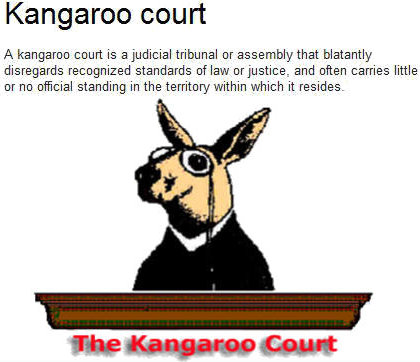 Capt'n Max is especially passionate on this show about our determination to get a proper hearing in some court of America, and to fight for our First and Fourth Amendment rights against the droning, draining hypocrites controlling the municipal life of Arcadia.
We hope you join our fight against anti-sex fascism growing on the Right and the Left, practice the Bonobo Way and help us save our Make Love Not War great ape cousins from imminent extinction.
And let's free Julian Assange! His freedom is also being curtailed by an immoral State… and much more drastically than ours.
We're also excited to be doing a documentary with Vice. Check out the producer Zach's report on one of our Russian Hooker Pee Parties with Dominatrixes Against Donald Trump (D.A.D.).
But no, Zach, I was NOT "peeing through [my] tights"; that's a little gross, even for a kinkster like me.
Those are thigh-highs and, always hygienic, I removed my panties before dispensing my sparkling champagne.
Sexologist of the Year
Thank you Glennys for giving me the Sexologist of the Year award for the third consecutive year.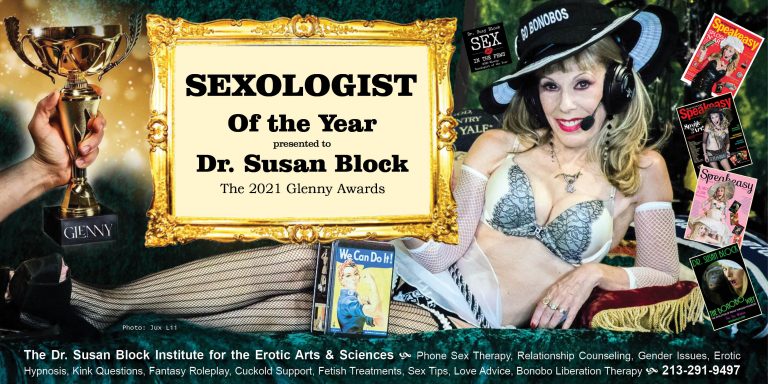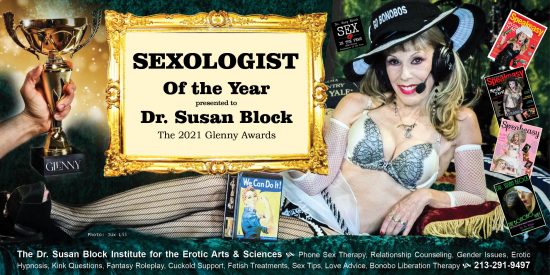 What an honor, a privilege and an opportunity to spread the word of the Bonobo Way and the truth about human sexuality…
And have some fun! Fun fuels the Revolution.
Celebrate Eros Day any day and every day the Bonobo Way!
© January 22, 2022 Susan Block, Ph.D., a.k.a. "Dr. Suzy," is a world renowned LA sex therapist, author of The Bonobo Way: The Evolution of Peace through Pleasure and horny housewife, occasionally seen on HBO and other channels. For speaking engagements, call 213-291-9497.
PHOTO ALBUM